Elections
Children's levy vote reveals urban-rural divide
Democratic wins in 42nd suggest political shift
November 29, 2022 at 2:01 p.m.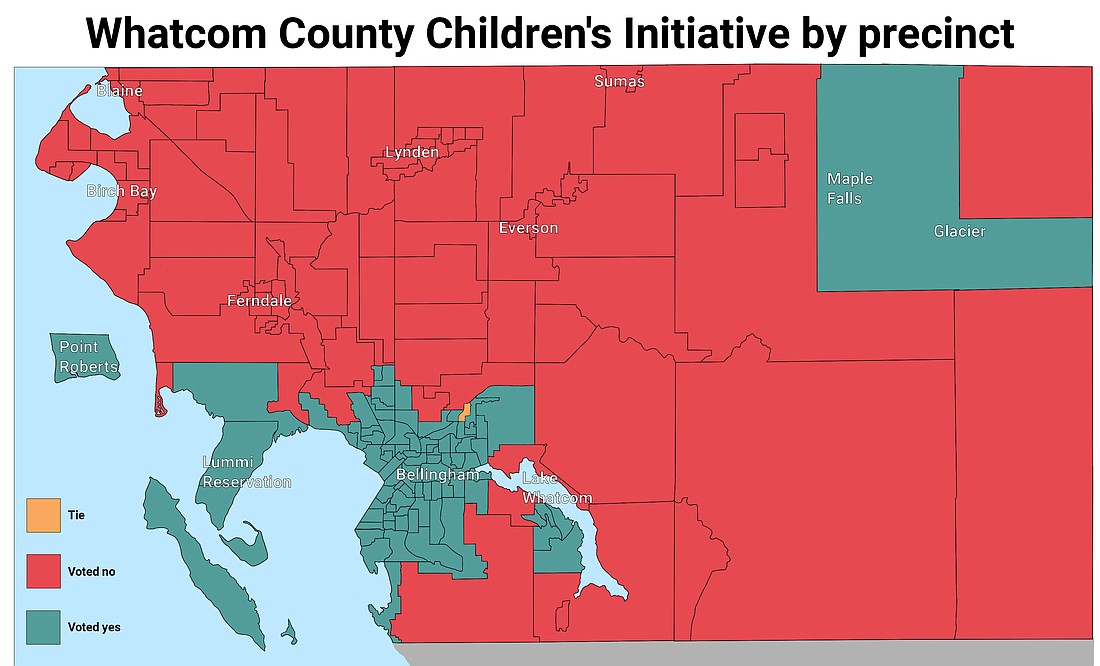 ---
---
A new property tax to fund child care in Whatcom County won by the narrowest of margins in this month's election, although voters' reaction to the measure was sharply divided.
Ballots from Bellingham overwhelmingly supported the Children's Initiative, which will collect 19 cents per $1,000 of assessed property value — or $95 annually on a $500,000 home — to increase child care options countywide and provide support to homeless children. While 68.2% of Bellingham voters supported the measure, according to a precinct-by-precinct analysis of the final vote count, only 38.6% of voters outside Bellingham's city limits voted for the Children's Initiative.
In the end, the measure passed by just 20 votes: 54,290 to 54,270. 
Meanwhile, the Democrats flipped the Senate seat in the 42nd Legislative District, which includes all of Whatcom County except the southwest corner and south Bellingham. Sharon Shewmake's 1.2% margin appears to have been bolstered by changing demographics in the north county.
Rural skepticism
Organizers of the child care initiative made a conscious decision to put their measure on every ballot in Whatcom County, even though they suspected it would pass easily if they had limited it to Bellingham. 
"We knew going countywide that it would be harder to pass, but if we were successful it would reach children and families who needed this," campaign committee member Heather Flaherty said. 
The campaign's strategy varied somewhat by location, Flaherty said.
County residents experienced two different elections, depending on where they lived. Voters in the 42nd District had three hotly contested seats in the state Legislature on their ballots. The 40th Legislative District, which includes south Bellingham, Whatcom County's southwest corner, San Juan County and part of Skagit County, had two quiet legislative races with clear Democratic favorites.
"We did doorbell quite a lot in the 40th District because there wasn't as much on the ballot to drive people to get out and vote," Flaherty said. 
The 42nd, on the other hand, was "quite noisy" with the three legislative races that attracted more campaign dollars than any other district in the state.
"It was harder to get our message heard and out there because of that, in some ways," Flaherty said.
The 40th District responded well to the children's levy, giving it 63.2% approval. The 42nd rejected it by a 12.5-percentage-point margin.
The 42nd District includes all six of Whatcom County's small cities: Blaine, Everson, Ferndale, Lynden, Nooksack and Sumas. The Children's Initiative didn't win a single precinct in any of those cities.
The levy had its worst showing in Lynden. Only 25.7% of voters approved the levy in the county's most conservative city.
Lynden voters may have rejected the children's levy, Mayor Scott Korthuis said, because they had two other taxes to consider on their November ballot: the Emergency Medical Services levy and a sales tax for transportation improvements in the city. 
The transportation tax passed easily. While the EMS levy failed by a narrow margin in Lynden — 49% to 51% — that property tax will be extended another six years after a favorable countywide ballot count.
Korthuis compared this year's children's levy with a jail bond measure expected in November 2023.
The future jail proposal should be supported, Korthuis said, because it would fund a mandated public service. Child care, on the other hand, falls outside the government's scope.
"I think the citizens of Lynden weigh new taxes and new government," Korthuis said. "Typically or historically, there's got to be a private sector way that's better."
42nd goes blue
All three seats representing the 42nd Legislative District in Olympia will be filled with Democrats for the first time in 38 years.
Part of the reason for Shewmake's victory over Republican incumbent Sen. Simon Sefzik was the strong support she received — 78.5% of the vote — in the district's north Bellingham precincts. But Shewmake also did something the previous Democratic challenger for the state Senate in the 42nd couldn't do: She won Ferndale.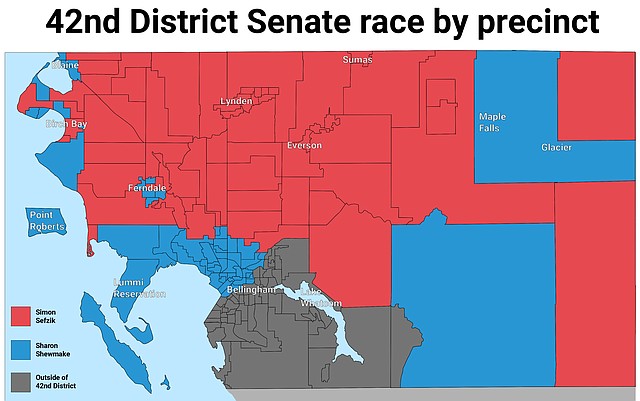 Pinky Vargas, the Democrat who challenged Republican Doug Ericksen in 2018, lost in an ultra-close recount by 0.06 percentage points. But Ferndale wasn't close that year; Ericksen beat Vargas by 5.15 percentage points in the city.
Shewmake, who defeated Sefzik by 1.2 percentage points districtwide, won Ferndale by virtually the same amount: 1.18 percentage points.
Arguably Ericksen, a longtime legislator who died last year after contracting COVID-19, enjoyed outsized popularity in his hometown. Ferndale leaders earlier this year even proposed naming a bridge after him. 
But demographics may also have been a factor in Ferndale's turn. Consider Lynden by contrast: The city held its ground this election, giving Sefzik 76.3% of its vote compared to 76.2% for Ericksen in 2018.
Riley Sweeney, Ferndale's communications officer, noted that Ferndale "continues to be one of the fastest growing cities north of Everett."
"Anecdotally, many of those new neighbors come from Bellingham or the King County area, searching for more affordable housing during this difficult time, and may bring their politics with them," Sweeney said.