CITIZENS AGENDA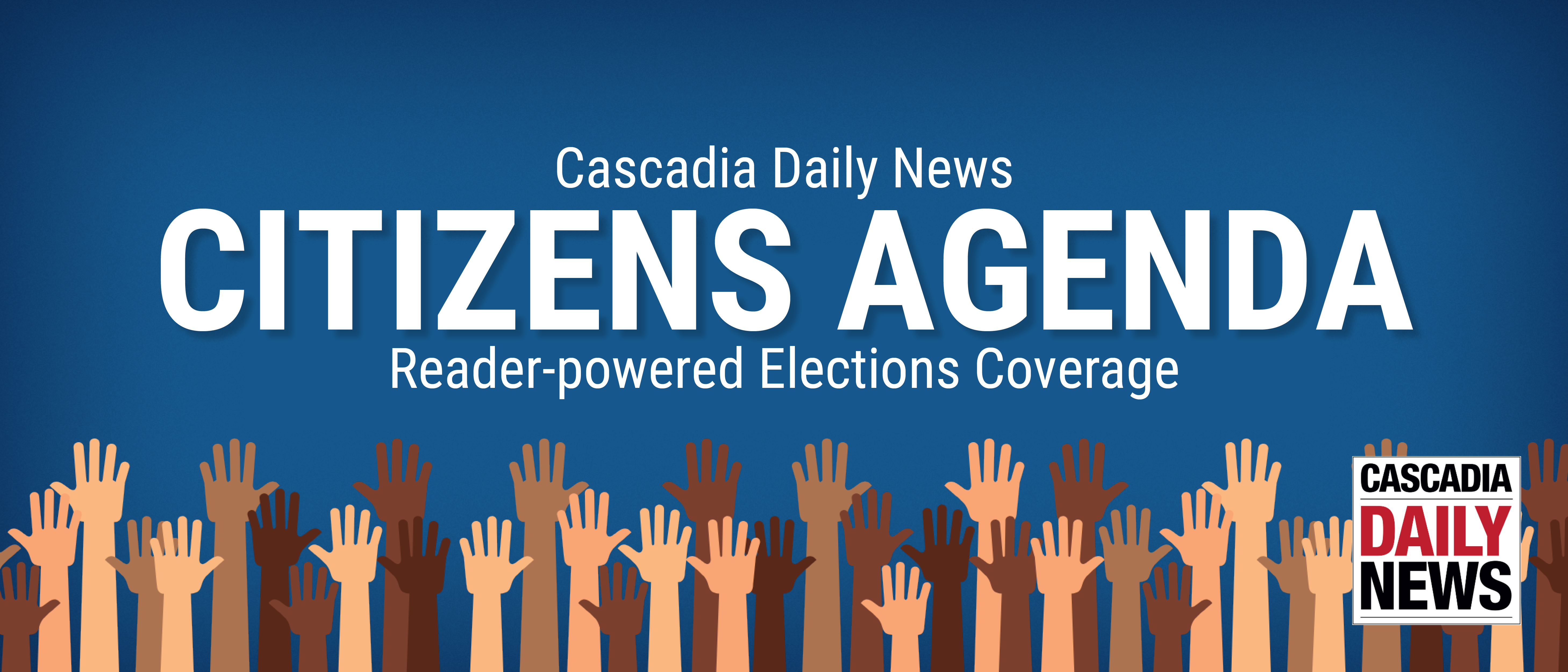 Cascadia Daily News will put election issues in the hands of readers for the important upcoming midterm election, beginning with primary season and extending through General Election day, Nov. 7. Our coverage will follow two tracks:
  
Regular news stories and election updates in CDN's news pages at cascadiadaily.com and in our weekly print edition.
  
A separate, complementary project, CDN Citizens Agenda, that encourages reader-voters to "set the table" for election coverage by passing on their own answers to a simple question:
What do you want candidates to be talking about as they compete for votes?
The goal is to have you, the reader, establish the framework for election issues, rather than candidates relying on their own "talking points" or personal agendas. The Citizens Agenda strategy
has been employed by many U.S. and Canadian media outlets
over the past two decades, with favorable results; publications have consistently reported campaign coverage that's more relatable and meaningful to readers, allowing them to make more informed election decisions by setting their own agenda for election coverage and avoiding rote candidate talking points.
What's the process?
CDN will assemble readers' submissions into a large list of most-requested topics and publish them, asking readers to vote for the most important subjects. Armed with this information, CDN's editor and reporters will put those chosen questions to candidates who participate in our endorsement process. We'll also be asking the questions at public forums and other places to better focus the news reporting we do about the candidates.
What's the incentive for candidates? If they don't answer your questions, we'll note that they declined to do so in our CDN Voter's Guide, which will appear in October before the general election.
Watch for more information about the CDN Citizen's Agenda on our website, in our print newspaper, and in editor Ron Judd's column on the Opinion page as election day approaches.
Note:
If you're willing to be interviewed by a reporter about your election-issue choices, let us know when you send your email. We'd like to include as many public voices as possible in our election stories.
Questions? Contact Ron Judd, executive editor, at
ronjudd@cascadiadaily.com
.
---
A note from the editor regarding 2023 Citizens Agenda
Our readership's five favored questions in 2022 dealt with homelessness, abortion rights, election legitimacy, gun regulations and single-payer health care. For obvious reasons, we devised our own, separate list of questions for the specialized elected position of a local District Court judgeship.
This year's process will be similar: Consider our doors open right now for reader ideas on what issues we should put front and center before candidates. It's never too early to start sending candidate questions to our main inbox,
newstips@cascadiadaily.com
, with the subject line: "Citizens Agenda."
Watch this space for regular updates on the question submission and voting process. We're also busily working on plans for CDN's participation in various election forums, as well as making plans for pullout Voter Guides for both the primary and general elections.
Meanwhile, it's important to note several key principles and differences in CDN's 2023 Citizens Agenda process:
Timing:
We'll put out a primary Voter Guide July 14, around the time ballots are mailed. Our general election Voter Guide will publish by the second week in October.
Find the full timeline here.
Candidate interviews:
Many readers last year asked about the availability of transcripts or, better yet, video coverage of our endorsement interviews, which are on-the-record sessions with CDN editorial and news staff. We're working on that right now and will announce details once plans are solidified.
More focused questions:
Last year's election was largely dominated by federal and state reps, with broad election issues shared at the local and national levels. This year's election is different — with key battles for important positions such as cities' mayor offices and county sheriff and executive. The 2023 election also includes what promises to be fascinating contests for numerous city council and school board seats.
To drill down to subjects more fitting for those unique roles, we'll be asking readers to adjust. Rather than just five overall questions, we'd like separate questions for three overriding groups: Local government, crime and justice, and education.
Examples:
Local government: "What are your plans to address what's obviously a growing substance addiction problem?" Crime and justice: "If elected sheriff, what's your stance on expansion or maintenance of jail-diversion programs?" Education: "How should local school districts maintain independence when making curriculum decisions?" This will allow us to better drill down to specifics.
Advertising:
Because they are a public service of our fiercely independent newsroom, our Voter Guide supplements do not contain political advertising. CDN does accept other political advertising that meets state Public Disclosure Commission requirements and our own advertising policy (copies available upon request by emailing member@cascadiadaily.com).
We reserve the right to reject any political ad we believe spreads misinformation or, in the opinion of the executive editor, unfairly attacks an opponent.
---
Relevant articles (2023)
Aug. 1:
PeaceHealth, homelessness, water quality top voter concerns: Jail bond, police training, school curriculum also rank high
June 14:
Deadline looms for candidate questions: CDN's Citizens Agenda 2023 will fuel reader-powered election coverage
June 14:
Calendar is set for CDN's Citizens Agenda '23: It's time to submit questions to guide election coverage
May 31:
CDN's election coverage will be reader-powered again: 'Citizens Agenda' will shape 2023 election news, endorsements
---
Relevant articles (2022)
Oct. 19:
CDN Voter Guide CDN endorsement summary, candidate responses to Citizens Agenda questions
Oct. 12:
CDN endorses: Shewmake, Rule, Timmons, Ramel for Legislature
Oct. 5:
CDN endorses: Larsen for Congress, Rands for District Court judge
Sept. 28:
Making a case for local candidate endorsements: CDN's role in the coming election
Sept. 7:
To some, 'Citizens Agenda' is fine — as long as they're setting it
Aug. 31:
Citizens Agenda: The results are in! Voters focus on homeless, abortion rights, elections, guns, health care
Aug. 31:
Winners, and no real losers, in Citizens Agenda polling: A big-picture look at local voter concerns
Aug. 17:
Citizens Agenda: Select your top five questions for candidates: CDN's reader-powered election coverage takes shape
Aug. 10:
It's (almost) last call for CDN Citizens Agenda: Questions for candidates due by week's end
July 27:
NW Washington's election issues are taking shape: The economy, individual rights, guns, crime, homelessness top long list
June 29:
We're all in on election scrutiny — but need your help: One big question will guide CDN's midterm coverage