Elections
Signs point to close state races in 42nd
Republicans seek gains in north Whatcom district
October 19, 2022 at 5:55 a.m.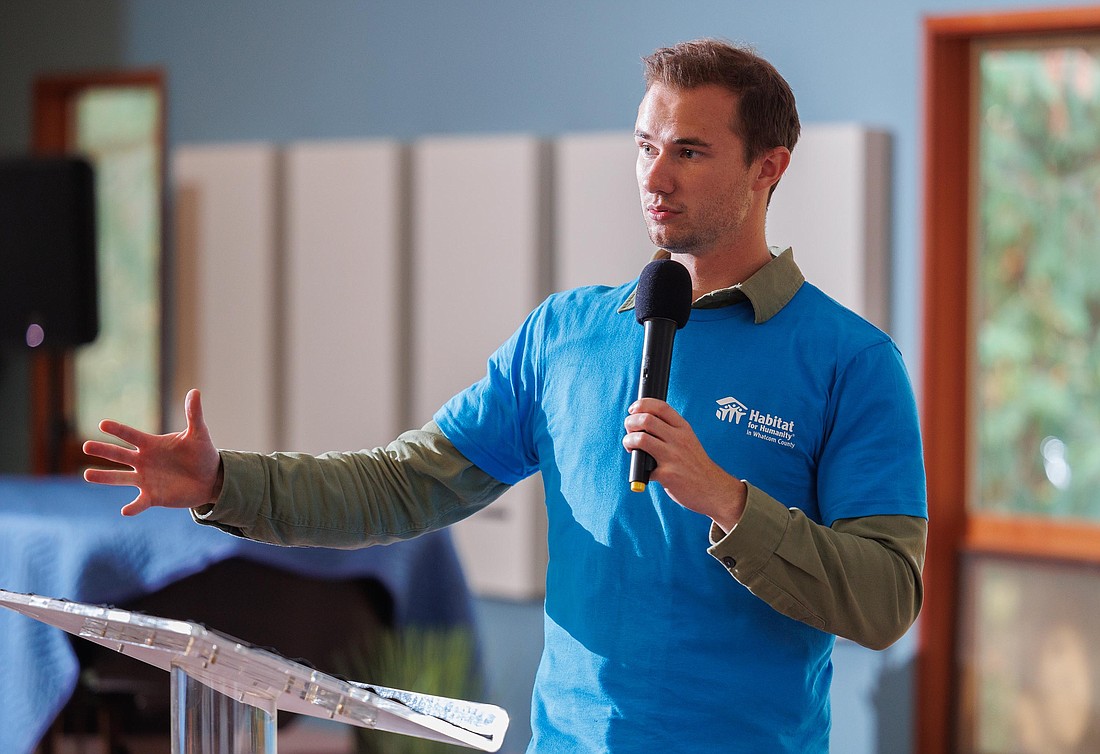 ---
---
The Republican Party's ambition this November is to take over the state House or Senate. To accomplish this, they might need victories in a key legislative district in Whatcom County.
The 42nd Legislative District — north Bellingham, and north and east Whatcom County — currently has Democrats Sharon Shewmake and Alicia Rule in House seats, and Republican Simon Sefzik in the Senate. Shewmake is leaving her House seat open, however, in order to challenge Sefzik.
Facing off for Shewmake's seat are newcomers to elected office, Democrat Joe Timmons and Republican Dan Johnson. Rule seeks re-election against former Bellingham police officer Tawsha Thompson.
Republicans statewide need to flip nine seats in the House to reverse the Democrats' 57–41 majority. To win the Senate, where Democrats currently have a 28–21 advantage, the GOP must turn four seats from blue to red.
Skagit County Republican Party Chairman Bill Bruch said the party's goal is within reach. Polling conducted by the state House Republicans early this year indicated 14 districts were in play, he said.
"The economy is going to push Republicans over the top," Bruch said in an interview shortly before the Aug. 2 primaries. "A lot of the independents and uninformed voters are not really into politics."
Senate candidates overlap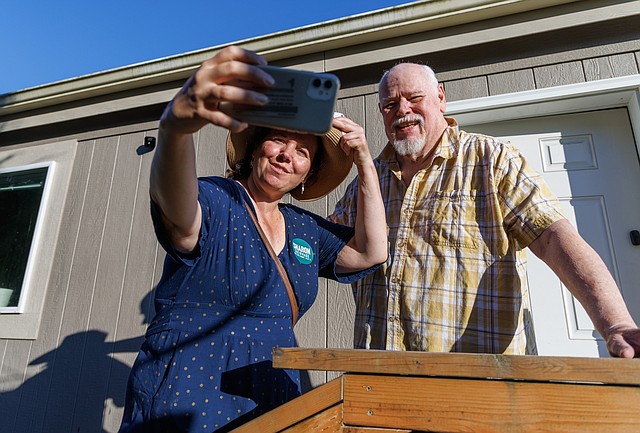 At 22 years old and with one year of experience in the Senate, Sefzik is the most experienced Republican on the 42nd District ballot. His opponent Shewmake is a two-term member of the House who opted to run for Senate to break the Republican Party's 20-year hold on that seat.
Sefzik and Shewmake's high-priority issues overlap. Sefzik has centered his campaign on affordability, public safety and government accountability. Shewmake said the issues that come up the most in her conversations with voters include abortion, affordability and public safety.
"The issue that comes up most organically is abortion. That comes up a lot," Shewmake said. "I think working people pay too much in taxes, and I think it's time for the rich to start paying their fair share. People really appreciate that as well."
In an interview in July, Sefzik dismissed Democrats' focus on abortion.
"The Democrats are in for a rough November if they're trying to make the election about this issue, rather than talking about affordability, safety and accountability," he said.
Shewmake said her campaign's internal polling indicates more people agree with Democrats on issues of concern, "but the Republicans are more engaged."
If that suggests the races in the 42nd will be close, so does recent history. Four years ago, the late Sen. Doug Ericksen retained the seat now occupied by Sefzik by the thinnest of margins, defeating Democratic challenger Pinky Vargas by 46 votes out of 72,636 cast.
In 2020, Rule defeated incumbent Republican Luanne Van Werven for a 42nd District House position by 2.3 percentage points. That same year, Rep. Shewmake defeated Republican challenger Jennifer Sefzik — Simon Sefzik's mother — by 3.5 points.
In a statement emailed on Oct. 10, Sefzik said his campaign's polling indicates he is "slightly ahead" in the race against Shewmake.
"But as you know this is a very tight swing district," Sefzik added. "This race comes down to hard work and good communication with the people of the 42nd."
Shewmake made a similar statement in an Oct. 7 interview.
"I do think that there's something to be said for competitive elections, where you really have to go out and talk to voters and figure out what they want," she said.
"It's going to be all [about] coming out to get out the vote."
Dems rule the House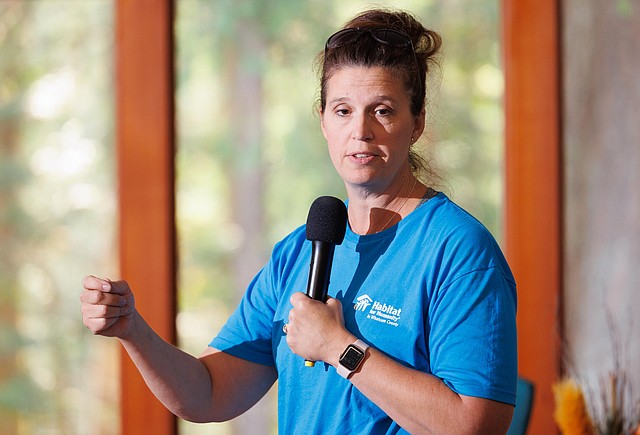 As a lobbyist for police departments, Thompson saw firsthand how law enforcement in 2021 was shut out of discussions about police reform legislation intended to ensure the safety of the people police encounter. Democrats and Republicans now agree the new laws had the unintended consequence of interfering with the police's ability to stop crime.
"We need more people like me down there that will ... bring the balance back, to give the other perspective to Olympia," Thompson said.
The challenge for Thompson is that Rule has been law enforcement's closest ally among elected Democrats in the 42nd District. She voted against some of the police reform legislation and introduced a bill that would have made fentanyl possession a felony — a proposal that went against the grain of Democrats' efforts to focus less on punishment and more on treatment for drug addicts.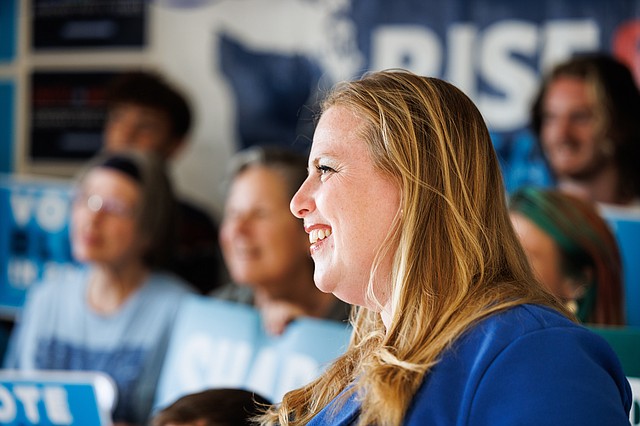 Despite running against a former police officer, Rule has endorsements from the Washington State Fraternal Order of Police and Thompson's former boss and Bellingham Police Chief Flo Simon, who retired earlier this year.
Johnson, the Republican running for the House seat vacated by Shewmake, said Sept. 27 on Facebook he was "ahead in the polls," using the aggregate totals of Republican and Democratic candidates in the Aug. 2 primary as his measure. In that race, Republicans drew nearly 52% of the vote to Democrats' 48%. 
Johnson said his lead explained why he had been labeled a racist and a sexist by his opponents. The Sept. 27 Facebook post followed a report in The Bellingham Herald that Johnson had posted sexist and antisemitic memes online. 
In his statement on Facebook, Johnson apologized for a 2020 post that had compared Gov. Jay Inslee's vaccine mandates to the Holocaust.
"Over the years, I am sure I have posted things on social media that were politically hyperbolic or things that were comedic, but NOTHING that was intended to be racist or sexist," Johnson said in the Sept. 27 post.
Timmons, who opposes Johnson, is Inslee's outreach representative for northwest Washington. Johnson has tried to associate Timmons with Inslee's policies, but the Democrat has responded by distancing himself from the governor.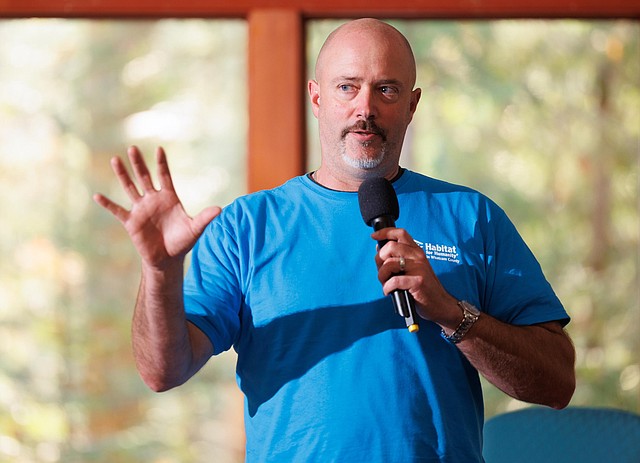 At a Bellingham City Club candidate forum on Sept. 28, Timmons said he would not have voted for the 2021 police reform legislation Inslee signed into law.
"I don't plan on being a rubber stamp for the governor," Timmons told Cascadia Daily News during a Sept. 22 interview. "I would really look at each decision and each bill through the lens of the 42nd and how I can serve our constituents."