Business Matters
Whatcom-B.C. personal vehicle traffic remains below pre-pandemic levels
One reason may be changed habits of shoppers, not the exchange rate
April 5, 2023 at 4:50 a.m.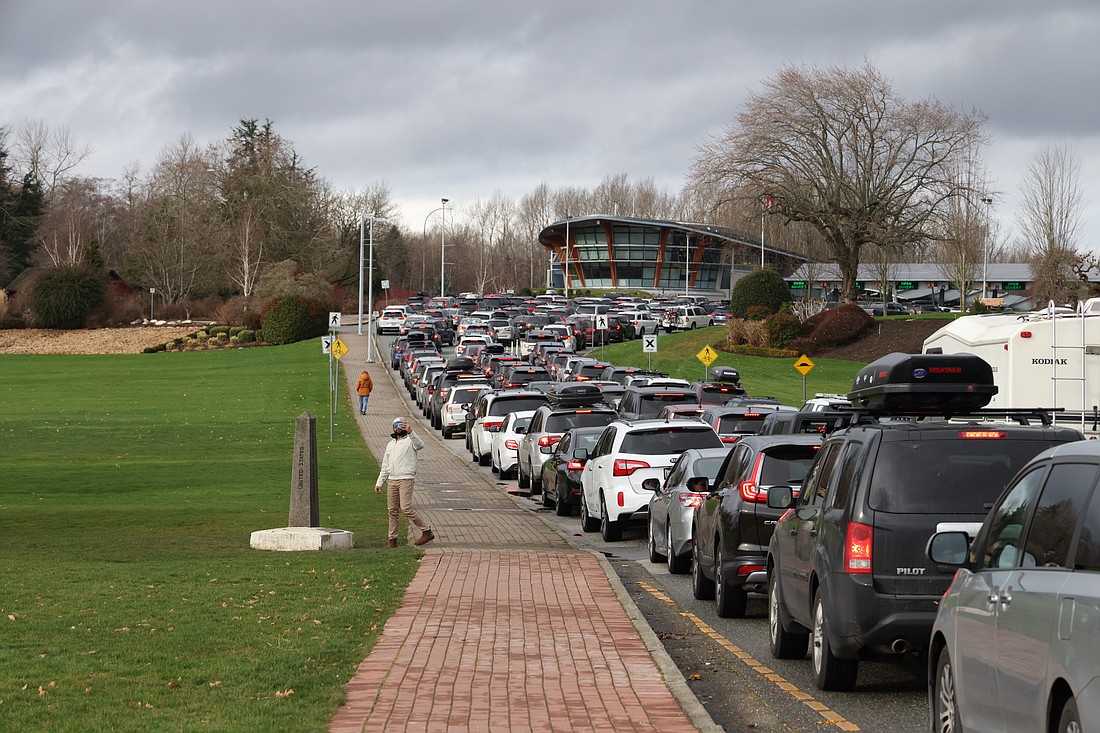 ---
---
All eyes on summer. Six months after most restrictions were lifted on cross-border land travel between the U.S. and Canada, one question remains: Where are all the Canadians? Or, put more directly: Where are all of the cars and their passengers' retail and tourism dollars? 
You wouldn't notice it from the crowded, British Columbia-plate-laden parking lot at Trader Joe's in Bellingham, or perhaps at Bellingham International Airport which said early this year that Canadians were again flocking to catch cheaper flights to U.S. destinations.
But numbers pulled together by the Whatcom Council of Governments (WCOG) are cause for, if not concern, puzzlement — and a bit of speculation.
"Overall regional cross-border travel volumes are still 30 to 40 percent lower than pre-pandemic levels," said Hugh Conroy, director of planning for WCOG, who keeps an eye on border transportation between Whatcom County and lower mainland British Columbia for the International Mobility and Trade Corridor (IMTC) program. 
A comparison produced by WCOG is stark. After April 1, 2022, when Canada removed its COVID testing requirement, personal vehicle traffic at two popular border crossings slowly recovered from 22% of their 2018/2019 volumes in March to 58% by June, a significant improvement. 
Then it kind of got stuck. Comparative volumes bounced around the 60% level until Oct. 1, when Canada ended the mandatory use of its ArriveCAN app to provide proof of vaccination. Volumes then briefly rose to 69% but, by year's end, had settled back to near 60% of pre-pandemic normal.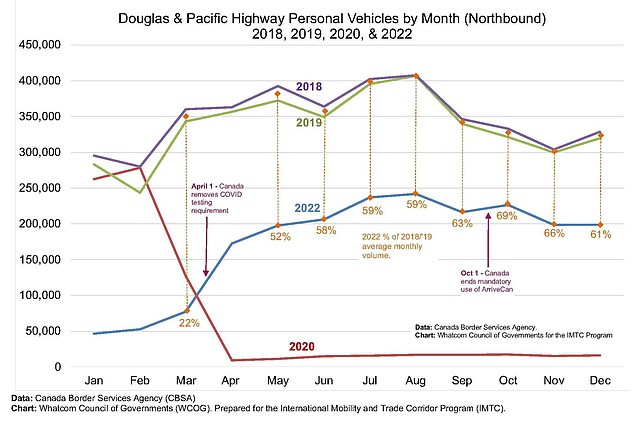 The data comes with caveats. It's only northbound traffic and only has figures from the Canada Border Services Agency. But Conroy said it's a "perfectly good measure" to evaluate all border travel going in both directions at the often-used Douglas (Peace Arch) and Pacific Highway crossings.
What's uncertain is what the continued effect on Whatcom County businesses will be, and why volumes have declined.
Commerce via truck has been relatively consistent — Conroy pointed out that kind of trade-related travel was considered essential, kept moving and "did not go down during the COVID-19 travel restrictions."
But IMTC's 2021 Data Digest stated that prior to the pandemic, "80% of cross-border travelers cross at least once a month," and Canadians typically took short, less-than-one-day trips, usually for shopping or buying gas.
During the worst of the pandemic, it's possible the retail impact in Whatcom County may have been partly counterbalanced by shoppers on the southern side of the border. 
"Based on previous research, we had predicted early on in the pandemic that Whatcom's retail sector would take a big hit from the lack of Canadians, which comprise as much as 12% of retail sales tax in some categories," said Laurie Trautman, Ph.D., director of the Border Policy Research Institute at Western Washington University. 
"However, what we didn't predict was how much domestic spending would spike, and this offset much of the lack of Canadian spending," she said. Exceptions, Trautman said, included clothing and big-box stores.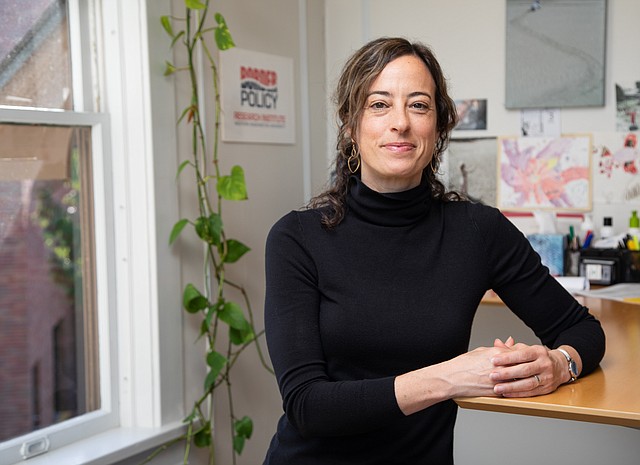 Retailers now don't appear to be reporting any new concerns, said Guy Occhiogrosso, president and CEO of the Bellingham Regional Chamber of Commerce. 
"When I think of trendlines, everyone knew with such a prolonged closure, it would take time to get back to normal," he said. "We're certainly still seeing those shoppers," notably on Canadian long weekends which, he said, can turn into shopping weekends for those from B.C.
Local tourism, too, is up but also has yet to fully recover. 
"Historically, Canadian visitors have been an integral part of traveler spending in Whatcom County, but the pandemic's impact on international travel was widespread," said Bellingham Whatcom County Tourism President and CEO Dylan Deane-Boyle. "Though we did see a rebound in 2021, visitor spending remains below pre-pandemic levels."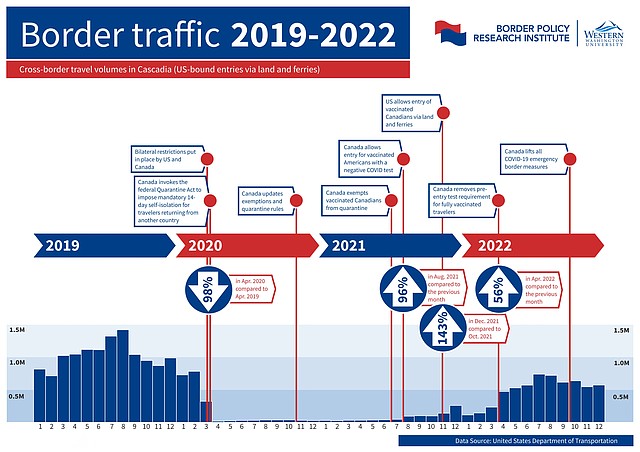 The "why" behind lower personal vehicle traffic is still a mystery.
The exchange rate remains significantly in favor of U.S. shoppers (73 cents bought a Canadian dollar on March 29) but the advantage was similarly tilted to the U.S. pre-pandemic as well. "The exchange rate has been in the same ballpark since 2015 — between .7 and .8 USD," Conroy said. So that, by itself, isn't an obvious reason for the drop.
More likely may be a change of routine. It's reasonable to suspect that "two years of pandemic travel restrictions have affected many people's travel habits — especially for cross-border trip purposes like shopping, restaurants, etc.," said Conroy. 
Less clear is how temporary this may be.
"It's still a bit early to say, and I think we will have a better handle on this after seeing what happens this coming summer," said Trautman. Both Trautman and Conroy said summer represents the traditional height of personal vehicle traffic, with the climb starting in March and peaking in August.
"The big question is if the summer peak will start to resemble pre-pandemic times or if Canadians have changed their consumer behavior and travel patterns enough during the pandemic that the volumes we see now are a new normal," Trautman said.
That data won't be fully in until this fall. The chamber's Occhiogrosso is optimistic. "Now do I think we'll see 85% of the border crossings we saw in 2019? I don't think so," he said. "But I think we'll see it higher than it is now."
Trautman is looking even further out if full recovery doesn't come soon. She recalled that after the events of Sept. 11, 2001, it took until 2010 and the lead-up to the Olympic Winter Games in Vancouver for the border traffic numbers to start to really bounce back in the region. 
The next sporting event of similar prominence will be the 2026 World Cup games with Seattle and Vancouver serving as two of the host cities.
"I'm really curious to see if we see a trend with FIFA following the pandemic as we did with the Olympics following 9/11," Trautman said. "And are we prepared for that?"
Places & Things
Allied Arts Reuse Thrift Store is temporarily closed through April 6 to expand. A grand reopening is set for Friday, April 7 from 11 a.m. to 4 p.m. at 1418 Cornwall Ave. in downtown Bellingham. 
Allied Arts of Whatcom County said the store is getting "a new bigger and better space across the hall from our main gallery (formerly the iDiOM/Film is Truth space)." The store sells reused products or material related to the arts. 
(For the latest Places & Things, check here throughout the week.)
Frank Catalano's column appears Wednesdays. Email: frankcatalano@cascadiadaily.com; Twitter @FrankCatalano.