Places & Things
Places & Things: March 2023
Copper Canoe Woman opens retail space, New Peking Restaurant closes
March 2, 2023 at 5:00 a.m.
|
Updated March 30, 2023 at 8:53 a.m.
---
---
Places & Things is updated regularly throughout the month with new business openings, closings and changes.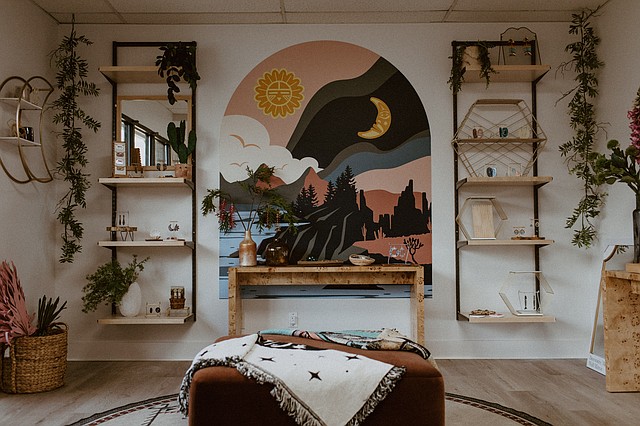 Copper Canoe Woman is opening a retail space in its workshop and gallery at 801 W. Orchard Drive, suite 6 in Bellingham's Cornwall Park neighborhood. The artisan crafted jewelry business holds a grand opening on Friday, March 31 at 12 p.m., and owner Vina Brown said its regular hours will be Monday through Friday, 12 to 5 p.m. to start. Brown, an indigenous jewelry designer, said in an announcement, "I stand on the shoulders of my ancestors and I am consistently inspired by the struggles and solutions of my people, the Haíłzaqv and Nuu-Chah-Nulth. I'm honored to share my humble interpretation of that inspiration with both those in my own community and other cultures of the world." Brown said Copper Canoe Woman has been in the space since September 2022 as a workshop and gallery for potential wholesale clients and distributors.
Uncle Jesse's Pottery has opened a storefront in Ferndale. Owner Jesse Hughs said in a Facebook post that he still has "a lot of shows and events lined up" for the weekends to showcase his pottery, so initial retail hours will be Monday and Tuesday, 10 a.m. to 4 p.m. and Wednesday and Thursday, 2 to 6 p.m. The retail store held its grand opening on March 25 at 5679 3rd Ave. in Ferndale.
New Peking Restaurant closed its doors at 1208 E. Maple St. in the Sehome neighborhood of Bellingham. On social media, the restaurant said the closing on March 27 came after 37 years that its owners "have been cooking delicious Chinese food and building relationships with their customers for most of their lives and are looking forward to new adventures in retirement."
Attention San Juan County bowlers: JP's Restaurant and Bar has now opened its bowling lanes after renovations and upgrades at the former Paradise Lanes location of 365 Spring St. in Friday Harbor. The restaurant itself, with a "Mexican spin on a bowling menu," opened earlier in the month.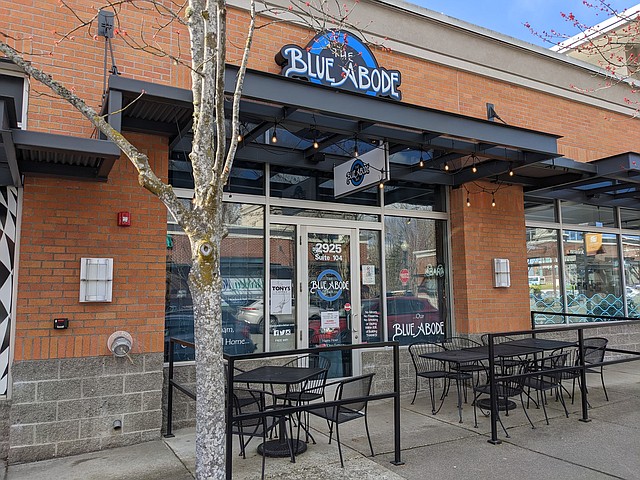 The Blue Abode Bar in Bellingham's Barkley Village is for sale. In an ad on the site BizBuySell, the "profitable, established and fun neighborhood bar" set an asking price of $99,900. Blue Abode opened at 2925 Newmarket St., suite 104 in 2017. Why sell? "We just have a growing family and need a career change," said co-owner Katy Hartmaier. Hartmaier said Blue Abode will remain open while it seeks a buyer.
The Fat Beet announced it will open Friday, April 14 in downtown Bellingham in the space of the former Quantum Leaf. The "100% vegan contemporary casual eatery" at 1149 N. State St. is owned by Melissa Sorinsin and Talia Sorinsin-Allen. The new owners closed Quantum Leaf after acquiring it to make changes, including a new mural that's highlighted on its Facebook page. A pun-laden post preceded the name change reveal, which they wrote they'd "bean thinking about" for a while and was "kind of a big dill."
B'Ham School of Music had its grand opening on March 26 at 2630 Meridian St. in Bellingham. The music school's programs include interactive parent-child classes for children ages 0-3, "rock orchestra" and ensemble classes for youths, teens and adults and private lessons for all ages. "At our music school, we believe that music is not just a fun hobby, but an important part of a well-rounded education," said Program Director Julia Sokolowska.
Downtown Bellingham Partnership will hold its inaugural Spring on State event on Saturday, April 1. The "celebration of the return of spring" features a pop-up at Time & Materials' courtyard at 954 N. State St. with a half-dozen vendors and kids' activities, plus an egg hunt and brunch specials, all between 11 a.m. and 2 p.m.
Banter has closed its Fairhaven location and listed it for sale. The spot at 1307 11th St. in Bellingham had opened last year primarily for weekend breakfasts and brunches. "We are selling this space as a lease takeover and asset sale," reads Banter's website, and a Craigslist ad gives the reason as "ownership is ready to take a step back and prioritize the health and vibrancy of the downtown location," which will remain open at 114 Prospect St. Listed asking price is $85,000. Banter marked its four-year anniversary as a business in January.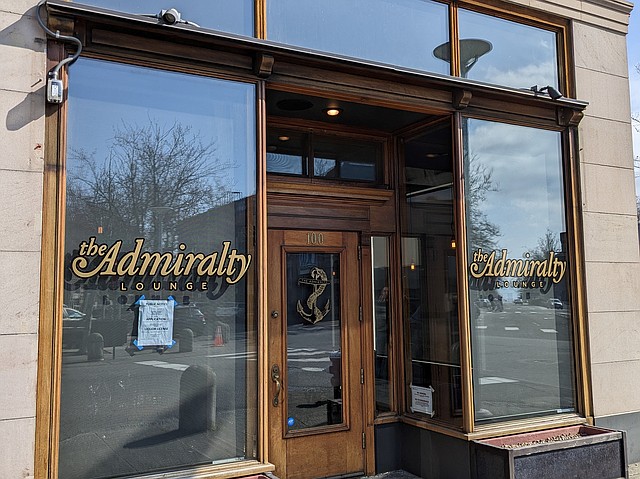 The Admiralty Lounge soft opens Saturday, March 25 at 100 N. Commercial St. in downtown Bellingham. The restaurant and bar — adjacent to the Mount Baker Theatre, in the space of the former Snowy River Cocktail Co — is a "nautically themed cocktail lounge," said co-owner Jabriel Donohue. The menu, he said, is "informed by the food available to navies in the 1600 and 1700s" when navies used to set up farms along their routes for provisions. Expect "very hearty fare and preserved things." Regular hours are Tuesday and Wednesday, 3 to 10 p.m., Thursday and Sunday, 3 p.m. to 12 a.m. and Friday and Saturday, 3 p.m. to 2 a.m.
Downtown Bellingham Partnership is launching Western Wednesdays on March 29. DBP said those with Western Washington University student or faculty ID can get "deals and discounts" every Wednesday at approximately 30 downtown businesses. Participants ranging "from coffee to cocktails and everything in between" include Makeworth Coffee Roasters, COF&, Flatstick Pub, The Blue Room, Mo's Parlor, Third Planet and Bantam. 
Nana J's Kitchen has opened at 1311 N. State St. The downtown Bellingham eatery features curry bowls, kabab wraps, lentil soup and other dishes. Posted hours as of the restaurant's March 21 opening date were Tuesday through Saturday, 11 a.m. to 2 p.m and 4 p.m. to 8 p.m. "No one can cook like Nana Johnston!" reads Nana J's Facebook page.
Allied Arts Reuse Thrift Store is temporarily closed from March 21 through April 6 to expand. A grand reopening is set for Friday, April 7 from 11 a.m. to 4 p.m. at 1418 Cornwall Ave. in downtown Bellingham. Allied Arts of Whatcom County said the store is getting "a new bigger and better space across the hall from our main gallery (formerly the iDiOM/Film is Truth space)." Allied Arts said the purpose of the store is to sell reused products or material related to the arts.
Floral design store Poppy & Pomegranate opens Saturday, April 1 at 1003 Harris Ave. in the Fairhaven neighborhood of Bellingham. Promising "floral design for every day and special occasions" according to its website, the shop's door sign said grand opening hours will be 11 a.m. to 5 p.m. The former retailer at the location was thematically aligned: Rebecca's Flower Shoppe, whose owners retired at the end of last year.
Gertie's is open in Eastsound at the former 123 N. Beach Rd. address of Matia Kitchen and Bar. While Gertie's has its own website describing it as serving "classic dishes influenced by New American cuisine and using regional ingredients," the one-time Matia site calls Gertie's "excellent food without the pretense." A new Matia Kitchen opened in March at 382 Prune Alley in Eastsound on Orcas Island after a reported dispute between original Matia co-owners.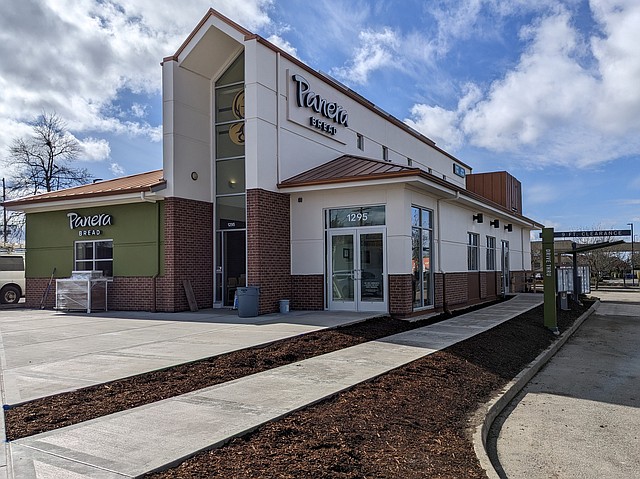 Panera Bread is opening Wednesday, March 22 at Sunset Square in Bellingham. Franchise owner Flynn Restaurant Group announced the opening at 1295 E. Sunset Drive would be its 24th restaurant in Washington state and the first in Whatcom County. The Panera Bread operator said the Bellingham location features a drive through, catering, delivery and rapid pick-up online ordering. Hours will be 6 a.m. to 9 p.m. Monday through Saturday and 7 a.m. to 9 p.m. on Sundays.
Chuckanut Bay Distillery is expanding upward. The business at 1311 Cornwall Ave. in downtown Bellingham is adding a rooftop bar, now under construction, and a large event space just below it, according to the distillery. "The rooftop bar will be opening this summer and will feature exceptional views of the waterfront and surrounding cityscape as well as delicious craft cocktails and food," said Chuckanut Bay's Ethan Lynette, adding that the event space will open "later in the year." Chuckanut Bay also operates the Penny Farthing Bar & Restaurant in the same building. 
Structures Brewing's original location at 1420 N. State St. in downtown Bellingham is going into "grand hibernation" for a few weeks, according to its Instagram posts. The last day open was March 9 so a "light remodel of our beloved little taproom" could take place. The temporary closure closely coincides with the March 11 opening of Structure's new brewery and restaurant at 601 W. Holly St. in Bellingham's Old Town.
Bellingham Public Library has set an opening date for its new Bellis Fair branch: Wednesday, April 26. BPL's announcement tied the grand opening at 2 p.m. that day — complete with ribbon cutting — to the celebration of National Library Week. Regular hours will be Wednesday through Friday, 2 to 6 p.m., Saturday, 11 a.m. to 6 p.m. and Sunday, 1 to 5 p.m. The library's first branch on the north side of the city will be near Dick's Sporting Goods in the mall.
Sweet as Waffles is closing its food trailer on Sunday, March 19 as part of preparation for opening its brick-and-mortar location at 122 E. Magnolia St. in downtown Bellingham. In a Facebook post, the self-described "funky waffle shop" also said its trailer is up for sale. The trailer has been at Stemma Brewing at 2039 Moore St. in the Roosevelt neighborhood. 
Sage Against the Machine closed its Bellingham restaurant on March 11. The downtown vegetarian/vegan spot at 1213 Cornwall Ave. wrote in a social media post that it's still "looking for someone to take over our building lease and buy us out of our kitchen!" Asking price, according to the post, is $150,000. 
AMC Cascade Mall 14 in Burlington is back open and selling tickets, according to AMC Theatres' website. The movie multiplex at 200 Cascade Mall Drive shuttered temporarily in November due to compliance issues with its fire alarm system. The Skagit Valley Herald reported "passing a pre-inspection" allowed it to reopen.
Raven Bakery opens Saturday, March 11 at 205 Prospect St., suite 101 in downtown Bellingham. Owner Sophie Williams said she began the business that makes "excellent rustic Northern European style sourdough breads" and pastries in 2014, selling wholesale, at farmer's markets and by subscription. Now, Raven has a retail storefront. Regular hours will be Wednesday through Saturday, 8 a.m. to 2 p.m.
Sun-E-Land Bikes will open at The Portal Container Village at 296 W. Laurel St. on Bellingham's waterfront on April 1 to coincide with Bellingham School District's spring break. Owner Matt Holmes said the bike rental container will stay open through April 9, "then weekends only until Memorial [Day] weekend when we will resume a seven-days per week open season." 
The Port of Bellingham plans to open the first Rotating Container Shop at The Portal Container Village on May 1. The Port's Mike Hogan said while a number of vendors are locked in for the 2023 season, reservations are still being accepted for open slots in the blue shipping container. A second rotating shop will open at 296 W. Laurel Street on the waterfront in Bellingham "depending on permitting and construction schedules."
Rock & Roll Sushi is expected to open in Bellis Fair in Bellingham by the end of March, according to the mall. Mall management confirmed it will go into Bellis Fair's Food Court, "where the Ivar's used to be, next to Fresh Grill."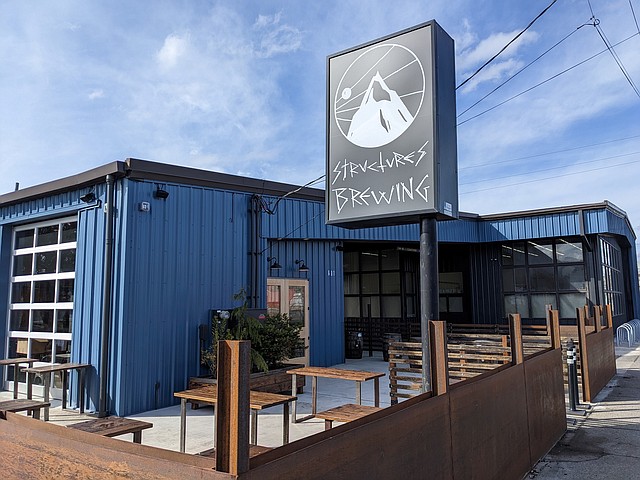 Structures Brewing will open its new location in Bellingham's Old Town on Saturday, March 11, according to a social media post and a page on the brewery's website. The second location — at 601 W. Holly St. — has been undergoing remodeling for some time, after Structures purchased the former Chuckanut Brewery "North Nut'' brewery and restaurant in early 2022. Structures describes the Old Town spot as "all ages with food and plenty of waterside views" and will continue to operate its current taproom nearby at 1420 N. State St. in downtown Bellingham for those who want "a cozy city vibe that is 21+."
Welcome Road Wine & Coffee is extending its welcome with a grand opening on Saturday, March 25. Originally opened in 2021 as a tasting room for Welcome Road Winery, the spot at 300 W. Champion St. in downtown Bellingham recently expanded into a coffee shop "during the earlier hours of the day," according to co-owner Linda Sabee. "We're excited to bring coffee back to this space to honor the legacy of the former Black Drop," which had once been at the same address. Grand opening day hours are 8 a.m. to 8 p.m. with day-long specials. Regular opening hours begin at 7 a.m. Monday through Friday and 9 a.m. Saturday and Sunday.
Sage Against the Machine is closing. Or changing hands. Both options appear open, according to its owners. A Facebook post stated the downtown Bellingham vegetarian/vegan restaurant at 1213 Cornwall Ave. has "decided to close down. With this being said, we are available for purchase by the right owner who wants to keep our dream and vision alive." A Craigslist ad listed the asking price as $550,000 for the "award winning profitable business" including branding, equipment, restaurant lease, recipes and its food truck. No closing date has been announced. [Update: On March 10, the restaurant said on Facebook its last day is Saturday, March 11.]
Airsoft Challenge has opened in Bellis Fair mall in Bellingham, a new location for the entertainment business with other spots in Olympia and Puyallup. The small target shooting range venue is located in suite 326, near Lids and AT&T.
JP's Restaurant and Bar announced on social media that it's now opened the restaurant portion of its location — with virtual golf and pool tables — in Friday Harbor, and promised to open the refurbished bowling alley with "a new scoring system" in the same building on March 15. JP's is located at 365 Spring St. on San Juan Island, the earlier address of Paradise Lanes.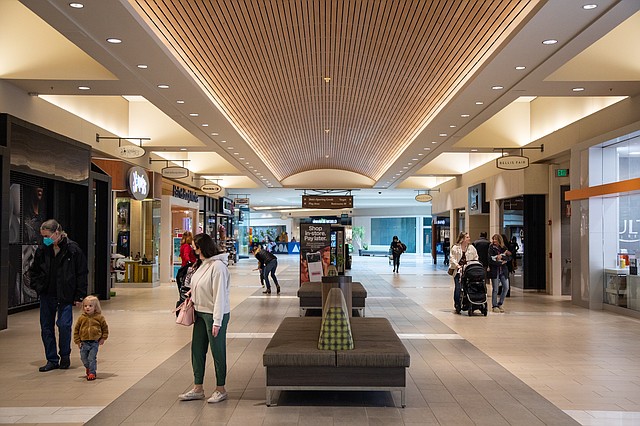 Bellingham Public Library is edging toward opening its new branch at Bellis Fair mall, now slated for "spring 2023." In a news release, BPL said "work is underway" to convert suite 616 into the Bellis Fair Branch, which would put it between Bellingham Makerspace and Champs Sports near Dick's Sporting Goods. Described as a two-year pilot project, BPL said the branch — its first on the north side of Bellingham — will include books and other media, plus computers, free wifi and children's activities. 
Quantum Leaf has new owners as of March 1. In parallel Facebook posts, the original owners announced they'd sold the vegetarian/vegan restaurant at 1149 N. State St. in downtown Bellingham — including recipes and name — and new owners Melissa Sorinsin and Talia Sorinsin-Allen said they'd be taking over with plans to reopen April 1, depending on the timing of health department permits. The original owners are still holding onto the recipes for SconeGrown, a second restaurant they'd operated earlier, and described the goodbye brought on by medical obstacles as "bittersweet." The incoming owners plan to keep Quantum Leaf vegan, since "vegan restaurants in Bellingham are limited but yet so needed."
Stemma Brewing Company products will be seen in more places. River Barrel Distributing announced it has signed a distribution deal with the Bellingham brewery to bring Stemma's beverages to its greater Seattle area accounts, which include King County and the surrounding areas of Western Washington. Stemma set up shop in the Roosevelt neighborhood in 2019.
The Matia Kitchen & Bar split continues to play out. The original Matia website now says that "Matia Kitchen & Bar is permanently closed" at 123 N. Beach Road in Eastsound, and "Gertie's neighborhood restaurant is opening March 2023 in its place." Meanwhile, a different website stated that Matia Kitchen will be "joining our new sister restaurant, Monti, at the historic Firehall building in Eastsound" and open at 382 Prune Alley in March. Monti's website said it's currently closed for renovations "while our new sister restaurant Matia Kitchen moves in." The changes follow a falling out between the owners of the Orcas Island culinary destination originally reported in January.
Read Places & Things: February 2023.
The Sage Against the Machine item was updated at 4:36 p.m. March 10 to include the closing date.