Transportation
Bellingham International Airport: 'BC's low-cost airport to the US'
BLI rebounds to pre-pandemic numbers of Canadian customers
January 28, 2023 at 5:05 a.m.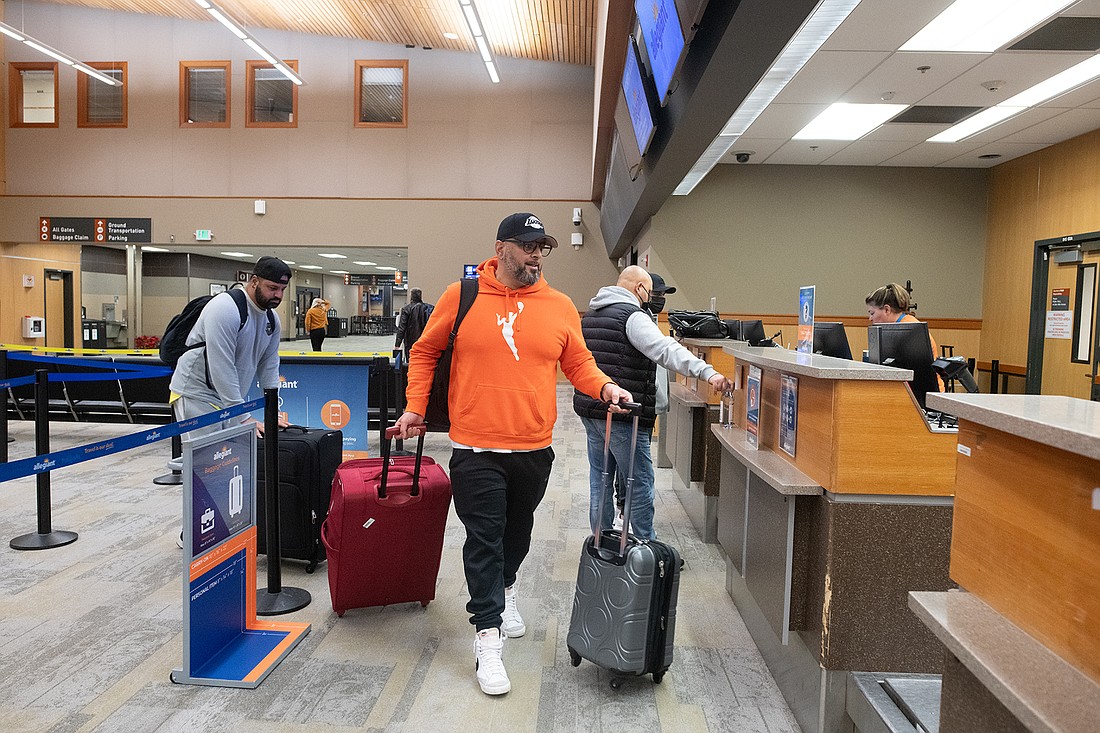 ---
---
Bellingham International Airport's main customers aren't people who live in Bellingham. They're Canadians. 
Over a 12-year period, Canadians have made up on average 65% of Bellingham International Airport's (BLI) customer base, said Sunil Harman, director of aviation at the Port of Bellingham. While COVID-19 travel restrictions prompted low demand for travel from Canadians in the first quarter of 2022, Harman said the demand was high the rest of the year. 
"If we had had the full numbers with normal Canadian demand in the first quarter of '22, we would have probably seen something better than 65%," Harman said. The final figure for 2022 came in at about 62% Canadian customers. 
Proximity to the border and low fares — $134 on average based on numbers from the third quarter of 2022 — make the airport particularly attractive to Canadians hoping to fly in the U.S.
"It's an issue of market dynamics," Harman said. "The U.S. customer is a much smaller proportion of the overall number of customers that are within a 90-minute drive to this airport. The Canadian demand, in terms of population and propensity to travel, is much higher. So, we get a higher proportionate number of travelers from Canada." 
The exchange rate also hasn't appeared to impact Canadians who intend to travel significantly. Last year, the U.S. dollar hit a 20-year high, but Harman said the attraction of the low fares means that the exchange rate "really has no relevance." 
Harman characterized BLI as "British Columbia's low-cost airport to the United States and points beyond." 
When asked about how the Vancouver International Airport (YVR) views competition from BLI — a concern of a former YVR CEO — a YVR spokesperson said the airport monitors BLI's airline offerings "as [they] do with all other nearby airports."  
"We recognize travelers in our region have a number of options for travel and may choose to fly out of BLI for a variety of reasons," the spokesperson wrote in a statement. "At YVR, as we build back to passenger levels seen in 2019, the connectivity of our domestic and international networks is our strength and helps us serve our purpose of serving the community and the economy that supports." 
The YVR spokesperson did not comment on whether the airport continues to be concerned about Canadians flying out of BLI instead of YVR. 
Harman said BLI's advantage — in comparison to the Seattle-Tacoma International Airport and YVR — is those airports have constraints due to a "lot of airlines vying for gates." 
BLI has the space to expand. Harman said its eight gates would allow the airport to serve four times the volume it serves today, with a goal of serving its capacity of 1.2 million passengers in about a decade.  
Harman is confident this kind of expansion is possible, saying he expects airlines to see BLI as the go-to place for airlines to expand service in the Pacific Northwest. 
"Where else would they go?" he said. "If you want to serve this region, what options do you have? At some point, airlines — other than the ones that are already here — are going to realize that if they want to continue growing in this region, they have to go where there is a surplus of capacity. And that capacity right now resides at BLI, [with] a cost structure that competes on a national and international level." 
Harman said BLI has its eyes on more regular service to Denver, and added service to Honolulu; Portland, Oregon; Reno, Nevada; Albuquerque, New Mexico; Dallas and Chicago — in that order. 
New airport technologies and bigger planes will help expand capacity, too. Airlines upgrading their planes — specifically, Allegiant plans to add Boeing 737 MAX jets to their fleet later this year, Alaska/Horizon has already upgraded from Q400 aircraft to Embraer 175 jets, and Southwest is planning to upsize to the Boeing 737 MAX for new Denver flights this summer — could allow for a 17–18% increase in available seats "without adding a single flight," Harman said.
Despite high Canadian demand, Harman said BLI has "no intention" of competing with Canadian airlines to serve other Canadian cities. However, the airport is currently looking into developing facilities for international processing, he said, which would allow BLI to consider international flights to Mexico, Costa Rica and the Cayman Islands. 
A previous version of this story incorrectly stated that Allegiant is planning to upgrade from A319 to A321 planes. The story was updated to reflect this change on Jan. 30, 2023 at 11:40 a.m. The Cascadia Daily News regrets the error.