Business
Bellingham baristas strike for benefits, hours, bargaining contracts
Local Starbucks unions join national movement, picket two locations
August 12, 2022 at 11:01 a.m.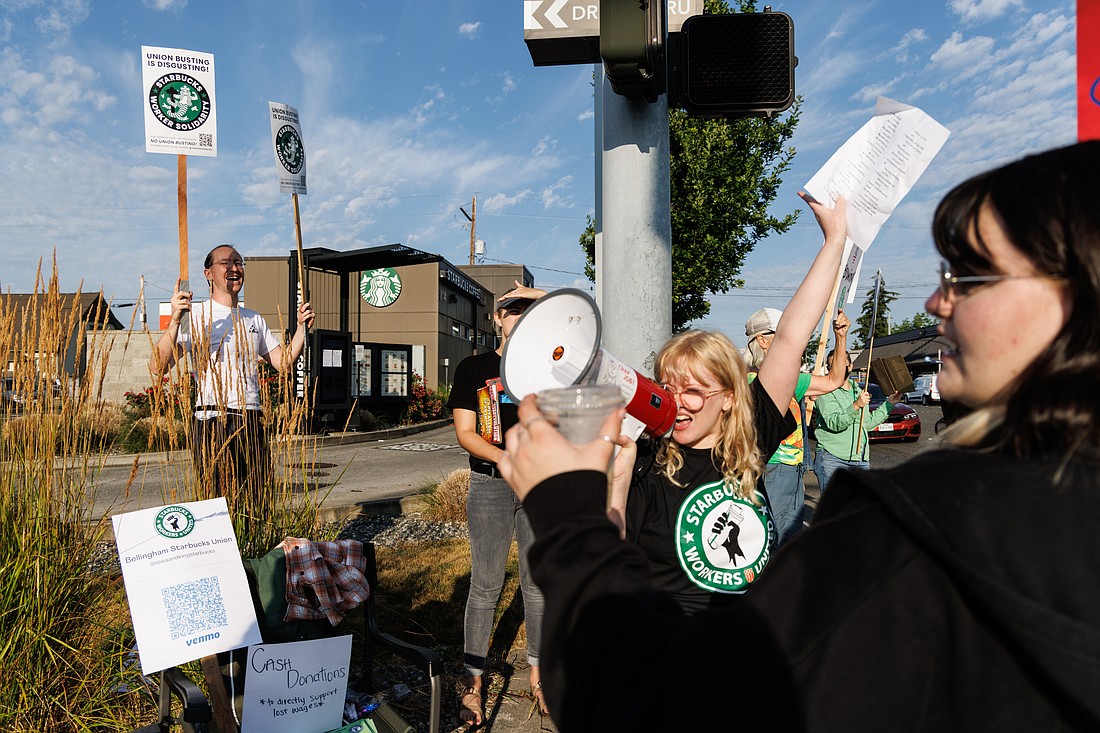 ---
---
Workers at two local Starbucks stores went on strike early Friday morning, picketing outside Bellingham's Iowa & King drive-thru and the Cordata Center store. 
The picket began at 5 a.m., before both stores were slated to open, in response to what employees say are denial of benefits, hour cuts and lack of bargaining.
"Starbucks [corporate] is not bargaining with us," Iowa and King streets barista Shannon Butler said. "We don't have a bargain date. We don't have any contracts. We're out here trying to pressure the company into doing that with us." 
Both stores voted to form unions earlier this summer, with the Iowa & King store voting unanimously in June, and the Cordata store voting in July. As a result, employees at the store say they've been denied benefits, including regularly-scheduled raises, and have lost working hours. 
"We didn't receive some of the benefits that were rolled out on the first [of August]," said Hailey Cribbs, another employee at the Iowa and King location. "We won't receive them until possibly the 29th of this month, so we're organizing a strike to hopefully get that to happen a little sooner."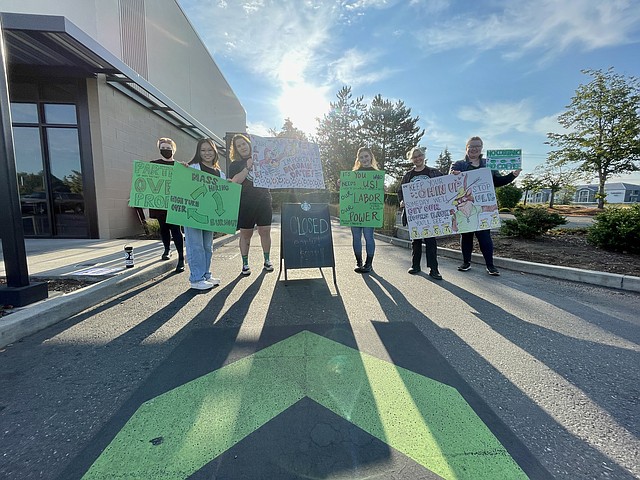 The Iowa and King employees stood in solidarity with the Cordata store, which had its business hours cut by several hours each day without bargaining. 
Alex Ruderman, a shift lead at the Cordata location, has been heading the union efforts there and is disappointed in the company's approach to unionization efforts. 
"They cut our hours without bargaining, and they changed our store operation hours by two to three hours per day," Ruderman said during Friday's picket. "It just feels like corporate often is just beating us down, so it gets very tiring very easily." 
Seattle-based Starbucks has taken an anti-union stance since organizing efforts began at a Buffalo, New York, store late last year. The company's interim CEO, Howard Schultz, has been critical of union efforts since taking the helm in April. 
As of Friday morning, the National Labor Relations Board is processing more than 280 unfair labor practice cases against the company, including several in the Washington State region. 
The Iowa & King location will remain closed for the rest of the day, while the Cordata workers plan to resume business operations at noon to support the workers who need more hours and wages at the store. 
Ruderman said workers wanted to shut down the store "during the store's peak hours, where [corporate] makes the most money," but needed to be considerate of employees who need the income. 
Employees at both locations have set up Venmo accounts for strike funds to support lost hours and wages, and are encouraging folks to donate for future action. 
Friday's strikes are part of a national movement, with at least 55 strikes reported across 17 states, according to a recent article in The Guardian. The strikes, the article says, have cost the coffee corporation over $375,000 in lost revenue.