Business
Bellingham Starbucks unanimously votes to unionize
Cordata location's union vote will be counted July 6
June 24, 2022 at 3:32 p.m.
|
Updated June 28, 2022 at 3:36 p.m.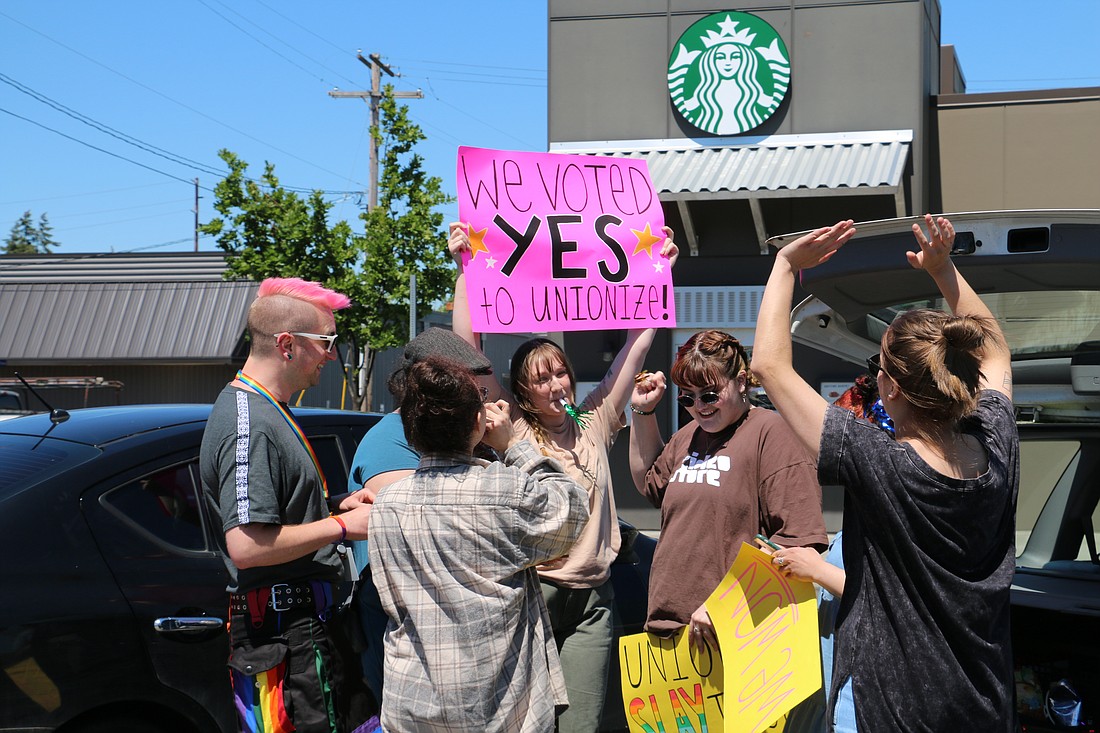 ---
---
Employees at Bellingham's drive-thru Starbucks on Iowa and King streets unanimously voted Friday to unionize, making it the first unionized Starbucks location in Whatcom County. 
Toting signs and tooting sparkly noisemakers, employees celebrated in the parking lot while representatives from the National Labor Relations Board in Seattle counted the vote Friday afternoon. 
"We want to have protections for our own benefits and hours, as well as being able to advocate for ourselves more and having more say in the place we work," barista Shannon Butler said.  
Of the store's 31 possible voters, 23 submitted votes, though three were contested. The remaining 20 were in unanimous support of the union, represented by Starbucks Workers United. 
"I'm not surprised it's unanimous, but I'm excited," said Gill Simpson, another employee. "I think that good things are coming."
Employees at the location filed an intent to unionize in April, citing high employee turnover, increasing demands from management and ongoing concerns related to the COVID-19 pandemic. 
A second Bellingham Starbucks filed to unionize in May. The Cordata store indicated plans to hold a vote because "Starbucks has not lived up to its mission and values and [we] have continually seen partners ask and be denied change," employees wrote in a letter. 
Alex Ruderman, a shift supervisor and organizer at the Cordata location, said upper management is cracking down on their store after the Iowa and King vote. 
"The union busting is coming a little bit harder at our store," Ruderman said Tuesday. "We've seen a lot more upper management come in recently and have a lot of conversations that end up violating the NLRB restrictions."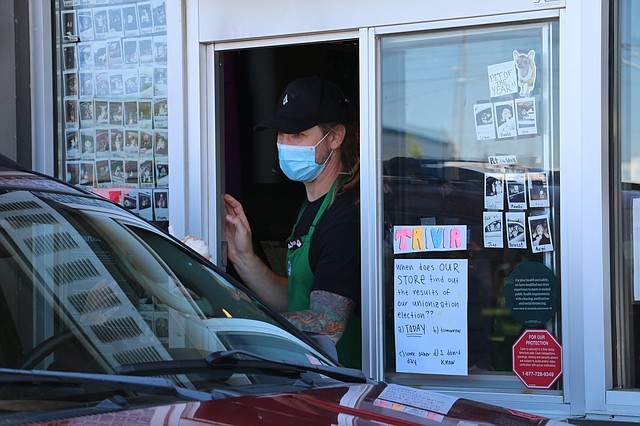 In a letter addressed to interim CEO Howard Schultz, baristas at the Iowa and King location indicated they went several months without a manager while dealing with low wages and other challenges throughout the pandemic. 
"When you're stretched thin, there's only so much you can do," shift supervisor Daniel Thompson told the Cascadia Daily News in April. "You can sense them trying to squeeze a little more out of us. We're all hard workers, but we don't want to be leaving every single shift feeling exhausted and down beaten." 
Bellingham's Iowa and King shop announced its unionization efforts after a Buffalo, New York Starbucks launched its union process last year. Since then, the NLRB has processed 299 union election petitions from locations across the country and is currently processing 212 unfair labor practice cases against the Seattle-based company. 
Schultz, who served as chairman and CEO of the company from 1986 to 2000, and then again from 2008 to 2017, returned to the helm as Starbucks' interim CEO in April and has been critical of unionization efforts. 
"I do not believe conflict, division and dissension — which has been a focus of union organizing — benefits Starbucks or our partners," Schultz wrote to employees April 10. "Going forward it will be important for all of you to recognize that outside labor unions are attempting to sell a very different view of what Starbucks should be."
Starbucks Workers United accused Schultz of violating labor laws in early June when he told New York Times reporter Andrew Ross Sorkin he did not plan to "embrace the union." 
Schultz said the company's customer experience "will be significantly challenged" if a third party was integrated into the business.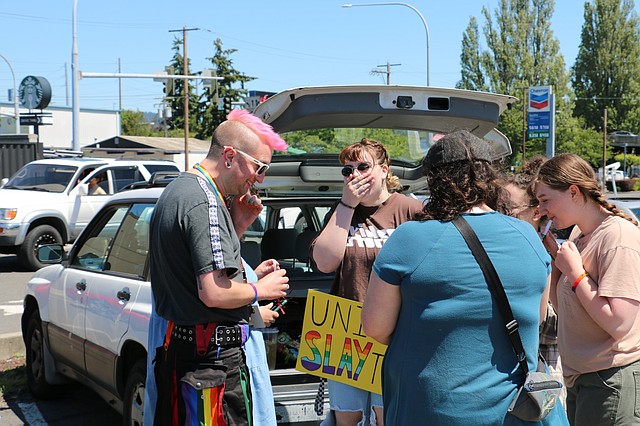 Hailey Cribbs, an employee at the Iowa and King location, said the union efforts were not about conflict, division and dissension, as Schultz indicated, but rather about workers' rights. 
"It's about having more consistent rights in the workplace," she said during Friday's celebration. "We're making sure that we are backed up by something that values us more than a corporation does." 
Butler said the company asked employees at her location to vote against union efforts. 
"They're asking us to vote no because they believe that the problems that we've brought up would be best solved with a direct connection instead of a union," she said. 
Brittin Kellar, another employee at the location, called unionization "a hard-fought battle."
The unanimous vote was hailed by workers as a big win for the Iowa and King employees, referred to as "partners" by Starbucks headquarters. 
"This is bigger than just our store," Thompson said in April. "This is bigger than Starbucks. This is just about people coming together to create better lives for themselves and to create a better future for others."
Ruderman said employees at the Cordata store are enthusiastic about the Iowa and King union vote, despite the additional challenges, 
"It is a really awesome thing to celebrate, and we're really excited for them," she said. "It just looks bad on upper management to have another store unionize." 
The Cordata location's union vote will be counted July 6. 
This story was updated with an additional interview with the Cordata Starbucks location at 3:36 p.m. June 28, 2022.