Running
Thousands fill the streets for Bellingham Bay Marathon
Locals Adrian Cedillo, Courtney Olsen finish on top
September 24, 2023 at 2:02 p.m.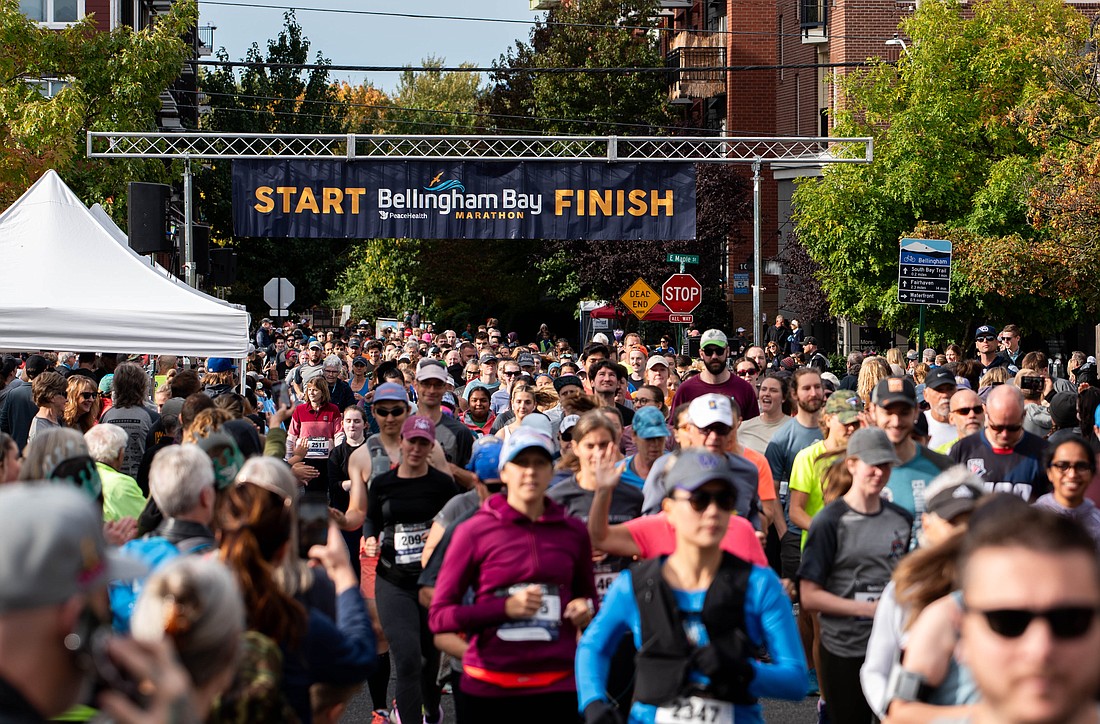 ---
---
A wave of 2,465 participants ran around Bellingham for the 16th iteration of the Bellingham Bay Marathon on Sunday, Sept. 24.
The marathon runners began their course just after sunrise on a cool morning at the Lummi Nation School and careened around Bellingham Bay to the finish line at Depot Market Square in downtown Bellingham.
In addition to the marathon, the event featured a relay marathon, a half marathon, a 10K and a 5K.
Courtney Olsen, Bellingham Distance Project founding member and Western Washington alum, was the top finisher in the female division of the marathon with a time of 2:45:12.
"I didn't expect to run quite that fast because I used today as a workout leading up to a 50k I've got in five weeks," she said.
The finish was just nine minutes shy of her personal best marathon time.
"That first 3 miles along Lummi and seeing that vista, then having people cheer from their houses and then the crisp air, it was just really soothing," she said.
Adrian Cedillo, the head cross country coach at Nooksack Valley High School and first-time competitor at the Bellingham Bay Marathon, came in first in the men's division of the marathon with a time of 2:41:00.
"It was fun having the crowd and the kids cheering and passing out water," he said. "The kids were funny. They were trying to hand out water and I'd run by and splash them and they'd jump back."
Top Finishers
Male Marathon
Adrian Cedillo (2:41:00)
Samuel Clark (2:42:35)
Woody Favinger (2:46:16)
Riley Harris (2:50:18)
Guanyu Wang (2:50:36)
Female Marathon
Courtney Olsen (2:45:12)
Anna Slager (3:19:45)
Mikayla Jansen (3:26:46)
Sophie Styant-Browne (3:28:04)
Jodi Brautaset (3:28:41)
Full results across all divisions of the Bellingham Bay Marathon can be found at Pacific Multisports.