Running
Bellingham native leads USA women to gold in 100K ultramarathon
Courtney Olsen makes her mark in long-distance running
September 15, 2022 at 5:05 a.m.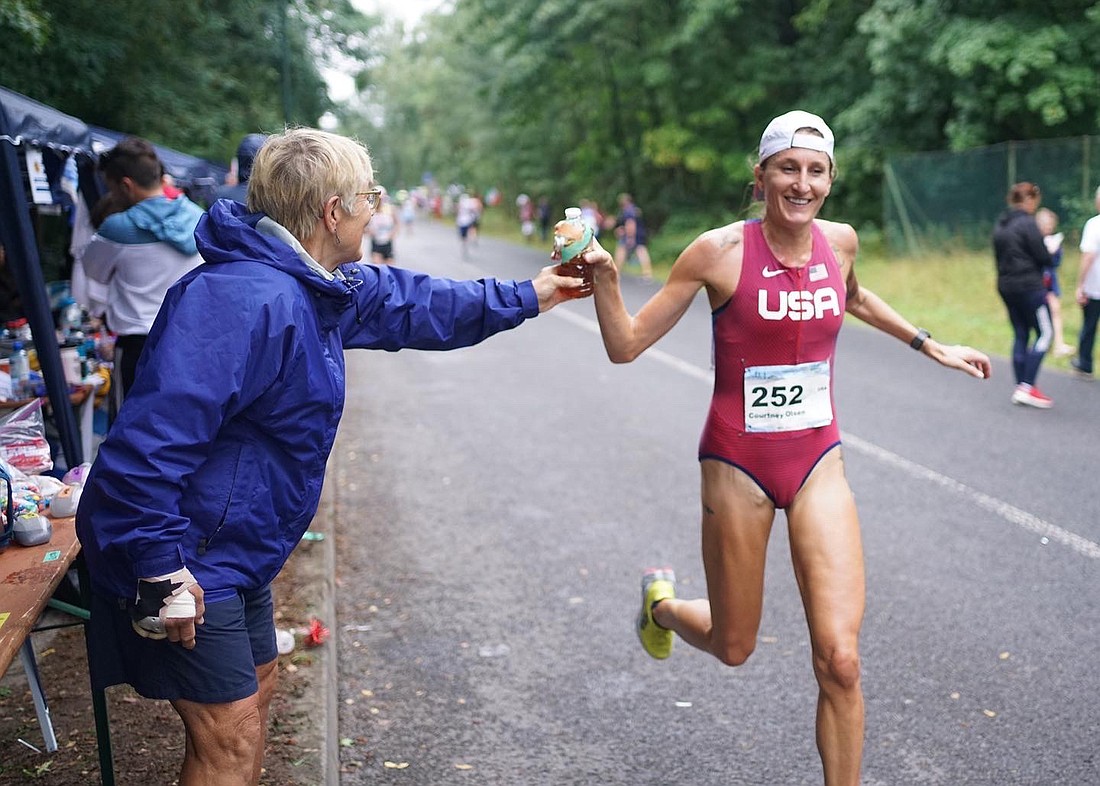 ---
---
Fifty-five kilometers into the International Association of Ultrarunners (IAU) 100K World Championship in Bernau, Germany, Bellingham native Courtney Olsen was in a position she never would have imagined she'd be in eight years ago.
Facing some of the top ultrarunners in the world, Olsen was battling at the top of the pack halfway through the race just northeast of Berlin on Aug. 27.
Athletes from 42 countries were there to test their mettle on the flat-and-fast course that wound through forested roads, looping runners back through the start and finish line 14 times.
The IAU World Championships were being held for the first time since 2018, and Olsen, 35, was competing in the second 100K of her eight-year racing career.
Olsen earned her spot on the U.S. 100K World Team — comprising six women and six men — after qualifying at the HOKA Project Carbon X2 100K race in Arizona in January 2021. 
A 100K (62.1 miles) is the crown jewel of ultramarathons, and the world championships are a smaller, more obscure and nuanced version of the Olympics. 
The IAU World Championships generally happen every two years — in this case, a four-year gap due to the pandemic — while the Olympics take place every four years.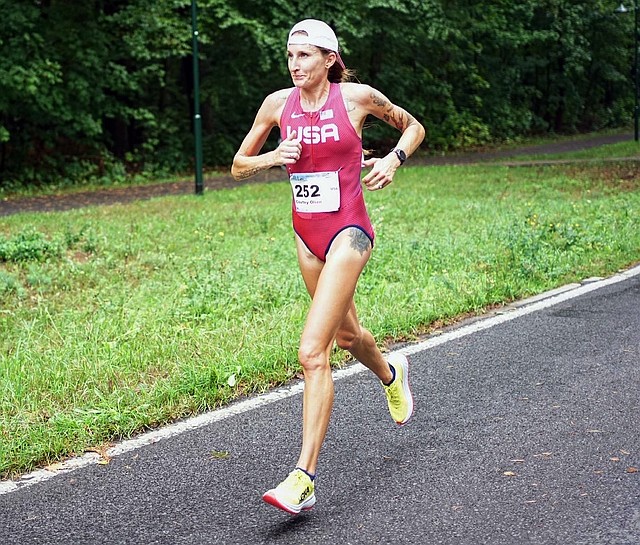 The U.S. had a 16-month qualifying window, with runners earning one of the coveted spots by winning specific races and/or hitting certain time marks.
At the Berlin world championships on Aug. 29, the top three teams and top three runners earned gold, silver and bronze medals. Olsen was hoping to clinch a medal in both.
Halfway through, Olsen had managed to stay with the top five runners. But with 20 miles left, disaster struck. She was overcome with nausea and struggled to maintain pace with her world-class competitors.
"I'd heard that if you open the valve, sometimes it won't stop, so I chose to slow to a pace that would keep the nausea in check, which took me further away from my A-plus time goal," Olsen said. "Perhaps I could have puked and rallied, but I was worried it would set me back more than simply keeping pace in check would."
Olsen dug deep, finishing fourth out of 89 women — and was the top U.S. finisher, helping the team claim gold to edge France (silver) and Japan (bronze).
Her time of 7:15.29 was 49th overall out of 198 men and women, and is currently the third-fastest 100K time for U.S. women.
Olsen's running career dates back to when she was a child, but she didn't begin taking it seriously until the latter part of her college career at Western Washington University, where she focused on the steeplechase and 1,500-meter run.
"After college, I spent a few years in Colorado struggling to find myself and my place in the world and ran very casually," Olsen said. "Upon moving back to Bellingham, I was in a very low place."
Running is what would eventually save her.
Her first competitive post-college race was in 2013, after a few friends were planning to race the 2014 Boston Marathon in solidarity following the 2013 bombing that killed three people and wounded 260.
"Setting the goal to try to make it to that race with them was the thing that helped me help myself," Olsen said.
Olsen began running 30 miles per week in preparation before entering the Skagit Flats Marathon, where she won the event in 3:02:42, earning her Boston Qualifier. 
Olsen finally ran the Boston Marathon in 2014, finishing 65th in a time of 2:52:37.
"Racing the marathon, at the time, was the only time I felt at peace, and I'd lean into that for the years to come," Olsen said. "In improving upon each marathon and enjoying the hard training, and as my mental health improved, my competitiveness grew."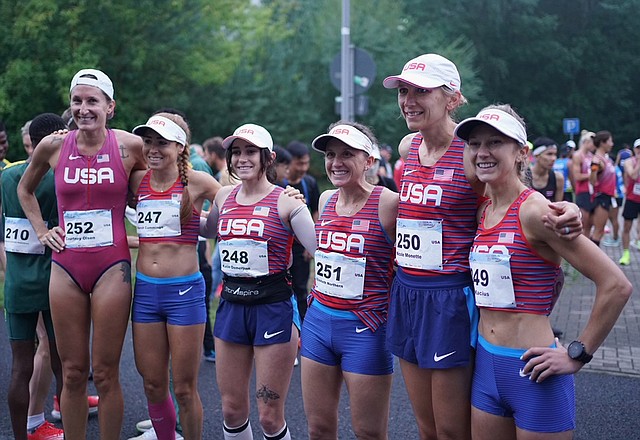 Her passion led her to help start the Bellingham Distance Project, a post-collegiate competitive running club of like-minded runners that she is now president of.
She would go on to run her marathon personal best of 2:36.18, earning an Olympic Trials Qualifier for the 2020 Marathon Trials, where she finished 54th out of nearly 500 runners. Only the top three moved on to the Olympics.
From there, she began moving up in distance and made three U.S. teams, all while working her way onto the U.S. all-time lists for the 50K and 100K.
Her first ultramarathon, any race over the traditional marathon distance of 26.2 miles, was the 50K World Championships in Romania in 2019, where she made her first U.S. team with a time of 2:36.18.
That led to the IAU 6-Hour Virtual Global Solidarity Run in 2020, where she ran for Team USA, raising money for NAMI Whatcom, an affiliate of the National Alliance on Mental Illness organization. She wound up running 52.69 miles around Lake Samish. 
After that, she earned a sponsorship from running shoe company HOKA, later competing in its 100K marathon in 2021 before racing in the 100K world championships in August 2022. 
Olsen has now run a total of four ultramarathons and doesn't plan on stopping anytime soon. 
An assistant cross country coach at Whatcom Community College, Olsen plans to next run in the California International Marathon in December, an Olympic Trials Qualifier for any time 2:37:00 or faster. She'll need to shave three minutes off her time to make the cut. Then, she'll shoot for the 50K U.S. World Team.
"Since I've been running as a kid, it's kind of always been natural," Olsen said. "But when it became a tool to work on mental health — plus I was getting better and better — that was the click."