Environment
Whatcom County expects boost from $1B hydrogen investment
Feds name Pacific Northwest among seven 'hydrogen hubs'
October 13, 2023 at 5:23 p.m.
|
Updated October 19, 2023 at 12:48 p.m.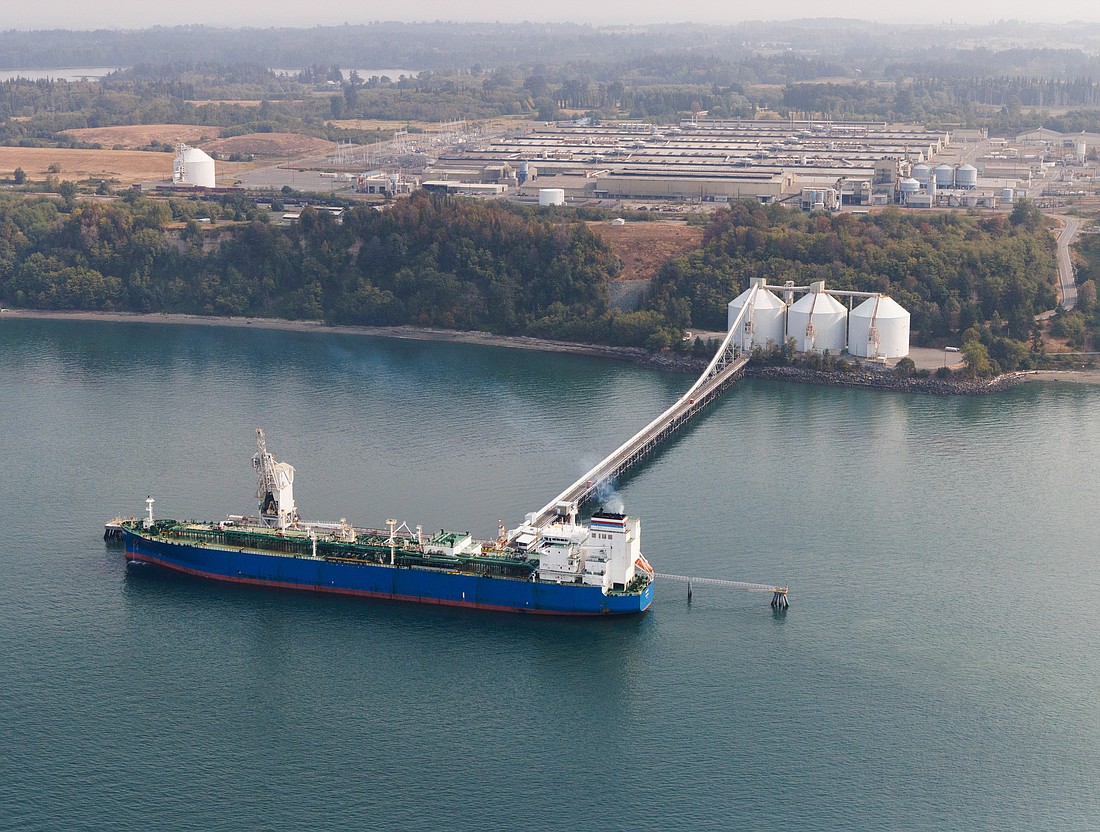 ---
---
Local leaders are hopeful the defunct Intalco smelter near Cherry Point can play a major role in a planned $1 billion investment in clean hydrogen production.
The company that owns the former Intalco smelter is not yet revealing its plans for how the property might fit into this region's "hydrogen hub," one of seven hubs proposed last week by federal officials. 
AltaGas, a gas utility company based in Canada, acquired the rights to own and develop about 1,600 acres at the Intalco aluminum smelter property in 2023, after talks with another potential buyer had collapsed.
"We are excited to be part of the Pacific Northwest hub and are looking forward to working in partnership with the organizations involved to realize the full potential of the opportunity," the AltaGas media relations team said Wednesday, Oct. 18, in an email responding to an inquiry about future use of the site. "As planning takes place, we'll be pleased to share more information with stakeholders."
County leaders spoke in support of converting the Intalco site to a hydrogen production facility but cautioned that such a development would be a long way off.
"We've known that for some time AltaGas has been talking about hydrogen as a fuel of the future, and the former Intalco property could be a good site for a hydrogen plant, but we do not have any project-specific information from AltaGas," said Jed Holmes, public information officer for county Executive Satpal Sidhu. 
"Important community engagement work and planning typically must take place before a big project is announced,"Holmes added. "It may take some time before we get a sense of what may or may not be coming to Whatcom County."
In a prepared statement, Sidhu said it was "a very exciting development" that the county could be part of "game-changing innovation in the energy sector."
'An exciting time'
U.S. Sen. Patty Murray called the nationwide hydrogen hubs program one of the biggest investments in the history of the U.S. Department of Energy (DOE).
"This is such an exciting time for our region," Murray said Oct. 13 during a press conference over Zoom with Gov. Jay Inslee, and officials representing labor, tribes and the state of Oregon. "We are talking about a billion — with a 'B' — a billion-dollar award for the Pacific Northwest."
The region is one of seven in the nation that were designated as "clean hydrogen hubs," with a total investment of $7 billion from DOE. The department announced the awards Oct. 13.
Washington state will be the focal point of this region's foray into commercial hydrogen production. The program, funded by President Biden's Bipartisan Infrastructure Law, is intended to help meet the nation's energy needs without burning additional fossil fuels that contribute to climate change.
Inslee emphasized at the press conference that all of the hydrogen produced in Washington, Oregon and Montana would be produced through electrolysis, using the region's vast supply of carbon-neutral hydropower. So-called "gray" hydrogen is made by burning natural gas, which emits greenhouse gasses.
"This is not just anybody's old hydrogen," Inslee said. "This is green hydrogen."
Local environmental watchdog groups, including RE Sources, have raised concerns, however.
"When it comes to siting hydrogen facilities, we must carefully consider the impact on locational water supplies, especially at a time when rural wells are running dry and instream flows have run dangerously low," said Eddy Ury, climate and energy policy manager at RE Sources. "Instream flows" refers to water in the Nooksack River set aside for salmon and other natural habitats.
"We also have to be wary of increased vessel traffic and ensure tribes' treaty rights are honored," Ury added.
The potential use of pipelines to transport hydrogen through the county has the attention of the Pipeline Safety Trust, an organization formed after the 1999 Bellingham pipeline explosion.
"We have noted a slew of serious safety risks associated with hydrogen pipelines that must be addressed, before they are put in the ground and run through our communities and treasured wild spaces," said Kenneth Clarkson, the Safety Trust's communications director.
Business partners
At least 17 companies regionally will participate in the Pacific Northwest hub, including Puget Sound Energy (PSE) and ALA Renewable Energy, a subsidiary of AltaGas, whose operations include the Petrogas butane and propane export facility at Cherry Point. 
Similar to AltaGas, PSE officials declined to provide details on how Whatcom County's primary electrical utility would plug into future hydrogen-fuel projects.
"PSE has been selected to begin award negotiations as part of the U.S. Department of Energy Office of Clean Energy Demonstrations' development of the Pacific Northwest hydrogen hub," a PSE statement said. "During negotiations, the funding, scope or scale of some … hub aspects may be adjusted. Therefore, specifics remain confidential until negotiations are completed."
BP has long-range plans to make hydrogen fuel at its Cherry Point refinery, but the petroleum company is not part of the coalition that will develop the Pacific Northwest hub, BP U.S. Media Relations Manager Josh Hicks said.
Inslee suggested a possible element to the region's hydrogen hub: the production of carbon-free fertilizer in the Tri-Cities. 
"The wisdom is to not just go for the low-hanging fruit," Inslee said. "We have tried to look over the horizon, to be able to decarbonize the more difficult areas to decarbonize," including aviation, heavy industry and fertilizer production.
Without getting into details, Inslee said Whatcom County is "in as good a position for projects as any other county in the state of Washington," given its maritime industry and rural mass transit system.
"We have electric buses today in Whatcom County, but in rural, longer routes, hydrogen may work," Inslee said.
Whatcom Transportation Authority officials will decide over the next couple years how to decarbonize its fleet, with all-electric buses, hydrogen fuel, or a combination. Maureen McCarthy, WTA's director of community and government relations, said in an interview that hydrogen might be the better option for longer routes to Kendall and Mount Vernon, given current levels of battery power in electric buses.
WTA has four all-electrics in its fleet, with 11 more on order, McCarthy said.
"This is exciting news," McCarthy said, referring to the regional hydrogen hub. "Hydrogen is a technology we are curious about, and some of our peers are starting to take a look at" — including Island Transit. "An announcement like this one makes us more curious."
Almost every state is included in the seven proposed projects. The others are planned for Appalachia, Gulf Coast, Heartland, Mid-Atlantic, Midwest and California.
This story was updated at 12:48 p.m. Thursday, Oct. 19 to add new information from AltaGas, BP, environmental groups and the Whatcom County executive's office.