Environment
Major 'green' planning underway for BP Cherry Point
'Many steps to go' before company commits to $1.5 billion investment
March 23, 2023 at 12:19 p.m.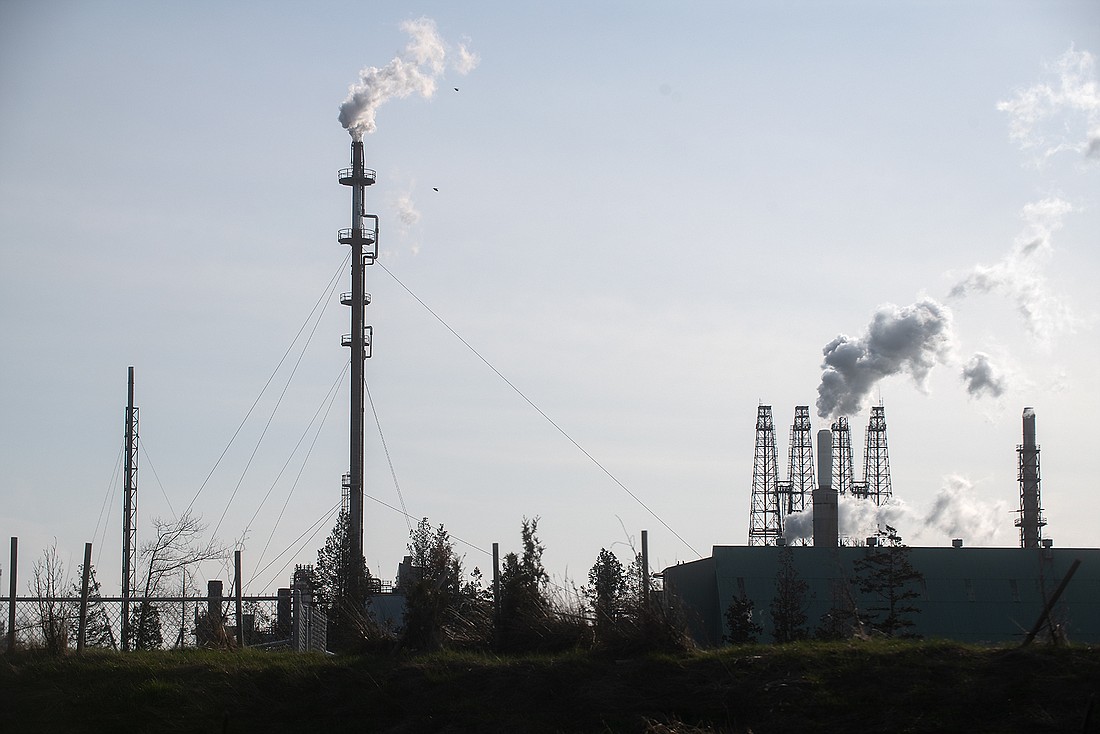 ---
---
BP's Cherry Point facility is on a list of just five refineries around the world as future hubs for sustainable aviation fuel and green hydrogen facilities — part of a $1.5 billion investment the company has proposed making at the Whatcom refinery. 
Upgrades would require significant construction at the facility over several years, and could create between 2,000 and 3,000 construction jobs, on top of long-term management roles. 
But the company has not committed to updating the facility just yet. 
"This is a process that we're working our way through, and it's far from the end," explained Eric Zimpfer, the vice president of refining at BP Cherry Point. "It is not promised. It is not guaranteed."
In the coming months, Zimpfer said, the company plans to connect with residents, local leadership and tribal communities to discuss the projects. The goal: full community support for the projects, which could help generate sustainable aviation fuel for airports across the country, but especially on a local level. 
"We've got close proximity to a number of major airports, so when you talk about sustainable aviation fuel, we're a major supplier to SeaTac, to Vancouver, and to Portland," Zimpfer said Wednesday. "We've got a really good facility with a really good footprint that allows us to be able to make an investment like this and make it successful." 
Assuming a successful permitting process through Whatcom County, BP could embark on a building program that would take up to three years and create thousands of unspecified local jobs, with smaller numbers of permanent, operations jobs likely to follow. But the company emphasized planning is in the preliminary stages.
"There's many steps to go," Zimpfer said. 
BP, a United Kingdom-based multinational oil and gas company, has been operating the Cherry Point facility since 2002. The Whatcom refinery is the largest in Washington, and supplies about 20% of the state's gasoline.
The BP Cherry Point refinery is the only location in the U.S. being considered for the green upgrades.
The company has announced plans to be "net zero" by 2050, meaning it'll need to significantly reduce its carbon emissions over the next few decades. 
The 2050 goal is in line with Washington's 2021 Climate Commitment Act, which mandates the state be carbon neutral the same year. As part of the act, businesses like BP and other industrial companies in the Cherry Point area will be required to meet declining "emissions caps" each year. 
"The legislation on the West Coast all creates an environment where I think the state's goals, BP's goals and the refinery's goals are actually converging in a really powerful way to create this opportunity," Zimpfer said. "How do we provide the energy to our customers, our communities, our stakeholders, in a lower-carbon way that supports the energy transition to a net zero future?"
The two projects proposed for Cherry Point — sustainable aviation fuel and green hydrogen — would help the company meet those goals, Zimpfer said. 
Earlier this month, Zimpfer and other BP Cherry Point employees sat down with Whatcom County Executive Satpal Sidhu, who offered significant support. 
"If built, these two facilities would produce significant amounts of low-carbon energy while creating new jobs," Sidhu told Whatcom County council members during the Whatcom County Council's March 7 meeting. "We are excited about this possibility of moving these projects forward in the coming months and years." 
At this point, the company has not submitted any formal permit requests to modify the Cherry Point facility, according to county employees. 
Not everyone is keen on bringing major "green hydrogen" projects to Whatcom. 
The Pipeline Safety Trust, a local nonprofit born of the 1999 Olympic Pipeline disaster in Whatcom Falls Park, has raised concerns about green hydrogen in the past and recently released a report on the safety of hydrogen transportation through pipelines. 
The group pointed to significant "knowledge gaps and safety issues that need to be addressed" with the process, Kenneth Clarkson, the trust's communications and outreach director, wrote in an email. 
Zimpfer said if the project moves forward, current plans are to keep the green hydrogen in-house, rather than pumped through nearby pipelines. 
"We look at the opportunity to bring green hydrogen online as a way to help lower our carbon footprint of our manufacturing process, and actually use [it] within our manufacturing process," he said. "But any time people ask questions in the spirit of 'how do we do things safer,' it's valid." 
Plans for future industrial use of Cherry Point have shifted significantly in recent weeks, with the formal closure of the Alcoa Intalco aluminum smelter and the major 1,600-acre land acquisition from AltaGas, another company interested in exploring "green" energy in the region.