Football
Nooksack Valley earns 2nd straight state semifinal berth
Pioneers down Lynden Christian 47-14 in quarterfinal rivalry rematch
November 17, 2023 at 11:40 p.m.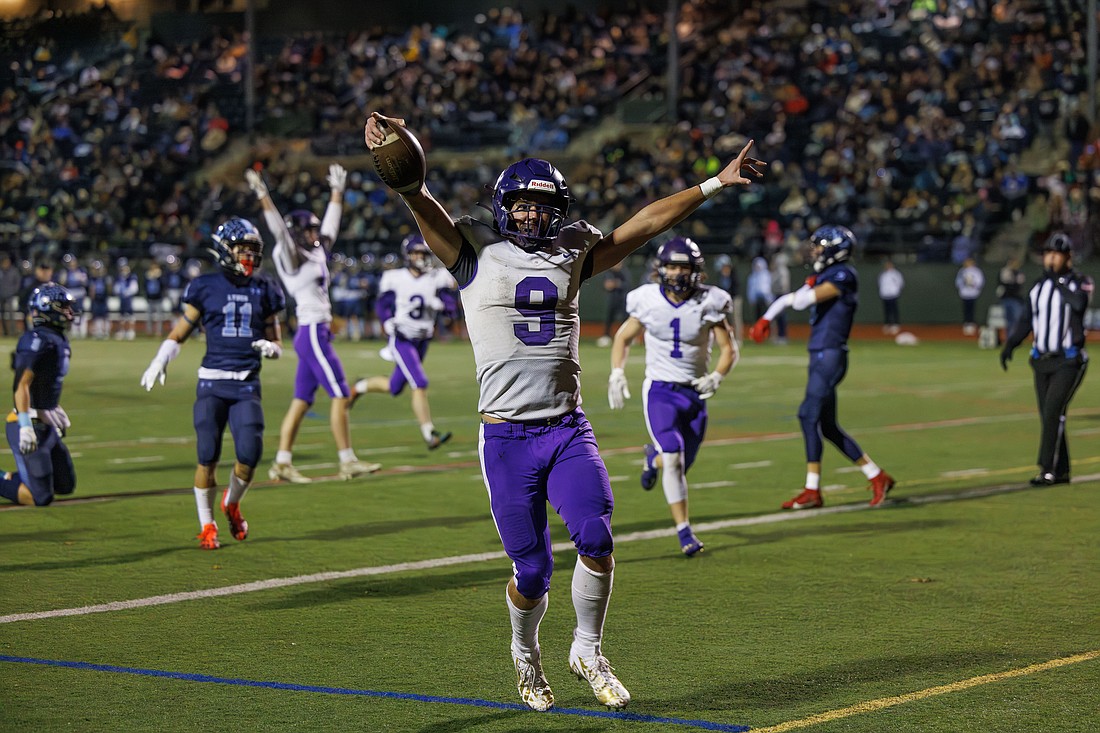 ---
---
Nooksack Valley is headed to the 1A state semifinals for the second straight season following a dominant 47-14 win over in-county rival Lynden Christian on Friday, Nov. 17 at Civic Stadium.
Junior running back Colton Lentz had three touchdowns — two rushing and one receiving — to go along with 98 total yards, and the Pioneers scored 26 unanswered points in the second and third quarters to put the game out of reach.
No. 3-seeded NV (9-2), which lost to No. 6 LC (8-3) by one point in the regular season on Oct. 6, left nothing to chance in the second contest between the two teams.
"It makes it 10 times sweeter," NV senior quarterback Joey Brown said of defeating LC to advance, "which is to be enjoyed tonight, tomorrow morning then it's on to Lakeside."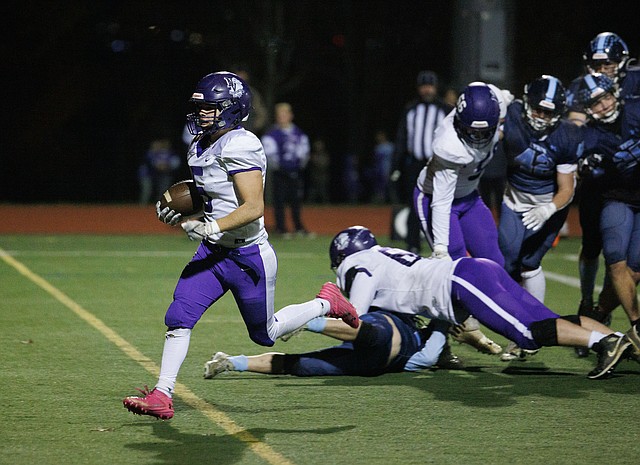 NV's coaches and players are acutely aware of the historic run they are currently on as they continue to chase the first state title in program history. Last year's semifinal berth was the team's first since 2009, and they're now headed back to the final four once again.
"It's the coaches and the players, and it's what they've dedicated to the offseason," NV head coach Craig Bartl said. "It's that [mentality of] not just being satisfied in being in games — we expect to win games now. That is that mental shift."
The Lyncs played without starting quarterback Jeremiah Wright for the entire second half, which completely shifted their game plan. 
Wright suffered what "appears to be" a dislocated right elbow when he attempted to block an extra point at the end of the second half, LC head coach Greg Terpstra said.
"We try to practice where somebody goes down — a key person, a key spot. With Jeremiah, that's hard to do," Terpstra said. "He's irreplaceable."
Brown tossed a pair of interceptions on the Pioneers' first two drives, which proved null after the Pioneers were able to halt LC on consecutive fourth-down plays.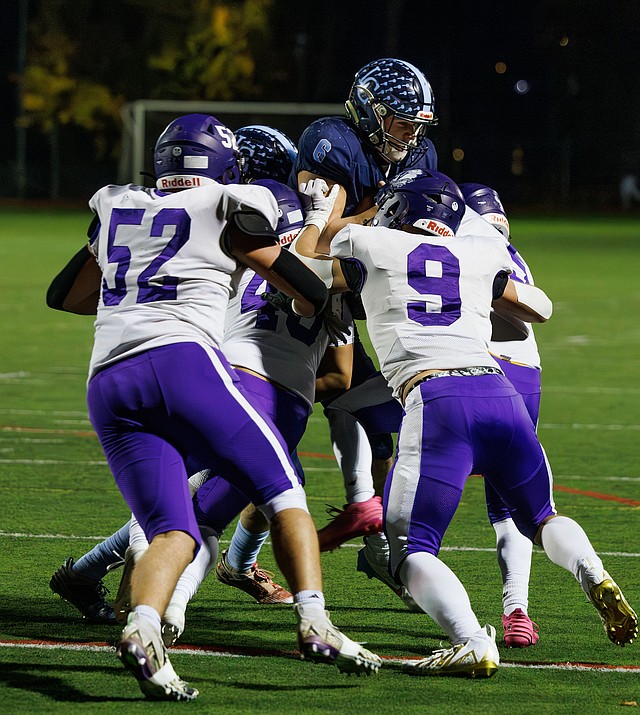 "I had a little bit of a shaky start," Brown added. "But, I realized there's not enough room and time for shaky starts or shaky quarters. As a senior now, every play I have a new mindset."
After a scoreless first quarter, NV capitalized on its third opportunity. A long drive was capped off by Lentz via a 9-yard TD run just a minute into the second quarter. 
The point-after was blocked, but a penalty was thrown. After a long conversation between the officials, the flag was waived off and the Pioneers took a 6-0 lead.
LC responded on its next drive, and Stuit pulled in a 6-yard TD reception from Wright to even the score. Following the point-after attempt, the Lyncs pulled ahead, 7-6, with 9:03 remaining in the first half. 
Stuit, an Eastern Washington University commit, had another big game, finishing with nine catches for 101 yards and a TD in his final high school game.
NV senior kicker Jorgen Vigre booted a 30-yard field goal with 4:52 left in the half, and Brown found Lentz on an incredible scramble-and-throw for a 33-yard TD with 9.6 seconds remaining in the second quarter. The Pioneers led 16-7 after two quarters.
With Wright sidelined, LC couldn't get anything going and NV capitalized.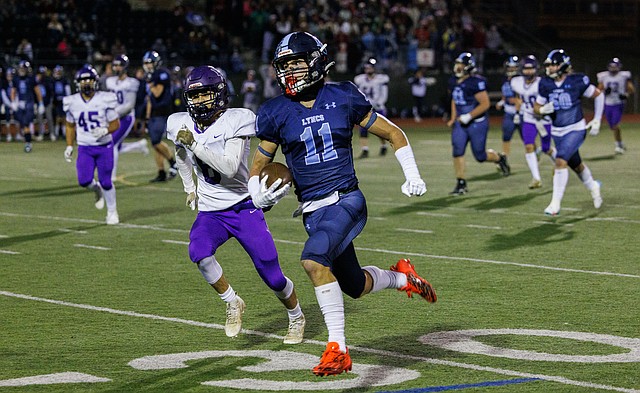 NV junior lineman Brady Ackerman scored on a fumbled punt snap, Vigre added another field goal and Lentz scored his third TD of the night before LC could get back on the board. The Pioneers led 33-7 with 53.6 seconds remaining in the third quarter.
Senior running back Skyler Whittern, who led NV in rushing with 108 yards on 16 carries, scored a pair of second-half touchdowns. LC's only other score came on a 51-yard catch-and-run TD from sophomore replacement quarterback Eli Maberry to senior wide receiver Dawson Bouma.
Senior lineman John Stremler, who has been filling in at fullback for the Pioneers in their jumbo formation, also had four carries for 60 yards. Junior wide receiver Cory Olney led NV with five receptions for 79 yards.
Wright completed 8-of-12 passes for 162 yards and a TD before his injury. Maberry completed 11-of-19 passes for 149 yards and a score in the second half. Bouma had four receptions for 71 yards and a TD.
NV moves on to a semifinal contest with No. 2 Lakeside of Nine Mile Falls (11-0) on Saturday, Nov. 25. The location and time are yet to be determined.
LC will graduate 16 seniors ahead of next season.
"We approached this year with trying to get ourselves ready for postseason by scheduling the toughest schedule we could pull together," Terpstra said. "We did that, and I thought we were better for it. I think nobody blinked."