Volleyball
Nooksack Valley places 6th to clinch 2nd straight state trophy
Pioneers fall to Cedar Park Christian (Bothell) in 5 sets
November 11, 2023 at 6:53 p.m.
|
Updated November 11, 2023 at 8:44 p.m.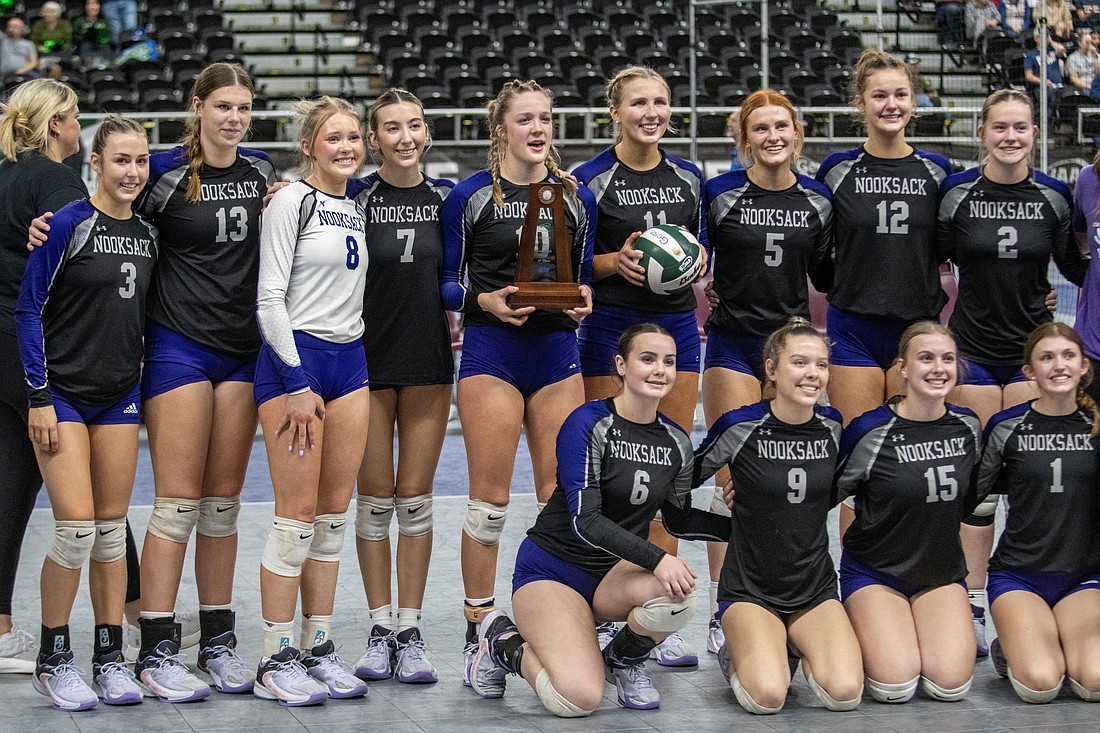 ---
---
YAKIMA — Last year, Nooksack Valley was the underdog. This year the Pioneers were considered overrated after receiving the No. 5 seed following a second-place finish at districts.
Though they didn't exactly finish fifth, they came close.
The Pioneers took No. 3 Cedar Park Christian (Bothell) to the wire, ultimately falling in five sets (25-21, 25-16, 21-25, 20-25, 15-10) to finish sixth during the 1A state tournament's fifth/sixth-place match Saturday, Nov. 11.
Obviously, the Pioneers would have rather finished fifth — like they did last season — and end the year with a win, but coach Katie Emmons was still smiling while holding their trophy in the locker-room hallway after the match.
"At the beginning of the season, saying, 'Oh, you're going to get sixth at state,' I'd be like, 'You guys are on a different planet," Emmons said.
Emmons, in her first year taking over the program, was given a team that's a mix of veterans and some brand-new freshmen and sophomores. The girls had to play new positions they weren't used to and somehow, Emmons and her Trojans made it work.
They finished second in districts, claiming one of just two spots in what a historically tough District 4 was given this year, and now will be riding back to Whatcom County with their second straight trophy.
Nooksack Valley started the tourney Friday, Nov. 10 with a sweep of No. 12 King's Way Christian and a five-set loss to No. 4 Meridian in the quarterfinals. The Pioneers then swept No. 9 Lakeside of Nine Miles Falls in the consolation round to face Cedar Park Christian (Bothell) in the trophy round.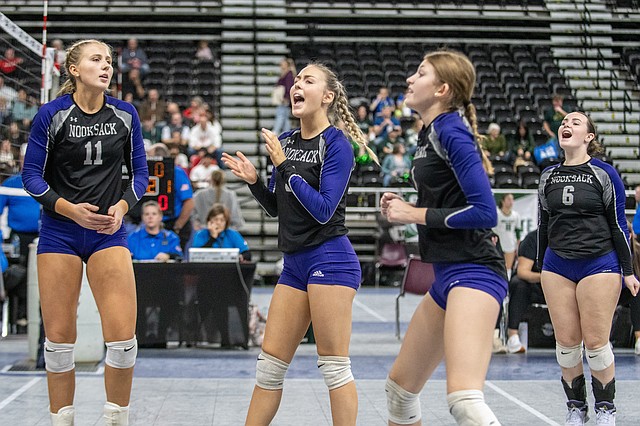 Emmons was most proud of the team's grit and toughness that grew throughout the year.
"This team is never just going to go away," Emmons said. "We can be down by five or six, and I always have confidence that we're always going to be fighting. They're not going to roll over and die."
That was most evident in their last match, when Cedar Park Christian went up two sets to none before the Pioneers woke up and reeled off back-to-back set victories to tie it back up.
Senior Lainey Kimball erupted for a team-high 27 kills to go with 12 digs, while Elizabeth De Lange added five kills, Grace DeHoog tallied four kills and three digs, and Juliana Gimmaka pitched in a team-high 28 digs. Tana Hoekema contributed 10 kills, five digs and a team-high three aces, with 93.8% serving. Payton Bartl dished out 44 assists.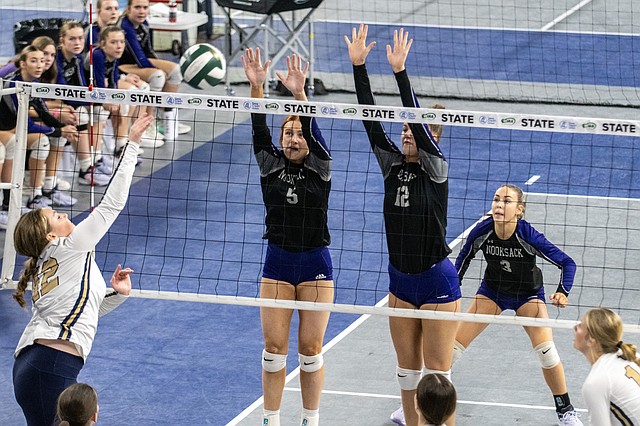 Kimball, who was emotional after playing her final high school match, said she's pleased with how the team came together to accomplish their goals.
"We had a slow start to the season and a lot of people counted us out," Kimball said. "Once we hit districts, we started figuring stuff out and started pulling it together. If you asked us at the beginning of the season where we would be today, we would not tell you here."
Kimball is among four seniors who played their final game in a Nooksack Valley jersey, including Gimmaka, Tana Hoekema and Cailyn Likkel. Kimball said she will always remember this team and this group of girls.
"They're the sweetest people ever," she said. "They're a bunch of wild and crazy and weird, silly girls. We have so many memories and so much fun together. I know I'm leaving this team in good hands."