Volleyball
Meridian takes 4th at state, nabs second trophy in 3 years
Trojans fall to La Center in third/fourth-place match
November 11, 2023 at 6:23 p.m.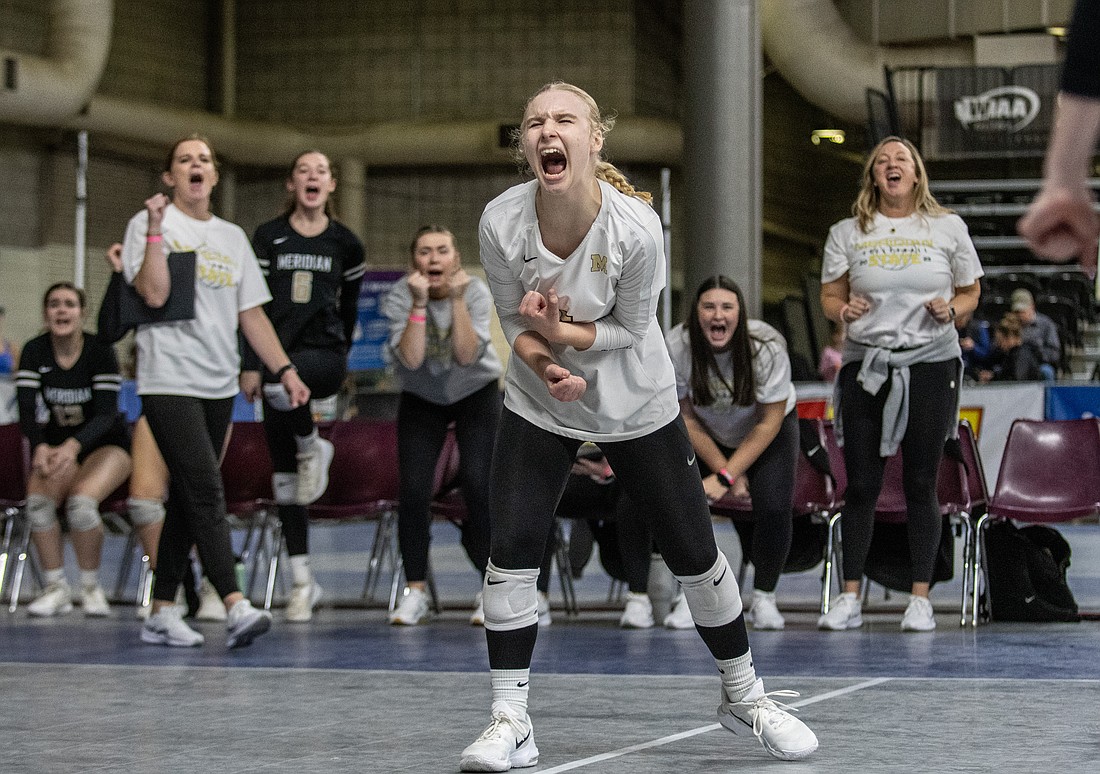 ---
---
YAKIMA — Meridian's loss to La Center in the third/fourth-place game at the 1A state tournament Saturday, Nov. 11, didn't signal a failure, but rather a reinforcement of the Trojans' resurgence to the state stage.
The fourth-seeded Trojans, who fell to the seventh-seeded Wildcats (23-25, 25-14, 25-19, 25-9) to place fourth, have firmly planted themselves back among the state's best after a long state-tourney drought.
"Having hardwood from state is pretty amazing, and it's an accomplishment for this group," Meridian coach Angie Short said. "We've had a great season. Not necessarily the trophy that we were hoping for, but it's good, it's great."
Meridian's lone senior Emry Claeys once again led the offensive attack, ending her prep career with 14 kills, nine digs and an ace. Maren Wefer and Gracie Pap each contributed eight kills, Eden Bernardy had five kills and 11 digs and Taya Benson tallied three kills.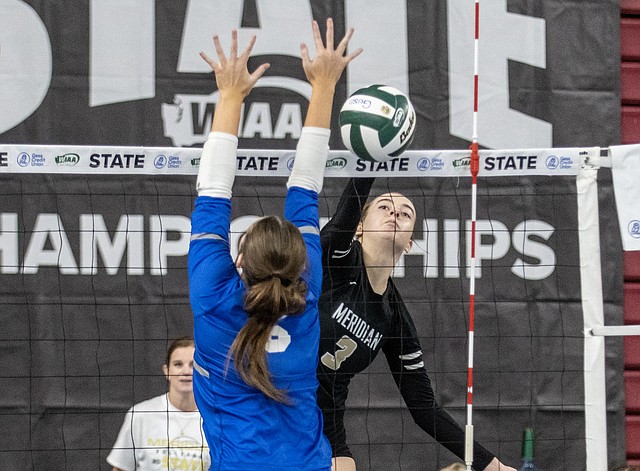 Kinsley Neal and Grace Wells each served 100% in the match.
"We're going to miss Emry," Short said. "She's the heart and soul of our team. It's a big loss. But I'm really proud we could be here and get this trophy for her."
Meridian started off the first day of the tourney with a sweep of No. 13 Bellevue Christian and a five-set victory over Nooksack Valley in the quarterfinals. The Trojans then lost to three-time defending state champ Chelan in the semis before facing La Center in the third/fourth-place match.
"For the most part, they played together, they worked hard," Short said. "We had to fight for every point last night to even get to the semifinals. They just have not given up and I've been really proud of them.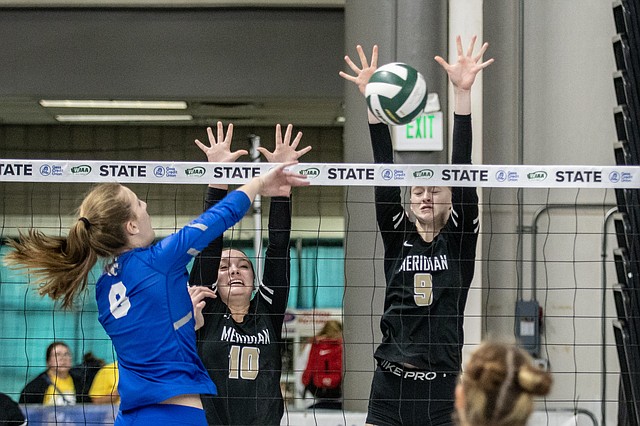 It's been a rewarding rebound for a Trojans' program that had a decade-long state tourney drought from 2009–19. Meridian has now advanced to state in three of the past four seasons. They placed third in 2021 — which is its highest finish since winning the state title in 2004.
Short said the future looks even more hopeful with a roster chock-full of underclassmen who now have state experience. Meridian returns three juniors, five sophomores and three freshmen. The Trojans finish the season with a 17-6 overall record and a district title.
"We've got a good, young group and we've got some work to do but we're going to keep moving on," Short said. "I'm planning to continue to be back here in the future."