Ski to Sea
Birch Equipment captures back-to-back Ski to Sea victories
Competitive open team posts fastest race time since 2014
May 29, 2023 at 3:25 p.m.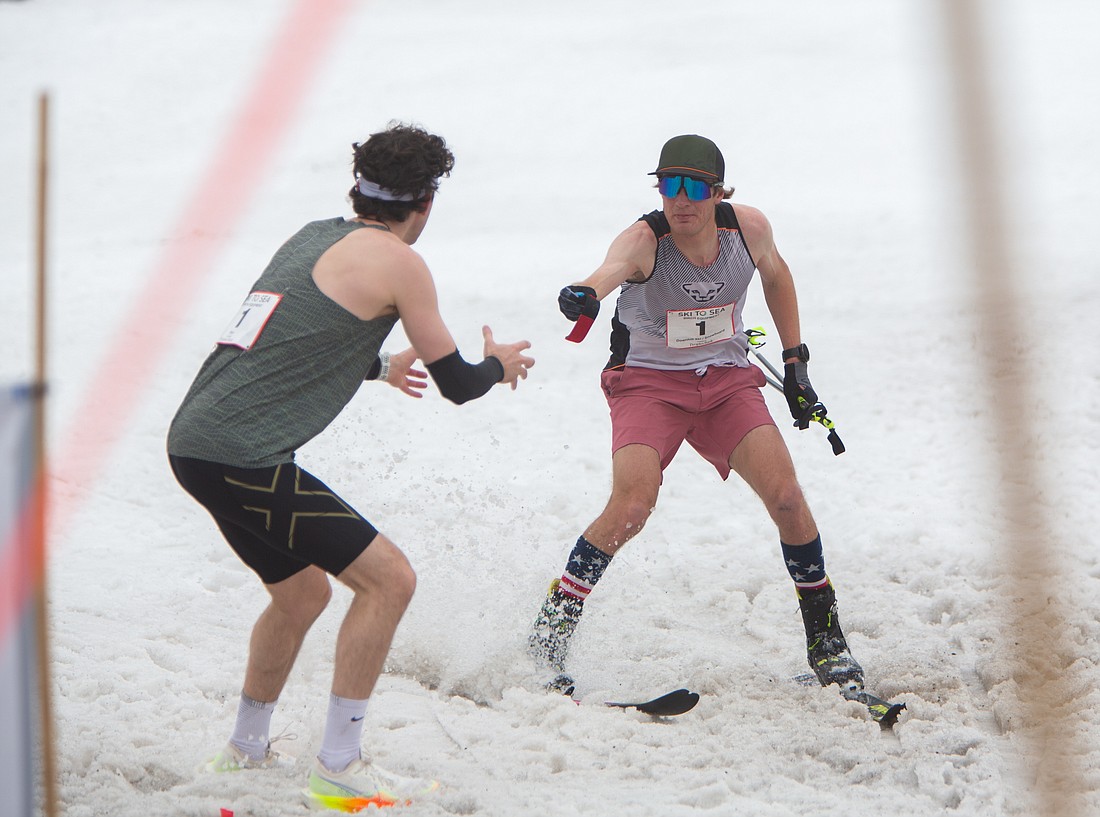 ---
---
Jeff Hilburn jumped out of his kayak, rounded the corner of the finish line at Marine Park's beach and rang both bells at the same time, officially crowning Birch Equipment the back-to-back winner of Whatcom County's multi-sport, seven-leg relay race at 1:25 p.m. May 28.
Hilburn, 53, who has anchored Birch Equipment both years, stopped his team's timing chip at 5:54:43.3 — approximately five minutes faster than in 2022, and the fastest race time since Boundary Bay Brewery Men's in 2014 (5:40:08).
"Last year was really tight — a lot tighter," Hilburn said. "This year was such a large lead. I was told, like, 10 minutes. It was not quite as painful as if I've got someone chasing me."
Beavers Tree Service, kayaked by Jonas Ecker, finished 33 seconds behind Hilburn in 2022. This year, Hilburn rang the bells approximately seven minutes ahead of the second-place team, Boomer's Drive-In (6:01:59.0). Beavers Tree Service finished third this year with a time of 6:10:55.9.
"I was just tired all over," Hilburn said. "I think I didn't quite have the same adrenaline as last year."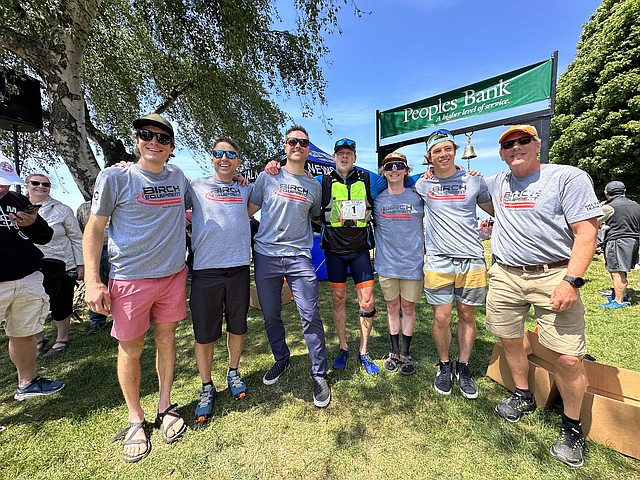 Hilburn's teammates included Finn Redman (cross-country ski), Adam Loomis (downhill ski/snowboard), John Whelan (run), Matt Bailey (road bike), Bob Woodman and Glenn Bond (canoe), and Jack Shuckra (cyclocross bike).
Birch Equipment and Boomer's Drive-In both competed in the competitive open division. Beavers Tree Service was in the Whatcom County open division.
As Hilburn went off to drink a beer and mingle with friends, teammates and family, Greg Redman beached his kayak and rang the bells for Boomer's Drive-In.
Kayakers fought a stiff headwind all day, so much so that 221 of 457 teams that completed the cyclocross leg never got to plop their boats in the water.
"You never know what you're going to get out there with the wind and the big waves," Greg Redman said. "Even the most experienced person can fall out. The more unpredictable it is, the more opportunities there are."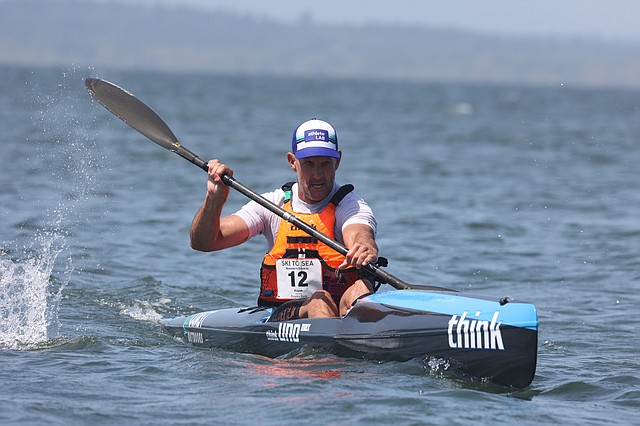 It was Redman's third time kayaking for Boomer's Drive-In, which won the race three-straight years from 2017–19.
"We keep trying to get it back," Redman said of winning the race. "With seven legs, you never know. It just takes one bad leg. If you're good, you're good, but it's all about the team."
Rounding out the top-five finishers was Inn at Lynden (Whatcom County open; 6:15:04.0) and Bellingham Firefighters Whatcom Open Team (6:25:52.0).
Heather Nelson of BNP Realtors (Whatcom County women division) was the first woman to cross the finish line, sealing the first all-female team win and clocking a time of 7:04:03.6 to finish 18th overall.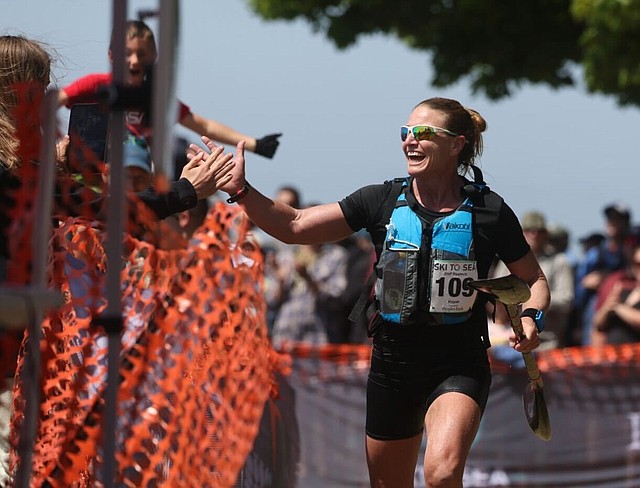 Nelson, 51, has competed in Ski to Sea every possible year since she moved to Whatcom County in 2003.
"We're Whatcom County women — all local girls. I'm super proud of that," Nelson said.
Her children participated in this year's revamped Junior Ski to Sea race, and her husband, Brandon Nelson, finished 11 spots ahead of her with Boomer's Drive-In Legends, which finished first in the veterans division (6:37:05.3).
"It's a family affair," Nelson said.
Finishers by division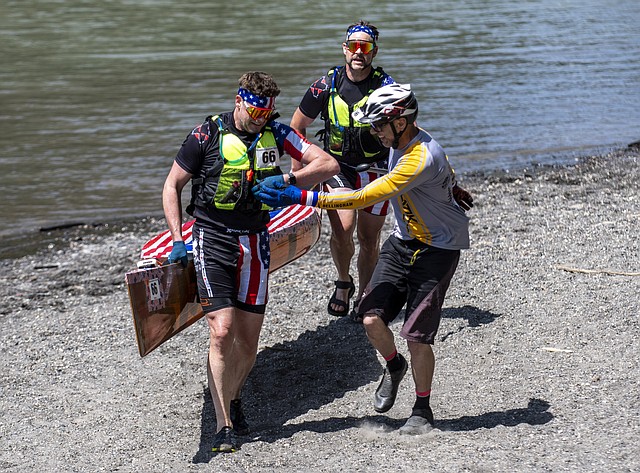 In the masters division, Greatest American Heroes finished first and its time of 6:42:39.4 placed them eighth overall.
Surfrider Mavericks was the first car-free team to finish the race, placing 10th overall with a time of 6:44:56.8. Delicate Flowers was the first competitive mixed team with a 17th overall finish in 7:03:09.6.
Bellingham Firefighters Corporate Team took first in its division and 20th overall with a time of 7:07:21.8. Sheroes finished first in the competitive women division with a 23rd overall finish in a time of 7:12:57.5.
NWIC Hooligans took 27th overall and first in the recreational open division — also the race's largest division with 155 teams — with a time of 7:17:30.4.
Sardines took first in the recreational mixed division with its time of 7:38:15.0 to take 40th overall.
Jacksons Speak Louder Than Words was the first family division team to cross the finish line with a time of 7:57:07.9, coming in 58th overall. The Kids Aren't Alright was the first high school division team to finish with its time of 8:02:49.0, taking 63rd overall.
Hard Core Physio won the Whatcom County mixed division, finishing 51st overall with a time of 7:50:04.0. The recreational women division was led by Beastie Belles, which finished 112th overall with a time of 8:37:25.6.
Top leg finishers
Cross-country ski
Brian Gregg of Boomer's Drive-In was the first to complete the cross-country ski leg, completing the leg in 20:03.2 at 7:50 a.m. 
Downhill ski/snowboard
Birch Equipment's Loomis was first to complete the downhill ski/snowboard leg in 18:00.9 at 8:10 a.m. Loomis also had the fastest time of any racer.
Downhill run
Whelan of Birch Equipment was the first to finish the downhill run leg in 40:28.2 at 8:50 a.m.
James Jasperson of Bellingham Firefighters Whatcom Open Team posted the fastest leg time of 36:30.0.
Road bike
Bailey of Birch Equipment was first to finish the road bike leg in 1:24:02.0 at 10:14 a.m. Bailey's time was also the fastest of any racer.
Canoe
Woodman and Bond of Birch Equipment were the first to complete the canoe leg in 1:51:29.1 at 12:06 p.m. Their time was the fastest among all teams.
Cyclocross bike
Birch Equipment's Shuckra was the first to complete the cyclocross bike leg in 32:30.5 at 12:38 p.m.
Cal Skilsky of Boomer's Drive-In posted the fastest leg time of 32:29.1.
Kayak
Hilburn of Birch Equipment completed the kayak leg in 46:37.8 and crossed the finish line first at 1:25 p.m.
Jonas Ecker of Beavers Tree Service had the fastest time of 41:35.4, while Ian Sawyer of Delicate Flowers posted the second-fastest time of 42:30.4.