Ski to Sea
All-women Ski to Sea teams balance competitive spirit and fun
Meet The Real Housewives of Whatcom County and Ocean's 8
May 23, 2023 at 5:00 a.m.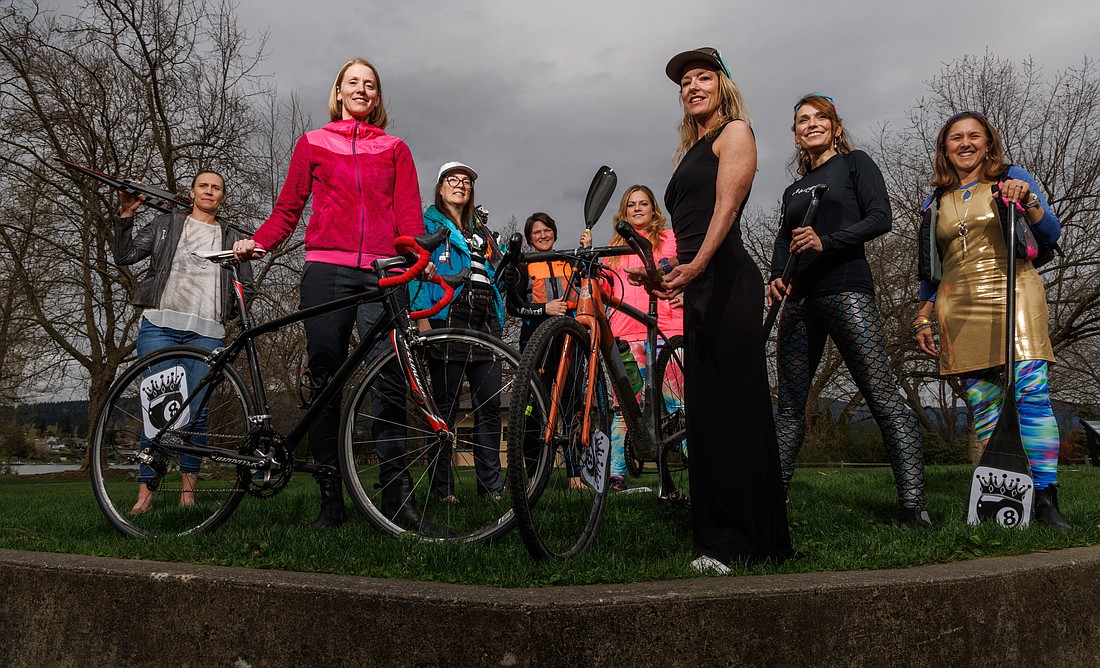 ---
---
At this year's Ski to Sea, dozens of athletes from all-female teams will gear up at the starting line, bracing for the challenges and victories that lie ahead. But success, it seems, is about more than just athletic chops.  
Two returning women's teams — The Real Housewives of Whatcom County and Ocean's 8 — have made names for themselves by riding on the edge of grit and fun. 
The Real Housewives of Whatcom County
When Ana Swetish glided out in her sea kayak for the final leg of the 2022 Ski to Sea relay, she knew she was just barely behind the first-place women's team. She also knew she could beat them. 
Mustering strength and focus, Swetish gripped her paddle and set her mind on surpassing her competitor. Forty-two minutes and 52 seconds later, she crossed the finish line at Marine Park as a champion of the women's competitive division. The Real Housewives of Whatcom County had made it to the top of the podium. 
"Everyone else did a great job keeping us really close to that other team, and then I got to do the last bit and pass the other team and get us into first," Swetish said.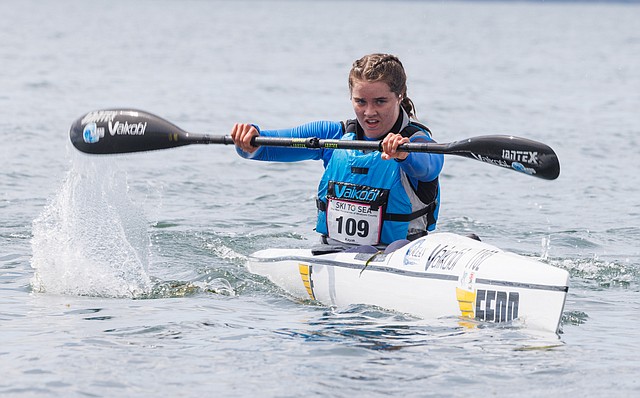 This is Swetish's second year on The Real Housewives of Whatcom County, but the team dates back much further. Team Captain Jessica Rogers recalls when the group first competed more than a decade ago. All clad in pink tutus, they were nowhere near the front of the pack. 
"Nobody had any idea what they were doing," Rogers said. "We were a very recreational team, like we were probably 350th place the first time we did it if even that — maybe 400th." 
But year by year, the team has naturally improved.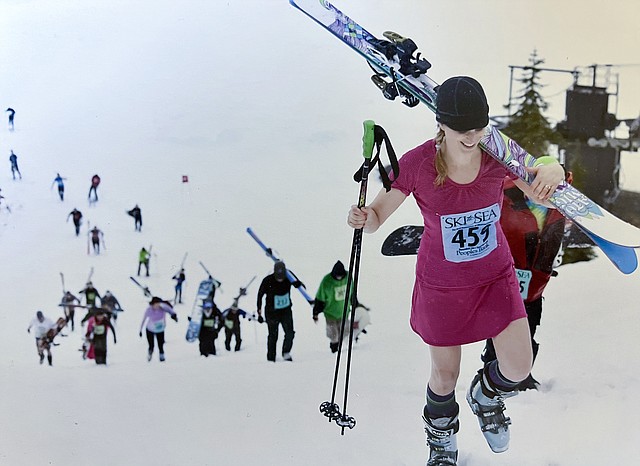 In 2013, The Real Housewives of Whatcom County made their first appearance on the podium as the second-place winners of the women's recreational division, going on to place first in the division three years in a row. By 2018, they'd moved up to the women's competitive division, where they now hold two first-place titles.  
"It just happened organically," Rogers said. "The team really just got slightly better every year, and I don't feel like it was ever forced. Everyone on the team just wanted to be better." 
Even as the team has improved and its membership has changed, however, the focus remains the same: to have fun.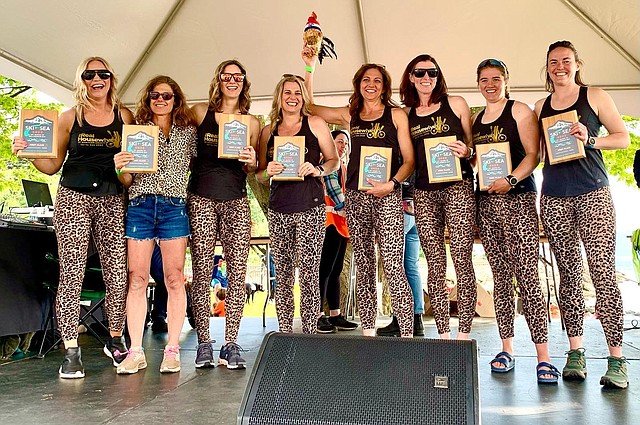 Since their first Ski to Sea, The Real Housewives of Whatcom County have kept alive their tradition of dressing up; last year, they sported matching cheetah-print leggings. They also host a party before and after the race and make sure to take pictures together at the finish line. 
"That's what I want for my team, is for everyone to hang out and for it to be a whole weekend of fun," Rogers said.  
That intentional connection makes a difference, especially for out-of-town teammates training independently. Leanne Stanley, who's new to the team and lives in Canada, likely won't get into a canoe with her race partner until the day before the competition.  
"Every year I'm like, 'OK, this is the last year,' and then you go and do it and you're like, 'OK, you know, I've got to do it next year,' because it's just so much fun," said Karin Ayling, the team's downhill skier. "And then you get to compete with these — I consider them all — badass women. So it's kind of an honor to be able to compete with them." 
Ocean's 8 
At this year's Ski to Sea, the goal of Ocean's 8 is simple: to beat what they call the "fourth place curse." 
Ocean's 8 is an all-women's recreational team aptly named after the 2018 Sandra Bullock and Kate Blanchett movie. At their first race last year, they missed the women's recreational podium by just one second.
"Last year, we approached it as just fun with a capital F," said Kari Wright, one of the team's canoeists. "You just have to laugh. One second is just like, oh my god, you gotta be kidding; we all could have found that second somewhere."  
With each teammate new to their leg of the relay, last year's race offered plenty of learning experience for Ocean's 8. It was also an opportunity to bring out their competitive spirit: during the canoe leg, the team made a major comeback, rising from the back of the pack to second in their division.  
This year's group includes former collegiate athletes, former pro cyclists and Ironwomen. Despite their all-star crew and renewed drive and energy, Ocean's 8 isn't letting their hope of making it to the podium interfere with their goal of having a good time.
At the upcoming race, many teammates will be trying out new legs of the relay.  
Carrie Eller has always been a road biker, but last year, she competed in her first-ever cross-country ski leg. Now, she's excited to return to the same leg. Teammate Kerry Gustafson is making her debut on the sea kayak leg, while Wright is trying out her third Ski to Sea sport yet in the canoe. 
"I'm kind of at a point in my life where I'll just try anything to have fun and be active, and I like the competitive aspect," Eller said.  
From the team's eccentric garb — including shimmery metallic workout clothes and rainbow-colored leggings — to their abundant laughter, their collective enjoyment of the race is clear. To Gustafson, that balance between fun and hard work is what makes her excited to be on the team. 
"It's fun to compete with women that get it," Gustafson said. "That can have fun, but bring that competitive side."