Women Empowered: Part III
Post Point chief operator encourages women to pursue trades
Francis oversees 19 operators; two other women on her team
March 22, 2023 at 5:50 a.m.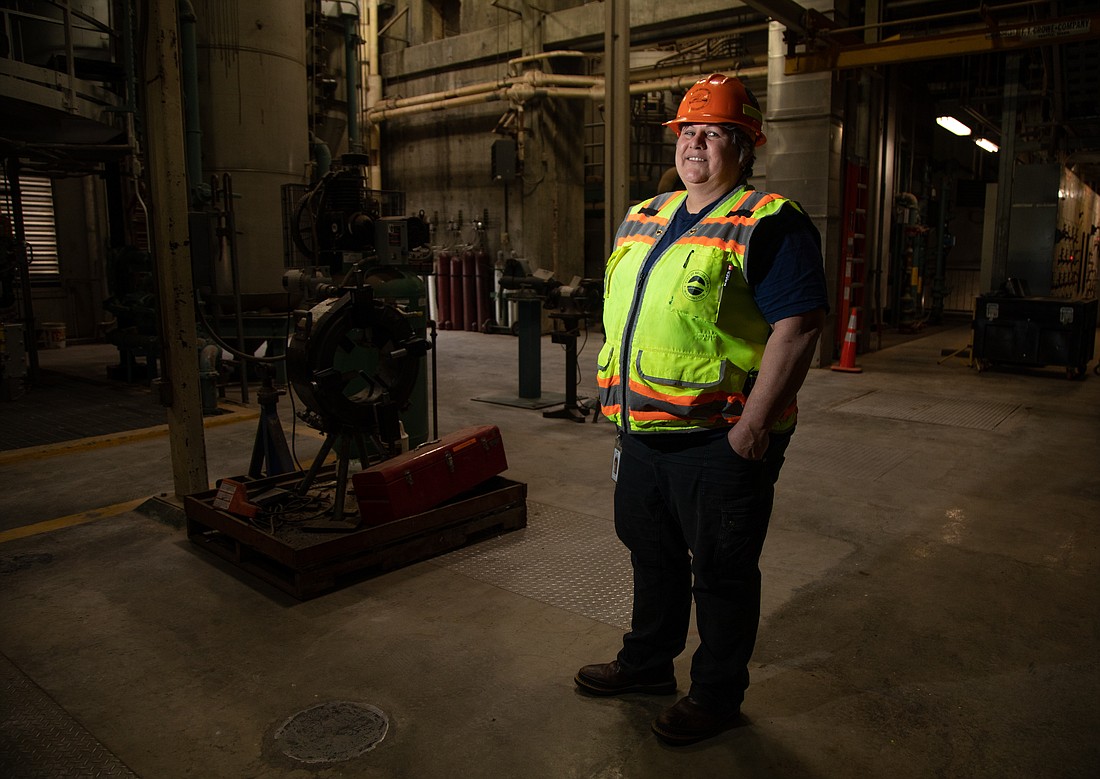 ---
---
Editor's note: Women Empowered: Honoring Women's History Month is a monthlong series of Q&As with regional women in traditionally male-dominated fields. Part three highlights Shayla Francis, chief operator of Post Point Wastewater Treatment Plant.
Shayla Francis, chief operator at Bellingham's Post Point Wastewater Treatment Plant, attributes her career success and current leadership position, in which she oversees a staff of 19, to her experience in the trades. 
Though she's spent the last 23 years at Post Point, Francis broke into her first trades job in 1988 at Intalco aluminum smelter in Ferndale. In 1991, she entered an apprenticeship program through Bellingham Technical College (BTC) becoming only the second woman to apprentice for Intalco. 
Eight thousand hours and one electromechanical technology degree later, Francis became a shift electrician, then a potline worker, before ending up in Intalco's planning department.
In 2000, she took a maintenance job at Post Point. Since she moved into operations in 2005, no women have been on the maintenance team — "not since I left," Francis, 56, said. 
Francis climbed the ladder from operator to lead operator to her current position as chief operator. Cascadia Daily News caught up with Francis for a Q&A session in her Fairhaven office on March 18.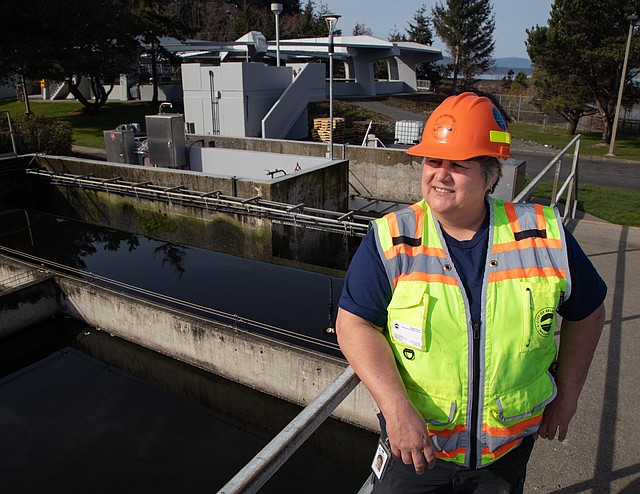 What made you pursue an apprenticeship program? 
I had a basic entry-level job on the potlines doing some pretty heavy, manual work, which was fine. I was 22. I really wanted to go back to school, and I didn't know how I was going to do it because I needed this job, and it was a rotating 12-hour shift. This apprenticeship program they had was on the electrical and mechanical side. Electricity has always interested me. And I've always been the type of person that took things apart, then put them back together, so it seemed to suit my personality. It was a really good opportunity. The company provided the tuition and we went to night school two nights a week. 
What are some of the challenges you've experienced as a woman in a male-dominated field?
I would say the guys I worked with — it was kind of two-fold. Some of them were really happy to be able to work with a woman because I think women, we tend to get into the details a little bit more. I think inevitably we know we have to work harder to get the same amount of accolades. We know that we're already kind of the underdog trying to get a crack in the door so we can get through it, and to do that, we have to work harder. There were gentlemen I worked with who did not think a woman should be an electrician, and they voiced that. 
What is the best piece of advice you've ever received?
'Don't let anybody tell you you can't do it.' Don't not try something or apply to something thinking, 'I don't know if I can do this, so I'm not going to apply.' Make them tell you no, make the world tell you that you can't do it, but try. Just try. If you fail, try again. Don't let anybody tell you that you can't do it and believe them because we can do it. 
Why is it important for women to pursue fields like this?
There are pay inequities still to this day between men and women. I don't experience that because I've always worked for a union. Unions are very good at equalizing that pay, but in private industries, if you're not represented by a union, I think there is pay inequity. So the more women that go into fields that have been traditionally male-dominated, the more I hope it'll change that paradigm. It shouldn't matter what gender you are. If you're doing a good job, you should be compensated for it. 
Was there ever a time you felt like giving up on your career, and what made you keep going?
I'm real stubborn. But there were times. I remember being in the HR office once, and not for any particular reason, but I remember the HR director at the time telling me, 'You chose to be in a man's world, so you're just going to have to be thick-skinned like a man.' Granted, we're talking like the early '90s. But that did kind of defeat me a little bit. You do have to be kind of thick-skinned. It was like, I see what you're saying, but I'm not going to be like the other guys. And with that comes a feminine quality that I think helps the workplace, so I wasn't going to give up. 
How do you see the role of women in male-dominated fields continuing to change and improve?
I would like to see the day when it's not uncommon that a woman is on an electrical crew, or a mechanical crew or a utility line person. I'd like to see the day when there's enough women who go into the trades, or go into nontraditional roles, that it becomes commonplace. 
Young girls need to be OK with getting into STEM programs and the trades. I think it's really important that young girls, young women — middle-aged women, for that matter — know there's an avenue that they can go that's going to provide them with higher-paying jobs. 
Francis motioned to one of two women operators in her team of 19, Senior Operator Becky Spithill, to join the conversation. 
Becky Spithill: I started here originally in the first round in 1992, and there had never been a woman in this role before here. I worked for seven and a half years, then left for a while, then came back. When I left, a woman who had worked in the lab took over my position, then when I came back there were two of us. 
Becky, how has your experience been as a woman in this field?
Spithill: It depends on who you're surrounded by. Not everybody had diversity training. 
Francis: Do you remember the Shades of Gray training? We had to take that out at Intalco. It was shades of sexual harassment. 
Spithill: Like there should be shades.
Francis: As women, we're like, 'Why is there a shade?' But men are like, 'What's the light gray?' 
Spithill: Most people were pretty nice and you got a rapport with people where if they were being out of line, you said, 'You're being out of line.' And that was sometimes my boss. It used to be in the '90s, women would come into the job, but it was so unpleasant, that they would not stay. 
Francis: But that's gotten better, especially up here in the Pacific Northwest. Maybe if you go to the Dakotas, it'd be a little bit different. 
Part four highlights Bellingham firefighter Becky Pederson.