Women Empowered: Part IV
Bellingham teacher-turned-firefighter found her passion at 35
Rebecca Pederson gained a 'second family' in peers
March 29, 2023 at 5:50 a.m.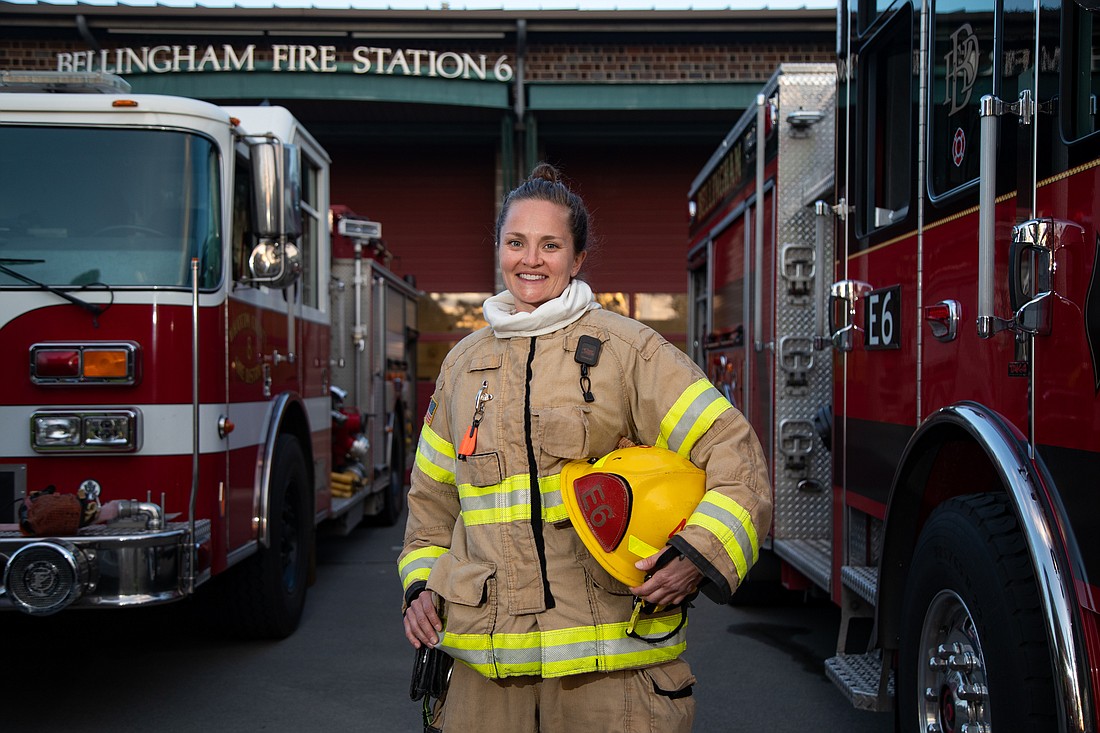 ---
---
Editor's note: Women Empowered: Honoring Women's History Month is a monthlong series of Q&As with regional women in traditionally male-dominated fields. Part four, the final story, highlights Rebecca Pederson, a Bellingham firefighter.
Bellingham firefighter Rebecca "Becky" Pederson likes to think the job found her, not the other way around. 
Battling blazes and saving lives wasn't her initial career path. Pederson, 38, was at the front of a classroom teaching elementary schoolers for 13 years before leaping into a different career. 
The Bellingham resident felt the demanding, yet compassionate, work of a firefighter fit her. At the age of 35, she underwent a three-month fire academy with 12 other recruits: "the educator getting an education," she said. 
Pederson was then assigned a station, where she continued her learning. She is now one of 16 women in the department's 183-person firefighter ranks.
Cascadia Daily News caught up with Pederson for a Q&A session at Bellingham Fire Station 6 on March 22.
What interested you in firefighting?
Once I knew it existed for me, the interest was sparked because of the physicality. Before this, I was teaching, and that served a really important role in my life for that timeframe. It was still that service-minded job, but it was almost lacking movement. That's important to me. I've always been into sports and athletics, and team-type stuff, so [firefighting] checked a couple of boxes I didn't know existed at that time. I also really like the teamwork aspect of it. It's also very family-oriented. They're really your brothers and sisters. 
Fun fact: some of my students, I now work with their parents. One of my captains, I sat across the table with at one of my parent-teacher conferences. Some of the first calls I was on within that first year, I'd see some of my students — not as patients, but I remember being on a fire and coming out and taking gear off and hearing, 'Ms. Pederson! Hi, Ms. Pederson!' because they were all watching outside. I was like, my worlds are colliding. 
What is most rewarding about your job?
I think just knowing that you can be of help on someone's hardest day. And it can be a little thing, or it can be a really big thing, but to whoever you go on call for, it could be their biggest emergency. We show up, they trust us with everything and it just feels so good to be able to give that to the community that I also live in. 
Do you have an impactful memory or moment that sticks out to you?
Yeah, but it's not necessarily from any calls I went on. It was this transition I went on from being proficient as a teacher for over a decade to kind of uprooting what I was doing and putting myself at the age of 35 back into a learning position. 
When you say you didn't know firefighting 'existed' for you, what do you mean by that?
Like I said, I was a teacher, and I knew that wasn't my forever spot. I knew I was searching for something else, but I didn't know I was going to end up here. Through a local gym I went to, I knew some other firefighters and family members of firefighters, and they kind of dropped these 'Oh, you should try this,' or 'I think you'd be a good fit for this.' And they kept chipping away at those things, and I was like, 'No, I'm a teacher, this is what I'm going to do.' But then I was like, why not? I'm going to try this. Once I knew it was an option for me, I then gave myself the grace to be like, 'OK, I don't have to be a teacher.' I can take this core of who I am, a passion for serving others, and view it through a different lens. 
Firefighting is a traditionally male-dominated field that some think requires a man's energy or strength. What is your response to that? 
I would say parts of that statement are true: You do have to be physically fit to do this job. You have to put yourself out there in a position where it feels unknown because you don't have female leaders where you've seen it done before. But I disagree with part of that statement: There are also men who aren't a good fit for the job either. I think it takes a special type of person that wants to do something like this. I don't see it as a gendered role. Traditionally that's the way it's been, but this pendulum is starting to swing across all careers. 
I've had nothing but support and encouragement from the day I started, and I feel very fortunate for that because I know that's not everybody's experience in male-dominated careers. And I'm really grateful because it could make just one more element of the job difficult, having to prove that I fit here regardless of my gender. 
What kind of person does it take to be a firefighter?
I think it takes just a really compassionate person, and I also believe some life experience is so beneficial to this job. Yes, you have to be fit and strong and able to do all the fire skills too, but those are hard skills. Those are skills I can train on. There are soft skills that come with some life experience, just who you are as a person, being mindful you're interacting with such a variety of people each and every day. It's a unique balance. It's not all physicality and strength, it's someone who can go and connect with people. We have some phenomenal captains and other co-workers who have been doing this job for a while, and they have such a sweet manner about them. It can be the 19th time we've seen this patient, yet they approach that patient with such sweetness. 
Within our own, specific department, you also have to really care for and support each other. It becomes a family outside of family. If you don't have that ability to be a team player, if you're not on board with teamwork, this isn't the job for you. 
What has been the biggest challenge of your career?
Honestly, I require quite a bit of sleep. We do 24-hour shifts, and they can be very, very long if you don't sleep. 
What woman do you look up to most in life?
My [younger] sister. We're really close, and we get along so well that I couldn't picture someone else filling that role. She's my go-to person. We've just bounced back and forth through life together. Most people can't tell us apart. They think we're twins, but we're not. We're actually five years apart.