Basketball
Nooksack Valley captures first state title in program history
Coppinger scores 20, Pioneers earn 43-36 win over Lynden Christian
March 4, 2023 at 4:37 p.m.
|
Updated March 4, 2023 at 7:41 p.m.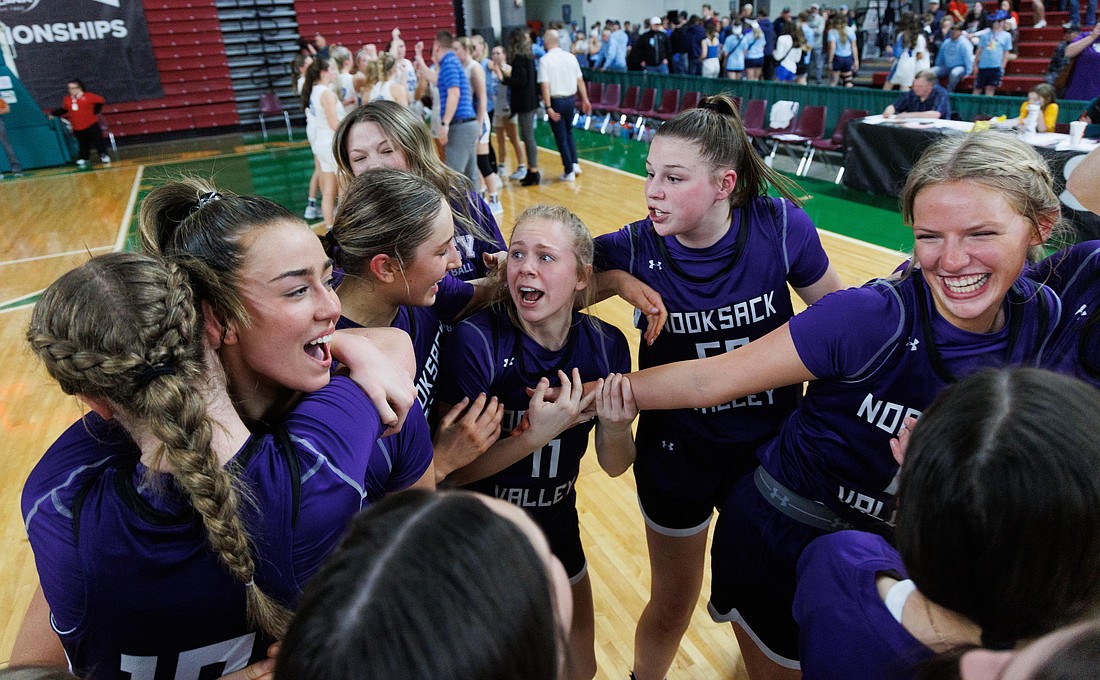 ---
---
YAKIMA — The Pioneers have earned their redemption and made history.
Nooksack Valley girls basketball outscored Lynden Christian 23-14 in the second half to topple the defending champion Lyncs 43-36 Saturday night at the Yakima Valley SunDome — capturing its first state championship in program history and 15th total trophy.
"These girls have worked so hard and I'm so proud of them," NV coach Shane Wichers said. "This is a memory that we'll never, ever forget."
Top-seeded Nooksack Valley came into the 1A state championship game 3-2 against No. 2 Lynden Christian over the last two seasons.
One of those losses, however, was a 57-56 overtime loss to the Lyncs in the 2022 1A title game — a gut-wrenching defeat that came down to a game-winning jumper from Libby Stump.
The Pioneers' revenge campaign has come to an end, and this time it's them hoisting the gold ball.
"To be the champs you've got to beat the champs, and that's a hard thing to do," junior guard Devin Coppinger said. "We know everything about each other because we've played each other so much ... Really it was whoever was going to play the hardest, whoever wants it the most."
Coppinger led NV with 20 points on 6-of-11 shooting, adding six rebounds and four steals. Junior post Tana Hoekema totaled six points and 10 rebounds, while senior post Taylor Lentz tallied eight points and three rebounds.
"It's a history-making team," Coppinger said. "I wouldn't want to do it with any other girls."
Wichers, in his 27th season as NV's coach, had waited quite a while for this moment as well.
"The kids did an incredible job," Wichers said. "We knew it was going to be a battle, and we knew it wasn't going to be easy. I was hoping it wasn't going to be a one-point, right down to the last second [game]."
LC was led by 10 points and six rebounds from sophomore guard Grace Hintz, while senior guard Daisy Poag tallied nine points.
"This group was humble. This group worked hard. This group sacrificed," LC coach Brady Bomber said. "One team's going to win this game, one team's going to lose this game — it never gets any easier to not win the last one, but the way our girls went about it, I can leave here proud of what they did."
The first half was as good as advertised, with seven ties and as many lead changes highlighting a two-point game after 16 minutes.
Both teams scored just four points in the first quarter before both offenses settled in and found better looks at the basket. LC narrowly outscored NV 18-16 in the second quarter, taking a 22-20 advantage into the locker room.
The Lyncs' three 3-pointers to the Pioneers' none allowed LC to gain its slight edge, as NV had to work for most of its points in the paint.
"There's some stylistic difference in how we play," Bomber said. "So you're trying to figure out how you can capitalize on yours and try and take away some of theirs."
NV mounted a 7-2 run to start the third quarter, taking a 27-25 lead early in the period. LC never got the lead back in the third, but the Pioneers led by just two heading into the fourth quarter.
Hintz gave LC its first lead since the beginning of the third quarter, 34-33, with five minutes remaining in the period on a straight-on 3-pointer.
Lentz got the lead back for NV with three minutes left at 37-34, and they never relinquished the advantage for the remainder of the game, holding LC at 36 points for the final three minutes.
That same Pioneers defense held LC to just 20.6% shooting in the second half, while NV shot at a 44.4% rate.
"These kids have been playing against each other since they were little, and so it comes down to [the fact] they made a few more plays down the stretch than we did," Bomber said. "As a coach, you'd like to think you could find your kids a few more opportunities and create a few more baskets than that. I wasn't able to do that tonight."
NV finished its season 27-1 overall, wrapping up a near-perfect season that saw its only loss coming by two points to Class 4A Tahoma.
The Pioneers will graduate just three seniors in Taylor Lentz, Hallie Kamphouse and Ella Perry, setting them up nicely for another title run in 2024.
"Our seniors are such great leaders, they're such great people on and off the court," Coppinger said. "They're some of my best friends all of my life, so to be able to send them off like this is awesome."
LC concluded its season 25-4, falling just short of its first three-peat in program history while placing second for the eighth time and earning its 39th total state trophy.
The Lyncs are graduating six seniors: Demi Dykstra, Daisy Poag, Reganne Arnold, Taryn Herwerden, Katrin Fay and Alexie Hagen.
"We try to remind them that you never know when you may get here again," Bomber said. "Even though we've been here recently, a few times, there's no guarantee it's ever going to happen again. So we want them to celebrate in that light."