Elections
Campaign gears up to sell child care to voters
Children's initiative on November ballot would raise taxes
September 22, 2022 at 5:05 a.m.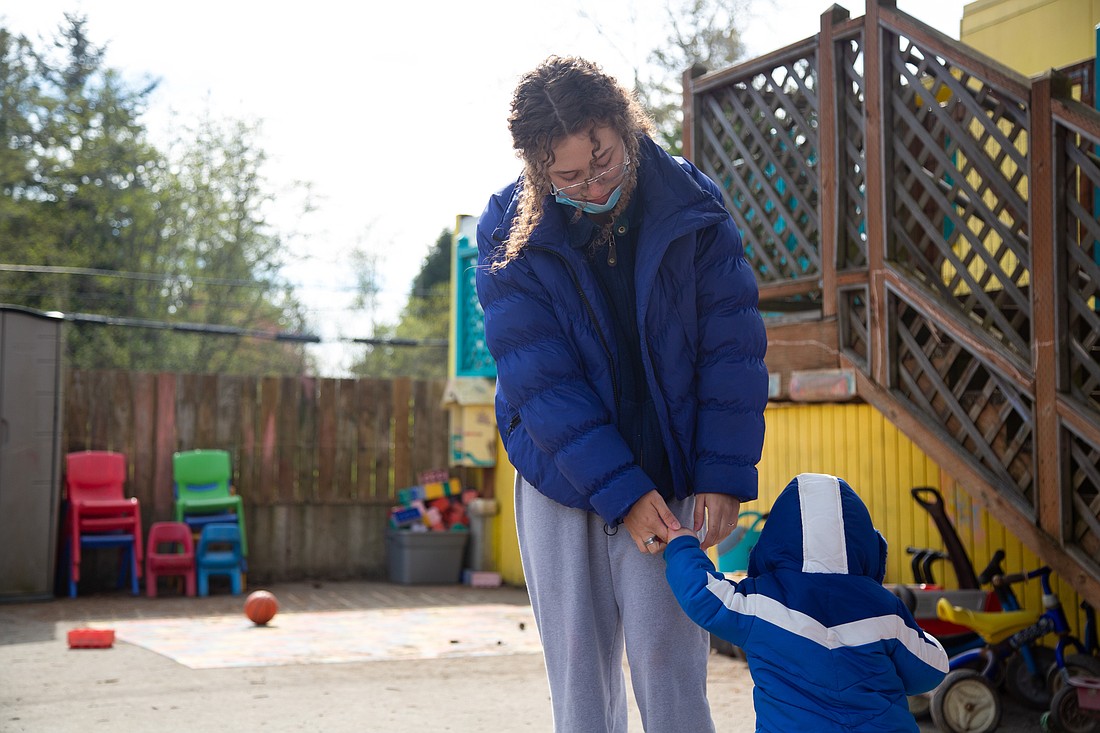 ---
---
If a tax on the November ballot to pay for child care programs and other supports for young children and families in Whatcom County is going to pass, voters will need to be convinced the so-called Healthy Children's Fund is worth the investment.
The people behind Proposition 5, the children's initiative that would create a 19-cent tax for every $1,000 of assessed property value, aren't leaving this to chance. They've organized a full-blown campaign and raised $52,000 as of Tuesday to execute it, according to the Public Disclosure Commission.
They know they face opposition. The official "con" statement can already be found online.
"Current inflation affects everyone," the statement begins. "The cost of food, energy, transportation and housing is increasing at an alarming rate ... This levy increases the burden on these families who are struggling financially."
When the County Council voted 5–1 in June to put the measure on the Nov. 8 ballot, council member Ben Elenbaas cited inflation as his reason for voting "no."
"I'm having a real hard time, with the economic climate that we're in ... that we're going to add another tax that makes housing less affordable," Elenbaas said.
Recent history suggests that winning voter approval on a tax measure is difficult without a campaign committee selling the proposal. Two countywide jail-construction levies over the past decade failed without an organized campaign. The Bellingham Home Fund for affordable housing, on the other hand, passed in 2012 and again in 2018 thanks in part to a concerted campaign effort.
Dan Hammill, a Bellingham City Council member who helped lead the Home Fund campaigns, told Mayor Seth Fleetwood in June his proposed climate action levy was in trouble because a citizens group hadn't stepped up to take the case to voters. Later that month, the mayor dropped the levy proposal.
Most of the $52,000 raised for Proposition 5 came from members of the campaign committee or their organizations, including Chuckanut Health Foundation; a foster-care program called Skookum Kids; and Chao-Ying Wu, an M.D. with Family Care Network. 
"This has been 10 years of grass-roots and coalition building," said Heather Flaherty, a campaign committee member and executive director of the Chuckanut Health Foundation. 
Flaherty said levy organizers have received input from countless parents and child care providers to figure out how best to spend the funds that would come from the new tax. If approved, the measure would add nearly $100 to the typical homeowner's property taxes next year and raise about $8.2 million annually over the next 10 years.
Campaign organizers propose building three or four larger centers in current child care "deserts" — possibly Blaine, Lynden, the Mount Baker area or north Bellingham. They would raise pay for preschool teachers, who make near-minimum wage, and help smaller providers expand or handle the administrative work that cuts into their bottom lines.
Whatcom County needs about 5,000 child care slots to meet demand, Flaherty said, adding that children need a quality early-childhood education to be ready for kindergarten. The state has a goal of 90% kindergarten readiness, and less than half of the county's children enter kindergarten prepared to learn.
All of that will be delivered in a message to voters soon, in the form of mailed flyers, yard signs and old-fashioned doorbelling.
"Our big work between now and November is to tell voters about their opportunity to say 'yes' to kids," Flaherty said. "We're going to try to knock on 25,000 or more voters' doors."