Prep/College
Whatcom County sending 3 football teams to state semifinals
WWU women's basketball gets started; All-NWC volleyball teams released
November 22, 2022 at 10:50 a.m.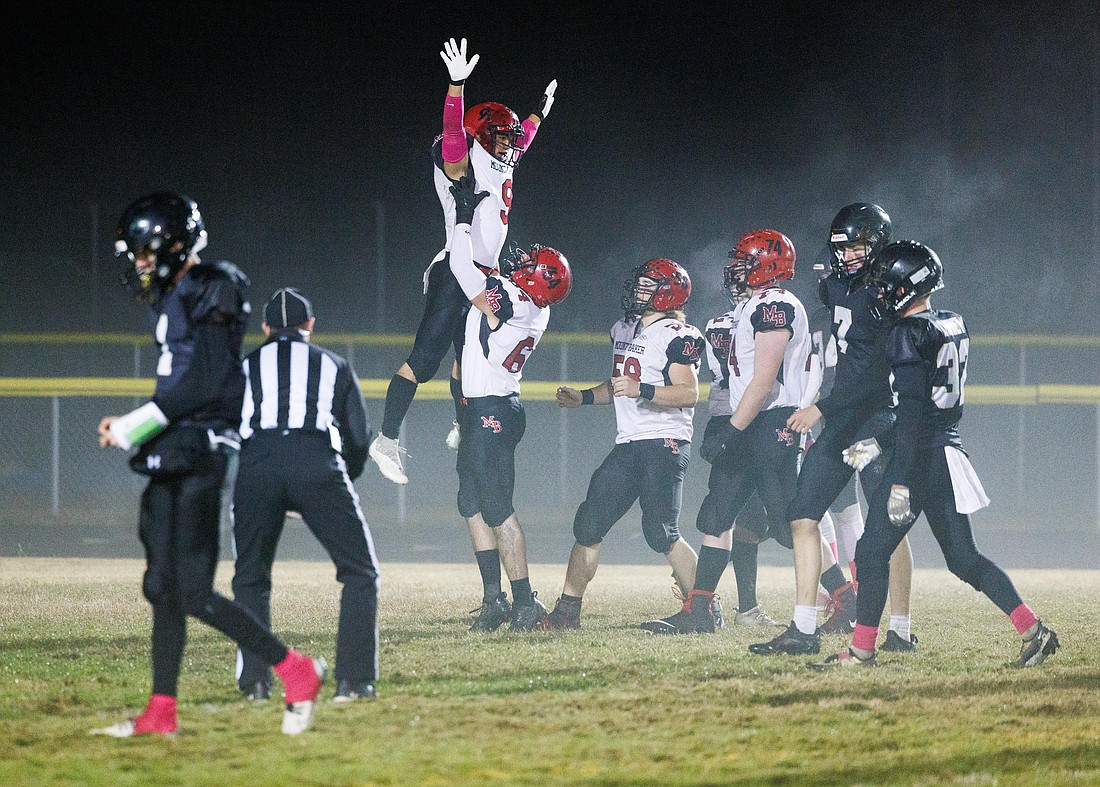 ---
---
Three county football teams will play state semifinal games at Civic Stadium on Nov. 26. Western Washington University basketball teams begin — and progress — their young seasons. 
Don't miss these highlights from Whatcom County's prep and college sports teams over the past week.
Prep
Football
No. 3 Nooksack Valley 34, No. 11 Cashmere 24
NV entered its first quarterfinal game since 2010, and the Pioneers were up to the challenge in a 34-24 win on Nov. 19 to make it back to the 1A state semifinals for the first time since 2009.
Cashmere was coming off a 22-17 upset victory over No. 6 La Center. The Bulldogs nearly continued their odds-defying run — leading NV 17-14 at the outset of the fourth quarter — before the Pioneers stormed back with a vengeance.
"Our kids battled back — didn't let it get to them," NV coach Craig Bartl said. "Cashmere is a good team. Any time you get to that point in the playoffs, everybody is good."
NV punched in three fourth-quarter touchdowns, two from sophomore running back Colton Lentz and one from junior quarterback Joey Brown. Lentz had three total scores in the game.
Bartl said he thought they had some advantages in the trenches that helped pave the path to victory via the running game. They utilized that discrepancy, and it paid off when they needed it.
The Pioneers move on to a 1A state semifinal contest against in-county rival Mount Baker. NV won the regular season matchup between the two teams 28-20, but the Mountaineers nearly held the Pioneers out of the tournament in a 1A Northwest Conference Kansas tiebreaker back on Nov. 3. 
"Our baseline stuff is our baseline stuff. We'll make some tweaks probably to a few things, but this late in the season it's what got us here," Bartl said on preparing for a familiar opponent. "[We'll] try to anticipate the little tweaks that they're going to do, but nothing extravagantly different."
A semifinal win for NV would give the Pioneers their first-ever state championship appearance.
No. 10 Mount Baker 35, No. 2 Lakeside (Nine Mile Falls) 20
Mount Baker is becoming a Cinderella story of its own. The Mountaineers rode a late regular season push through the tiebreaker and into receiving the No. 10 seed in the 1A state tournament. From there, they upset No. 7 Tenino 37-26 in the opening round on Nov. 11 and followed that up with a 35-20 romp past No. 2 Lakeside on Nov. 19.
It's a mystery who can beat these new-look Mountaineers, who have ridden the emergence of star senior running back Marcques George.
"[George] is their guy, but they have other weapons," Bartl said ahead of the Nov. 26 game between NV and Mount Baker. "I think if you focus on George, you lose the fact that they have three other backs who are really good, and a quarterback who can throw the ball and receivers who can make some catches."
Mount Baker utilized those weapons against Lakeside on Nov. 19, getting two touchdowns apiece from running backs Landen Hanstead and Wilhem Maloley, as well as one from quarterback Landon Smith.
Lakeside scored on its first drive of the game as it took the Mountaineers a bit to adjust to the Eagles' speed, Mount Baker coach Ron Lepper said.
"We started making some adjustments defensively because they were hurting us on the outside," Lepper said. "We were able to get pressure. Our defensive ends — all three guys did a heck of a job all game long at putting pressure on the quarterback and making him have to move around a little bit."
The Mountaineers tallied four sacks, one of which resulted in a fumble recovery. Mount Baker rattled off four straight touchdowns stretching across three quarters to take a 28-6 lead. 
Lakeside cut that deficit to 28-20 in the fourth quarter, but the Mountaineers got one more score and the defense held on for the victory.
"We responded. They got the ball, driving with a possible chance to tie the game and then the defense comes up big with a sack and fumble recovery," Lepper said. "The offense takes it from there and we're able to punch one in — we kind of iced the game, as it were."
Mount Baker is looking to reach its first state title game since 2013, a contest the Mountaineers lost 31-13 to Freeman.
The Mountaineers and Pioneers will meet at Civic Stadium at 1 p.m. on Nov. 26.
"It's pretty exciting," Lepper said. "I imagine it'll be a fairly big turnout on Saturday for the game."
No. 2 Eastside Catholic 35, No. 7 Ferndale 18
The Golden Eagles were on the cusp of their first semifinals appearance since 2005 — the year Jake Locker led Ferndale to its second-consecutive 3A championship appearance and eventual title — but couldn't seal the victory.
Ferndale narrowly trailed Eastside Catholic, 14-12, at halftime. The Crusaders, however, poured on back-to-back touchdowns in the third quarter to begin pushing the game out of reach.
A touchdown run from junior athlete Conner Walcker would be the Golden Eagles' final score of the season. 
Ferndale put together a stout postseason before the game, defeating Seattle Prep 35-14 in a week 10 playoff game on Nov. 4 and following that up with a 44-14 opening-round win over No. 10 Kelso on Nov. 11.
The Golden Eagles then entered what would have been a difficult road to the title game, first against unbeaten Eastside Catholic, but were unable to hand the Crusaders their first loss of the 2022 season.
Ferndale completed its season 9-3 overall and will lose 13 seniors heading into the 2023 season.
WWU
Women's basketball
The Western women's basketball team kicked off its regular season with a 59-58 loss to Azusa Pacific on Nov. 18 at Whatcom Community College. 
It was the first of two games the Western women played over the weekend, as the Vikings bounced right back the next day to beat Cal State San Marcos 63-46. 
Vikings forward Brooke Walling led Western in scoring, rebounds and blocks as the junior finished with a 16-point, 10-rebound double-double while swatting three shots. Redshirt freshman guard Mason Oberg tallied 14 points and four rebounds. Veteran senior guard Mollie Olson totaled 10 points, three assists and two rebounds. 
Next up for Western is a home game versus the Dominican University of California on Nov. 25. That game will tip off at 4:30 p.m. on WECU Court in Sam Carver Gymnasium.
Men's basketball
After a strong 92-78 victory over Concordia University Irvine on Nov. 18, Western men's basketball dropped one on the road at Azusa Pacific, 86-72, the following day.
Sophomore guard Kai Johnson posted a team-high 14 points and has now scored in double figures in each of the Vikings' four games this season. Junior guard D'Angelo Minnis totaled 10 points, five assists and two steals in the loss. Senior guard Daniel Hornbuckle, redshirt freshman forward BJ Kolly and sophomore forward Nic Welp each scored eight.
Western fell to 3-1 on the season and will host Maine Fort Kent on Nov. 22. Tip-off is set for 7 p.m. on WECU Court in Sam Carver Gymnasium.
2022 All-Northwest Conference volleyball teams
All awards, including First- and Second-Team selections, are voted on by NWC volleyball coaches.
Player of the Year: Emery DeJong, outside hitter, senior — Sedro-Woolley
Coach of the Year: Chris Elsner, Lynden
First Team (Whatcom County only)
| | | | |
| --- | --- | --- | --- |
| Player | School | Position | Class |
| Brooklyn Cagle | Ferndale | Setter | Senior |
| Emry Claeys | Meridian | Outside Hitter | Junior |
| Chayse Flick-Williams | Bellingham | Outside Hitter | Junior |
| Morgan Hayes | Ferndale | Outside Hitter | Senior |
| Lainey Kimball | Nooksack Valley | Outside Hitter | Junior |
| Avery Lenssen | Lynden Christian | Middle Blocker | Senior |
| Sofia Rader | Lynden Christian | Libero | Senior |
| Grace Rice | Lynden | Setter | Junior |
| Ashley Shumate | Lynden | Outside Hitter | Junior |
Second Team (Whatcom County only)

| | | | |
| --- | --- | --- | --- |
| Player | School | Position | Class |
| Reganne Arnold | Lynden Christian | Outside Hitter | Senior |
| Hayden Claeys | Meridian | Setter | Senior |
| Hallie Kamphouse | Nooksack Valley | Outside Hitter | Senior |
| Haylee Koetje | Lynden | Outside Hitter | Junior |
| Grace LaVergne | Mount Baker | Right Side/Setter | Senior |
| Aysia Mitchell | Ferndale | Libero | Senior |
| Avery Neal | Meridian | Outside Hitter | Senior |
| Mya VanderYacht | Lynden | Libero | Junior |