Volleyball
Ferndale's streak of 5-straight trophies comes to an end
Golden Eagles fall one win short of fifth vs. sixth match
November 18, 2022 at 3:12 p.m.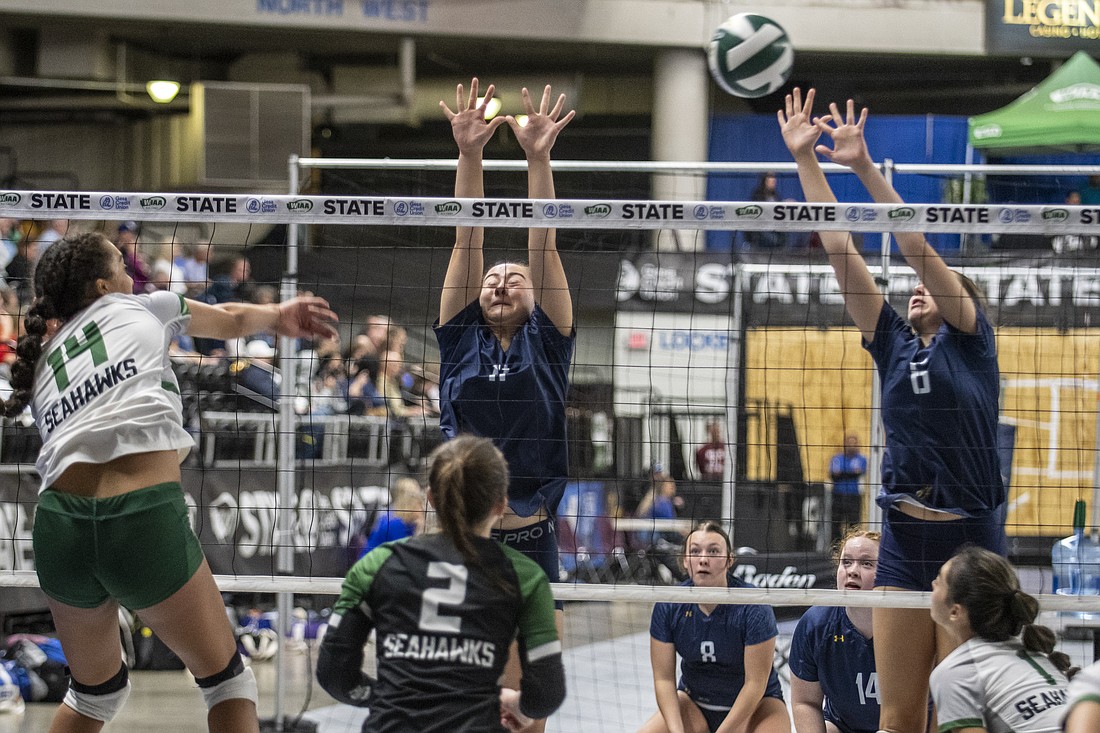 ---
---
YAKIMA — Grit. Hard Work. Scrappiness. Those are the words Ferndale volleyball coach Patti Hoelzle uses to describe her team, and despite coming home from the state tournament trophy-less for the first time in five years, she saw her kids live up to them. 
After going 1-1 during the opening day of the 3A state tournament in Yakima on Thursday, the No. 10 Golden Eagles were unable to keep their season alive in an elimination loss to No. 3 Peninsula — one win short of the fifth-sixth place match.
It ended Ferndale's streak of five-straight state trophies.
"The seniors led with composure and that veteran experience," Hoelzle said. "We hung with Peninsula and that's all we wanted to do: compete."
Ferndale drew a brutal slate, with all three of its opponents being top seven seeds in No. 7 Gig Harbor, No. 2 Mead and No. 3 Peninsula.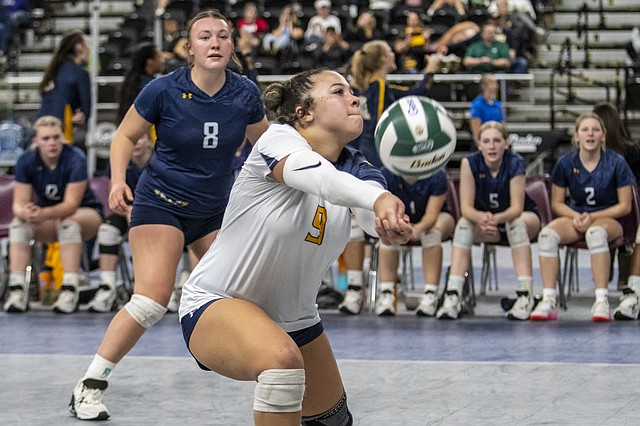 The Golden Eagles entered the tournament on fire, upsetting Gig Harbor (25-18, 25-12, 12-25, 25-14) in the first round to advance to the quarterfinals.
Morgan Hayes led with a team-high 15 kills to go with 12 digs. Madisyn Butenschoen added 13 kills, Brooklyn Cagle dished out 42 assists and Tia Gilday had nine kills and eight blocks. Aysia Mitchell tallied a team-high 23 digs.
"I think [Gig Harbor] was probably surprised at us coming in like that," Hoelzle said.
That set up a showdown with second-seeded Mead, a towering squad that used its height to take advantage of Ferndale's lack of size. It ended in Ferndale's sweeping loss (25-9, 25-13, 25-17).
Butenschoen and Hayes led the Golden Eagles with six kills each. Gilday added four kills, Aysia Mitchell contributed eight digs and Cagle handed out 18 assists.
That put the Golden Eagles into a do-or-die match Friday afternoon with third-seeded Peninsula —  a team that had been upset by No. 11 Bishop Blanchet in the quarterfinals the night before.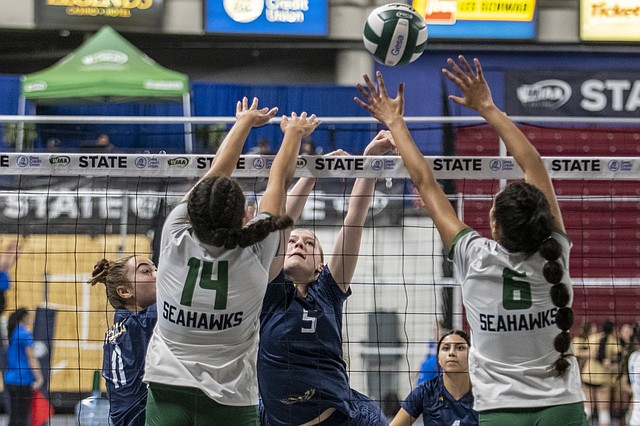 Ferndale hung tough and kept it close most of the way, but couldn't keep their trophy hopes alive in another sweeping loss (25-22, 25-15, 25-22).
"We know what we are physically, which is a shorter team," Hoelzle said. "So our block isn't going to match up with some other teams, so we had to make up for that in our defense and aggressive serving. They've done it all season. But playing the two and three seeds was hard."
Hayes and Gilday each led with seven kills, while Mitchell nabbed 10 digs, Cagle distributed 24 assists and Butenschoen chipped in nine digs, six kills and two aces.
Hoelzle credits her seniors for leading a team that lost a talented group of seniors from last season, and filled in those departed spots with players who hadn't started there before.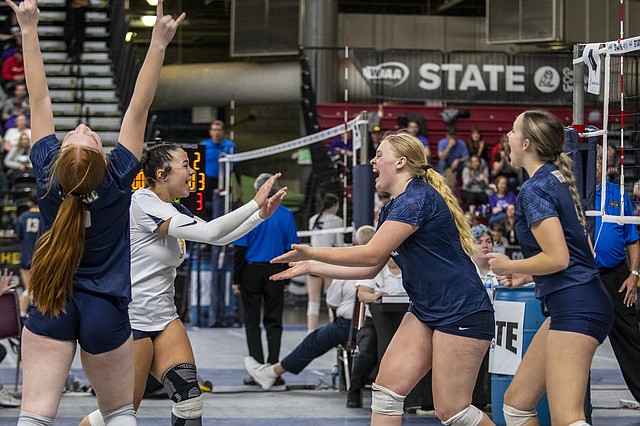 "Our core of seniors waited their turn," Hoelzle said. "It was really nice to see them working together, which is where a lot of the emotion comes from. They were really in the trenches together fighting for this team to be as successful as they are — and they should be really proud."
Now, with the season over, Hoelzle said what she'll remember most about this group of girls are their personalities. 
"They are a hoot to be around, even with some tears," Hoelzle said. "It wouldn't be our team without tears, sadness and a little joke. Great kids to coach. We're hoping some of the younger players that were here, saw what the seniors did, how to compete and then want to come back for the next two or three years themselves."
Ferndale ends its season with a 16-7 overall record, which included tying for third in the Northwest Conference and placing third at the 3A District 1 tournament.
Six seniors played their final match for the Golden Eagles: Morgan Hayes, Madisyn Butenschoen, Brooklyn Cagle, Aysia Mitchell, Tatum Fox and Hannah Heinrichs.