Volleyball
Ferndale one win away from state trophy
Golden Eagles go 1-1 on first day of tourney
November 17, 2022 at 7:07 p.m.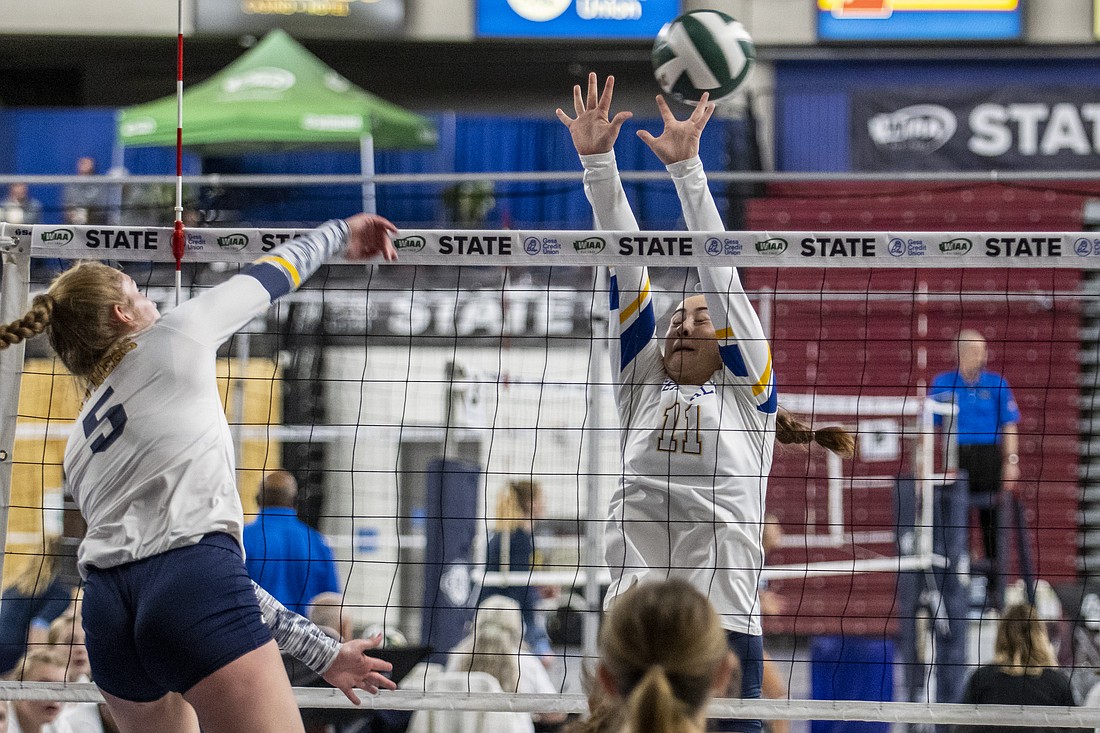 ---
---
YAKIMA — Ferndale volleyball has a word of the day every game day. Thursday's word for the opening day of the 3A state tournament in Yakima was "believe." Coach Patti Hoelzle wanted the team to believe in themselves; believe they can win.
The 10th-seeded Golden Eagles responded by upsetting No. 7 Gig Harbor in four sets in Round 1, before running into defending state champion and second-seeded Mead in a sweeping loss (25-9, 25-13, 25-17). Ferndale is now one win away from clinching its sixth-straight trophy.
The Mead matchup provided Ferndale with a view of what it needs to improve on. Mead — which has seven players 5-foot-10 or taller — began the match by ripping off a 12-2 run and never looked back, using its towering front row to counter Ferndale's attack and drill laser-beam spikes offensively.
"That was a rough opponent to have in an early round," Hoelzle said. "Reigning state champions. They're built different; so strong and so tall. We're a shorter, scrappier team, but I thought my team showed heart every set; we got more and more points."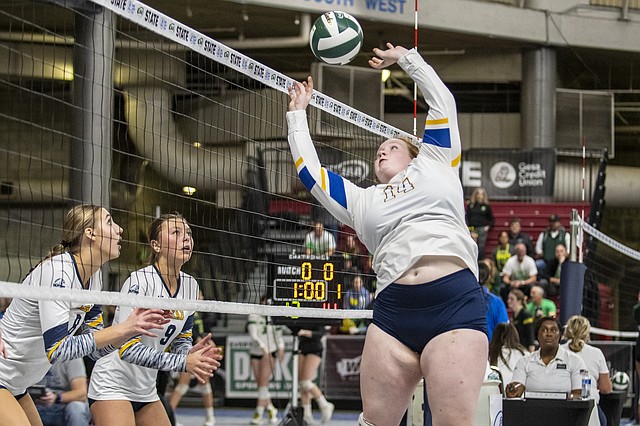 Madisyn Butenschoen and Morgan Hayes led the Golden Eagles' offense with six kills each. Tia Gilday added four kills, Aysia Mitchell contributed eight digs and Brooklyn Cagle handed out 18 assists.
Hoelzle highlighted her senior crew of six — Hayes, Butenschoen, Cagle, Mitchell, Tatum Fox and Hannah Heinrichs — for keeping their cool and showing the underclassmen how to operate at the state tourney. 
"They're really competitive kids, but they were staying positive and being good role models for the younger kids about what happens when you run into a team like that," Hoelzle said. 
Ferndale entered the tournament on a tear, blasting Gig Harbor (25-18, 25-12, 12-25, 25-14) in a convincing first-round victory.
It was about the best start the Golden Eagles could have asked for after battling through a tough district tournament and getting a lower state seed than they're typically used to.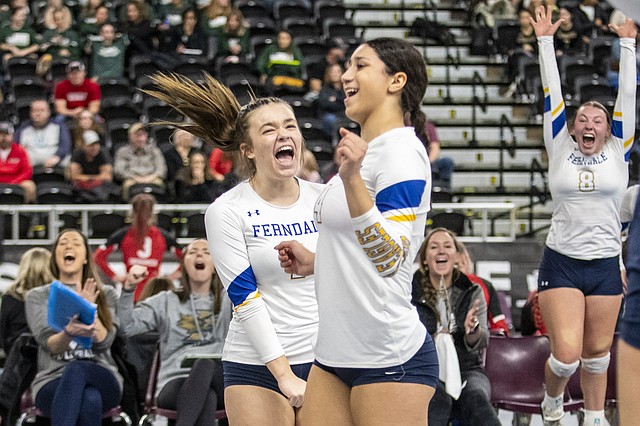 "We've had a great season, but there's been a lot of ups and down, so our goal was to just make it to state," Hoelzle said. "We've done all the hard stuff to get here, so now it's just: make your teammates look good, show off all the hard work you've been doing — and it really came out in that match."
The Golden Eagles shot out to a two-set lead and were only tested in a third-set letdown, putting the Tides out with precision passing, forays at the net and staunch defense.
Hayes led the attack with a team-high 15 kills to go with 12 digs. Butenschoen added 13 kills, Cagle dished out 42 assists to go with seven digs and three aces, and Gilday was all-around dangerous with nine kills and eight blocks. Mitchell tallied a team-high 23 digs, and Fox pitched in six digs.
Hoelzle said their passing corps is what proved the difference. Ferndale — known for its passing and serving — utilized its passing accuracy from the back row to feed setter Cagle, who then set up the offense.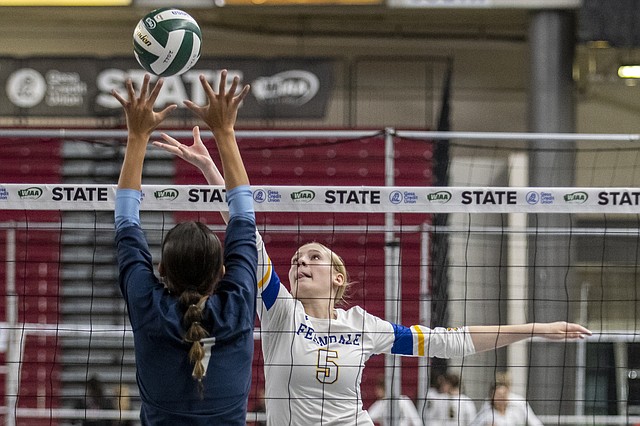 "It comes down to whether our offense can execute and finish those plays," Hoelzle said. "When our libero, Aysia Mitchell, and Mallory Butenschoen and Morgan Hayes are in the back row, we just settle in and run our offense."
Despite the second-round defeat, Ferndale, which has now made state for the ninth-straight season, is one win away from the trophy round.
Hoelzle is confident her team can flush Thursday night's loss and be ready to roll Friday afternoon in a loser-out match.
"I wanted them to feel they earned their spot here and prove they're a top-20 team in the state, and they definitely did that," Hoelzle said. "I'm confident we can use this and reset for tomorrow and come battle whatever team we're going to play so we can fight for a trophy."
Ferndale next takes on No. 3 Peninsula in a loser-out match at 12:30 p.m. on Friday. Peninsula was upset by No. 11 Bishop Blanchet in its quarterfinals match. The winner of Ferndale/Peninsula plays for fifth and sixth.