Places & Things
Places & Things: November 2022
A Fairhaven plant store opens, a florist will close
November 3, 2022 at 10:00 a.m.
|
Updated November 28, 2022 at 6:22 a.m.
---
---
Places & Things is updated regularly throughout the month with new business openings, closings and changes.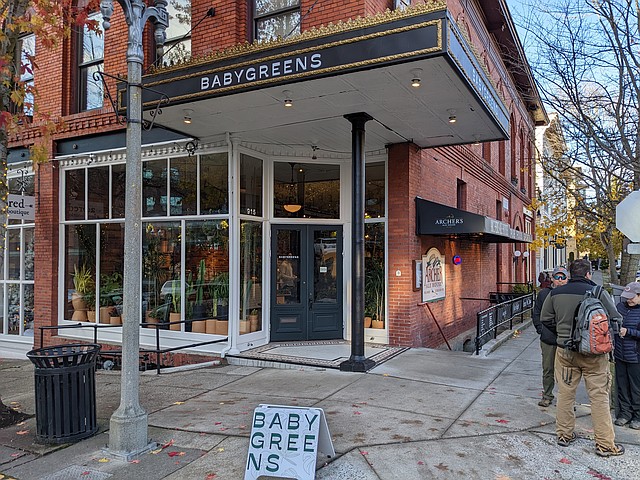 Babygreens — which said in October it would be moving from downtown Bellingham — has now relocated to 915 Harris Ave. in the Fairhaven neighborhood, taking the corner spot where Renaissance Celebration had been. The store specializes in indoor plants.
Rebecca's Flower Shoppe in Fairhaven is closing its doors at the end of the year. The owners of the independent florist at 1003 Harris Ave. in Bellingham said on Facebook they are retiring after 22 years in the neighborhood, but will "operate normally until Dec. 31 and have some great deals on hardgoods and fixtures in the meantime." 
Serenity Farm and Garden in Ferndale has announced the 2022 season was its last. The nursery and gardening store at 7020 Dahlberg Rd. posted on Facebook that they are "planning on putting the property up for sale sometime very soon." According to Serenity's website, the Ferndale location was formerly the site of Windy Meadows Nursery and Foxx Farms.
Pepper Sisters is not quite ready to reopen at 1055 N. State St. in downtown Bellingham. Originally, the restaurant closed in early October and had planned to open again in December, but recently posted on social media that some projects are "taking longer than anticipated" so it won't open by Dec. 1. One change, it promises, is more taps and wine on tap. 
Downtown Bellingham vegetarian/vegan restaurant Quantum Leaf is for sale. On Facebook, the owners cited health reasons and hope to find another restaurant to lease their space at 1149 N. State St., though "obviously we would love to sell the business so Quantum Leaf can live on through someone else and so that we don't walk away from this with nothing." In August, the co-owned SconeGrown restaurant in the Granary Building was merged into the Quantum Leaf location.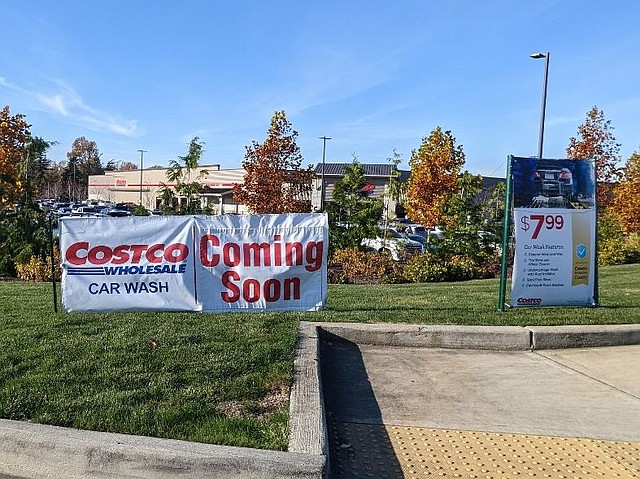 New signs have popped up around the still-under-construction Costco car wash at 4125 Arctic Ave. in Bellingham. The banners officially promise the car wash is "coming soon" and reveal the price — $7.99. When asked for an opening date, a Costco spokesperson responded that company policy doesn't permit it, since "due to construction schedules, city requirements, etc., new warehouse/gas station opening dates are subject to change." Or: wait for another sign? 
Temple Bar at 306 W. Champion St. in downtown Bellingham has had a series of soft openings this month, according to its Facebook page, in apparent preparation for reopening after a pandemic closure. Originally opened in 2002, the bar on its website said it's known for "proudly serving fine wine, beer, craft cocktails and local fare" and has been closed "for renovation." 
Self-described country bar and nightclub Boots Bar & Lounge plans to open on Dec. 1 at 1263 Barkley Blvd. in Bellingham, near Sunset Square. What to expect? A Facebook post during the hiring phase said, "serving positions will involve dancing on the bar (yes, think Coyote Ugly!)."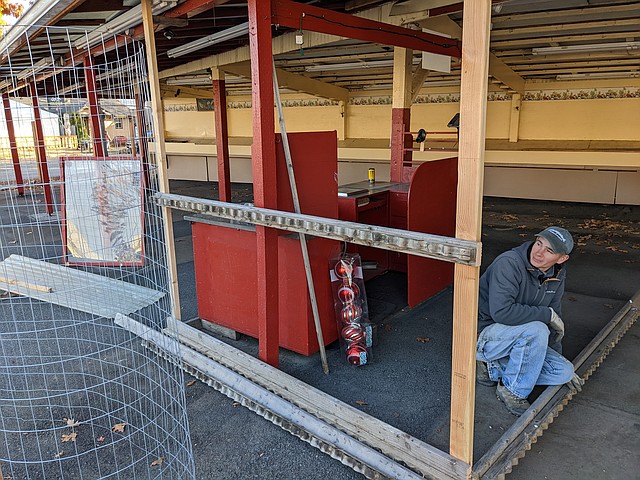 Youngstock's said it will reopen by Nov. 21 for the holiday season with its annual sale of Christmas trees, this time as a pop-up. The fixture of Bellingham's Sunnyland neighborhood at 2237 James St. ended regular hours as a produce stand in late June but promised to return seasonally after its owners' retirement. 
Allied Arts' Holiday Festival of the Arts opens Friday, Nov. 18 at 1411 Railroad Ave. in downtown Bellingham for a five-week run. The pop-up, which Allied Arts said features "over 100 artisans from our region," is open seven days a week 10 a.m. to 7 p.m. through Christmas Eve, with a couple of exceptions. There's also an online market.
Pacific Arts Market is returning in a new location, 1145 E. Sunset Dr. in Sunset Square, the former Tuesday Morning storefront. The Market will be open Fridays through Sundays, 10 a.m. to 6 p.m. — the first three weekends in December — meaning a start on Friday, Dec. 2 and a final day on Sunday, Dec. 18. It promises "artisans of local and handmade goods" and expects about 40 will participate.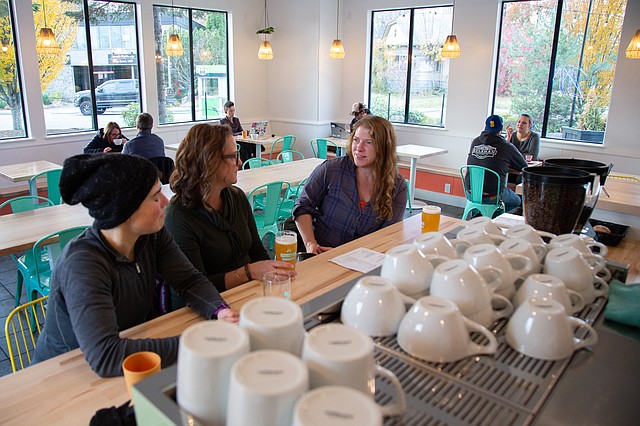 ROAM Coffee + Beer — which revealed its plans in early July — has opened and welcomed a café crowd over its first weekend Nov. 12-13. The former Carne butcher shop location at 1205 Washington Street in Bellingham is the spot of the new venture from Wander Brewing, which is also keeping its brew hall at 1807 Dean Ave. In an October social media post, ROAM said it would hire "baristas/beertenders" to handle both ends of the beverage spectrum.
Goat Mountain has set its grand opening for Friday, Nov. 25 at 215 W. Holly St. in downtown Bellingham with a soft opening on Monday, Nov. 21. The restaurant sits between co-owned Black Sheep and Lorikeet Bar. And yes, Goat Mountain did exist in Bellingham before, but took a nearly four-year break. As explained on Instagram: "This new and improved version of Goat Mountain is going to be providing the same quality of fresh, delicious food and drink while also offering more than just pizza!"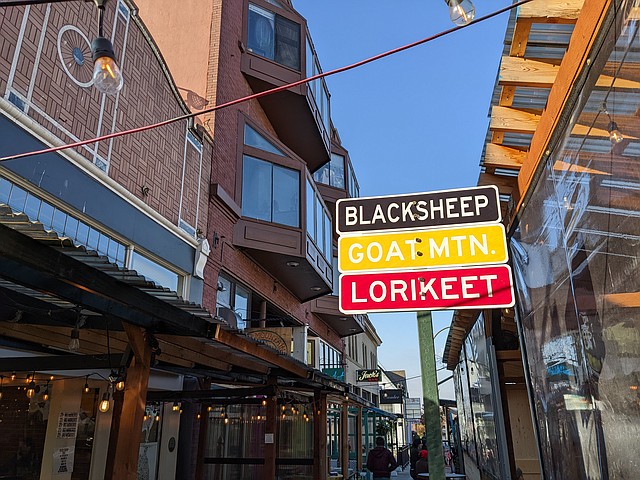 Fred Meyer is wrapping up the remodel of its North Bellingham store at 1225 W. Bakerview Rd. and will hold a "re-grand opening" ribbon cutting ceremony on Friday, Nov. 18 at 9 a.m. Members of the Bellingham City Council are expected to attend, according to a city notice. Store management said the remodel of the location — which originally opened in 2003 and remained open during the work — took about six months and features larger grocery aisles as well as a new look for the Photo Electronics area.
Brando's BBQ said it's getting a permanent home in Skagit Valley. The mobile food trailer posted on Facebook that it'll settle in Bow in an existing, rustic-looking building at 14969 W. Bow Hill Rd. Writes Brando's: "We don't have an exact opening date but it shouldn't be that long!!" 
Magdalena's, which had ended regular hours in favor of pop-ups in Fairhaven, has posted regular hours anew. The bistro and creperie said on social media it will now be open Fridays 4 p.m. to 7:30 p.m., and Saturdays and Sundays 9:30 a.m. to 2 p.m. through the fall and winter, except for breaks Nov. 24 - Dec. 8 and Dec. 24-25. The restaurant at 1200 10th St. in Bellingham originally announced it was closing on Aug. 2 but has since hosted special events and offered order pick up.
Homeschool BBQ will apparently take over HomeSkillet's former space at 531 Kentucky St. in Bellingham's Sunnyland neighborhood. HomeSkillet, which closed in May, announced on its Facebook page that it had "signed the lease papers with Homeschool BBQ aiming for a December 1st opening!" Earlier, Homeschool BBQ had applied for a liquor license with the state, listing the Kentucky Street address as its location. So far, Homeschool BBQ isn't easy to find on the web or social media but in a Facebook comment, HomeSkillet said Homeschool was "getting their social media up."
National chain Crumbl Cookies plans a grand opening in Burlington Nov. 11-12, its first location in the state north of Marysville. Promising "cookies as you've never experienced before," Crumbl will open at 1815 Marketplace Dr. at Burlington Crossings, next to Best Buy. Take-out, curbside service and delivery are planned starting Nov. 16.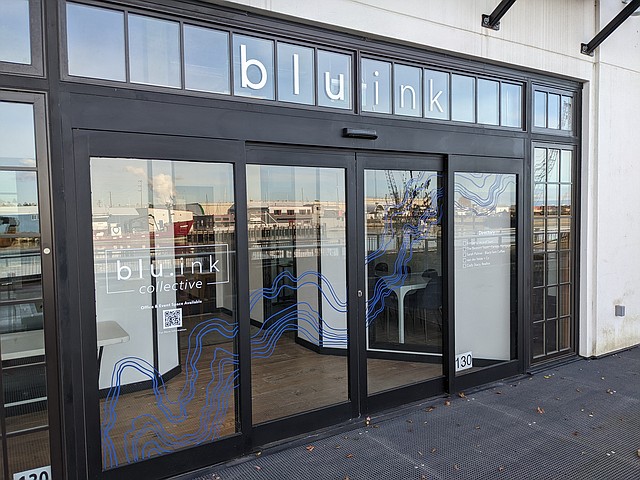 Blu.ink Collective has opened on the first floor of Bellingham's Granary Building at 1211 Granary Ave., offering daily office space and conference room rentals on Bellingham Bay. Stacy Graves, one of the owners of Blu.ink Real Estate, says they opened the short-term rental spaces because they "saw a demand for something simple and elegant that someone could host a small event or conduct a business meeting in," such as educational or work presentations. 
Yoga Northwest plans to close at 1440 10th St. in the Fairhaven neighborhood of Bellingham at the end of November. The studio said it will continue weekly classes until then. In June, the owner of the four-decade-old yoga business wrote in an email to clients that she was looking for a new owner, as she had "just turned 72 and Sweden is calling me back home where my whole family lives." The center will have an open house Nov. 12-13 with a sale on yoga props and materials.
Synergi has soft-opened a Bellingham office at 1329 N. State St. downtown in the former location of Her Connection Hub (which moved to 315 Lakeway Drive). The engineering and construction firm, best known for its dramatic architectural staircases, has a global presence and recently announced a new director of business development for the Northwest. A company spokesperson said the central location for its new staff as well as "the area's natural beauty and convenient access to two great markets – Seattle and Vancouver – made Bellingham an easy and obvious choice!"
For Places & Things: October 2022, click here.