Ski to Sea
Ski to Sea live updates, photos and video
Follow along leg by leg
May 29, 2022 at 5:00 a.m.
|
Updated May 29, 2022 at 7:43 p.m.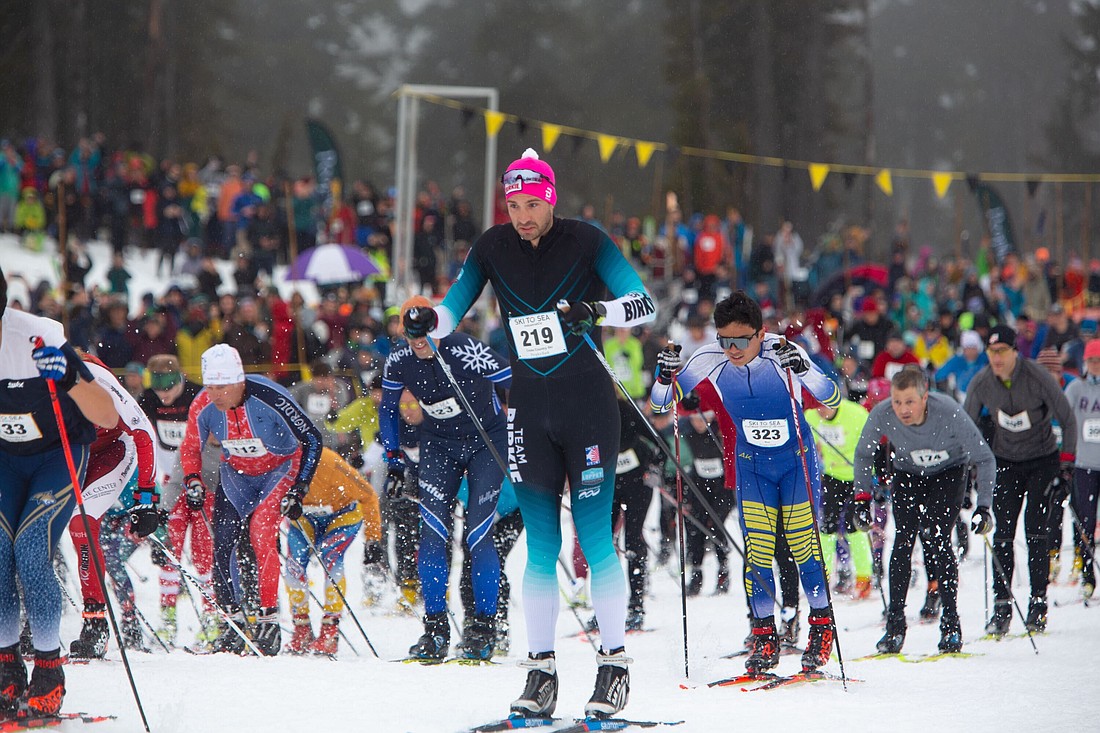 ---
---
Mass chaos at 7:30 a.m. marks the beginning of the 49th annual Ski to Sea race on Mount Baker. The seven-leg relay race begins with a cross-country ski leg. Spectators crowd the sides of the starting line to watch the spectacle. 
Next, comes the "downhill" ski and snowboard leg, then the running, road bike, canoe and cyclocross bike legs. Strong-armed athletes finish off the race with the sea kayak leg. 
Cascadia Daily News will be on the scene today, with reporters and photographers at each hand-off zone. This story will be updated all day with photos, videos, quotes, winning statistics and relevant race information. 
Follow along from the comfort of your armchair (it is supposed to rain) or grab a beer in Fairhaven and watch in real-time as Bellingham's biggest event unfolds.
If you have your own moments to share from race day, send them to newstips@cascadiadaily.com or tag us on social media using #CDNs2s. 
LIVE UPDATES
7:43 p.m.
Nearly 300 people have finished and the Fairhaven Festival is wrapping up.
Here are some photos from the finish line: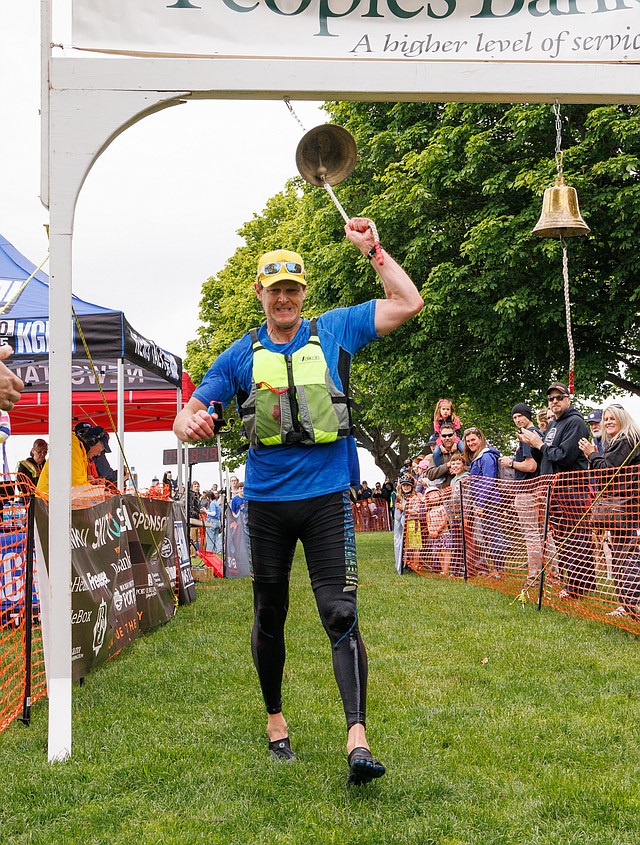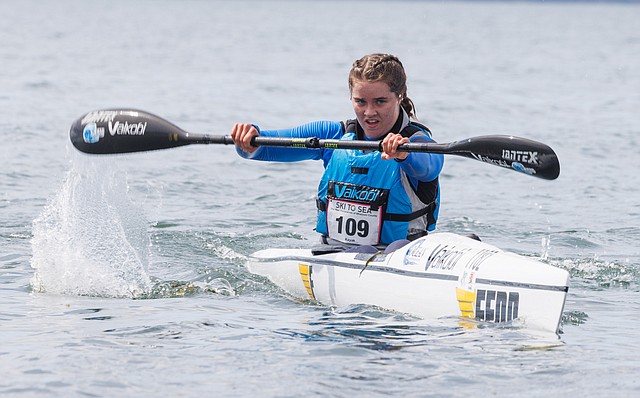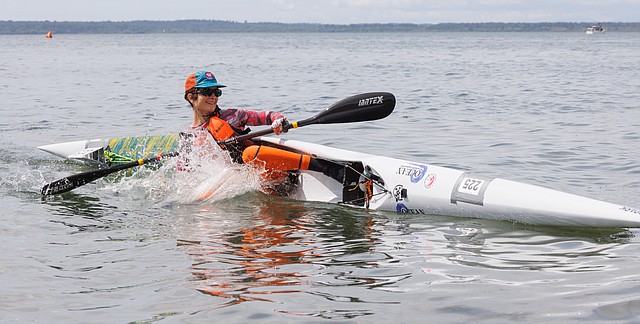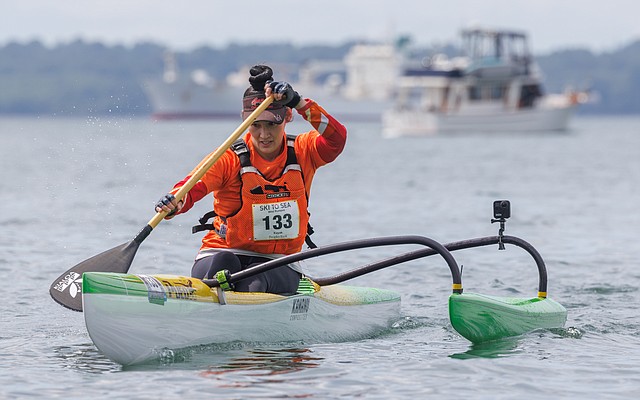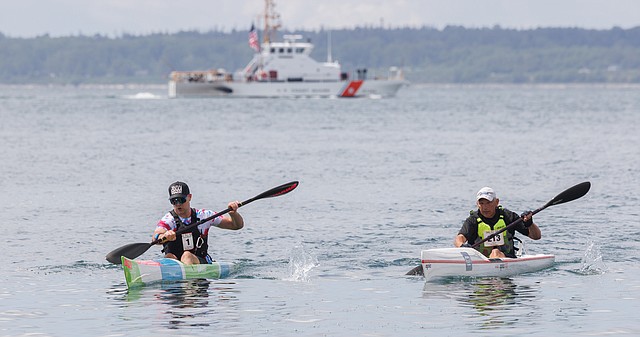 4:49 p.m.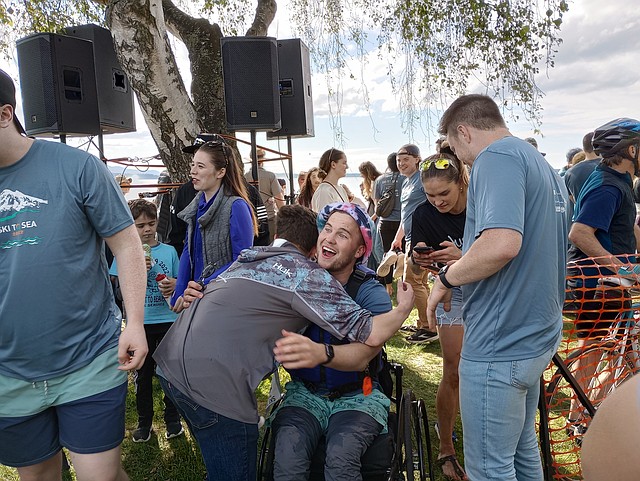 3:51 p.m.
The Real Housewives of Whatcom County was the first competitive women's team to finish the race, with a time of 7:43:05. Just one family team has crossed the finish, Once Moore For Good Old Times, with a time of 8:23:15. One high school team, The Kids Are Alright, has finished with a time of 7:56:24.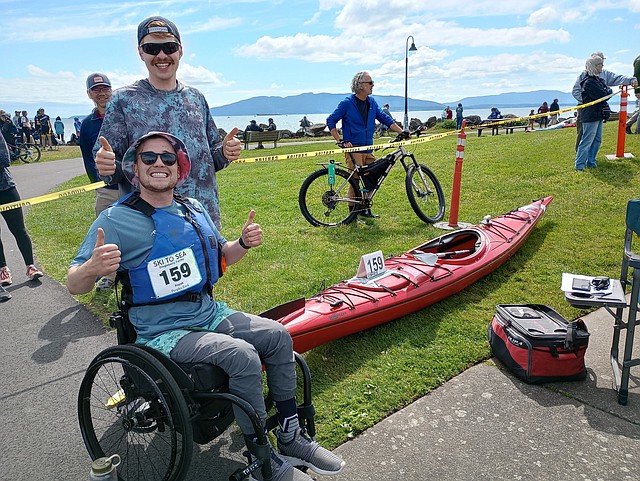 3:14 p.m. 
Bicyclists are still bouncing along the cyclocross route. Thirty-two teams have finished the race.
2:48 p.m.
The Bellingham Fire Department competes every year with bagpipers walking them down the finish line. Beau Whitehead completed the team's sea kayak leg. The Bellingham Firefighters came in 15th place.
"I'm happy it's over," Whitehead said.
He plans to recover by drinking some kind of lighter beer at the festival in Fairhaven.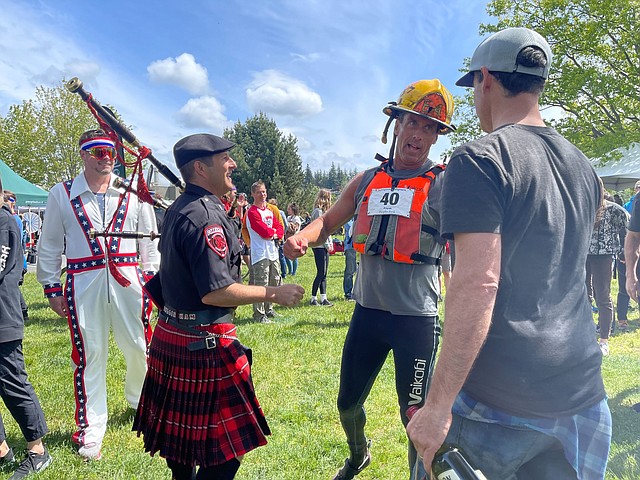 2:28 p.m.
Traci Cole was the first woman to cross the finish line. Her team, Just Poké, finished in ninth place.
"It feels great to be back after two years away," she said. Cole participated in her first Ski to Sea race in 1997. Now that she's done, Cole plans to go eat a bowl of poké. 
2:23 p.m.
Top 10 Ski to Sea finishers
| | | |
| --- | --- | --- |
| First | BIRCH EQUIPMENT | 5:58:48 |
| Second | BEAVERS TREE SERVICE | 6:00:21 |
| Third | Boomer's Drive-In | 6:02:46 |
| Fourth | C O M P A S S | 6:22:02 |
| Fifth | Inn at Lynden | 6:27:51 |
| Sixth | Evil Bike Co | 6:28:56 |
| Seventh | Boomer's Drive-In Legends | 6:34:23 |
| Eighth | Peoples Bank | 6:44:01 |
| Ninth | Just Poké | 6:51:11 |
| 10th | Mt. Baker Ravens | 6:52:14 |
Jaime Klein, from the fifth-place Inn at Lynden team, rang both bells as he came down the finish line to his waiting family. "The start was the hardest part for me."
When asked if he got a good night's sleep last night, he chuckled, "Of course not."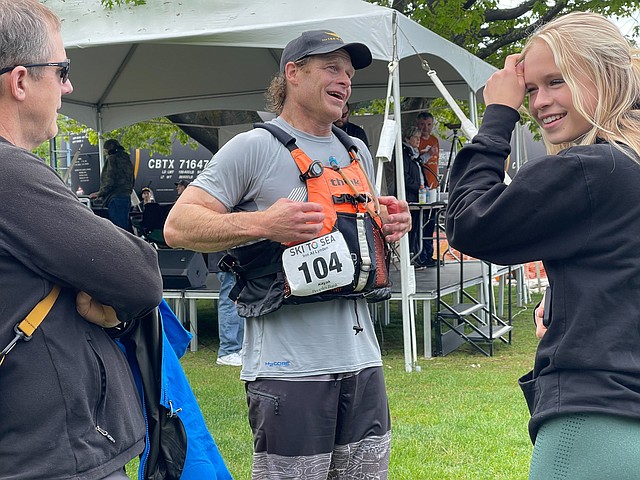 2:06 p.m.
Some people became accidental spectators to Sunday's chaos, like the Stankeys. Harrison and Courtney Stankey brought their baby out to Fairhaven on a whim today, not realizing it was the Ski to Sea race. "We're from Seattle and we love visiting Bellingham," Courtney said. "We're excited to see everyone coming in!"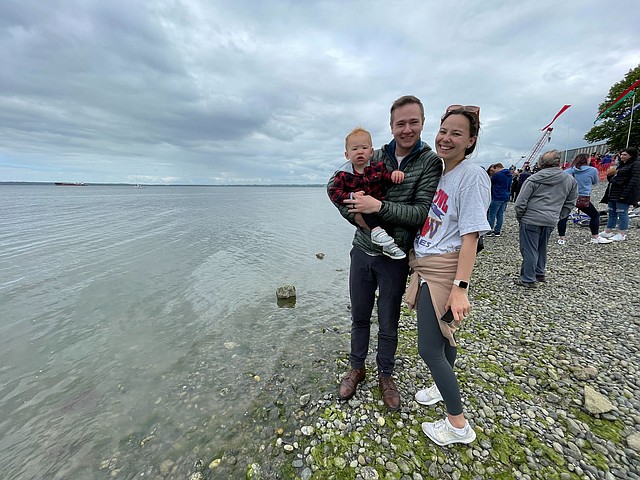 1:55 p.m.
While some teams cross the finish line, others are in the canoe leg.
Brian Flannelly, 64, and Collin Smith, 41, canoed for the Bellingham Firefighters this year. It's Flannelly's 31st race with the Bellingham Fire Department, and it will be his last. It's Smith's 14th Ski to Sea, and his third with the fire department.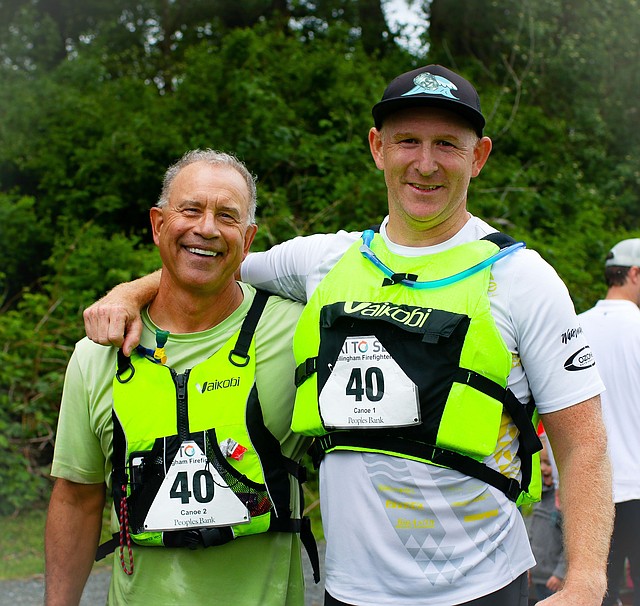 1:52 p.m.
C O M P A S S finishes in fourth place with a time of 6:22:02. Aaron Small ensured the team's success in the kayak leg.
Small said the headwind was the toughest part of the race. 
"I'm tired now," Small said. "This race was a lot closer than I expected." He plans to recover with lots of water and snacks.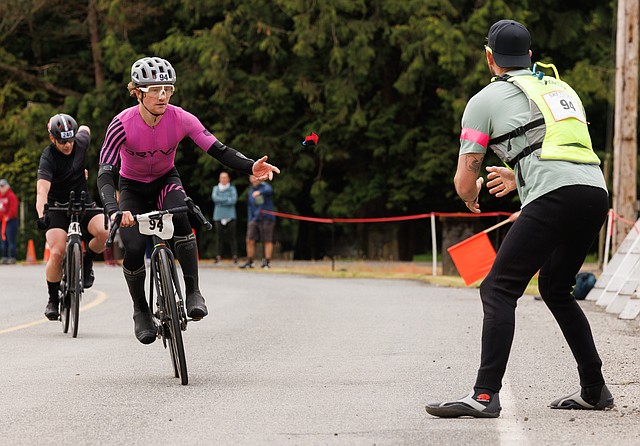 1:40 p.m.
Each athlete is sure to be exhausted from their leg of the race, whether it's their legs or arms that are burning. 
Despite the cool and cloudy weather, Jeff McConaughy, 52, found himself dehydrated and disoriented at the end of his cyclocross leg for Peoples Bank team in the veterans division.
"This is my first race in many years. I used to race a lot."
He pushed hard on his older, custom-made all-steel bike. "I've ridden some carbon steel bikes and they're faster. But I love it."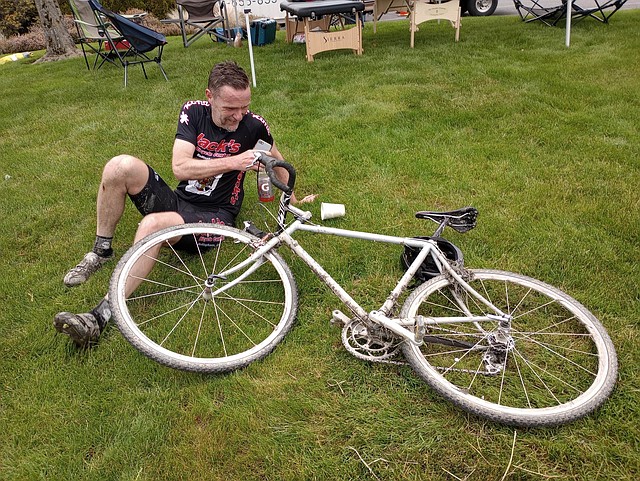 1:37 p.m.
The gap between paddlers at the marina is shortening now as larger numbers of competitors come in groups.
1:33 p.m.
Boomer's Drive-In comes in third place. A close Ski to Sea race has its top three. Greg Redman, the team's kayaker, said for his cool down, he plans to paddle back to where he parked his car. 
"I'm pretty darn tired," he said. "Coming back into the tide upwind was tough."
1:28 p.m.
Cowbells are ringing as BIRCH EQUIPMENT's Jeff Hillburn crosses the finish line signaling the first-place winner of the 2022 Ski to Sea race. BEAVERS TREE SERVICE comes in a hot second place.  
"I had Jonas chasing right behind me," he said. Jonas Ecker, the second-place finisher, was one of his fifth-grade students.
Ecker said the most difficult part of the 5-mile kayak leg was the 30-yard run to the finish line. "I'm not a runner." 
The race was special for Ecker, who got the handoff from his father. 
"He's been doing this forever and it was really special to get the handoff from him," he said. 
1:14 p.m.
Spectators wait eagerly at the finish line for their friends and family to finish the grueling race.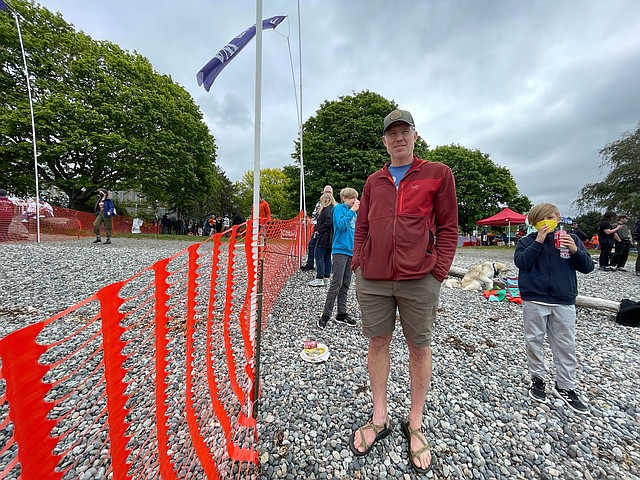 1:10 p.m.
While some racers are no doubt paddling close to the Ski to Sea finish line, others are dragging their other watercraft (canoes) out of the water to hand off the baton to their cyclocross racer.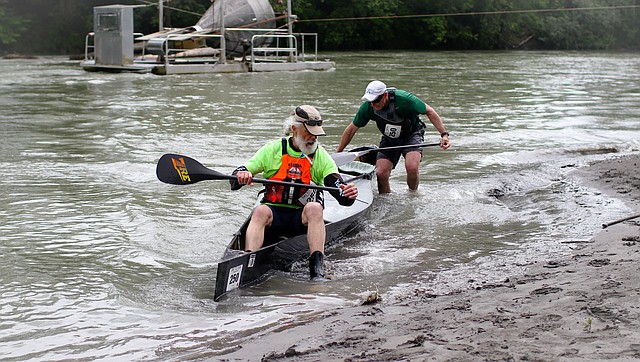 12:54 p.m.
Boomer's Drive-In comes in third in the cyclocross leg. There is a lighter breeze and better conditions than earlier for the first kayakers hitting the water. 
12:53 p.m.
BEAVERS TREE SERVICE crosses the finish line of the cyclocross leg, passing the baton to their kayaker.
12:49 p.m.
BIRCH EQUIPMENT takes first again in the cyclocross leg with a solid lead.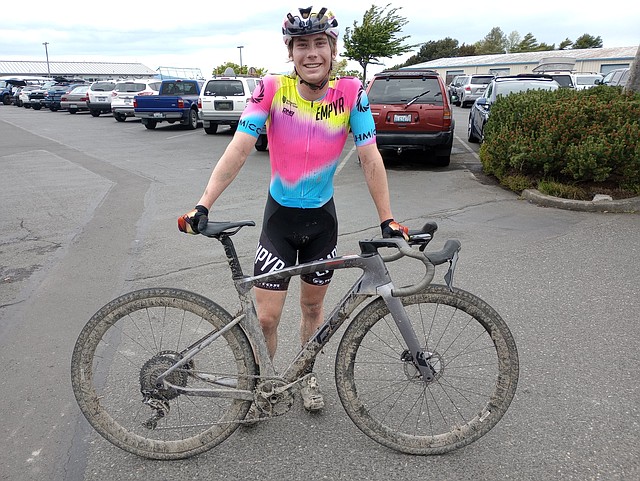 12:47 p.m.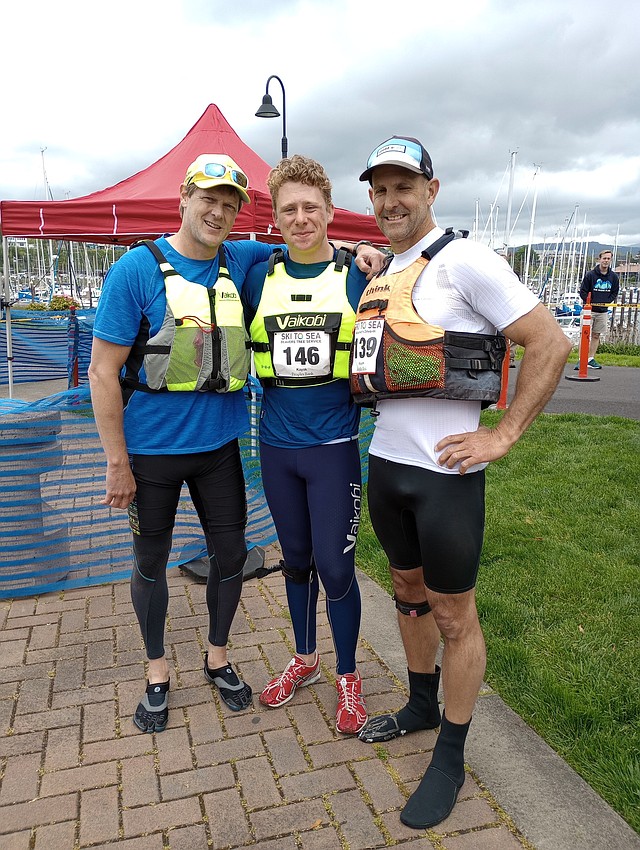 12:42 p.m.
Eric Gerstl, 54, and Mike Hammer, 59, of Boomer's Drive-In finished in second place. Since the river is so wide, teams have to be strategic, especially when two canoes are close in the race, Gerstl said. 
"He motivated me," Hammer said, pointing to Gerstl. 
Gerstl's been doing Ski to Sea since 1996, and called it a "tradition." Meanwhile, Hammer is relatively new to river paddling.
"We usually try to come in first, but we did what we could on the river today." They praised the first-place finishers, saying they're good friends and were "on their game today."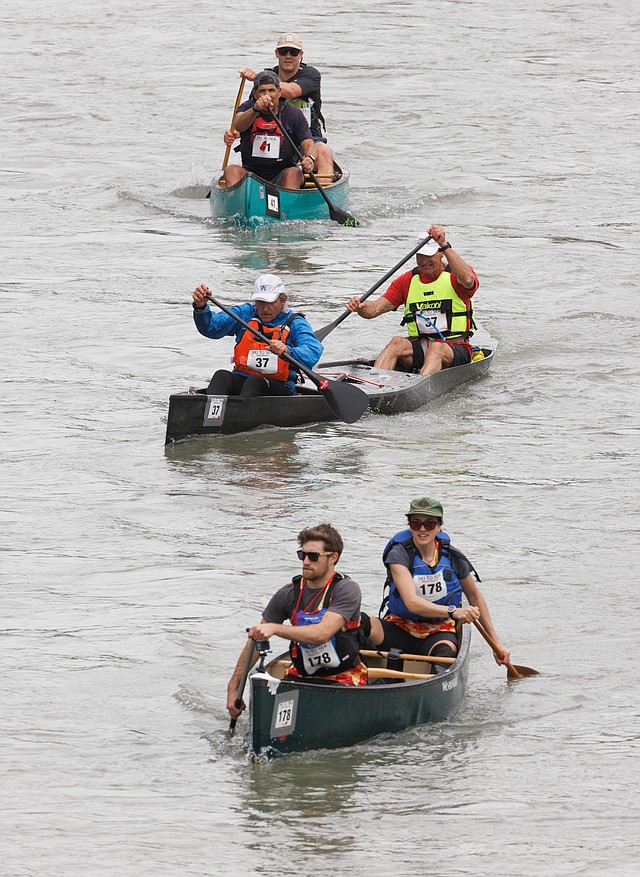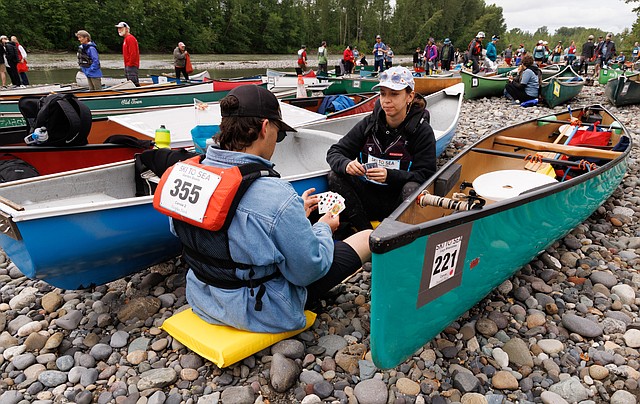 12:35 p.m.
Glenn Bond, 49, and Bob Woodman, 59, of BIRCH EQUIPMENT came in first place during the canoe leg. The successful finish was not without a serious "grind," as the top three boats entered the race at the same time. The course was straightforward, and there were no surprises on the course for the race veteran whose team came in first in 2019.  
"Coming first is always nice," Woodman said. "You don't want to let your team down." 
Bond, who has been competing in Ski to Sea for 12 years, had to keep his head up on the course to watch for debris, but he said it was overall one of the best years. Both men don't plan to do anything special to recover from the 18.5-mile canoe ride, although some cold beers may be in their future.

12:19 p.m.
The Boatman family was at the canoe-cyclocross handoff to cheer on Brian Boatman of BEAVERS TREE SERVICE. Sandra Boatman, 66, daughter Natalie Boatman, 35, and grandson Grayson Gordon, 11,  were excited to see their husband, father and grandpa cross the finish line in third place. 
"After three years it's about time. This has been a staple in our family for 35 years, I was on her hip for the first one," Natalie said, pointing to her mom.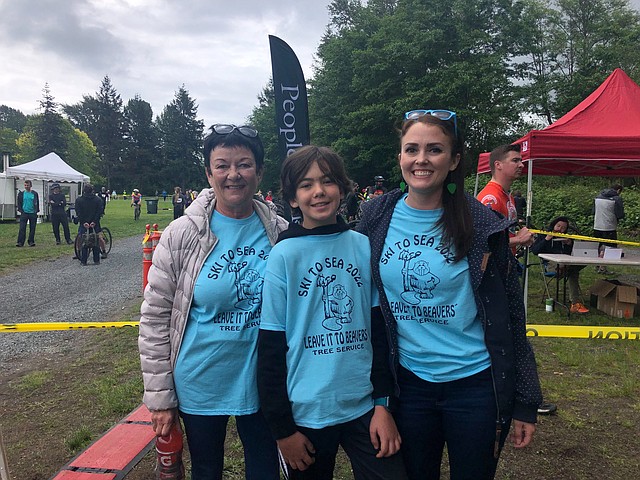 12:11 p.m.
BIRCH EQUIPMENT is first across the canoe finish line, followed by Boomer's Drive-In. BEAVERS TREE SERVICE comes close in third. The first cyclocross racers are off.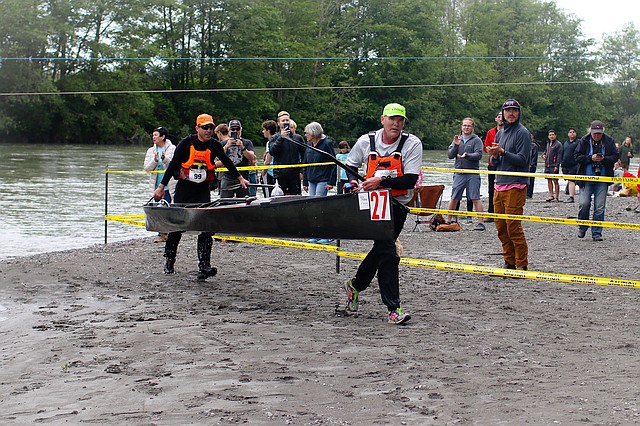 12:03 p.m.
The Fairhaven Festival is gearing up. Ski to Sea draws in thousands of out-of-towners, who patronize the local businesses, bars, breweries, restaurants, crafters and artists who call Bellingham home.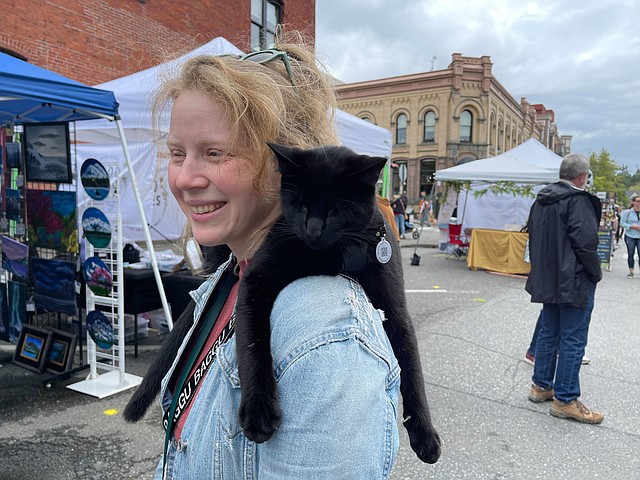 11:55 a.m.
Race organizers now expect the first canoeists to come in at 12:15 p.m.
Charles Linneman, 27, is competing in the cyclocross leg for his team, the 2009 Junior Ski to Sea Runners Up (222). Mud is what makes the course fun. 
"I want the most challenging course possible," he said. 
To prepare, he rode the course a few times, changed his tires and ate a big dinner last night.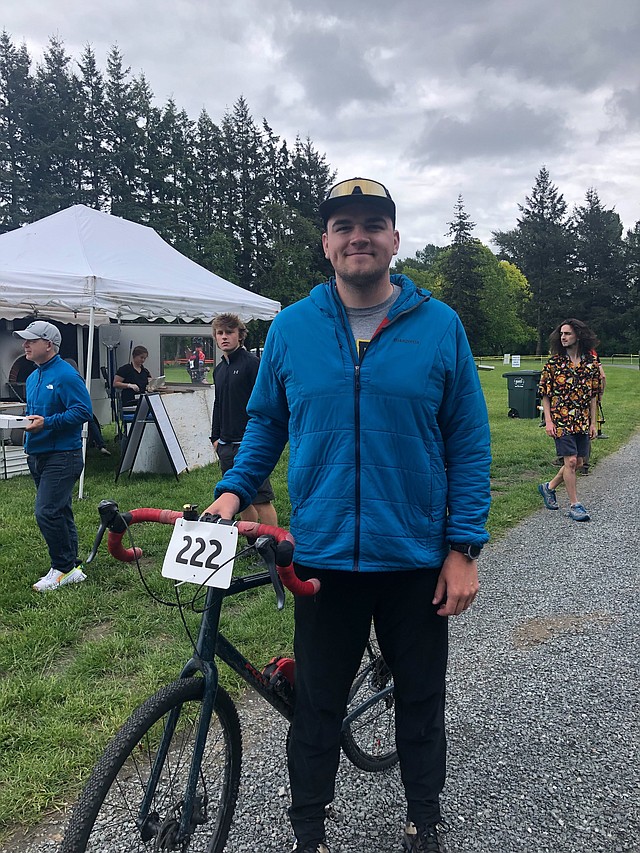 11:53 a.m.
The kayak leg will be the long course. There are buoys marking the course but no visible balloons due to a worldwide helium shortage, race organizers said. 
"Basically, you're making a big Z," the race chairman said.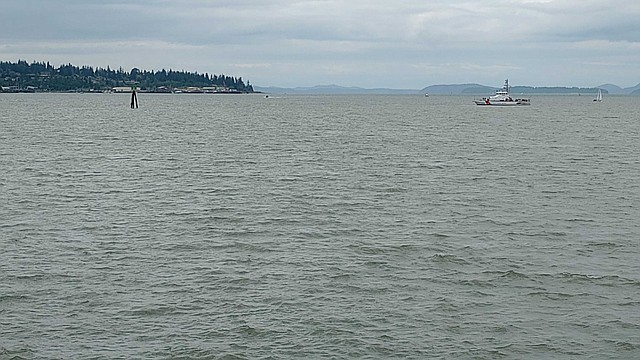 11:50 a.m.
11:40 a.m.
A kayak racer meeting will be held at 11:45 a.m. More information about the weather conditions and whether the course will be short or long will come soon.
11:38 a.m.
Melissa Mckeogh, 26, of Babe Train, is competing in Ski to Sea for the first time. She's filling in for the cyclocross leg last minute and feeling "really nervous." While she didn't prepare much for the race, she's excited about the atmosphere and the after-parties.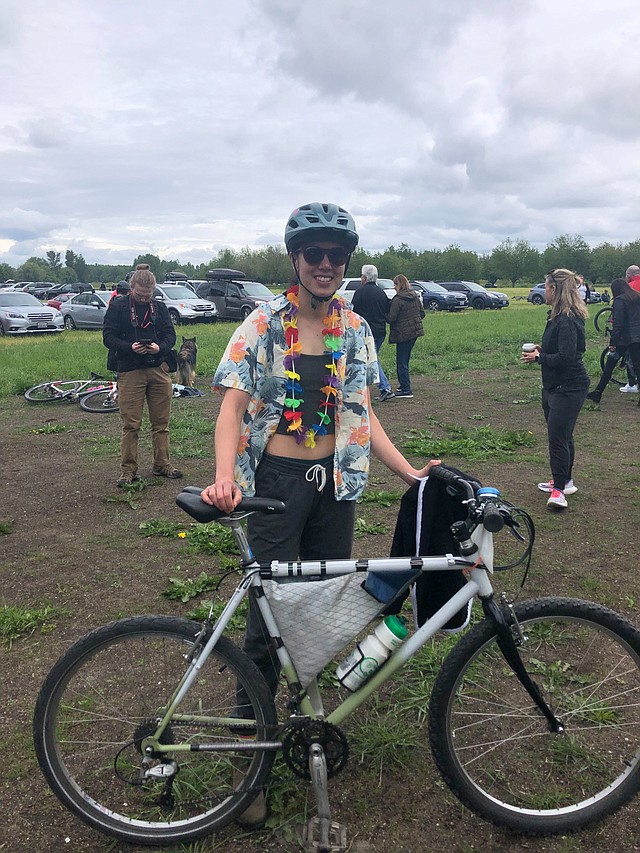 11:27 a.m.
The first canoeists are expected to reach Hovander Homestead Park between 11:45 a.m. and noon.
11:25 a.m.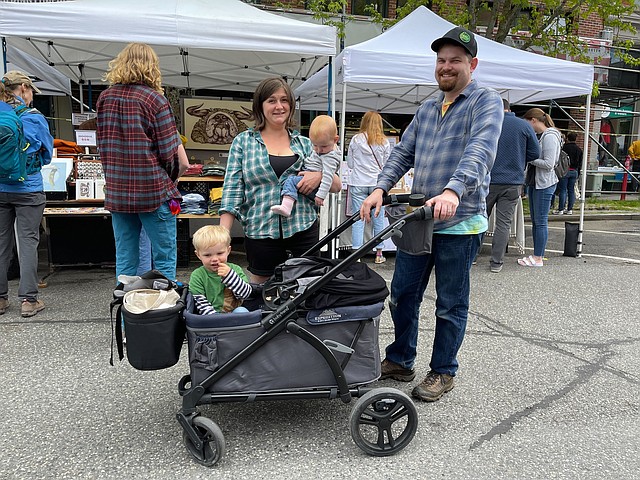 11:21 a.m.
The wind is picking up on Bellingham Bay as kayakers prepare early for the final leg. The easiest way to tell the serious racers from the people who just want to finish? The way they carry their kayaks. The racers can lug their 20-pound kayaks around with one hand. Others are racing in plastic or thermo-molded recreational craft that are up to twice as heavy. The weight makes a big difference paddling into a headwind as is typical with the kayak leg, and will definitely be the case today.
11:20 a.m.
Spectators are already gathering in Fairhaven, ready to watch the first sea kayaker cross the finish line this afternoon. The Fairhaven Festival includes live music, a beer garden, arts and craft vendors, and lots of food.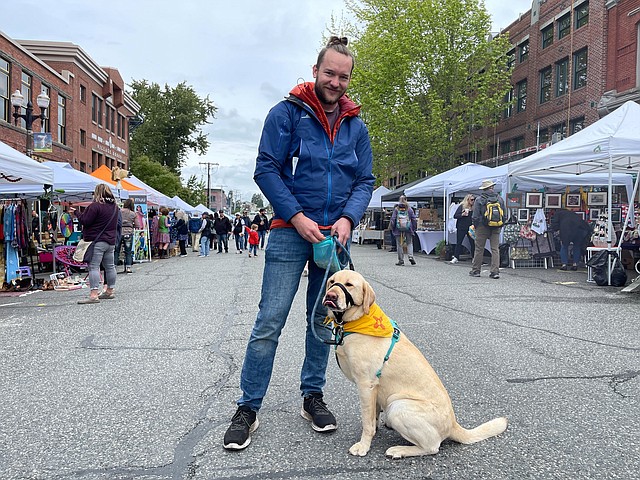 11:15 a.m.
Aaron Bauer, 48, and his son Alex, 16, of Safety Third (262) are looking forward to rowing past another team fast and pulling their paddles in.
Dressed as pirates, the father-son duo has Pirates of the Caribbean music ready to play.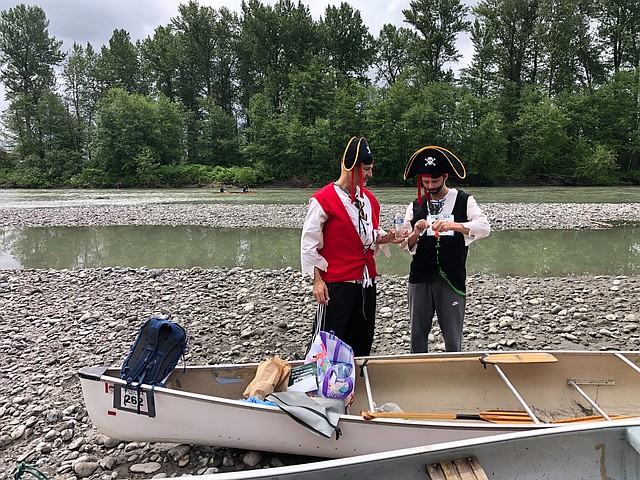 11:08 a.m.
As canoeists head toward Hovander Homestead Park in the fifth leg, sea kayakers of the seventh leg prepare at Zuanich Point Park.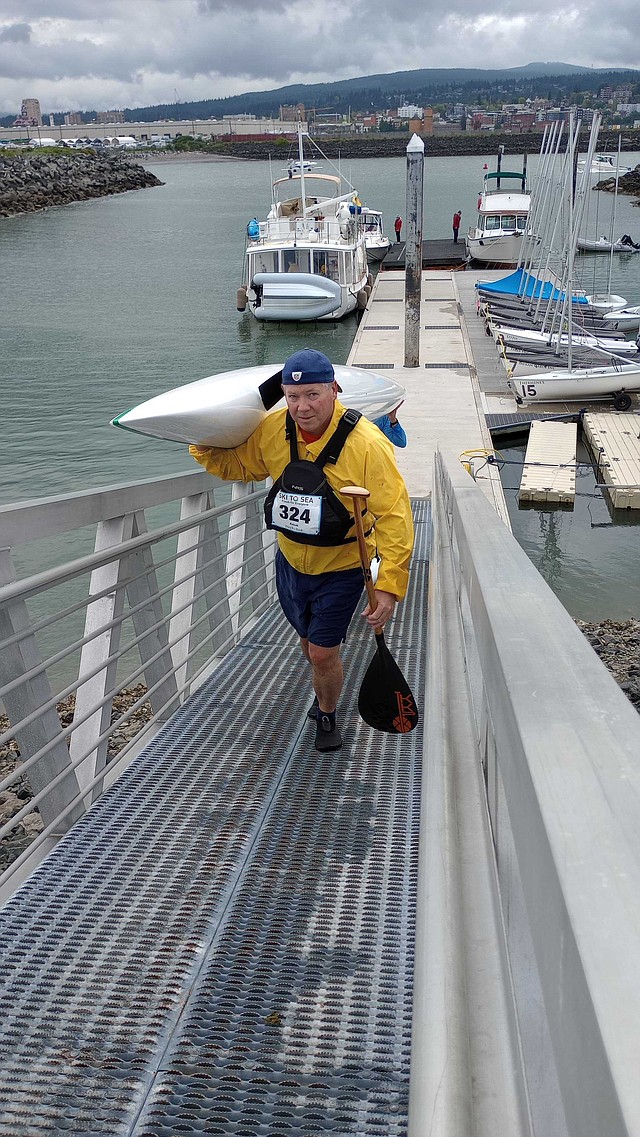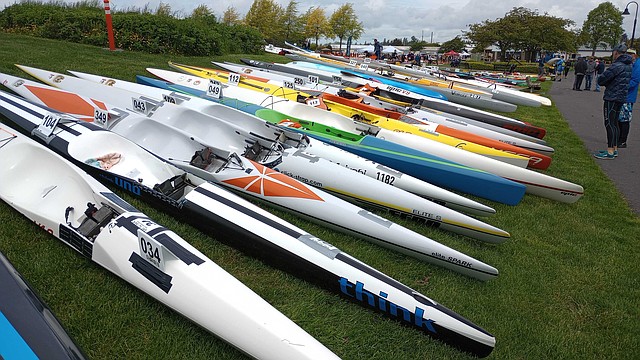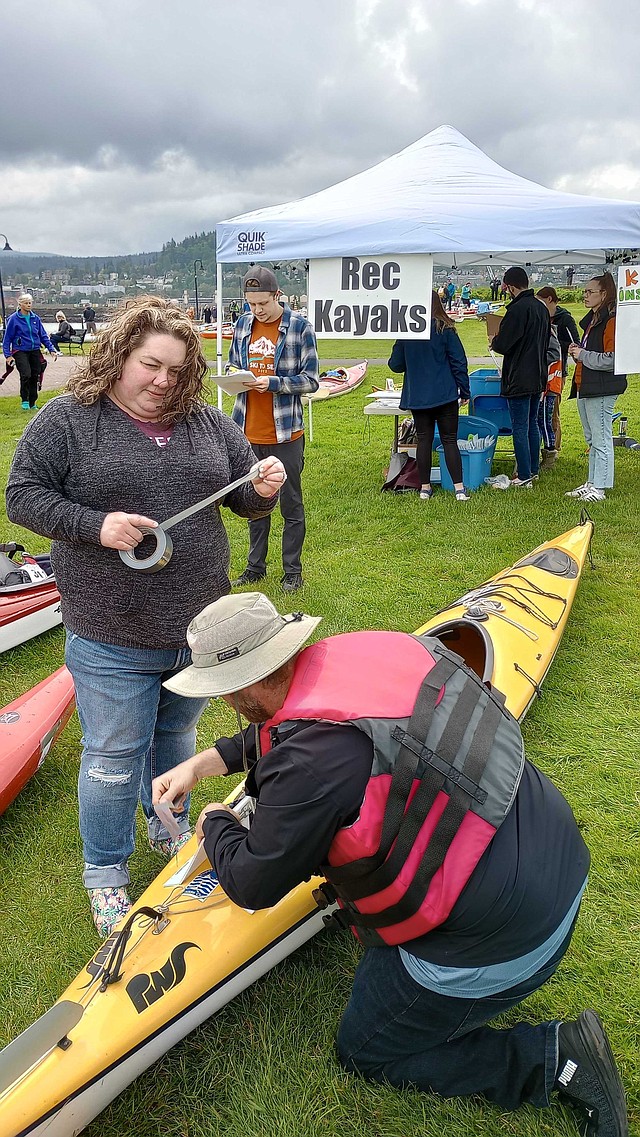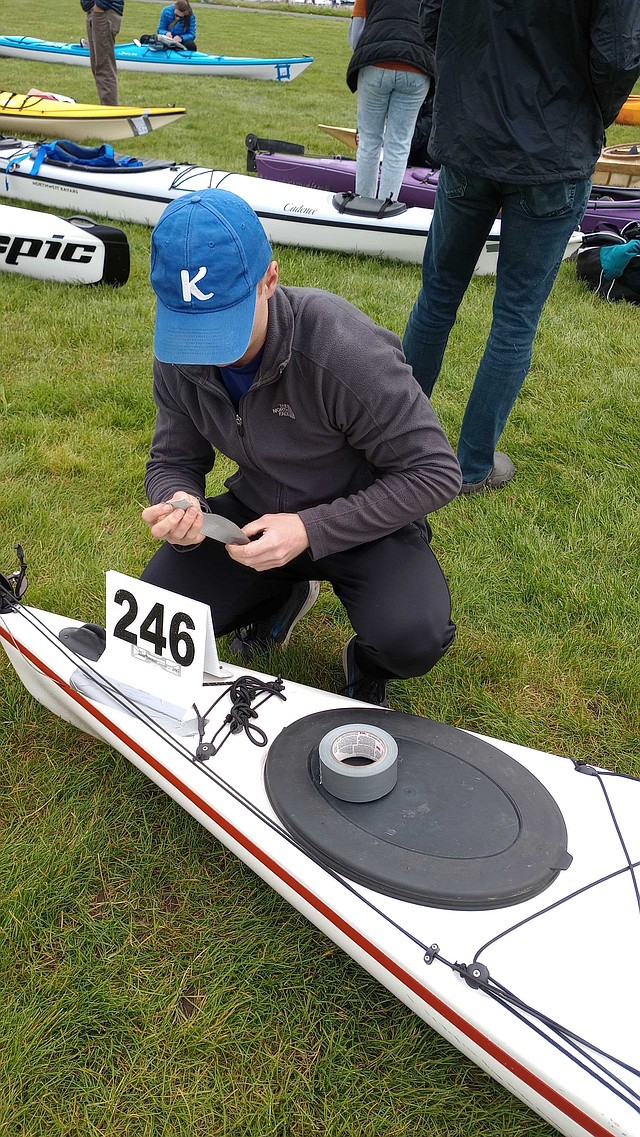 11:01 a.m.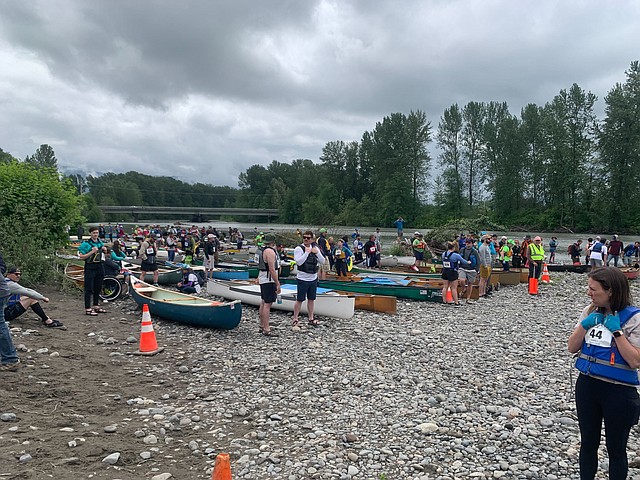 10:55 a.m.
Race organizers expect the first cyclocross to kayak handoff around 12:45 p.m.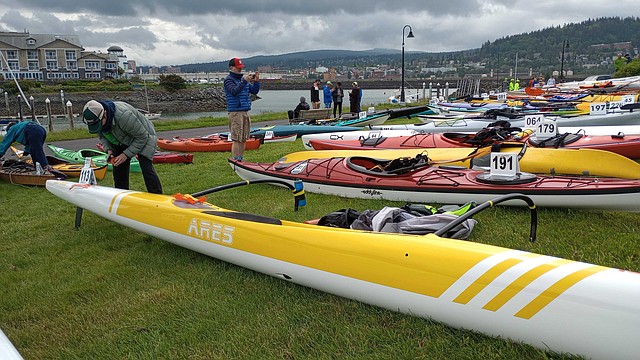 10:44 a.m.
Carter Kiesau of Greatest American Heroes is preparing for the canoe leg of the race, which launches from Everson. Kiesau said he is excited to get back out and race.
"The hiatus has been painful. Go fast or just look good," he said.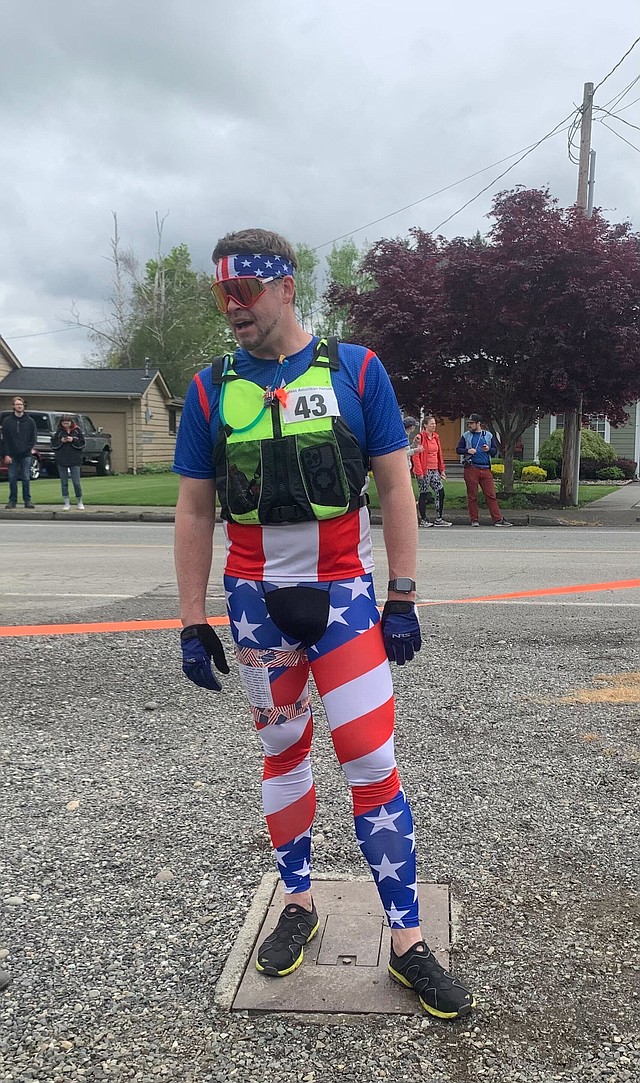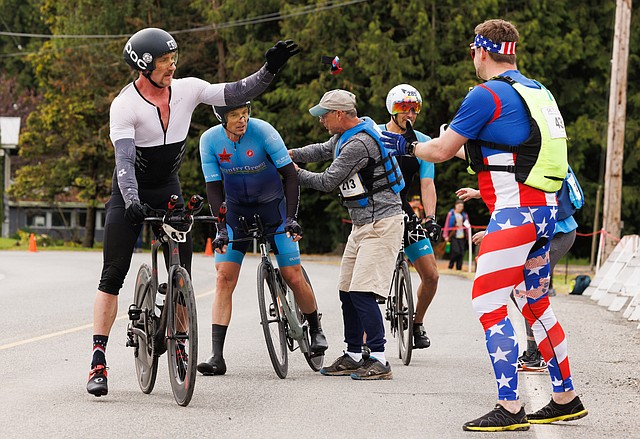 10:22 a.m.
BEAVERS TREE SERVICE's Ben Shaklee, 41, is the first biker across the finish line in Everson. That means canoes are about to hit the water. Mike Lee and Brian Boatman will man the team's boat. The top three teams' bikers were milliseconds apart, with BEAVERS TREE SERVICE making a time of 2:50:50, Boomer's Drive-In coming in at 2:50:52 and BIRCH EQUIPMENT clocking in at 2:50:54. 
Shaklee said he was surprised that his team's runner was the first off the mountain. 
"Usually, [they're] top three or five. It was a blessing and a surprise to be ahead," he said.
Shaklee said he was excited to make such good time, setting his teammates up for success. To recover from the 41-mile two-wheel torture, Shaklee plans to ride back into Bellingham and grab a beer and some grub at Boundary Bay. Then, "get back to mountain biking."
10:08 a.m.
Reports of bikers mere minutes from the finish line, where they will pass the baton to canoeists.
10 a.m.
Racers descend into warmer temperatures (and, reportedly, the sun peeking through in Fairhaven). Here are some scenes from the mountain's chaotic start.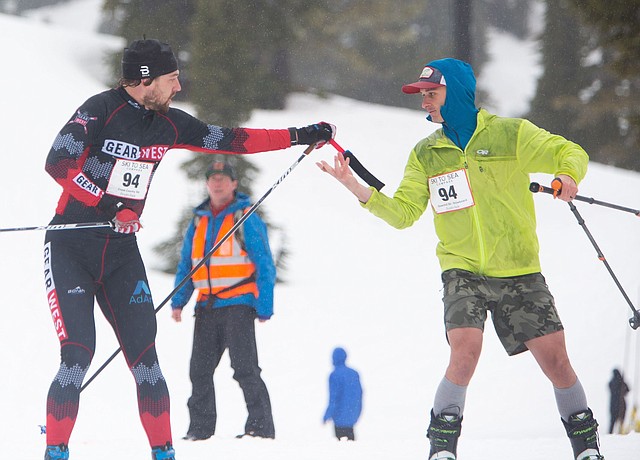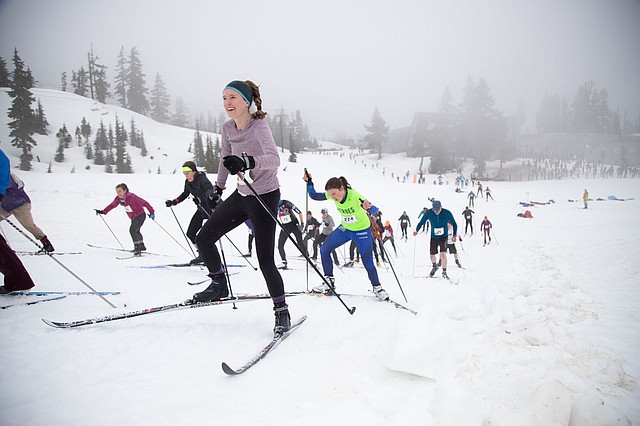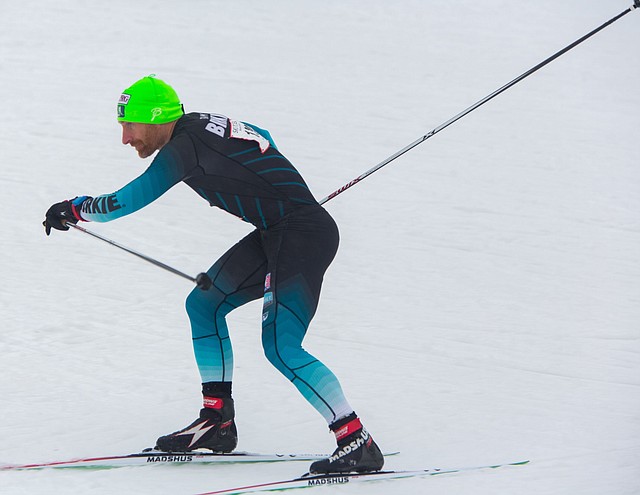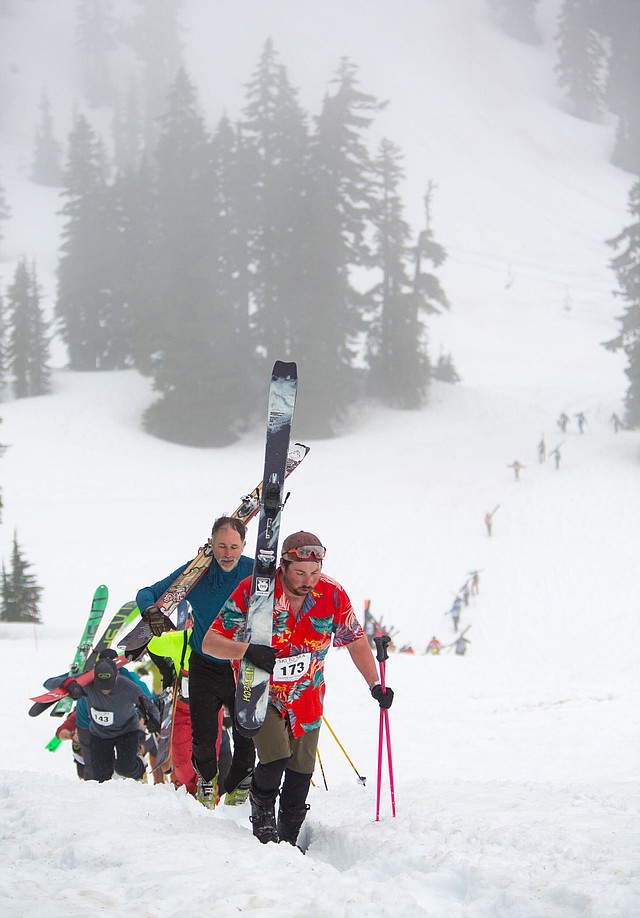 9:30 a.m.
Cascadia Daily News is in Fairhaven waiting for the first racers to cross the finish line. Stop by our booth and take a picture in our front page cutout.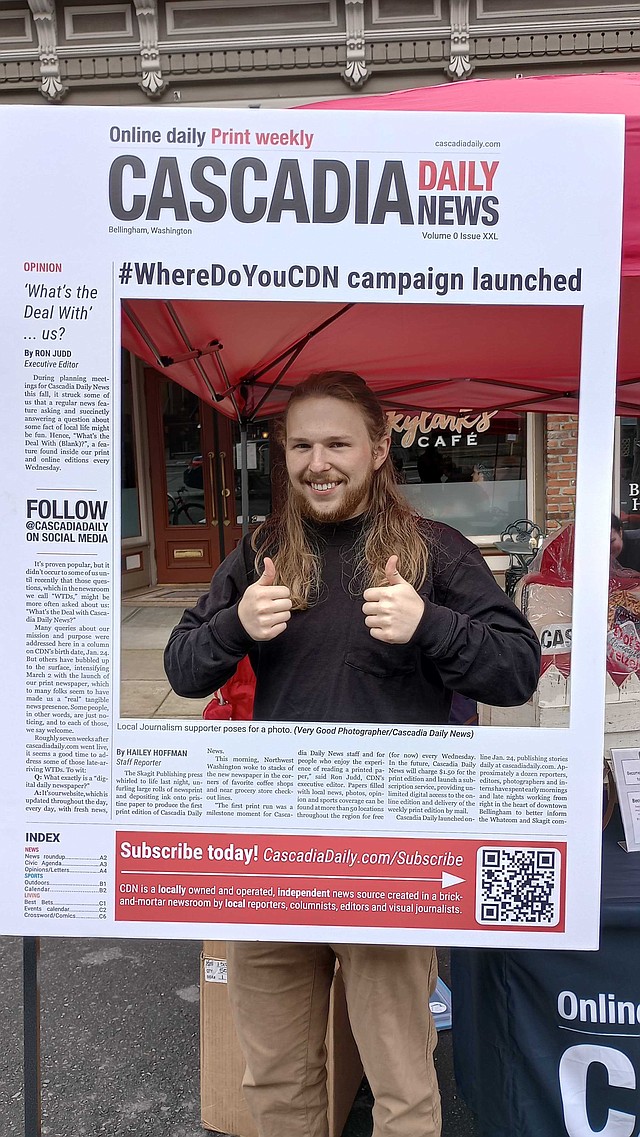 9:01 a.m.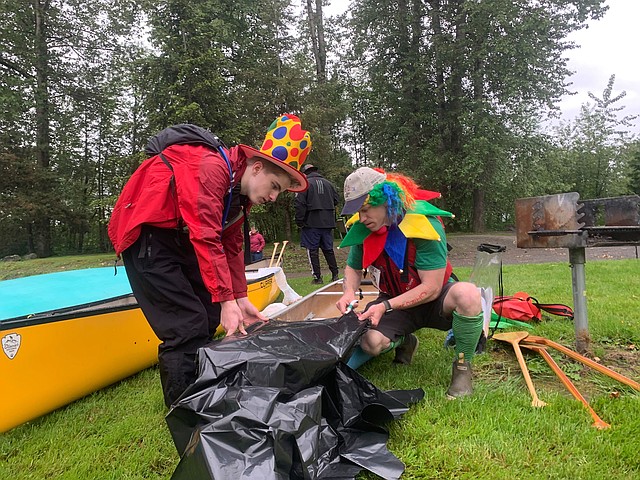 8:54 a.m.
Derek Thornton of BEAVERS TREE SERVICE crossed the running finish line first after an impressive feat of pounding pavement. The team's biker is off.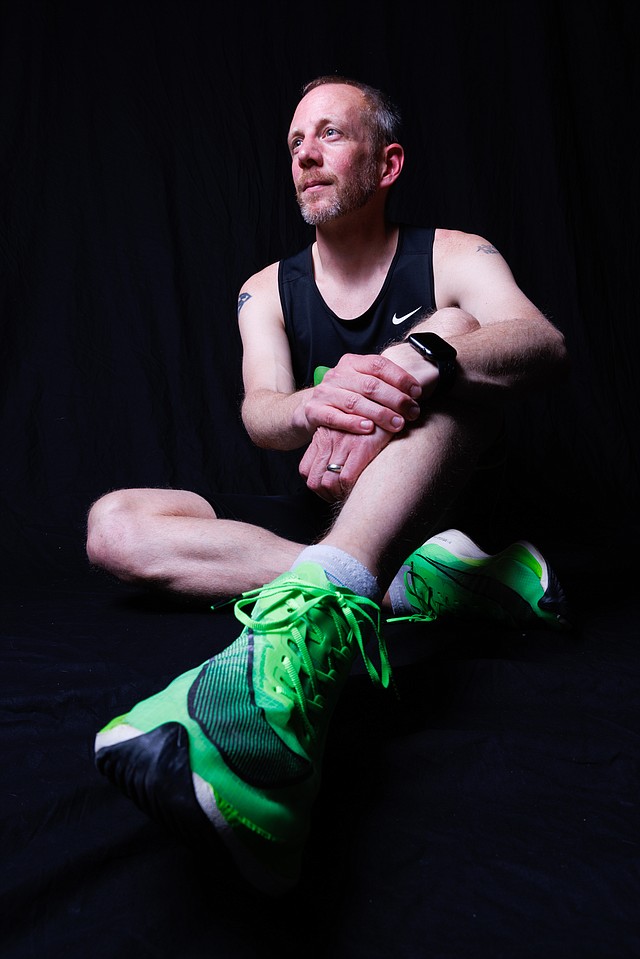 8:48 a.m.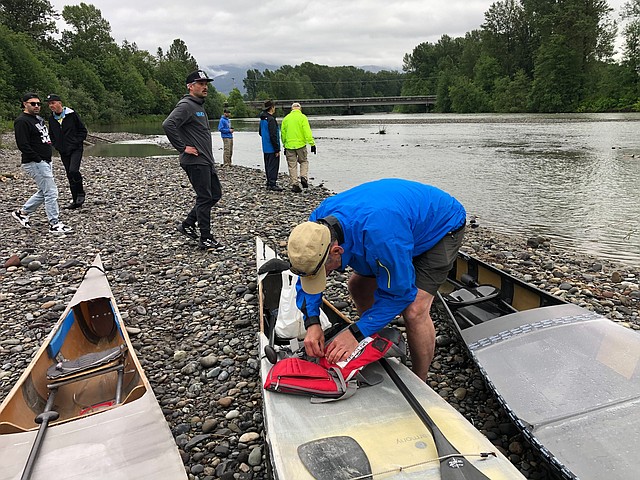 8:36 a.m.
Bellingham Mayor Seth Fleetwood finished the cross-country leg in 240th place for his team City Haul (249).
8:32 a.m.
8:17 a.m.
Brent Molesberry of BEAVERS TREE SERVICE comes in first in the downhill ski leg, handing the baton to their runner. The team's cross-country skier was fourth in the first leg but he caught up to the skiers ahead of him during the climb. Molesberry, 43, said he didn't use the right wax for the "sticky" conditions but made out all right during his run. 
"I did decent enough," he said. The key to this leg, after all, is making time during the climb.
Shortly behind him was Boomers Drive-In Legends, not to be confused with Boomers Drive-In. 
7:51 a.m.
Former Olympic cross-country skier Brian Gregg of Boomer's Drive-In was first across the finish line, passing the baton on to his downhill skier teammate. The second team across was BIRCH EQUIPMENT.
"It was so much fun," said Gregg, 37. He's been skiing with Boomers since high school. A professional skier turned financial advisor, Gregg still skis 10 hours a week to train.
Now that his part of the race is over, he'll ski around the area with old buddies until they open the road — no recovery regimen needed for this Olympic athlete.
7:20 a.m.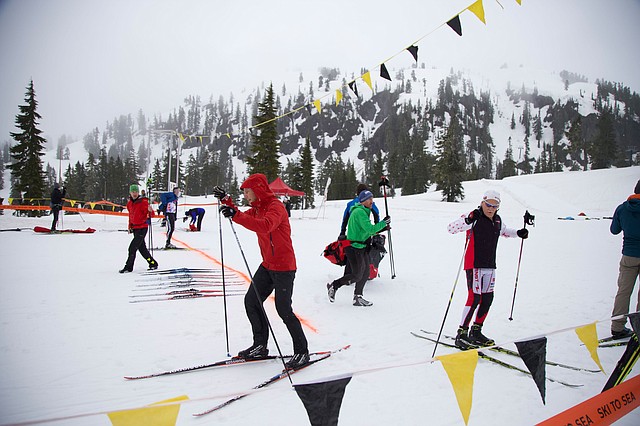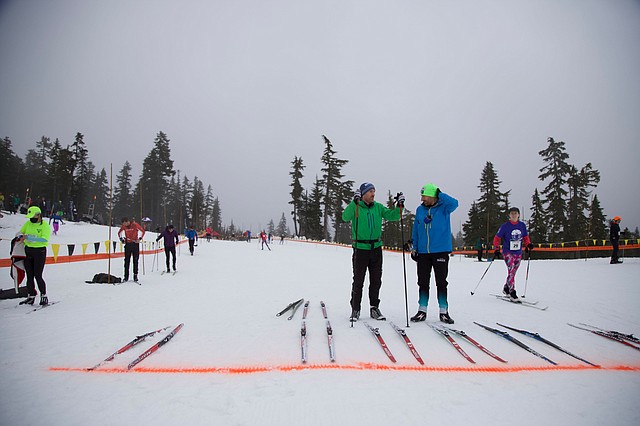 7:10 a.m.
Trevor Snodgrass, 28, is gearing up to participate in his first Ski to Sea.
A downhill skier, Snodgrass borrowed his girlfriend's stepdad's skis for the first leg. Though he said he used the wrong wax and bought the wrong poles, he doesn't think that fact will slow him down, and his goal is to not pop out of his bindings "when" — not if — he falls.
"I'm going balls to the wall," he said. "I'm going to put it all out there."
7:00 a.m.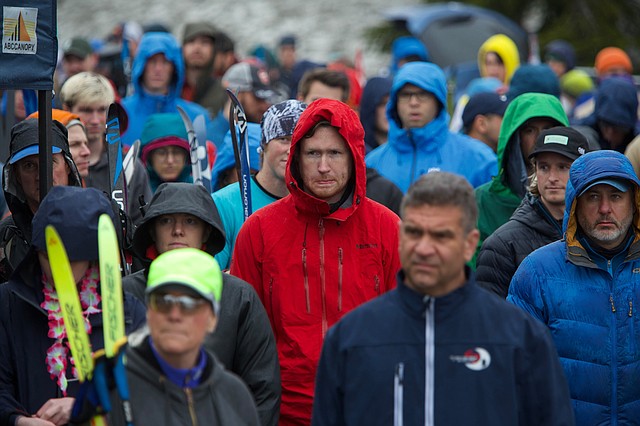 6:31 a.m.
Up at Mount Baker it is 37 degrees with low clouds and fog. Cross-country conditions are "shit" according to a race organizer — "and you can quote me on that" they said.