Housing
Chaos quiets around 22 North in Bellingham
Neighbors see less crime, drug use around supportive housing facility
December 8, 2022 at 5:00 a.m.
|
Updated December 8, 2022 at 2:45 p.m.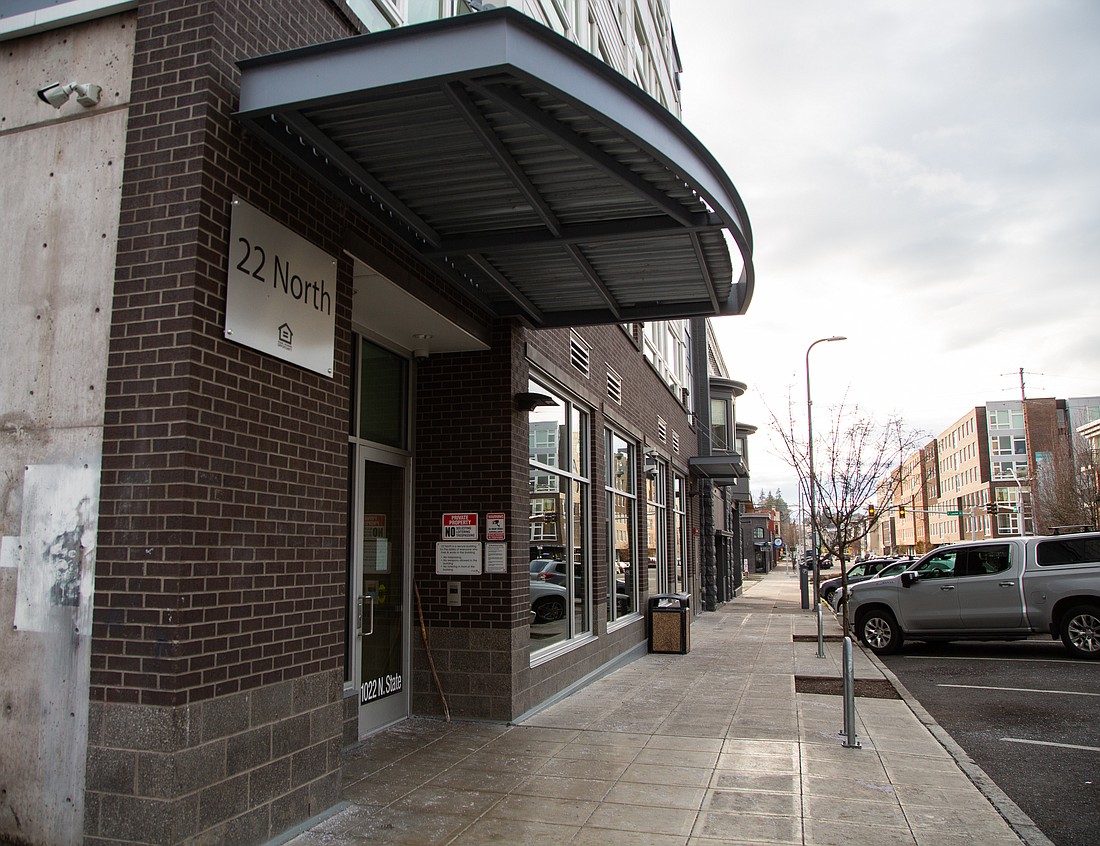 ---
---
Neighbors of 22 North said crime and drug use around the supportive housing apartments in downtown Bellingham have quickly subsided, convincing even some of the facility's harshest critics that its approach to combating homelessness might work.
"There's no one selling drugs in front of the building or on the block. There's no encampments or anybody nodding off in the alleyways," said Nick Leader, who lives at The Atrium, a condominium complex across the street from 22 North.
In an interview in June, Leader had suggested the Opportunity Council, the agency that runs 22 North, was incapable of fixing the problems at the 40-unit apartment building serving chronically homeless people at 1022 N. State St. In addition to regular assaults and drug use outside the building, 31-year-old Kasaundra Booker was shot and killed in a stairwell inside 22 North in February.
"There were some points where it didn't seem like this was going to get addressed or get fixed in a quick manner," Leader said. "It's pretty impressive what they've been able to accomplish. I didn't have expectations it would happen to this extent or this quickly."
The Opportunity Council removed 10 tenants who were the source of much of the trouble, said Greg Winter, the agency's executive director. It also filled vacancies on a front-desk staff that was only at half-strength earlier this year. This has enabled 22 North employees to enforce stricter requirements for guest privileges at the facility.
Opportunity Council has denied access to 67 individuals who applied for guest status since the restrictions were put in place around June 1, Winter said.
One business neighbor who bore much of the disruption around 22 North was Charles Legoe, owner of Chuck's Midtown Motors. Residents or guests at 22 North would use the rear portion of his lot to smoke fentanyl or methamphetamine, leaving garbage and human waste behind, Legoe said. Several weeks ago, a contractor installed a fence barring entry to the back end of the auto repair shop's lot, with the shop and Opportunity Council sharing the cost.
In an interview on Monday, Legoe said he appreciated the extra security the fence provided, but he credited the improvements on his lot to the "evictions" of some of the troublemakers at 22 North. (Most who left weren't formally evicted but signed mutual termination agreements instead, Winter said.)
"I don't have those square pieces of foil (on my lot), where they're cooking their fentanyl," Legoe said. "I don't pick up trash every morning."
Bellingham Police Lt. Claudia Murphy noted that the relative calm around 22 North started shortly after two major drug busts in Bellingham, including one at 22 North. She said police calls around the building "plummeted" after July, when police seized more than 1,000 fentanyl pills and 91,000 additional fentanyl doses in separate busts.   
From January through July, police logged 157 reports initiating in the 1000 block of North State Street, Murphy said, or more than 20 calls per month. In the four months since, police have taken five calls per month from that block.
"The call level has plummeted since the first half of the year and seems to be well within the norm for a multi-apartment living situation," Murphy said. "It is very evident the changes made are making a positive difference."
In June, two Whatcom County Council members voted to stop funding 22 North after the problems surfaced. A majority of the council agreed to support the facility for six months rather than providing the usual full year of funding, putting Opportunity Council on notice that council members wanted to see improvements. Another vote on a contract to fund 22 North is expected in early January.
In a message sent Thursday, council member Kathy Kershner noted "some improvement" at 22 North.
"I'm interested in making sure it's long-term and not just a Band-Aid to get though the contracting process," Kershner said. "There is still room for improvement."
Bellingham City Council member Skip Williams, who has attended meetings of a neighborhood task force for 22 North, said a funding package for supportive housing that includes 22 North will come before the City Council in April or May of next year. 
"I feel that assisting community members impacted by the issues of homelessness, substance abuse and mental health, (and) putting them on a path toward housing and life stability, is of the utmost importance to us as a city," Williams said. "The 22 North project has been an innovative approach addressing the housing and mental health needs of that part of our community heavily impacted by these conditions."
This story was updated at 2:45 p.m. on Dec. 8 to include a statement by Whatcom County Council member Kathy Kershner.