Housing
Fear, anger surround 22 North building
Open drug use, assaults alarm neighbors
June 15, 2022 at 11:48 a.m.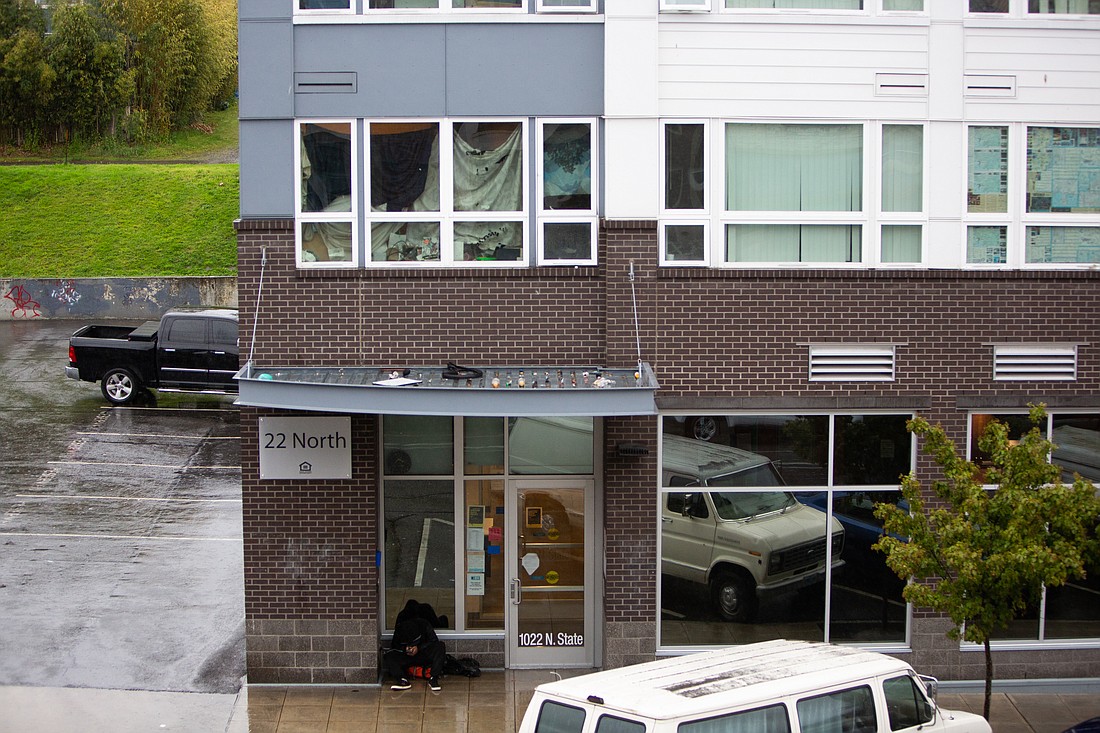 ---
---
Billed as a safe haven to get homeless people off the streets, the 40-unit apartment building in downtown Bellingham known as 22 North has been anything but safe for many of the building's residents, guests and neighbors. 
People who live or work near 1022 N. State St. report excessive litter, thefts, vandalism, assaults and brazen drug use. Inside the building, a downtown business owner attempting to locate stolen property walked into a sickening stench on the third floor that most likely was burnt fentanyl, a synthetic opioid which, along with methamphetamine, has become a top concern among first responders in Bellingham.
The building's operators have offered to block foot traffic between the building and a common drug-use site behind a nearby business — by a fence topped with razor wire.
The entrances to 22 North are locked. The building is staffed around the clock and equipped with security cameras. Despite these precautions, police say Kasaundra Booker, an occasional guest at 22 North, was shot and killed Feb. 8 in the stairwell next to the lobby. Police later arrested Shilo Englert, who was charged with second-degree murder and is scheduled to appear at trial in August.
'Horrendous' experience
Frustrated neighbors say 22 North is a failed experiment in the "housing first" model for supporting homeless people. Advocates claim the housing first model succeeds: Give high-risk people a stable place to live, this theory holds, and they are better able to find jobs and get help for mental illnesses such as drug addiction.
Opportunity Council and Northwest Youth Services provide case management and other support services to the residents of 22 North. Half of the units in the building are occupied by 18- to 24-year-olds supported by Northwest Youth Services. The Opportunity Council supports residents in the other 20 units and manages the building. 
Opportunity Council and Northwest Youth Services place income-qualifying applicants in the studios. Residents must make less than 50% of the area median income to qualify — in most cases, less than 30%. Rent is subsidized and based on a tenant's income.
The facility was intended to serve people who are least likely to find housing on their own: those with mental illness and addiction, or a history of evictions or criminal convictions.
But neighbors say they have lost confidence in Opportunity Council's ability to take control of 22 North.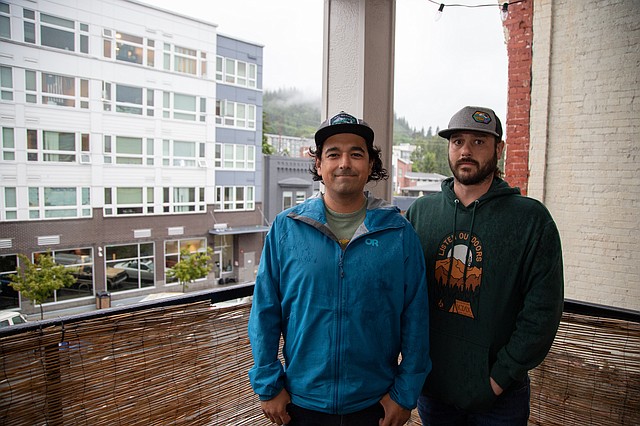 "In the opinion of a lot of people that live in the area, Opportunity Council is not capable of making any changes," said Nick Leader, who lives at The Atrium, a condominium complex across the street from 22 North. "You would have thought that a murder would have made some impact in the overall environment and security of the building."
Ben Brown, who lives across the alley from 22 North, said he has found scraps of foil used to burn fentanyl in his yard. He hears people screaming for their drug dealers in the middle of the night, and he sees people using drugs openly, just outside the building. 
"What sort of service are you providing people if you're allowing this to occur?" Brown said. "I can only imagine someone who's trying to restart their life being surrounded by these influences."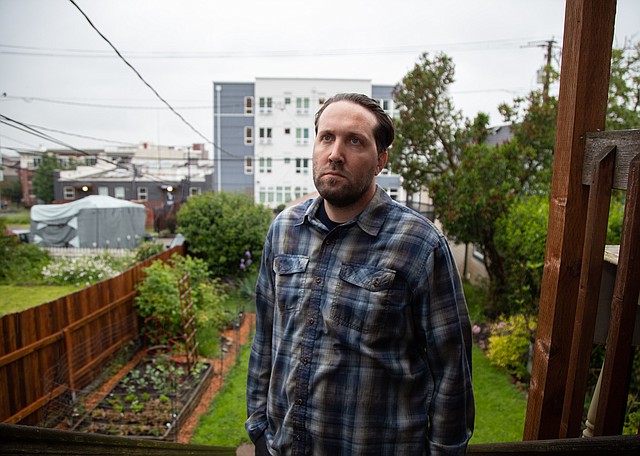 Craig Jewell, owner of the Wild Buffalo House of Music, entered 22 North last month, hoping to help one of his marketing interns retrieve a laptop, camera and hard drive that had been stolen and traced to the building.
"We spent the next 2.5 hours there, and it was one of the most horrendous experiences that I have ever been through," Jewell wrote in a two-page statement originally published by NWCitizen.
One 22 North resident pulled a gun on Jewell as he approached, according to his statement. On his way to the third-floor room where he suspected the intern's stolen property would be found, Jewell and his companions were overwhelmed by the drug odor. 
"I've never smelled something so bad in my life," he wrote. 
One of his companions threw up as soon as they got outside the building. (The intern eventually recovered his laptop and hard drive.)
People hide behind Chuck's Midtown Motors to use drugs or leave human waste. Or they simply huddle under a blanket right in front of the shop, to smoke either fentanyl or methamphetamine, owner Charles Legoe said.
Opportunity Council has offered to help pay for a fence with razor wire that might be installed to deter foot traffic from the alley to the repair shop's lot. While the fence might help, Legoe said, "I don't want it to look like a prison compound."
The Opportunity Council will meet with neighbors at 6 p.m. June 16 at The Majestic, 1027 N. Forest St. Greg Winter, the agency's executive director, said he hopes the meeting will start a productive dialogue between Opportunity Council and 22 North's neighbors. 
"We want the neighbors to be able to express to our staff what their concerns are," Winter said. 
The Opportunity Council, for its part, will use the meeting to explain what the agency says it is doing to improve the situation at 22 North.
Breach of contract?
The City of Bellingham will pay Opportunity Council $1 million through 2025 to help support 22 North. Whatcom County has spent more than $1 million so far. The agency's contracts with both the city and the county require Opportunity Council to maintain the safety of staff, residents and visitors, and provide "a recovery-oriented life for residents and a positive relationship with neighborhood tenants and businesses."
When asked if Opportunity Council is in violation of these elements of the contract, Bellingham Deputy Administrator Brian Heinrich said the city is willing to work with Opportunity Council and will give the agency more time to correct the problems inside and outside the building.
"City officials are aware of the community concerns with 22 North," Heinrich wrote in an email.
"The reason we are engaged with the Opportunity Council (and Northwest Youth Services) is to address these exact concerns," Heinrich added in a follow-up email. "We believe our goals are the same and recognize that it does take time to effectively implement these changes."
Problems escalated during the COVID-19 pandemic in part because the eviction moratorium made it impossible to remove anyone except the most violent residents, Winter said. On top of that, fewer services were available to homeless people during COVID-19 lockdowns, prompting 22 North to relax its guest restrictions so more people could at least have a place to stay overnight.
Winter now admits the lax guest enforcement was a mistake. He said 22 North recently established tighter check-in procedures and criminal background checks for guests. 
Regarding tenants, Opportunity Council will more actively enforce lease requirements and will exclude more potential residents based on their criminal histories, Winter said.
The original application requirements at 22 North stipulated that the Opportunity Council could reject an application if the prospective resident was a Level 3 sex offender, or if they had been convicted of methamphetamine manufacture or a crime that demonstrated "a substantial risk to resident safety and/or property." 
The facility's new guidelines, which Winter provided to Cascadia Daily News, include a list of specific crimes that would bar an applicant from living at 22 North, including sex offenses, assaults, robbery, arson, kidnapping and other felonies.
Winter is concerned that raising the bar on what qualifies as an acceptable criminal history for tenants could make 22 North less equitable.
"Are we going to screen out more people of color?" Winter said. Opportunity Council will collect data to answer that question and then seek to readjust its residency standards if needed.
Making 22 North work
Winter asked Bellingham police to provide extra patrols around 22 North, particularly in the Chuck's Midtown Motors parking lot. Business owners saw two police officers on June 8, walking from the back of the repair shop's lot to Chuckanut Builders on the other side of 22 North, to speak with staff there.
In an email, Don Almer, chief deputy of the Bellingham Police Department, confirmed the enhanced patrols. "I'm happy that they've noticed! When community members request extra patrols and/or extra presence, we do our best to be visible," he wrote. 
Almer pointed out, however, that the department is understaffed, so these extra patrols can only happen when the volume of police calls is relatively low.
Winter said if 22 North is going to succeed, it needs police support and a robust network of social services beyond what Opportunity Council offers.
"One of the things that we want to address as best we can, both with police collaboration and on our own, is drug distribution," Winter said. "We have to do whatever we can to eliminate that."
Jason McGill, executive director of Northwest Youth Services, advocated for more drug treatment in the community.
"Typically what happens is we put more resources into criminalizing those behaviors — the foils, the smells," McGill said. "We need to pump more resources into substance abuse treatment. We need better resources to tackle that and not criminalize it."
Nonprofit leaders and homeless people who know 22 North from the inside say the news coming out of 1022 N. State St. isn't all bad. 
McGill said young adults are moving out of 22 North and out of the system, into their own independent apartments. "We still have some successes there," he said.
"I still firmly believe in a housing-first approach," Winter said. "It is, in some ways, the only way to offer housing opportunities, and the opportunity to recover, for many people who are living in the streets in our community."
A woman who identified herself as Misty Rose was recently barred from entering 22 North. Rose, who does not have a home, still spends a lot of time outside the building. She said she picks up trash along the sidewalk and in the parking lot every day.
"We get along like family," Rose said June 10 on the sidewalk outside 22 North, surrounded by residents and other friends. "I'm not going to stop being around my friends and family. I don't feel safe anywhere else."