Elections
42nd primaries: High turnout may be linked to money
Candidates and their allies spent 6 figures on ads
August 17, 2022 at 5:45 a.m.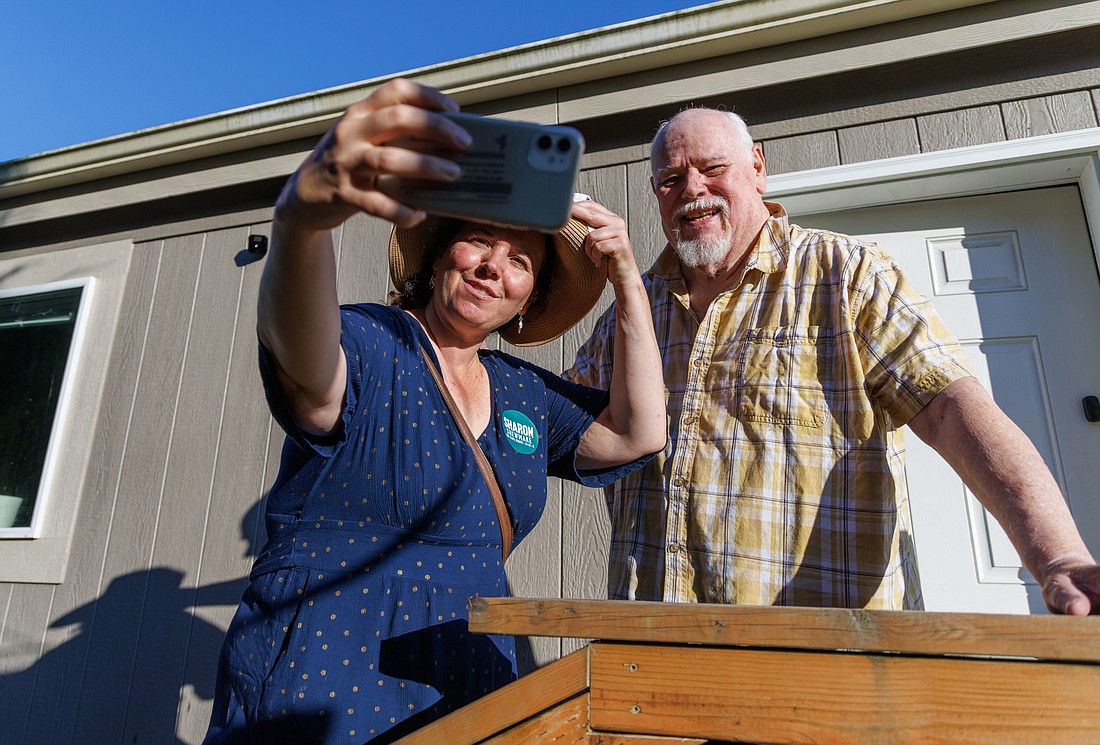 ---
---
Voters in the 42nd Legislative District were more engaged than the rest of the state during the Aug. 2 primary election. 
As of Monday, with a handful of ballots remaining to be counted, more than 48% of voters in the district had cast ballots, compared to 41% statewide.
The 42nd District, encompassing all of Whatcom County except the southwest corner and south Bellingham, is a toss-up between Democrats and Republicans, and voters there may have been motivated by three hotly contested primaries in state legislative races. The Senate race in particular has attracted statewide interest and money, but the same was also true four years ago, when a more modest 44% of 42nd District voters cast their primary ballots.
If anything stands out as dramatically different about the 2022 campaigns so far, it's the money. Primary-election spending on advertising was remarkably higher this year compared to 2018.
As usual, candidates put a lot of legwork into the type of face-to-face campaigning they say is invaluable. Democratic Senate candidate Sharon Shewmake said her team knocked on more than 20,000 doors in the district.
"I injured my foot this summer and was even doorbelling with a little knee scooter because this is so important," Shewmake said.
Sen. Simon Sefzik, the Republican incumbent, campaigned up to 18 hours a day as primary Election Day approached, according to his campaign. His team reported knocking on "just under" 30,000 doors.
But when it comes to getting a candidate's name out there, doorbelling isn't as efficient as blanketing the community with flyers. 
Two years, two big races
On the one hand, the 2018 and 2022 elections have a lot in common. The 42nd District's Senate race featured three candidates both years.
Interest among the political factions in Whatcom County was high in 2018, as Democrats and progressive groups were eager to spoil Sen. Doug Ericksen's bid for a third term. 
Ericksen was an influential senator admired by conservatives and maligned by progressives for his political stands and his close alignment with Donald Trump. Two high-profile Democratic candidates ran against Ericksen in the primary: Bellingham City Council member Pinky Vargas and former Lummi Nation Chairman Tim Ballew II. 
This year, the names in the Senate race are different, but Democrats have the same goal of unseating a Republican incumbent. The Whatcom County Council appointed 22-year-old Sefzik to the office in January to replace Ericksen, who died in December 2021 after a COVID-19 diagnosis.
Democrats had already lined up 42nd District Rep. Shewmake to challenge for the Senate seat. Ben Elenbaas, a Republican with wide name recognition in the county, also entered the race.
While these people may be familiar to political insiders, campaigns rely on paid advertising to help elevate them to household names. Candidates — and outside political action committees (PACs) that either support or oppose them — extend their name recognition through radio and newspaper ads, digital and TV spots, and the flyers that follow ballots into voters' mailboxes.
For Ericksen and Vargas — the two primary candidates in 2018 who advanced to the general election — ad spending before the primary amounted to a little more than $18,000, according to Public Disclosure Commission figures.
This year, finalists Sefzik and Shewmake, and PACs outside their campaigns, spent about $464,000 on mailers and other advertising, including $184,000 in outside money to attack Shewmake.
Patricia Mullett, Sefzik's campaign communications director, saw a connection between the spending and the relatively high voter turnout.
"I think the spending correlates to turnout in that people were paying attention," Mullett said. "The very fact that there was that much money to spend in the first place reveals the importance of this election."
Shewmake said Democrats have upped their spending this election season because Republicans are making a push to take control of the Senate. (Democrats currently hold a 28–21 majority.) Republican control of the Legislature could bring state residents one step closer to losing their reproductive rights, Shewmake said.
"In the face of real threats to losing our rights, we are taking action," Shewmake said. "This primary election we knocked on doors, ran TV ads and sent no more than two pieces of mail to any voters," she added, noting that constituents often express concern about the number of mailers that pile up in the weeks leading up to Election Day.
Mullett echoed that voters know a lot is at stake in this election, pointing to rising inflation and crime.
"They feel it every time they fill up their gas tank, buy their groceries and pay their rent, and they see it in the dramatically increased crime rates," she said.
Going negative
Negative flyers like those sent by PACs opposed to Shewmake can actually depress voter turnout, the Democratic candidate said.
"We focus on urging people to vote and to vote for good things!" Shewmake said in an email. "Democracy only works when people vote, and so my passion is ensuring everyone has enough information and feels empowered to vote."
That doesn't mean voters in the 42nd will never see a negative advertisement about Sefzik, Shewmake's opponent. In fact, New Direction PAC has already spent more than $17,000 on anti-Sefzik campaign ads. 
Whatever the case, if 2018 is any indication, election spending has only just gotten off the ground in the 42nd. 
The Vargas and Ericksen campaigns had raised about $200,000 combined by the 2018 primary election. After the primary, fundraising and spending accelerated. By the time the election was all over (Ericksen emerged with a razor-thin margin of victory), the two campaigns had amassed $900,000 in donations. PACs had spent another $972,000, making the 2018 Senate race a nearly $2 million affair.
So far this year, the two remaining candidates for the 42nd District Senate seat have raised a combined $594,000 and been the subject of outside campaigning that has cost another $264,000. 
In other words, the campaigns are way ahead of where their counterparts were in 2018. This can only mean 42nd District voters will hear a lot more about Shewmake and Sefzik before casting their ballots in November.