Elections
Conservatives spend big to attack Shewmake in key Senate race
Campaign mailers point to Democrat's record on crime, taxes
August 1, 2022 at 2:50 p.m.
|
Updated August 2, 2022 at 12:28 p.m.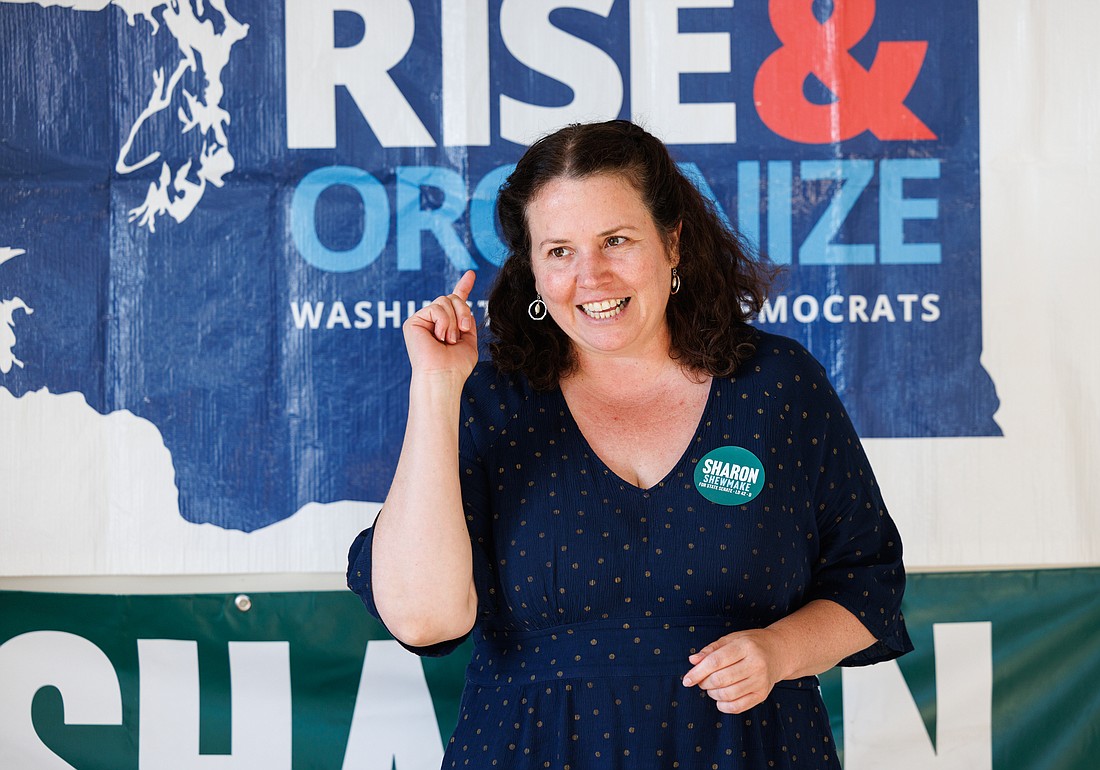 ---
---
The ballot says Sharon Shewmake has two Republican opponents in the 42nd Legislative District Senate primary race. But the ballot doesn't tell the whole story. 
Election spending reports filed with the Public Disclosure Commission as of Aug. 1 show that two groups besides candidates Ben Elenbaas and Simon Sefzik are campaigning against the Democrat from Bellingham's Lettered Streets neighborhood. Political action committees (PACs) called North Cascade Jobs and WA Wins Sponsored by the Leadership Council have spent more than $184,000 telling voters not to choose Shewmake.
That's the fourth-highest total among independent opposition campaigns in the state Senate this year. For comparison, independent expenditures opposing Sefzik amounted to only $17,100, and Elenbaas had no independent campaign money spent against him as of Monday.
Conservative money is flowing into the 42nd because Republicans believe they can win in the district. The 42nd is one of 14 legislative districts in play in this year's election, Skagit County Republican Chairperson Bill Bruch said. 
Republicans believe they can win a majority in at least one state house this year. They need to flip four Senate seats and nine seats in the House of Representatives to take control of each chamber. The Senate presents a bigger challenge to Republicans, Bruch said, because only half of the Senate's seats are up for election this year.
To give an idea of how close the 42nd District Senate race might be, the previous race was a nail-biter. Republican Doug Ericksen defeated Democratic challenger Pinky Vargas in 2018 by 46 votes out of more than 72,000 cast.
Going negative
In its campaign against Shewmake, North Cascade Jobs spent more than $126,000 on TV and digital ads, website design and campaign flyers. WA Wins spent nearly $58,000 — all on the flyers that fill voters' mailboxes during election season.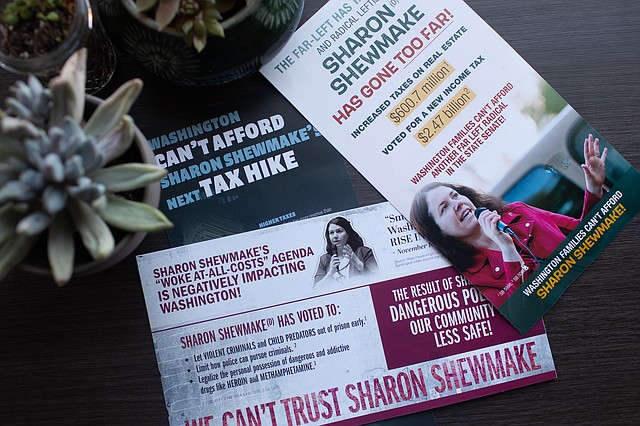 The anti-Shewmake flyers sent to 42nd District voters indicate the independent campaigns against her are using the weak economy and rising crime to sway voters. The mailers portray Shewmake as soft on crime and highlight her votes for tax increases, particularly taxes on home sales and capital gains, which are typically earned when selling stocks.
The real estate excise tax bill Shewmake supported raised the tax on homes that cost more than $1.5 million and actually lowered the tax for homes that sell for less. The capital gains tax exempts the first $250,000 in profits an investor makes in the stock market in a given year.
Shewmake said these bills were intended as a corrective to the state's "upside-down tax code" that puts a greater burden on low- and middle-income earners. Wealthy people should "do their part," she said, "to fund early learning and education, so we create an economy where everyone can thrive."
Why go independent?
By definition and by law, independent campaigns operate separately from any of the candidates they might support. They provide donors an avenue for supporting or opposing a candidate without being constrained by the contribution limits imposed on state legislative campaigns: $1,000 each for the primary and general elections, or $2,000 in a given election season. 
The harshest critics of independent expenditures are often the campaigns that find themselves running against them. They will say independent expenditures make it harder for citizens to track where their money is coming from.
For example, the North Cascade Jobs PAC's only donor is another PAC, called simply Jobs PAC. Peeling back that layer reveals that Jobs PAC's several donors include Marathon Petroleum, Koch Industries, Kroger, Walmart, Puget Sound Energy and political committees representing Realtors, farmers, contractors, hospitals and hotels. 
Marathon, Kroger, Washington Hospitality Association and Hospitals for a Healthy Future all gave to the Jobs PAC while also giving the $1,000 maximum to Sefzik's campaign. 
Whether directly or indirectly, Sefzik's supporters have spent a lot more on this election than those who favor the Democratic candidate: more than $500,000 for the Republican incumbent, including independent expenditures friendly to his campaign, compared to about $240,000 for Shewmake. 
But Shewmake points out that she doesn't accept corporate donations. About 66% of the $178,000 Shewmake's campaign has taken in has come from individuals, while Sefzik's individual contributions make up 39% of his total.
This story was updated on Aug. 1 to correct information about a real estate excise tax bill. The bill lowered the tax for homes that sell for less than $1.5 million, not $500,000.
This story was updated on Aug. 2 to correct the total for campaign contributions in support of Sharon Shewmake. Contributions to her individual campaign and independent expenditures supporting her total more than $240,000, not less than $200,000. Cascadia Daily News regrets the error.