Safety
Bellingham's downtown ambassadors start Monday
Program aims to help city bounce back from COVID-19
April 25, 2022 at 5:05 a.m.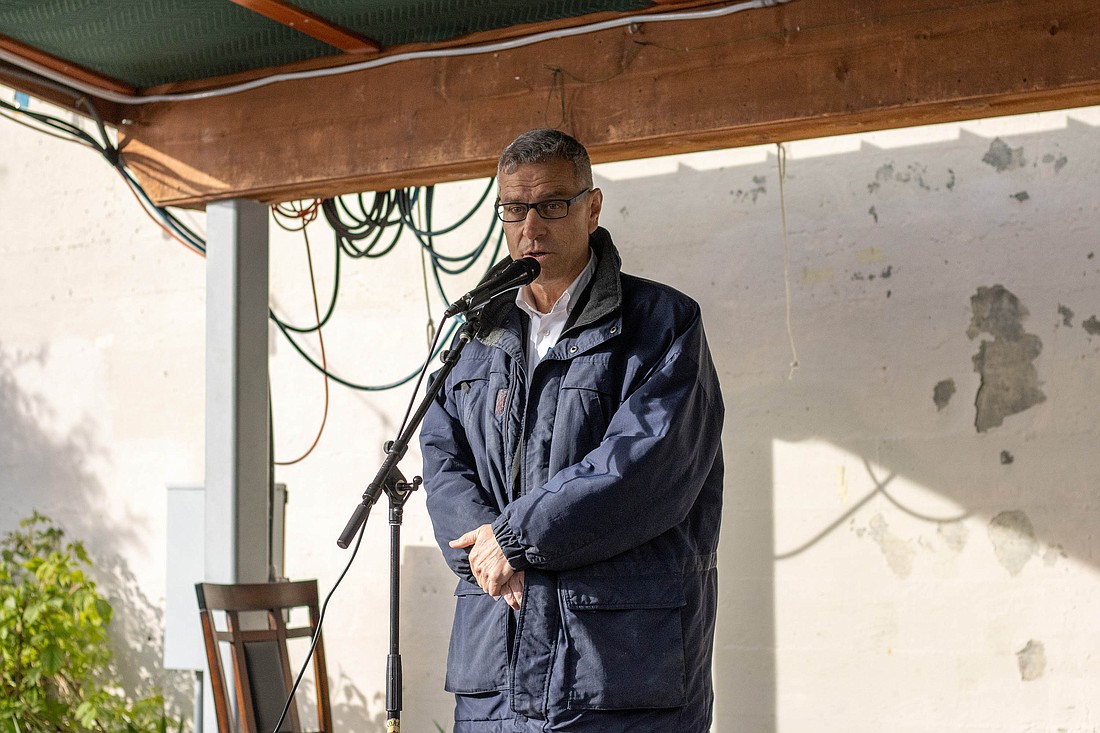 ---
---
The sun was out and the mood upbeat April 21 in Boundary Bay Brewery's beer garden, where Bellingham city and business leaders introduced a new "safety ambassador" program that launches on Monday.
Ambassadors from Streetplus, a national safety and hospitality company, will patrol downtown streets seven days a week, from 8 a.m. to 5 p.m.
The city and Downtown Bellingham Partnership unveiled the program Thursday evening in response to concerns among business owners that the downtown had become less safe and less welcoming to their customers during the COVID-19 pandemic.
On top of that, a staff shortage prompted the Bellingham Police Department to eliminate all special units, including bicycle and motorcycle patrols, the anti-crime team, the drug investigations unit and the behavioral health officer — leaving downtown businesses feeling even more vulnerable.
That said, the ambassadors aren't all about supporting businesses, Downtown Bellingham Partnership Executive Director Alice Clark said. If the program works, it will strike a balance. As Clark put it, her organization wants to "lift up the economic development of the downtown while really caring about the people amongst us who are worse off than we are."
Ambassadors will coordinate with the Opportunity Council's Homeless Outreach Team to get services to homeless people who want them.
Downtown ambassadors are not police, and they won't be armed. Rather, they will use their de-escalation training and serve as "eyes and ears" for the city's force, Streetplus Vice President Shane Hillard said at Boundary Bay. Additionally, ambassadors will help visitors find parking and ATM machines, or inform them of upcoming events. 
The city had hired Risk Solutions Unlimited to patrol downtown starting in January, to satisfy a need for "eyes on the street" after the elimination of the bicycle patrol, Mayor Seth Fleetwood said at the time.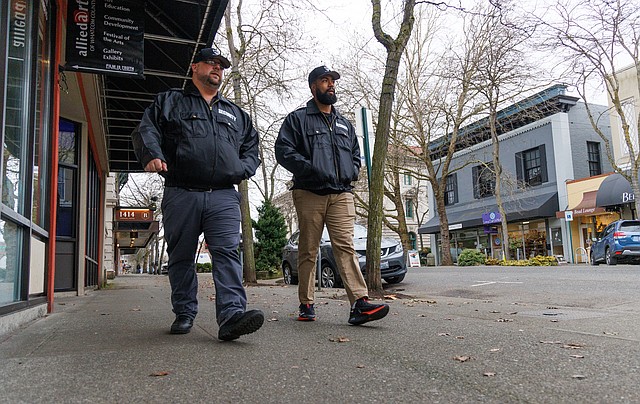 RSU's contract with Bellingham, originally scheduled to end on May 1, now runs through the end of 2022, city Communications Director Janice Keller said. RSU will patrol daily from 8 p.m. to 8 a.m. The security firm's role will be narrower than that of the ambassadors. It will focus on connecting homeless people to services and escorting people to their vehicles at night.
People may request an escort or other assistance from RSU during evening hours at 800-824-2383. Those seeking assistance from the daytime ambassadors can call 360-220-1156.
RSU patrols will cost $150,000 overall, senior planner Darby Galligan said in an email. Streetplus is providing downtown ambassadors as part of a two-year agreement that will cost the city $400,000. Both companies are paid using funds from the federal American Rescue Plan Act.
Downtown Bellingham Partnership also is launching a graffiti removal program, with support from the city and the police. The Partnership's graffiti team will reach out to property owners and ask them to remove fresh tags within 48 hours, or give them the option of signing a waiver and having the graffiti removed for free. 
With COVID-19 in retreat and the imminent arrival of the street ambassadors, officials from the city and Downtown Bellingham Partnership struck notes of optimism at Boundary Bay. Clark pointed out that she hadn't seen Fleetwood at a public event as large as Thursday's meeting since March 2020. 
Fleetwood, for his part, spoke of "an unbelievably difficult couple of years" since he took office at the beginning of 2020, while also acknowledging that we live in an "unjust society" where "the inequity is perhaps as bad as it's ever been in our modern era — and cities deal with the effects."
The ambassador program, Fleetwood said, will try to "increase morale downtown and give people hope."