Safety
Bellingham hires security to patrol downtown
City aims to bring sense of safety with 'increased eyes on the street'
February 2, 2022 at 6:10 p.m.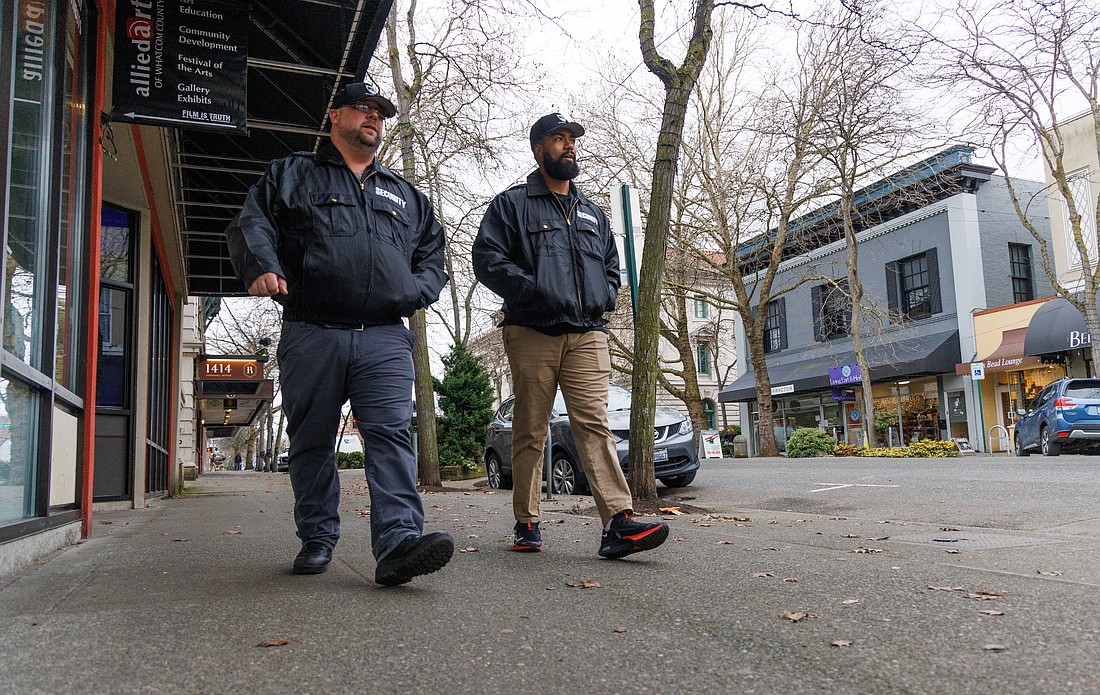 ---
---
A private security firm began patrolling in Bellingham last week to reduce vandalism and other crimes, and to create a safer atmosphere for patrons of downtown businesses still reeling from the long COVID-19 downturn, city officials and business owners said.
The security company, Risk Solutions Unlimited, is touted by the city as a short-term solution to problems that have festered in Bellingham's downtown for years, including an increasingly visible homeless population. Risk Solutions Unlimited will be paid up to $76,440 for patrols through the end of April, according to the city contract.
Security patrols will operate in a zone between the Municipal Court, City Hall and the Lighthouse Mission Base Camp, south to the North State Street and Ferry Street intersection, near the roundabout.
Business owners have been in discussions with city officials since last summer to figure out how to address problems ranging from excessive trash, graffiti and "more aggressive behavioral outbursts," as senior planner Darby Cowles told the City Council on Dec. 13.
Mayor Seth Fleetwood said in an interview on Jan. 28 that these issues "are causing considerable anxiety amongst business owners."
"Severe staffing issues" at the Bellingham Police Department that prompted the elimination of bicycle patrols only made downtown problems worse, said Peter Frazier, managing partner of Hotel Leo and Heliotrope Hotel.
"We have seemed to cede the 'public square,' if you will," Frazier said, to an open illegal drug market and a proliferation of campsites and RVs in public rights of way.
Crime is increasing and social order is eroding downtown at a time when businesses are trying to bounce back from the COVID-19 downturn, business owners say.
"It's been a tough time economically for businesses that rely on people coming to enjoy and spend money in our downtown," Frazier said.
After some of the larger downtown businesses began hiring private security to protect their own properties, the city and the Downtown Bellingham Partnership opted to bring coordinated security patrols to the city starting last month, for the benefit of all businesses.
"The decision to enable security patrols throughout the entire downtown district was done to reduce the burden on businesses and demonstrate a commitment to solutions," Downtown Bellingham Partnership spokesperson Jenny Hagemann said in an email. 
"There's a need for increased eyes on the street," Fleetwood said. "We hope to bring back bike patrols someday, for instance. That was effective."
Risk Solutions Unlimited will provide security services 24 hours a day, seven days a week. The company's staff are unarmed and trained to de-escalate minor situations, according to the scope of work from the city's contract with the company. If security personnel see a crime in progress, they will call 911 and identify themselves as hired security to initiate a police response, a city spokesperson said. The 911 dispatch center may also send security staff to a call that doesn't require police response.
Fleetwood acknowledged that part of the security team's job is to reduce the visible population of homeless people in the city's commercial areas. 
"The intention is this will be fully a carrot, not a stick," Fleetwood said of the team's approach. The security staff will work with the Opportunity Council's Homeless Outreach Team to help people find a shelter or behavioral health resources.
"They are not empowered to remove anybody," Fleetwood emphasized.
The security team will step aside after April when the city launches a new Downtown Safety Ambassador Program. The ambassadors' role will be similar to that of the temporary security team. They will work closely with city police, the Homeless Outreach Team and downtown cleanup crews. They will offer hospitality assistance to downtown's visitors on the one hand, while serving as trained de-escalators with people whose public behavior becomes unacceptable.
Cowles said the ambassadors will project an image of helpfulness, not authority.
"We don't want them … to have a look of being security officers or pseudo-military or pseudo-police," Cowles said at the Dec. 13 meeting.