Elections
Candidates hope to turn campaign dollars into votes
Executive Sidhu, council member Kershner are biggest fundraisers
October 3, 2023 at 5:05 a.m.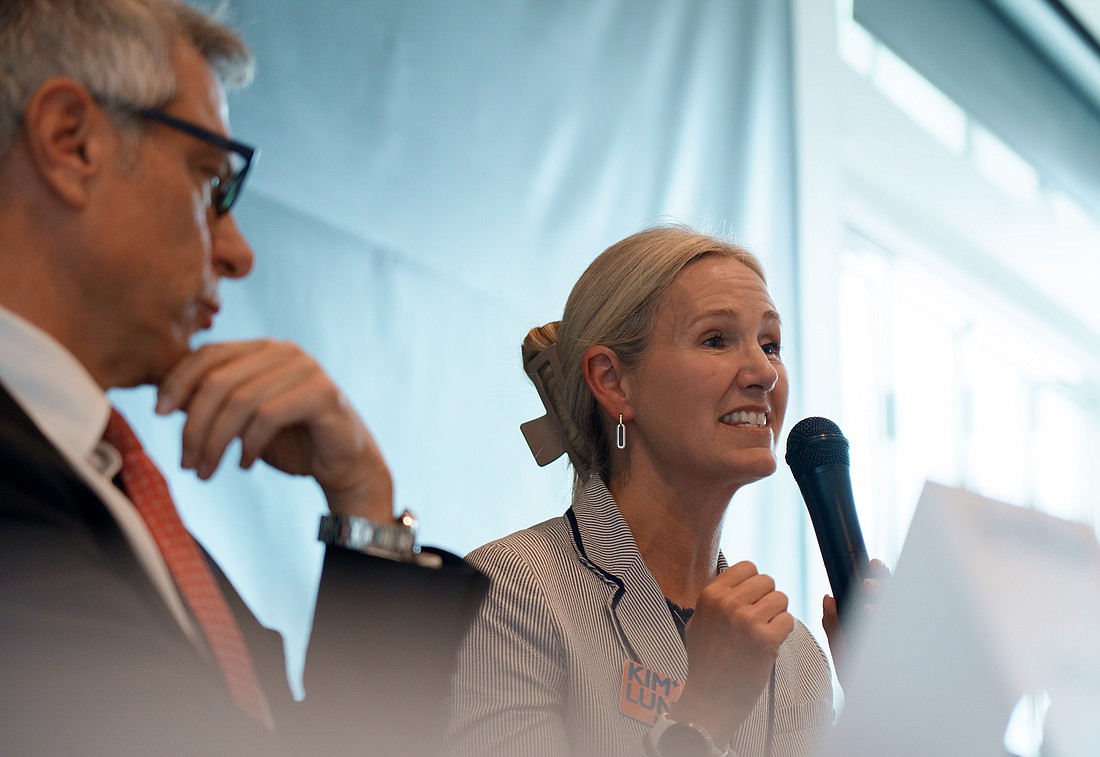 ---
---
With Whatcom County ballots dropping on Oct. 18, the race for campaign dollars and constituents' votes has heated up.
No one hands out best-fundraiser trophies to candidates, but county Executive Satpal Sidhu hopes his $97,108 raised as of Monday, Oct. 2 will translate into an election victory on Nov. 7. Sidhu has raised the most of any candidate in Whatcom County, far outpacing his challenger Dan Purdy.
Purdy, a business consultant who has the Republican Party's endorsement, has raised $47,028, almost all of it from individual donors. Six members of the Enfield Farms clan donated $1,200 apiece, and Signs Plus President Jim Sutterfield also gave $1,200. Sidhu's haul, more than double that of Purdy, includes $2,400 from Nugents Corner Market and another $2,400 from Park N Jet, an airport parking business with a P.O. box in Kirkland.
Sidhu's nearly $75,000 in campaign spending so far includes $25,000 to NWP Consulting for mailers, consulting and other services.
Sheriff's race
After the executive candidates, the two men running for county sheriff have attracted the most in campaign donations. 
Blaine Police Chief Donnell Tanksley and Doug Chadwick, currently second in command in the Whatcom County Sheriff's Office, have raised $70,918 and $76,329 respectively.
Tanksley has received $2,400 from the Alliance for Gun Responsibility Victory Fund and $950 from ProChoice Washington, while Chadwick has received $1,200 from Bellingham Cold Storage and $1,200 from the Washington Teamsters Legislative League. 
Mayor's race
In the Bellingham mayor's race, challenger Kim Lund maintains the strong advantage over incumbent Seth Fleetwood that she has enjoyed since primary election season. As of Sept. 29, Lund had raised $78,675 to Fleetwood's $43,234.
Lund has received $2,400 from Birch Equipment and another $2,400 from International Association of Fire Fighters Local 106. Fleetwood got $2,400 each from his mother, Julie Fleetwood, and stepfather John Binns.   
Fleetwood has spent $30,220 on management and consulting services, while Lund has spent more than $20,000 on flyers and other materials, and $3,680 on management and consulting services. 
County council
Among county council candidates, incumbent District 4 council member Kathy Kershner has raised the most, at $91,244. Birch Equipment and FWD Development LLC (Troy Muljat and Kent Thomas) are among her top donors, both contributing the maximum $2,400 to her campaign. She also has the endorsement and the financial support of IAFF 106, which donated $1,200.
Her opponent, Mark Stremler, has raised considerably less: $36,857 as of Oct. 2. His big contributors include Jennifer Sefzik and DJ & DJ Contracting, both giving $2,400.
Stremler said his campaign has gained momentum since he won the most votes in the three-way Aug. 1 primary, with 5,669 votes to Kershner's 5,345. 
He said his fiscal conservatism is more in line with the constituents of District 4, which includes Lynden and the surrounding area. He criticized Kershner for supporting the Healthy Children's Fund, a property tax amounting to $96 a year on a $500,000 home that passed by 20 votes in November 2022 but was overwhelmingly rejected by District 4 voters. 
Despite any claims Stremler might have to being the popular favorite, Kershner has received key endorsements among conservatives, including Lynden Mayor Scott Korthuis and fellow council members Ben Elenbaas and Tyler Byrd. 
In the county council at-large race, Jon Scanlon, endorsed by the Democrats, has raised $49,097. His opponent, Republican-endorsed Hannah Ordos, has raised $26,638. 
Scanlon has spent $45,103 on his campaign so far, with $20,223 going to Lisa McShane's Blue Spruce Strategies for mailers, pamphlets, consulting and design services. 
In District 5, on the county's west end, Elenbaas, the Republican-endorsed incumbent, has raised $25,702 but has only spent $9,099 so far. His challenger, an aquaculturist and progressive named Jackie Dexter, has raised $10,883.
Dexter conceded that "fundraising has been pretty slow" but said she's been "well received" while knocking on doors in her district, which includes Blaine and Ferndale. 
"People like my story," said Dexter, 38, who operates her own farm with an eye toward sustainability, while also enjoying hunting and fishing.
"I'm progressive, but I'm a little bit purple," Dexter said. "I have these values a lot of people share with me up here."
Elenbaas, a maverick who's not afraid of snubbing the Republican Party, nonetheless earned its endorsement on his conservative credentials. Elenbaas said the council hasn't given proper attention to the biggest problems in the county, especially public safety and the fentanyl crisis.
"It's like our house is on fire, and we're worried about manicuring the lawn," he said. "That's what it seems like our priorities are on council."
Bellingham City Council
Among Bellingham City Council candidates, Ward 3 incumbent Dan Hammill has secured the most in campaign contributions, at $19,903. His campaign team is working to refund $300 of that to Foundation Restoration, which exceeded the $1,200 limit with a $1,500 donation.
Hammill, in his ninth year in office, describes himself as a "put my nose down, try to get the work done" council member. He helped launch two successful programs that keep people out of jail: Law Enforcement Assisted Diversion, or LEAD; and GRACE, or Ground-level Response and Coordinated Engagement. 
Hammill's opponent, Liz Darrow, has $19,823 in donations, including $2,200 from Community to Community Development, where Darrow works as a legislative advocate. 
She also received major support from Jalapeños and United Automobile, Aerospace & Agricultural Implement Workers of America.
Darrow said she would represent the marginalized voices that don't often get heard in the halls of local government. 
"Who's not being represented?" Darrow asked, at a Sept. 27 candidate forum during a meeting of the mostly white, fairly affluent Bellingham City Club. "I think we can look around this room and we can see that answer, right? My priority is always being accountable, even to the people who aren't in the room."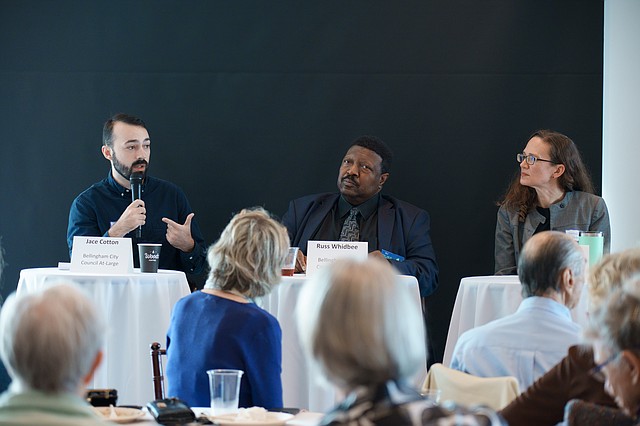 In the Bellingham City Council at-large race, Jace Cotton has raised $19,291 in his bid for the open seat. His opponent, Russ Whidbee, has $17,204 in donations. 
Cotton, 25, said he lived in a van in his friend's driveway when he first moved to Bellingham, in order to avoid more student debt. His priority is housing, having heard stories of financial hardship while knocking on thousands of doors as a community organizer. Cotton currently is campaign director for Community First Whatcom, which is campaigning for two initiatives on Bellingham ballots this November. 
Whidbee, 61, an accountant by trade, is currently on the Bellingham Planning Commission. He lost to Kristina Michele Martens in the race for the same city council seat in 2021.
"I'm not a politician," Whidbee said, "but certainly I understand that the city runs off dollars and delivers services. And we're trying to make it happen to get the most bang for your buck."
City council candidate Eamonn Collins, a teacher and Kulshan Community Land Trust board member who also focuses on housing affordability, has raised $9,550 in campaign donations. He is running against Ward 1 council member Hannah Stone, an immigration attorney. Stone has raised $4,730.