Track & Field
Local athletes capture 8 titles at state track and field meets
6 state titles come from Class 2A meet, a pair from Class 1A
May 26, 2023 at 7:39 p.m.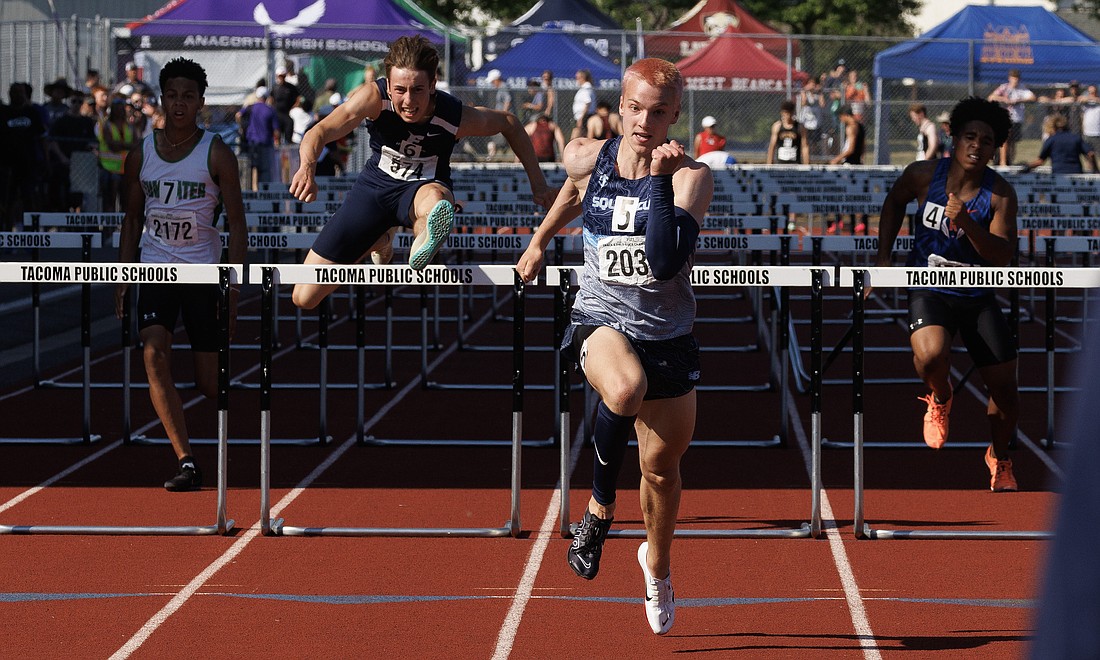 ---
---
Whatcom County athletes won eight state titles over the first two days of the 1A and 2A state track and field meets May 25–26, with more potentially on the way on day three.
Six of the titles came at the 2A state track and field championships at Mount Tahoma High School, while the other two were won at the 1A championships Zaepfel Stadium at Eisenhower High School.
Here's a recap of all the finals events that resulted in significant placements for local athletes.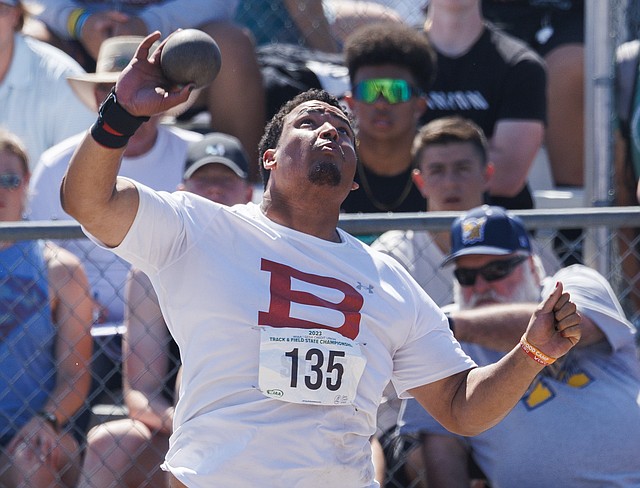 Day two: Friday, May 26
Bellingham senior Javen Livas won the 2A boys shot put, setting a new personal record mark of 58-09.75 on his third throw of the event.
Livas finished fifth in the event in 2022, and his title-clinching throw was a nine-foot improvement on his state best from last season.
Squalicum senior Andre Korbmacher repeated as the 2A boys 110-meter hurdle champion, breaking his own state meet record from last season with a new top time of 13.74 seconds.
Korbmacher, who won both boys hurdles events at state last season, beat Ellensburg's Joshua Boast (14.77 seconds) by more than a second for the third title of his high school career. The senior hurdler did not compete in the 300-meter hurdles.
Lynden senior Porter Wilhite won the 2A boys high jump championship, tying Tumater's Jayden Thomas and Burlington-Edison's Bennett Howe at a mark of 06-7.00. Wilhite was awarded the title as he was the only jumper who cleared the bar on his first attempt at that height.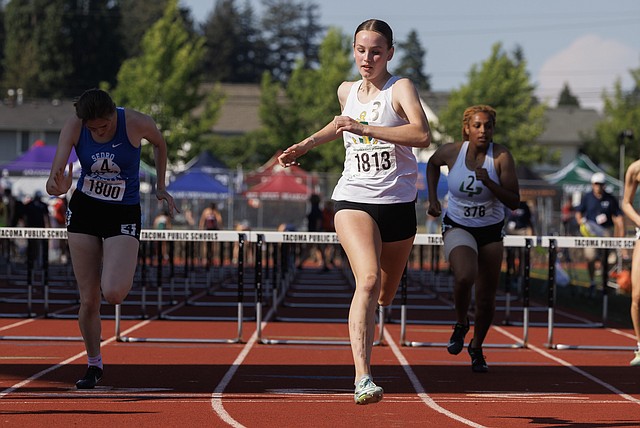 Wilhite also finished fourth in the 2A boys 110-meter hurdles with his time of 15.37 seconds.
The Lions picked up a second state title with junior Jared McCrory winning the 2A boys pole vault championship. McCrory entered the event as the No. 3 seed, and his title-winning mark of 14-03.00 set a new personal record for him.
Lynden Christian junior Tabby DeJong edged King's senior Adrianna Coleman for the 1A girls shot put title with her mark of 40-11.50, just a half an inch ahead of Coleman.
DeJong entered this year's state meet as the No. 5 seed in the event before beating her seed mark by almost three feet (38-02.00).
Other highlights
 Sehome sophomore Bella Connell took second in the 2A girls 100-meter hurdles (15.74 seconds), just six hundredths of a second behind Orting's Myquela Pride. Bellingham senior Henry Sheldrup finished third in the 2A boys discus (149-04). Bellingham juniors Chayse Flick-Williams (third, 35-03.75) and Genevieve Blum (fourth, 34-11.00) finished in consecutive places in the 2A girls triple jump.
Nooksack Valley junior Cian Coppinger finished second in the 1A boys discus (149-4) behind College Place's Andrei Smith. Mount Baker junior Alex Maloley (164-9) and NV junior Joey Brown (164-1) finished fifth and sixth, respectively, in the 1A boys javelin.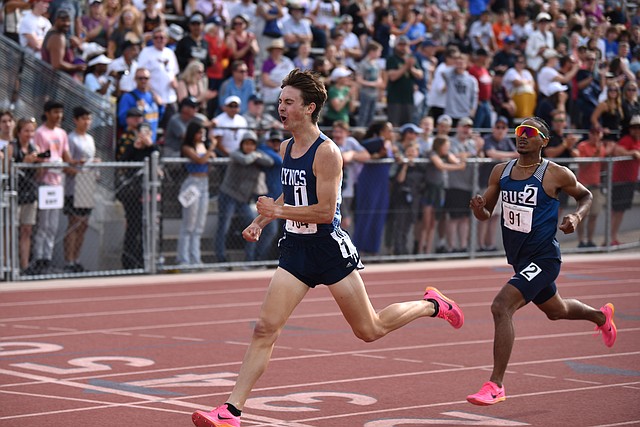 Day one: Thursday, May 25
Lynden Christian's Andrew Luce, Sehome's Zack Munson and Flick-Williams all won state titles on the first day of state track and field meets.
Luce won the 1A boys 1,600-meter run with a time of 4:14.71. The senior distance runner finished second in both the 800- and 1,600-meter runs in 2022, and he now has his first state title.
Bush's Amare Shields finished second with a time of 4:15.05.
Flick-Williams won her second-consecutive 2A girls long jump title with her mark of 17-07.00, outjumping the second-place finisher, Sequim's Jolene Vaara, by more than a foot (16-03.25).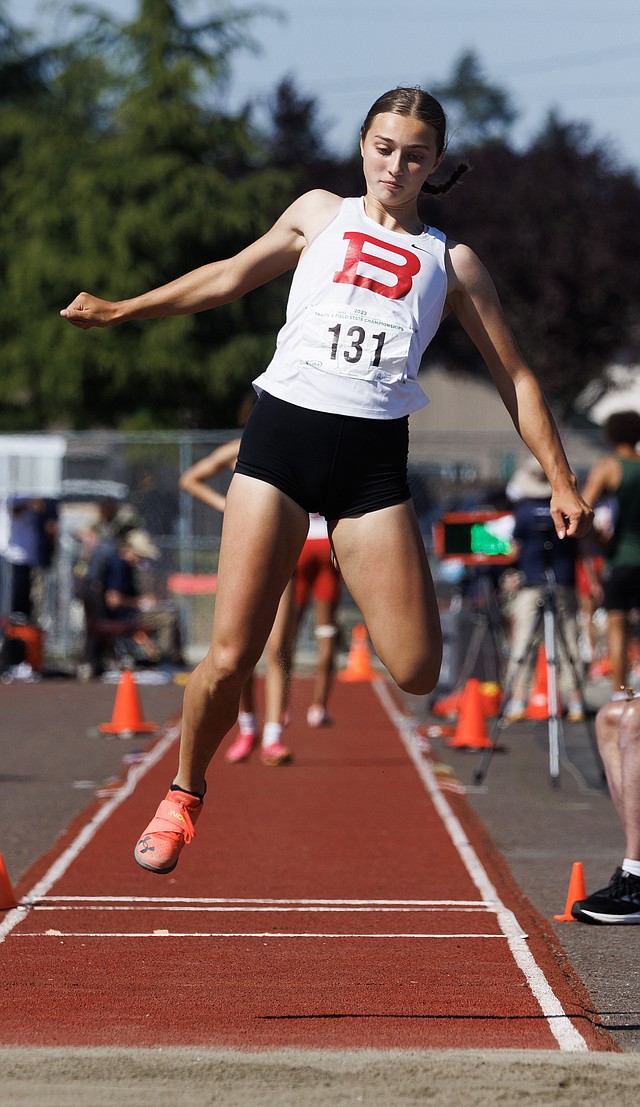 The championship-winning mark was exactly a foot shorter than Flick-Williams' finals mark at the state meet a year ago, but it was more than enough to clinch another win.
Munson posted a season-best time in the boys 1,600-meter run at the 2A meet, winning his third state championship across cross country and track and field with a title-winning time of 4:13.64.
The senior finished second in the event last year before going on to claim the 2022 boys 2A 3,200-meter run title. This year's day one win on May 25 positioned him well for a fourth-career championship.
Other highlights
Lynden senior Troy Petz, the reigning 2A boys long jump champion, finished second in the event (22-05.75) behind West Valley's Jayden Barta (22-09.25). Bellingham junior Genevieve Blum finished third in the 2A girls long jump (16-01.50). Bellingham senior Henry Sheldrup took third in the 2A boys discus (149-04). Squalicum junior Chase Bartlett finished third in the 2A boys 1,600-meter run (4:17.28).
DeJong finished fifth in the 1A girls discus (111-08). Nooksack Valley senior Ryan Hughes finished fifth in the 1A boys pole vault (12-06.00).