Visual Art
In 'Skagit Valley in Color,' Gene Jaress shares his visions
Woodcut prints and paintings shine at Jansen Art Center
May 20, 2023 at 5:00 a.m.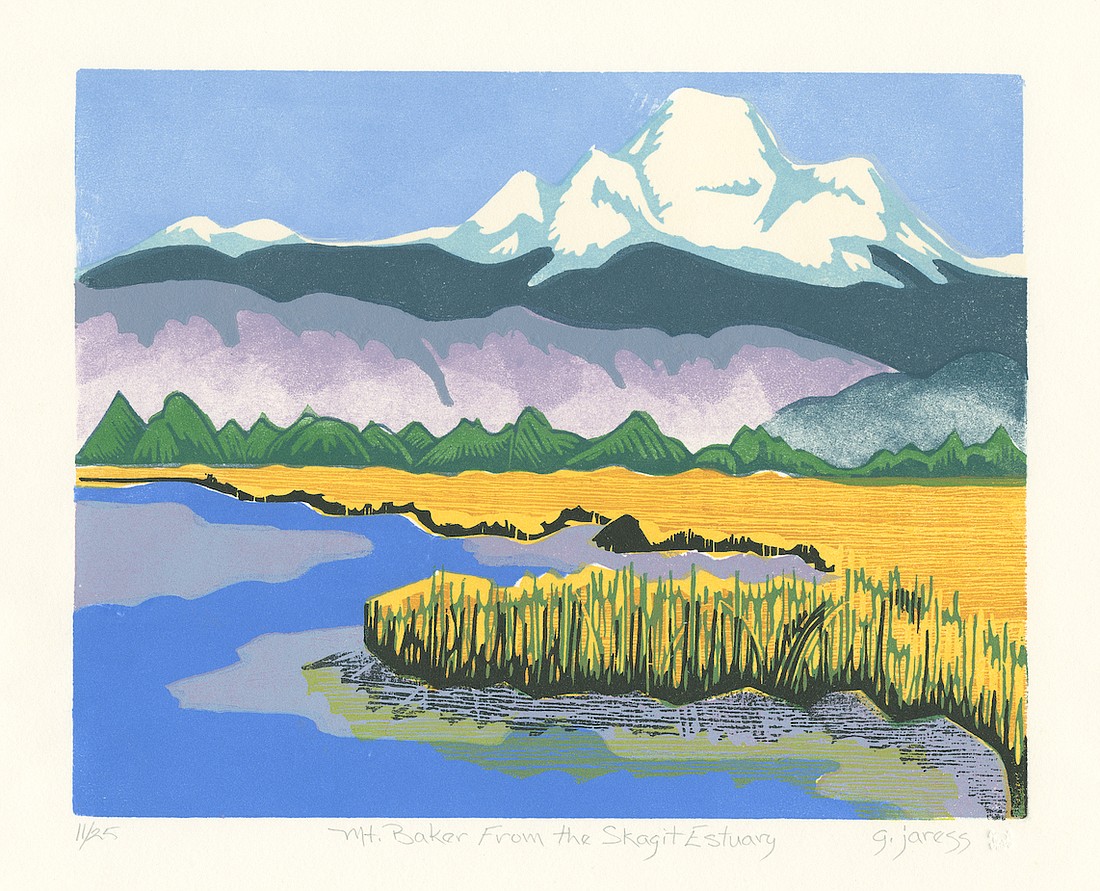 ---
---
The exhibit "Skagit Valley in Color" is a lovely balance of technical expertise and fine artistry. The woodcut prints and oil-on-canvas works by Gene Jaress are showing in Lynden at the Jansen Art Center, and are worth checking out.
A lifelong artist, Jaress studied at Seattle's distinguished Cornish College of the Arts under Paul Heald, William Cummings and others. He's made his living as a master jeweler, as well as art painter and printmaker.
Jaress' skill at oil painting is evident in his large oil on canvas works, "On the Horizon," and the mysterious nautical scene "Refined Living in Anacortes." (There was another beautiful painting I would have mentioned, but someone purchased it and couldn't wait to take it home.) 
I asked Jaress whether he learned woodcut printing at Cornish. To my surprise, he answered, "No, Cornish didn't teach it." He actually became proficient in woodcut printing in junior high in Michigan. Now a Mount Vernon resident, he has built a roomy painting and printmaking studio (he's a skilled carpenter as well) in his backyard.  
The venerable art of woodcut printing originated in the Han dynasty in China (206 B.C.–220 A.D.) but remained unknown in Europe until the 13th century, when it became the first printing technique and the principal medium of book illustration until 1700.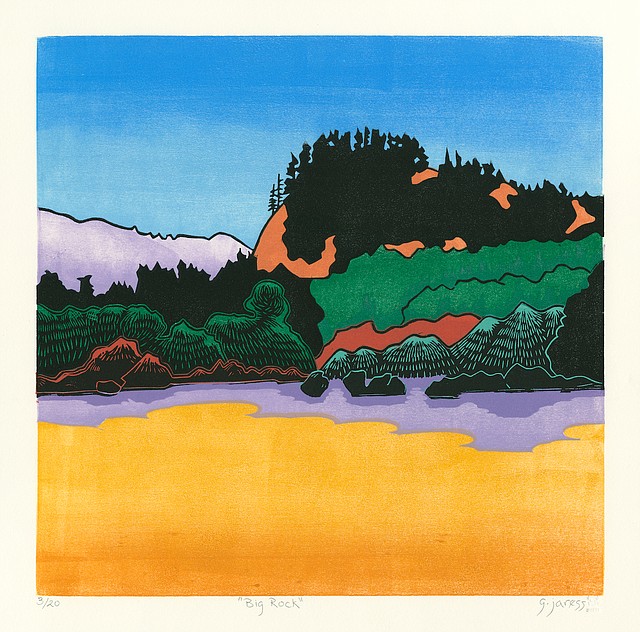 In woodcut printing, all details are carved with a jeweler's skill into a block of high-quality plywood specially made for this purpose. Jaress uses expensive Japanese Shina plywood blocks, which can preserve these fine details under pressure of the massive press. Each color is impressed on paper with a separate block, meticulously registered in the correct place. 
But how then can some of Jaress' prints reveal an impressionist wash of light color? He demonstrated to me that before printing some of the works, he lightly brushes colors onto the expensive, German-made cotton paper. You'll notice the effect in the prints showing a blue sky, which darkens toward the top.
Jaress "celebrates" last year's summer of wildfire smoke with two woodcut prints of that name — "Sunrise," which has a very Japanese feeling, and the beautifully exotic "Sunset." On the other hand, "Fishing on the Skagit River," a charming image of a young child, might be an illustration for a story by Mark Twain."Rainbow Bridge Over Swinomish Channel" sneaks up on the viewer, who likely hasn't shared this same underneath-the-bridge perspective.
The iconic Mount Baker is the centerpiece of several prints. "Mount Baker From the Skagit Estuary" contrasts a gentle blue twist of water and quiet yellow field with the looming face of the mountain. In contrast, a spectrum of green, yellow, white, blue, violet and red enchant the viewer in "Mount Baker Between the Foothills in Skagit Valley." 
Jaress' "Full Moon over Skagit Field" is only one of several brilliant tulip field studies. See also "Red Tulip Field" and "Sky over Skagit Field." He continues his documentation of memorable Skagit scenes with "Poplars Along Best Road" and the delightful "Skagit Tulip Field North of McLean Road," in which yellow and orange fields are set off by abstract green shapes.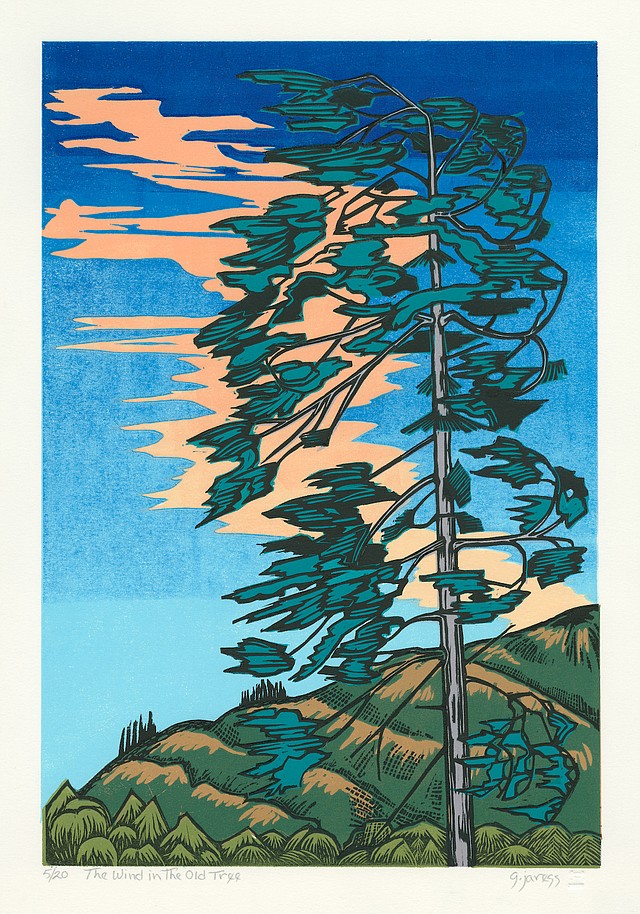 I was mesmerized by the composition and the power of color in "Winter Blueberry Field." The vibrant red is intensified between a green meadow and the pale yellow of winter trees while above, a stab of intense white — Three Fingers Peak — points to an ecstasy of blue sky.  
Now to the coldly imagined "Street Portraits." What is Jaress telling us? I'm guessing they aren't life studies, but maybe nightmares? "Street Portrait" itself appears to be a sad-looking, vulnerable guy who wants to be left alone. "Neighbor" stares at you over his fence and disapproves. "The Patron" is icily critical. "Yellow Sunglasses" keeps viewers at a distance. "Sleeping Man" may appear harmless, but don't wake him up! 
Jaress' prints and paintings will remain on view at the Jansen Art Center until July 7 — as will a "Spring Juried Exhibit" and "Evelyn Woods: Observing Solitude." The cost of the limited-edition, hand-printed woodcut prints average around $475, and if you purchase one, you will likely never tire of enjoying it in your home. 
Jansen Art Center is open from 11 a.m. to 7 p.m. Tuesday through Thursday, and 11 a.m. to 5 p.m. Friday and Saturday at 321 Front St. in Lynden. Admission to the galleries is free. Classes require paid registration and certain events are ticketed. Info: jansenartcenter.org.