Softball
1A Bi-district softball: Blaine, Lynden Christian clinch state berths
Borderites beat Mount Baker for title; Lyncs win 3 straight to close out tournament
May 20, 2023 at 10:12 p.m.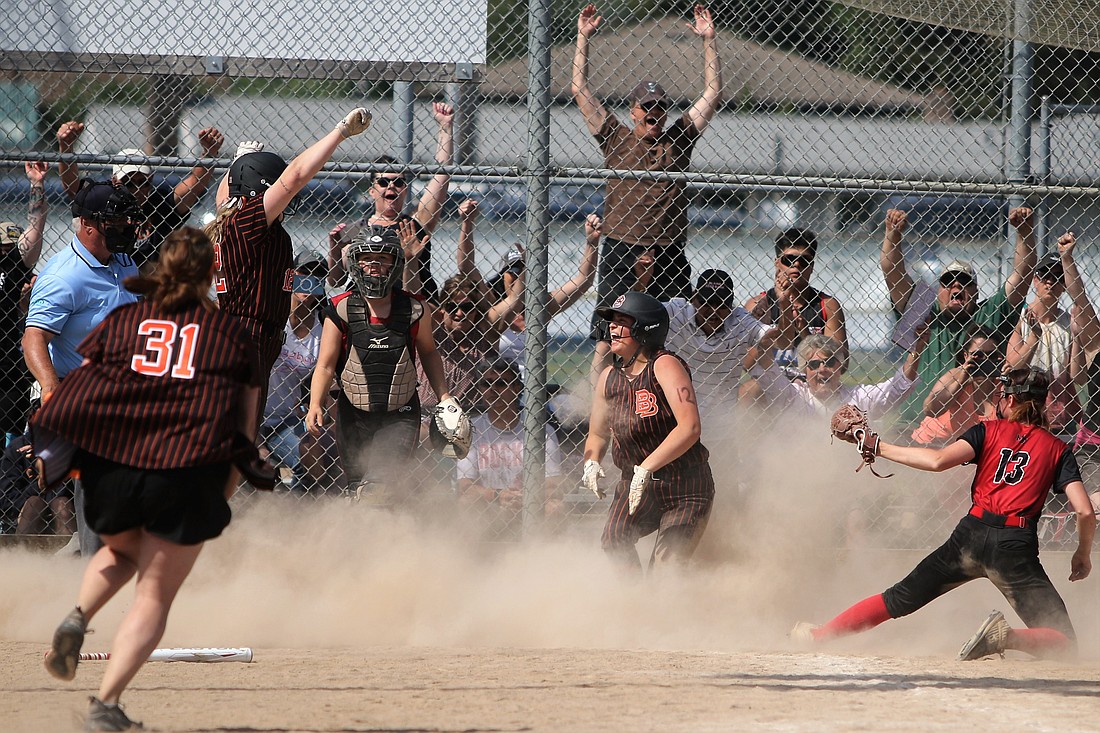 ---
---
SEDRO-WOOLLEY – Blaine fastpitch won the 1A District 1/2 championship and Lynden Christian snagged the second bid after a tough three-game Saturday slate on the tournament's second day at Janicki Fields. 
The No. 2-seeded Borderites (20-2) edged No. 4 Mount Baker (15-9) in a thrilling 8-7 title game win, sending Blaine back to the state tournament for the first time since 2010. Blaine was in Class 2A the last time it qualified.
"I'm speechless, man," Blaine coach Sean Miller said. "We've been working for this for four or five years; now it's here. It's surreal."
Blaine beat Meridian and LC in the first two rounds to reach the championship, including a 13-0 thumping of the Lyncs in the semifinals.
No. 6 LC (15-11) had to play five total tournament games to earn its state berth, run-ruling Mount Baker 13-2 in the consolation final to clinch the final spot.
LC began its season 2-7 overall before winning nine of its final 12 regular season games and going 3-1 in the district tournament.
"We just kept saying one game at a time," LC coach Tom Zylstra said, "and we did it."
The Lyncs reached the 1A state tournament in four consecutive seasons from 2016–19 but missed it in 2022. Now, they are headed back.
"It's been quite the ride," Zylstra said. "I'm really proud of them."
1A District 1/2 championship: Blaine 8, Mount Baker 7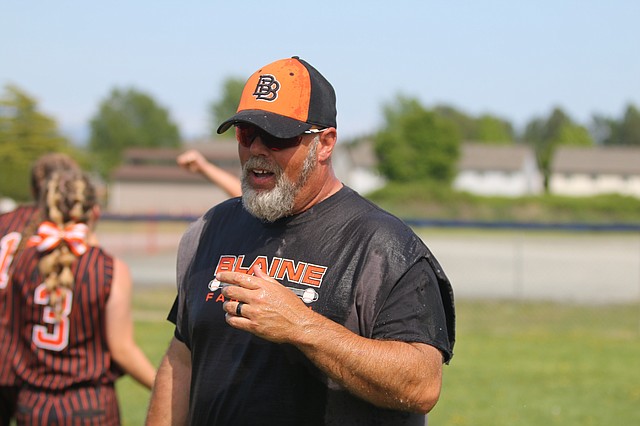 Blaine sophomore first baseman Shaylie Daniels emerged as the hero the Borderites needed when she advanced home on a wild pitch in the bottom of the seventh inning, tied 7-7, and slid in safely.
With two outs and the bases loaded, the game was on the verge of heading to extra innings unless a Blaine player stepped up. 
Daniels did, and Miller got a Gatorade jug of water poured over his shoulders as a result.
"They did it again, and they pulled it out," Miller said.
Mount Baker had an answer — at least eventually — to all of Blaine's runs until its chances ran out. The Mountaineers never led in the game, but they kept it close.
Senior catcher Makenna Wright got Blaine's scoring started in the bottom of the first on an RBI single that scored senior outfielder/pitcher Piper Nissen.
The Borderites took a 3-0 advantage in the bottom of the second on hits from junior shortstop Jordyn Vezzetti and Wright, but Mount Baker put one on the board in the top of the third.
Trailing 5-1 in the top of the fifth, Mount Baker junior infielder Lauren Valum singled to center field and drove in sophomore Annalee Cohn. 
That score began a four-run inning for the Mountaineers, tying the game at 5-5, as Mount Baker walked two runners home and got another RBI single from junior outfielder Ella Maloley.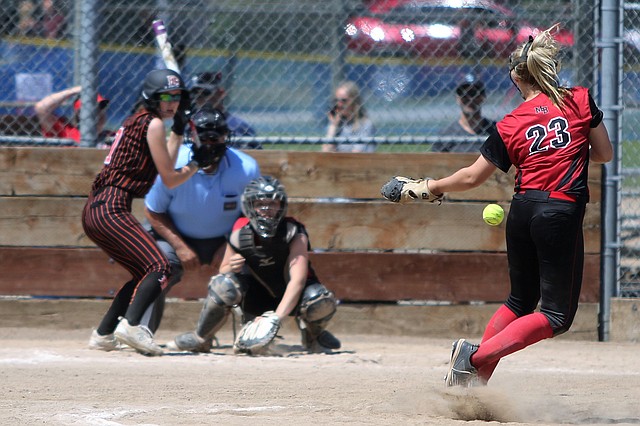 Blaine pushed its lead back to two, 7-5, in the bottom of the fifth on a two-run single from Vezzetti, but Mount Baker junior pitcher Ava Jeretsky smashed a two-run home run the very next frame to even the score once again.
Junior Emersyn Bakker, the Borderites' star pitcher, was pulled in the fifth inning — while seemingly in some discomfort — and relieved by the senior Nissen. Bakker allowed four hits, five earned runs and six walks while striking out seven batters.
"I think she was overheated," Miller said of why Bakker was relieved.
Nissen, in three innings pitched, allowed four hits, two earned runs and one walk while striking out four batters.
With the score tied 7-7, Blaine's first two batters in the bottom of the seventh popped out and flied out. Two singles and an intentional walk of Wright later, Daniels sealed the game.
Blaine will now await its 1A state tournament seed, which will be announced on Sunday, May 22.
1A District 1/2 consolation final: Lynden Christian 13, Mount Baker 2 (five innings)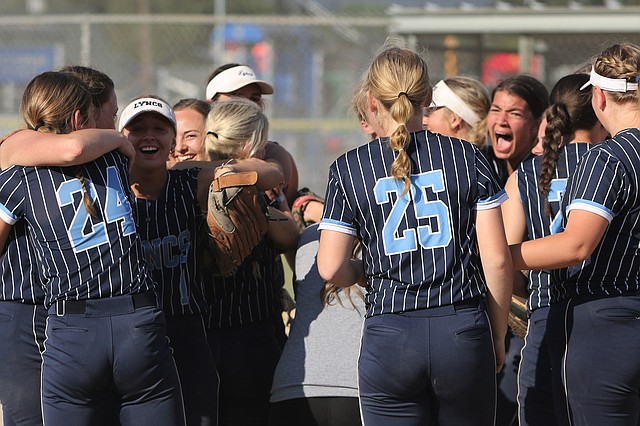 Mount Baker and LC met in the same game last season, and the Mountaineers beat the Lyncs 15-0 to move on to state and eventually finish fourth overall in the state. 
Entering that game, LC was coming off a 13-0 loss to Nooksack Valley in the district championship. Mount Baker had to play three consolation games in one day to reach the contest.
The story this season was the same, except the roles were reversed.
The Mountaineers were without Jeretsky after the third inning, as she sustained what appeared to be a hand injury after a pitch was hit back at her. 
Zylstra said it's disappointing to win despite that, but he felt the momentum was on LC's side before that.
"[Mount Baker coach Ron Lepper] has been around for forever," Zylstra said. "It's just kind of fun as a first-year coach to come out and beat some of those legends."
LC's sophomore pitcher Kassidy VanSoest led the Lyncs in the circle, allowing seven hits, two earned runs and four walks while striking out three.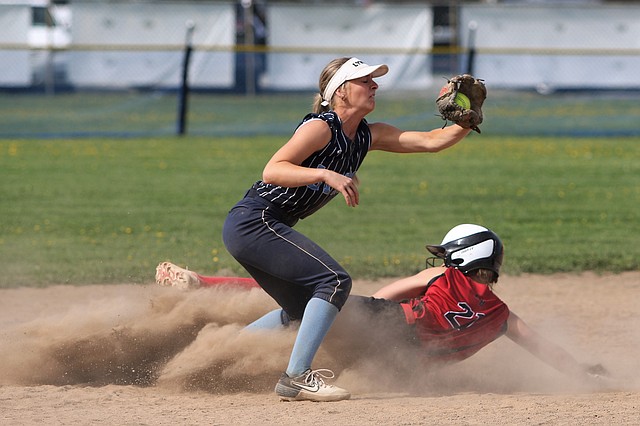 Mount Baker took a 1-0 lead in the bottom of the second inning, but LC cranked out six quick runs in the top of the fourth, including a solo home run from senior outfielder Sharlotte Whittern.
The game quickly spiraled for Mount Baker as some errors piled up and a triple from the Lyncs' senior catcher Karsyn Postma scored three LC players to make it 10-2 in the top of the fifth.
LC added another three runs to close out the inning, and Mount Baker left two stranded in the bottom of the seventh as the final flyout was caught.
"Our expectation was to get [to state], and we didn't, so that doesn't feel very good right now," Lepper said. "But take a step back and we had a lot of good things our way."
Mount Baker will graduate seniors Madison Barter and Hayley Jimmie but return its other nine players. Lepper said it was a plus to be able to get underclassmen significant playing time this season and still find success.
LC will now await its 1A state tournament seed.
1A District 1/2 consolation semifinal: Lynden Christian 4, Cedar Park Christian 1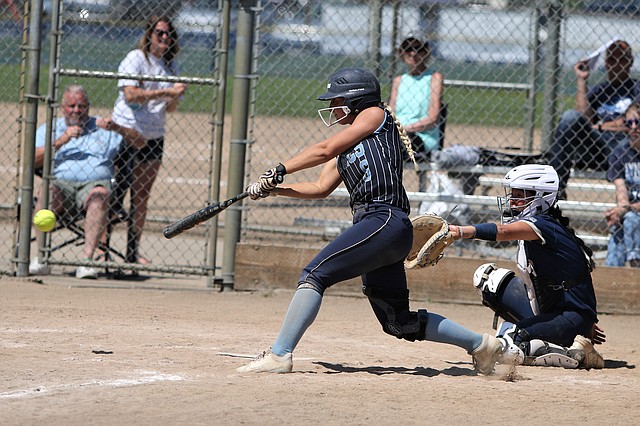 The Lyncs advanced to the final game of the day after shutting down top-seeded Cedar Park Christian 4-1.
LC earned a 2-0 advantage in the top of the first inning on a two-run single from Whittern. 
Cedar Park Christian didn't respond until the bottom of the fourth when freshman Ella Meikle belted a solo home run to make it 2-1.
VanSoest doubled in the top of the sixth, driving in senior Maclay VanSoest and Whittern.
Kassidy VanSoest pitched another complete game, allowing eight hits but just one earned run and one walk while striking out seven.
1A District 1/2 consolation quarterfinal: Lynden Christian 19, Nooksack Valley 9 (six innings)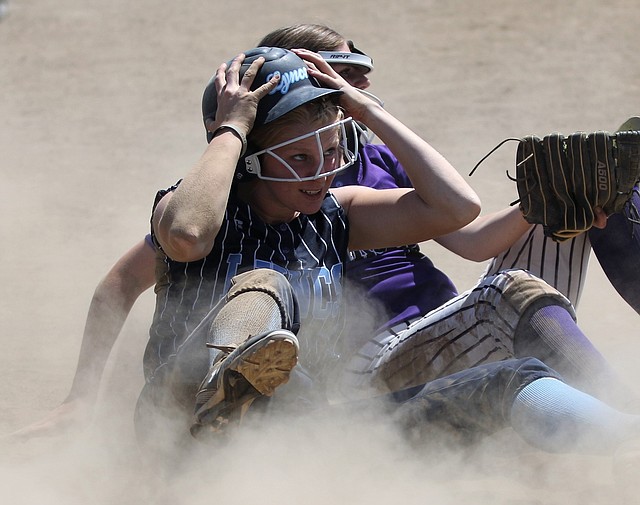 Nooksack Valley was unable to overcome the onslaught of runs thrust at it by LC, and the Lyncs took a six-inning win over their county rival, 19-9, to start the day.
The final score made the game look far more lopsided than it was, as NV did its best to stay in the game with three home runs.
Unfortunately for the Pioneers, LC had a bit more firepower.
"We've got some young kids, and we'll just have to build on that," NV coach Tom Harmon said. "But we've got some stuff to clean up."
NV's 1-0 lead in the top of the first inning disappeared after LC rattled off four runs over the next two innings.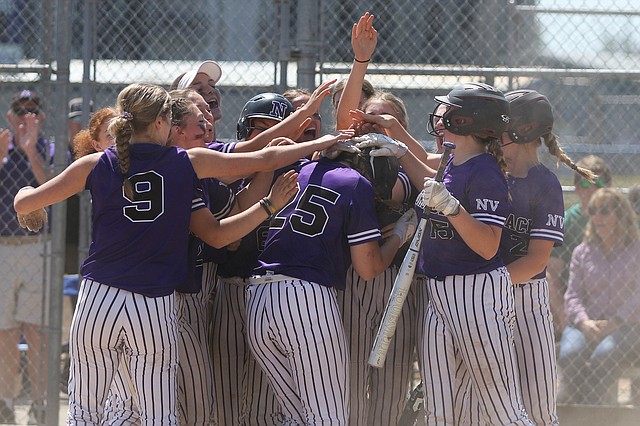 Pioneers junior infielder Lainey Kimball hit a two-run home run in the top of the third inning and an ensuing RBI single from senior Ryan Ross tied the game at 4-4.
The bottom of the third and bottom of the sixth innings was the biggest for LC, as the Lyncs scored six runs in each inning to seal the victory.
Senior infielder Ella Perry had one of NV's three home runs and Kimball hit another in the top of the fourth.
LC got home runs from Whittern and Kassidy VanSoest, while Whittern also added a double.
NV will graduate two seniors in Sierra Anderson and Perry. The Pioneers will have 13 returners next year and had six freshmen on their varsity roster this season.