Baseball
Lynden Christian baseball clinches first state bid in over 2 decades
Lyncs claim back-to-back wins in district playoffs Saturday
May 13, 2023 at 9:10 p.m.
|
Updated May 14, 2023 at 9:58 a.m.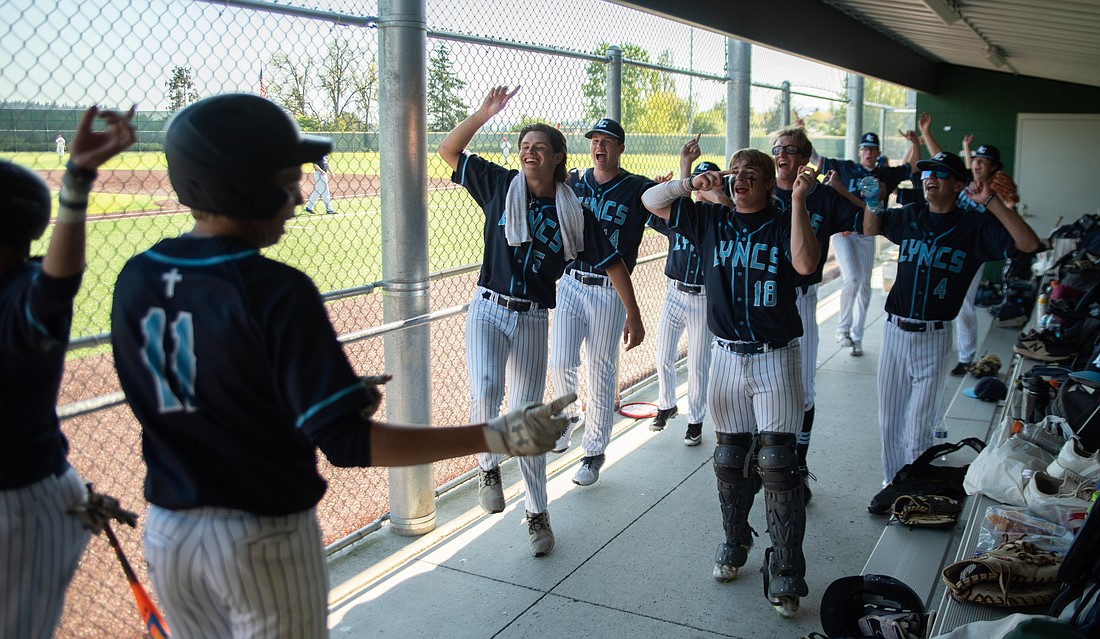 ---
---
Lynden Christian reeled off consecutive do-or-die wins in the 1A District 1/2 playoffs Saturday, May 13, securing its first state playoff appearance in more than two decades.
Saturday's doubleheader began with a 4-1 win over Meridian in the consolation semifinal at Joe Martin Stadium. That ended the Trojans' season and set up a showdown with King's at Sehome High School for the district's final state playoff spot. 
A dominating offensive and defensive performance by the Lyncs ended in a 12-0 rout of King's, securing the Lyncs' spot in the state tourney.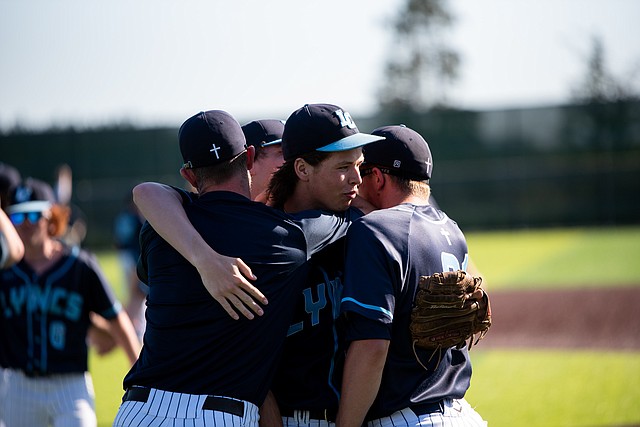 "I told y'all you could do it," LC coach Noah Rawls said calmly after his players drenched him with a water cooler filled with ice. 
It was Lynden Christian's first state bid in at least 22 years (WIAA's online state results do not go back further than 2001).
Despite having their backs against the wall, Rawls never doubted his team.
"I told these guys at the beginning of the year that you have the talent to do it," Rawls said. "We've been such a basketball school for so long, it's cool to see how baseball's coming along."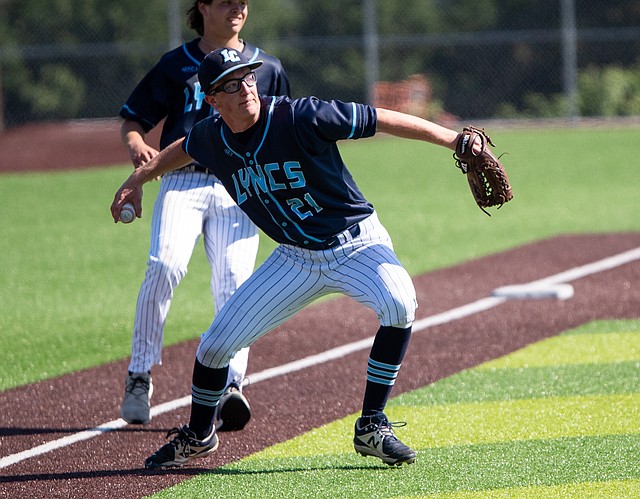 Lynden Christian started off the top of the first with a lead-off single by junior Jonah Terpstra, followed by another single from freshman Eli Maberry, and ending in a two-run double to make it 2-0. 
Sophomore Austin Engels later followed up with his own deep hit to bring home senior Lane Dykstra and put the Lyncs up 4-0, forcing the Knights into a pitching change. 
LC's defense proved frustrating for its opponents as the Lyncs played each inning looking like a well-oiled machine. With no errors all game, the Lyncs appeared to be in control from start to finish.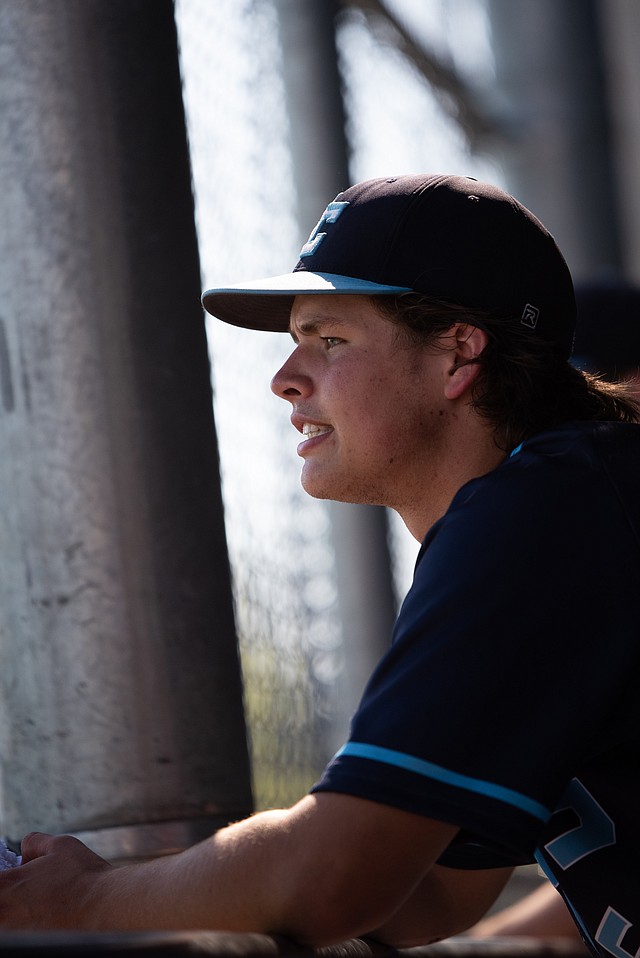 Engels put the Lyncs up 5-0 on an RBI double in the top of the second inning. 
Coach Rawls' emphasis on defense and hitting were both on full display as the Lyncs began to pour it on in the fourth inning.  
Junior Brody Bouwman drove in Lane Dykstra and Maberry, who scored a game-high three runs, to put LC on top 7-0. Bouwman was then able to score on an error, while freshman Treyson Johnson brought in senior Isaac Paxton, increasing the lead to 9-0. 
Junior Logan Brink ended the scoring avalanche with a two-run double to score Jaxon Huleatt and Dexter Zylstra, capping off a six-run inning and giving LC an 11-0 lead.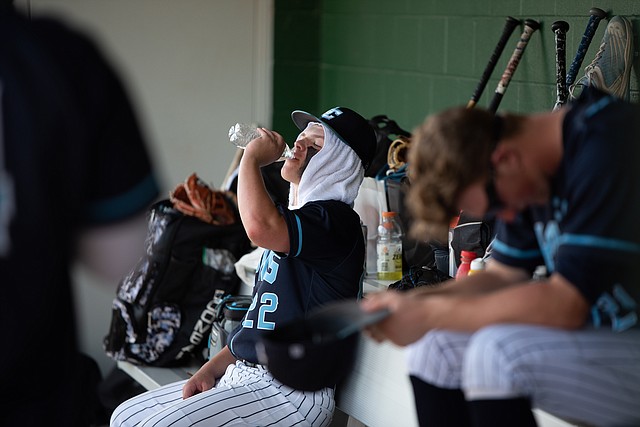 Bouwman, who finished with a game-high three RBIs, drove in Austin Engels for the final run to and sealing the Lyncs' trip to state. 
"We faced one of if not the best pitcher in Washington, Jonah Aase, in our game against Meridian," Engels said. "We knew if we could hit him, we could hit anybody. It carried over to this game." 
LC senior pitcher Isaac Paxton led the way against King's, allowing three hits, two of which came in the bottom of the first. 
The Lyncs get to continue playing in their own backyard, as the entire 1A state tournament is held May 20–27 at Joe Martin Stadium. LC will now await state playoff seeding to determine their opening-round opponent. 
Lyncs stay alive, knock off Meridian
Lynden Christian advanced to the consolation final after eliminating Meridian 4-1 in the consolation semifinals Saturday at Joe Martin Stadium. 
It was the second meetup between Trojans and Lyncs, with Meridian squeaking out a 5-4 win on April 11. 
Meridian led 1-0 heading into the top of the fourth inning on a double by junior Tyson Timmer, only to have the Lyncs tie it up 1-1 on an RBI double by junior Brody Bouwman.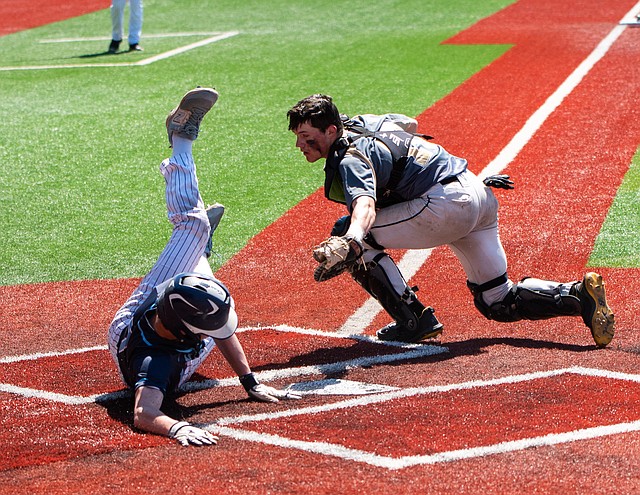 Lynden Christian took the lead after an RBI and a steal by senior Isaac Paxton, making it 2-1 heading into the bottom of the fourth inning.  
Meridian threatened in the bottom of the fourth when junior Silas Berschauer hit a ball just outside of an LC outfielder's reach, leading to a double. However, a ground out and ensuing strikeout closed the door on Meridian's attempt to regain momentum.   
The closed door on Meridian led to an open door for Lynden in the top of the fifth inning as they were able to stretch their lead. 
LC took advantage in the fifth inning when junior Logan Brink after a Meridian fielder bobbled a routine fly out that dropped. Junior Jonah Terpstra was able to get on base as well, and Lane Dykstra hit an RBI single to make it 3-1 sophomore Austin Engels was then able to drive in Terpstra, giving LC a 4-1 lead.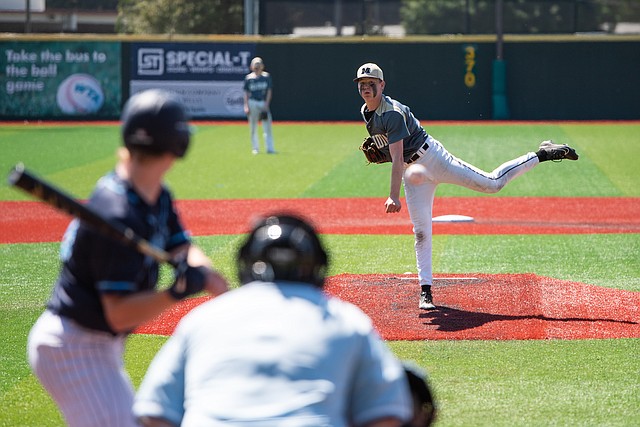 With bases loaded, Meridian pitcher Jonah Aase was able to escape the inning with a strikeout. 
The next three innings went quick as both teams were locked in a stalemate due to great defense, including a clutch strikeout in the bottom of the sixth inning by Dykstra and a bang-bang call on an LC steal attempt to third base.
The Trojans had one final chance in the bottom of the seventh. Timmer was able to draw a walk and sophomore Jaeger Fyfe followed with a hit to the middle of the field, getting two Meridian runners on base quickly.  
A fly out and a game-ending double play by Terpstra sealed the win for Lynden Christian. 
Dykstra earned the complete-game win on the mound for LC, surrendering one run on seven hits while striking out three and walking one.
A previous version misstated Lynden Christian's coach's name. The name was corrected at 9:58 a.m. on May 14, 2023 The Cascadia Daily News regrets this error.