Business Matters
Tulip Festival prepares for annual bloom of economic impact
Business activity and tourism reputation cross-pollinate with month-long Skagit Valley event
March 29, 2023 at 4:50 a.m.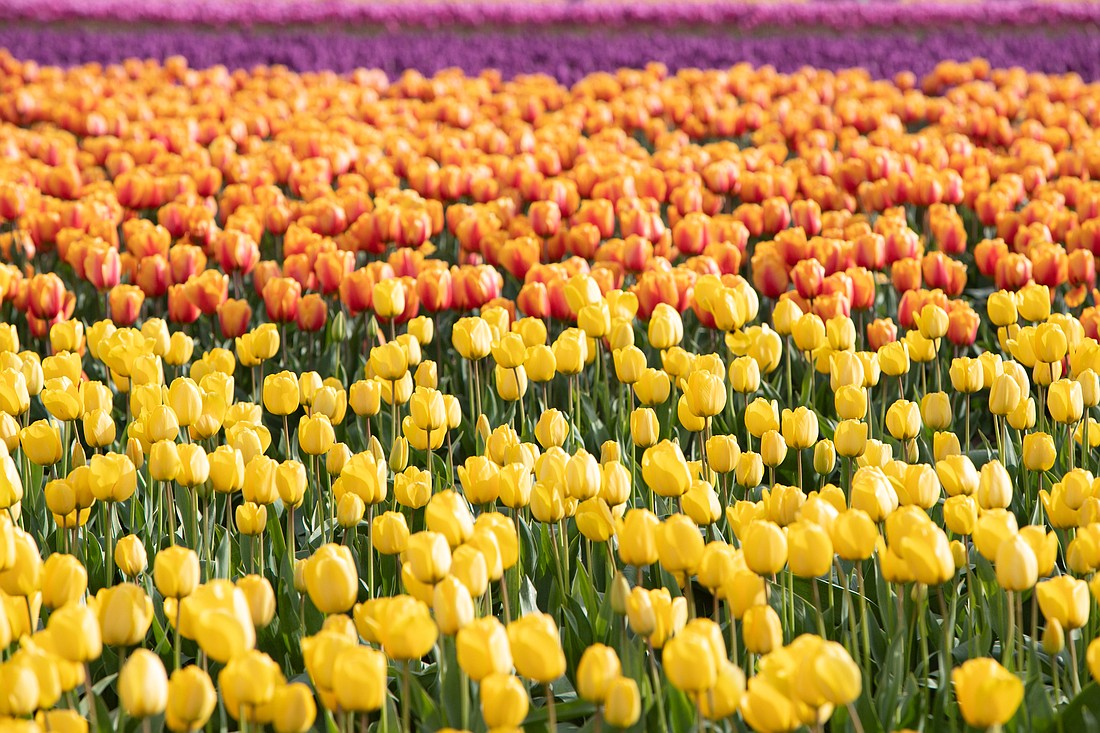 ---
---
A tulip passport. Now in its 40th year, the Skagit Valley Tulip Festival will blossom again in April after three seasons of pandemic disruptions. While late winter cold delayed the 2023 daffodil blooms and may do the same for the signature tulips, local organizations have high hopes for a close-to-normal year of overall tourism and economic benefits.
At its root, the Tulip Festival is a showcase for the area's agriculture. The Visit Skagit Valley festival web page touts agriculture's position as the top industry in Skagit County and how local farmers annually produce about $261 million worth of livestock, dairy products and a variety of crops on 93,000 acres of land. 
Tulips, though, are the brightly colored beacons rising out of the dirt. 
"More tulip and daffodil bulbs are produced here than in any other county in the U.S.," declares the website. A healthy festival — Skagit Valley's is said to be the largest in the country by acres of tulips, number of farms and days of blooms — has a spillover effect on the area economy both during the event and year-round for encouraging repeat visits. 
Even with a history going back to 1994, a lot is riding on 2023. Because of 2020.
"There was no festival. I cried," said Cindy Verge, who has been executive director of the nonprofit Skagit Valley Tulip Festival organization for two decades. "The state of Washington shut down about two weeks before the festival was due to start on April 1," she said. "It was gorgeous weather. The tulips were beautiful. I just had to give up answering the phone because people were arguing with me if they could still come." 
While Verge said "record" merchandise sales were a small silver lining that season thanks to tulip fans who supported the festival remotely, the next two years were uneven. 
In 2021, the shifting pandemic affected participation by the volunteers ages 60 to 85 whom she said the festival relied upon. In 2022, Canadians still faced some land border travel restrictions, and she said "typically, in surveys we've done over the years, we've found the Canadian traffic accounts to 15 to 20 percent" of visitors. 
So if the four participating tulip gardens between Mount Vernon and La Conner represent fields of dreams, 2023's performance may ride on the results of a couple of rebuilding seasons.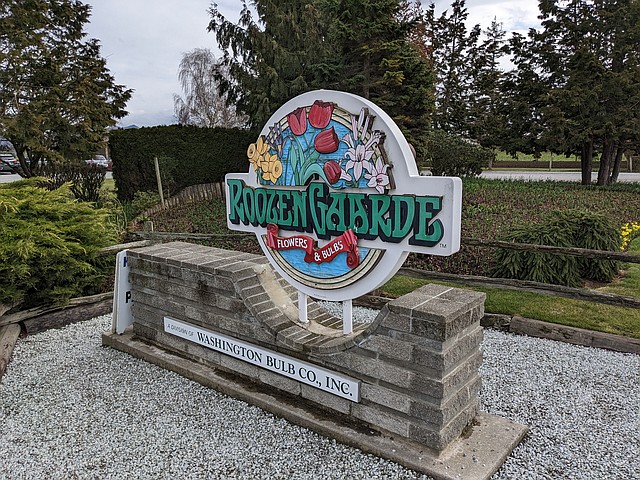 Sponsorship figures continue to rebound, up to 170 businesses and organizations from about 135 in 2021, "the year when COVID really hit our numbers," Verge said. Many traditional events are back for 2023, including the popular PACCAR Technical Center Open House in Mount Vernon. 
And should a decade-old economic impact study be any guide — a new one is not planned by the Tulip Festival organization, due to a tight budget — the event will spur related spending. In 2012, 75% of visitors surveyed said they came from outside of the area and 8% said they spent an average of two nights in local lodging.
The broader effects of the one-month festival are clear to Jake Buganski, CEO of the Skagit Tourism Bureau. 
"Clearly it has put us on the map," he said. Hundreds of thousands of people each year, adding up to millions over the years, have led to a reputation that Buganski witnessed at a recent major tourism conference. 
"This place is on the radar of the visitors and tour operators and travel agents," he said, "and I think the biggest reason for that is that we have the Tulip Festival." 
He added that attention the festival spurs leads to interest in other reasons to visit the area. For example, the Tourism Bureau promotes the area's proximity to North Cascades National Park. "It always winds up on lists of national parks you may not know of and should know about," he said.
In order to encourage more exploration during this year's event, the Tourism Bureau in partnership with the Tulip Festival launched the Skagit Valley Tulip Festival Passport, a mobile site built on the Bandwango platform. Venues listed include retailers and restaurants, some with discounts, and rewards offered. "It's been very well-received," Buganski said.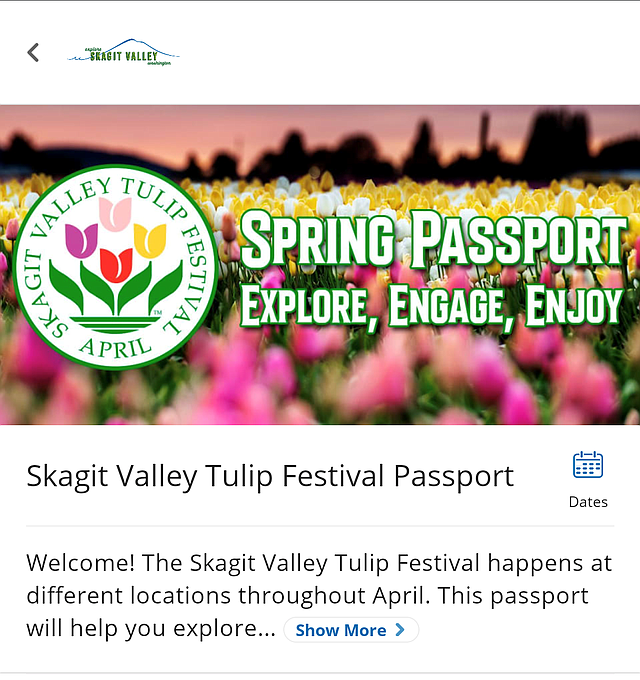 "The 'tulip bump' is very real for our businesses, especially for those along the route to the field," said Aaron Weinberg of the Economic Development Alliance of Skagit County. "Many report a good uptick in business during April as a result of the tulip traffic."
Yet quantifying the 2023 season's expected attendance is a bit uncertain. While Verge calls this the first close-to-normal year since 2019, she won't hazard a guess. 
In pre-pandemic 2019, an estimated 385,000 people visited. Last year, Verge said it was 250,000, "down in part because of continuing COVID-related concerns, but also because of weather." 
Weather is a variable that predates the coronavirus and one that can have a large impact on when there are blooms and the conditions for viewing them. ("Bloom dates according to Mother Nature," the festival brochure cover helpfully reminds the hopeful.)
Buganski has seen kinder weather so far this year and finds that a positive indicator. "Based on the interest in the event and what we have done marketing-wise, I'm optimistic we get back close to those pre-pandemic levels in terms of visitation," he said.
Verge simply hoped that "we've got people from around the world again. Because," she said, "in a normal year, we're welcoming folks from all over the world and all across our country."
Places & Things
Chuckanut Bay Distillery is expanding upward. The business at 1311 Cornwall Ave. in downtown Bellingham is adding a rooftop bar, now under construction, and a large event space just below it, according to the distillery. 
"The rooftop bar will be opening this summer and will feature exceptional views of the waterfront and surrounding cityscape, as well as delicious craft cocktails and food," said Chuckanut Bay's Ethan Lynette, adding that the event space will open "later in the year." Chuckanut Bay also operates the Penny Farthing Bar & Restaurant in the same building.
(For the latest Places & Things, check here throughout the week.)
Frank Catalano's column appears Wednesdays. Email: frankcatalano@cascadiadaily.com; Twitter @FrankCatalano.