Baseball
Soto's 5 hits carries Padres past Mariners 10-3
Seattle, San Diego split the 2-game series
June 7, 2023 at 6:07 p.m.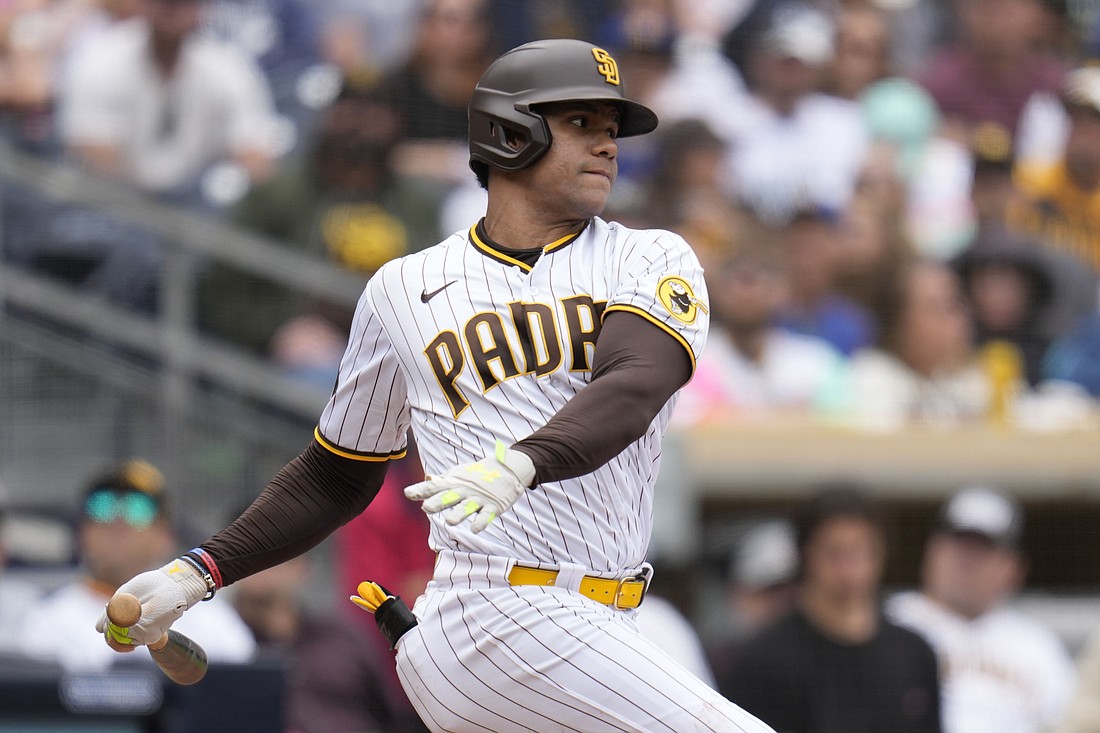 ---
By Jay Paris, Associated Press
---
SAN DIEGO (AP) — Juan Soto had a career-high five hits with four RBIs, Gary Sánchez hit his fourth home in nine games since joining the Padres and San Diego routed the Seattle Mariners 10-3 on Wednesday.
"It was amazing and I couldn't believe it," Soto said. "But the most important thing is to get the win. I'm just grinding and I keep going hard.″
Soto had four singles and a double, raising his average to .265 with 10 homers and 31 RBIs as the Padres tied their season high with 17 hits.
Soto had an RBI single in the fourth, a two-run single in the three-run fifth and an RBI double that boosted the lead to 10-0 in the seventh. Every San Diego starter except Trent Grisham had a hit on a day in which the Padres matched their highest run total at home this season.
Matt Carpenter put San Diego ahead with a run-scoring single in the second, giving him 26 RBIs, and Sánchez hit a three-run homer in the third off George Kirby (5-5).
Claimed off waivers from the New York Mets on May 29, Sánchez is batting .286 with 10 RBIs. He has four homers in an eight-game span for the first time since 2021 and is the first San Diego player to achieve the feat since Jake Cronenworth, also in 2021.
"Everyone knows how much power has and what he brings to the team,″ Soto said of Sánchez.
Sánchez started his season in the San Francisco organization, then went on to the Mets and Padres.
"It's really the way I have been treated here,″ Sánchez said through a translator. "My teammates, the coaches. ... I feel like I've been playing for a long time here.″
Sánchez, a two-time All-Star, admitted his season has been challenging.
"It's been a little tough to be honest,″ he said. "I'm grateful for the opportunity here to be able to play."
Michael Wacha (6-2) allowed two hits in six scoreless innings, striking out seven and walking one as his ERA dropped to 3.18.
"It's a lot nicer pitching with those leads and to be able to stay on the attack as a pitcher,″ Wacha said. "I just feel like I have a really good feel for all my pitches right now, going to both sides of the plate with pretty much everything to keep them off balance."
San Diego gained a two-game split by going 6 for 14 with runners in scoring position, a day after going 0 for 8.
Kirby (5-5) gave up five runs and 11 hits in a season-low 3 2/3 innings.
Trainer's room
Padres: DH Nelson Cruz (hamstring) was scheduled to begin a rehab assignment with Triple-A El Paso on Wednesday night.
Up next
Mariners RHP Luis Castillo (4-3, 2.55) is to start the opener of a three-game series against the Los Angeles Angels on Friday.
Padres: RHP Yu Darvish (4-4, 4.10) is to start Friday at Colorado Rockies.