Restaurants
Review: The Admiralty Lounge
Nautical comfort food features thoughtful decisions at every turn
July 15, 2023 at 5:00 a.m.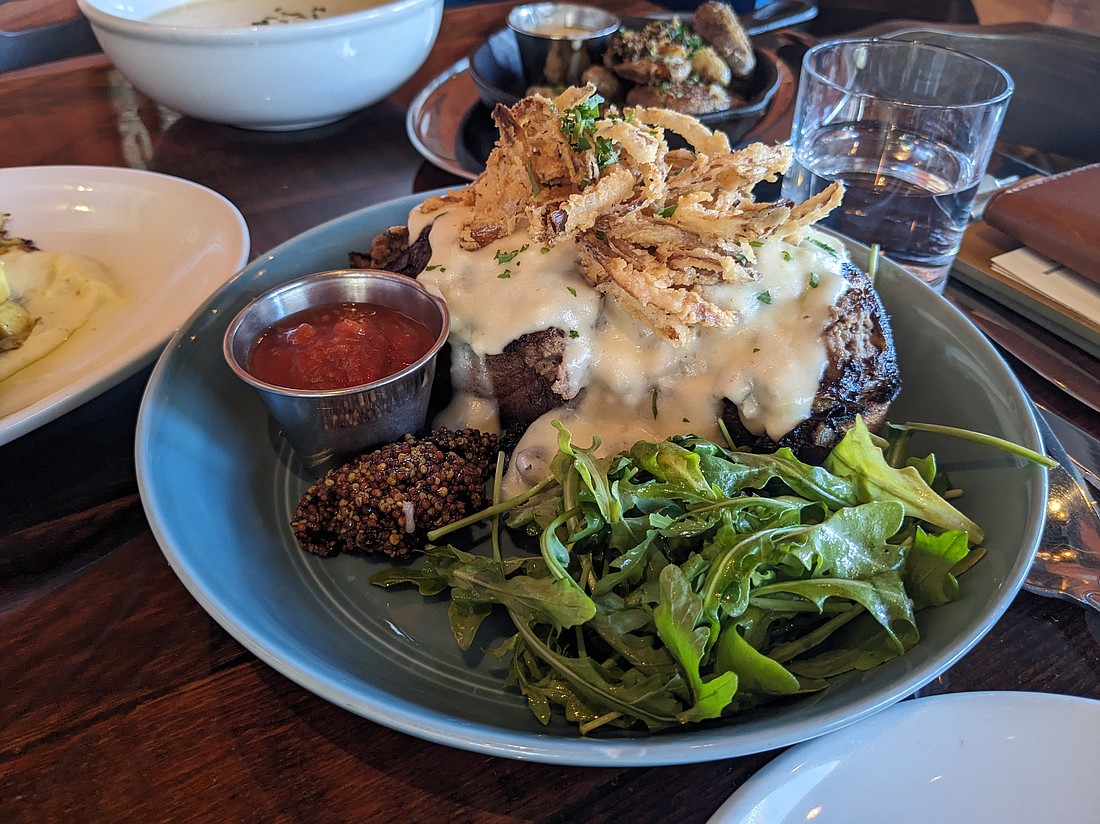 ---
---
Webster's Dictionary defines pork as "the fresh or salted flesh of swine when dressed for food." The meat is a prominent feature on the menu at The Admiralty Lounge, at 100 N. Commercial St. — immediately next door to the illustrious Mount Baker Theatre.
The theme of "nautical comfort food" provides a menu that, while pork-heavy, retains fabulous diversity. Hoist the mainsail and come along with me on this culinary journey.
The latest in a line of (generally) very good restaurants to inhabit this space, The Admiralty Lounge brings a nautical flair that is tasteful and classy, never slipping into kitschy. Seated across from my favorite section of any bar — whiskey — at a sunny table, we put in for cocktails to start. The Irish Hurricane, a whiskey-bearing play on a hurricane (typically rum, lemon juice and passionfruit), kept the theme together in a crisp, citrusy refreshment with a naval bent.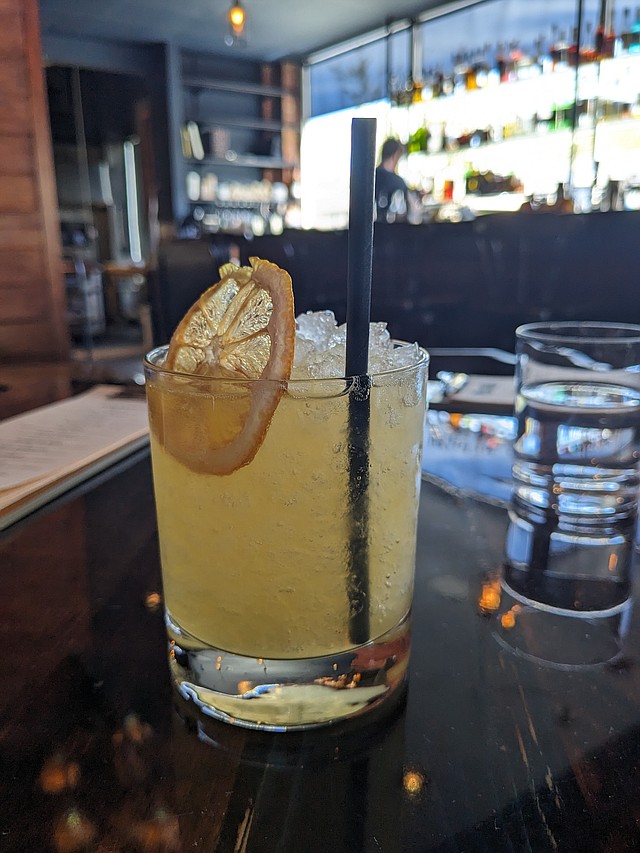 Appetizers started off incredibly strong, with smashed garlic potatoes ($12) and confit pork fritters ($13). The potatoes were exactly as expected — crispy, garlicky fingerling potatoes, served with a beer cheese dip. The pork fritters were spectacular. Confited pork, shredded and bound into a golfball-sized sphere before being deep fried? No way these weren't going to be excellent. They went fast from the table, and are a definite item to try.
A menu heavy in soups and salads wouldn't usually interest me, but the roots and livestock ($14) — a chilled potato and leek soup — sounded quite nice in the humidity and heat. Heavy on the leek and cream, it was loaded with allium flavor with the fatty cream keeping the allium bite down. Soup isn't my preferred option (it gets in my mustache), but this was a very good one. With several other soups and stews on the menu, the liquid dieters among you will have no trouble getting your drink on.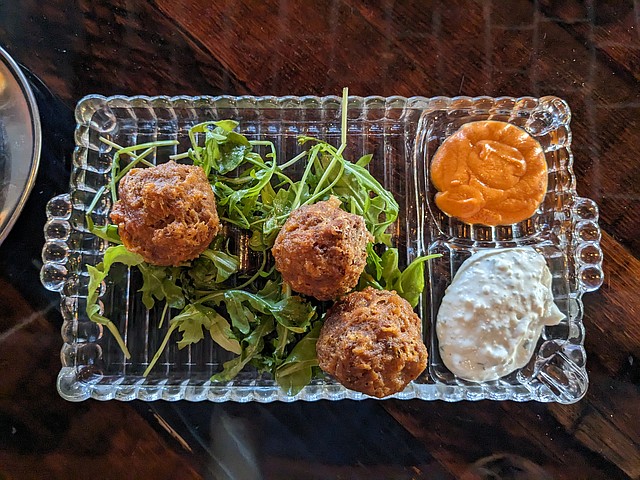 Waiting for our entrees (a very short wait, compliments of the talented kitchen staff) bought me time to take a closer look at the restaurant. The nautical theme is done tastefully, without feeling like it's forced or a novelty. The bar has many superb whiskeys, including some that are considered connoisseur tier. With proximity to the theater, the Admiralty keeps its doors open late enough that I'm certain the seats will fill up with vibrant post-show crowds. It's a good move, and a deficiency I pointed out in my review of wine bar Nomad: appealing to the late-night dining crowd is a valuable market.
Coming out side by side, the tavern steak ($21) and imperial swine ($28) were both visually impressive — the tavern steak with a tower of fried shallots atop the "steak," and the imperial swine with its incredibly vibrant parsnip puree and blueberry gastrique. As far as portions go? True to real life, they're sized for a sailor's appetite. 
The imperial swine was an elevated dish with fresh vegetables alongside pickled rhubarb and cabbage. The blueberry gastrique was superb — tart but not so tart that you would find yourself puckering. The porchetta was cooked beautifully but with just a touch too much fat. I had a few bites of unpleasant texture, but overall, it was quite good.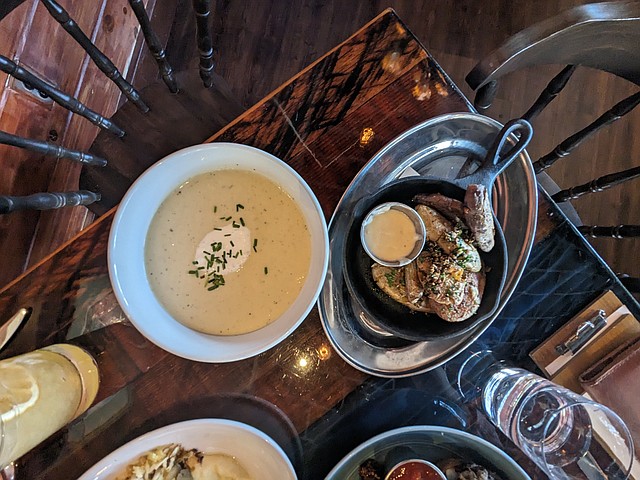 The tavern steak was a standout. Occasionally referred to as a "chopped steak," this dish is, at its core, ground lamb and beef on a piece of bread. But what a gross oversimplification that is. An onion-heavy mixture of lamb and beef is lovingly formed into a robust and very generous patty. Placed atop a hefty slice of onion bread, this is topped with a helping of beer cheese and a heaping handful of freshly fried crispy shallots. If the porchetta is a dish served to the captain, this is what you would serve to a gunnery crew after a battle at sea — or to soak up a hangover during a port call. 
Despite being made of ground meats, the steak itself holds together well, being a coarser grind than what you would expect in something like a hamburger. The crispy shallots provide an excellent crunch to what would otherwise be a fairly toothsome dish. Best of all, I can confirm leftovers from this dish can be disassembled and reheated to a close approximation of how good it was in the restaurant. I wouldn't be bothered by not getting the porchetta again, but this tavern steak is a new favorite.
While this location may have had some business missteps in the past, The Admiralty Lounge feels like it's going to have some serious staying power. The hours accommodate the evening-heavy lifestyle of the average Bellingham resident, and even on a Wednesday, while dining for this review, within 30 minutes of opening the place was abuzz with several large parties and a lone diner at the bar. 
Even just coming in for cocktails and a few appetizers to share with a group would be a lot of fun. The drinks lean toward the tropical without losing any sophistication, and without stepping on the toes of the nearby Red Rum on Magnolia Street. The price range puts it on parity with a lot of other Bellingham restaurants, but the Admiralty provides a menu like none other, with thoughtful decisions abounding at every turn.
The Admiralty Lounge is open from 4–10 p.m. Tuesday, Wednesday and Sunday, and 4 p.m. to midnight Thursday through Saturday at 100 N. Commercial St. Info: theadmiraltylounge.com.