Restaurants
Review: Nomad Charcuterie and Wine
Mixing and matching, with varying results
October 23, 2022 at 5:00 a.m.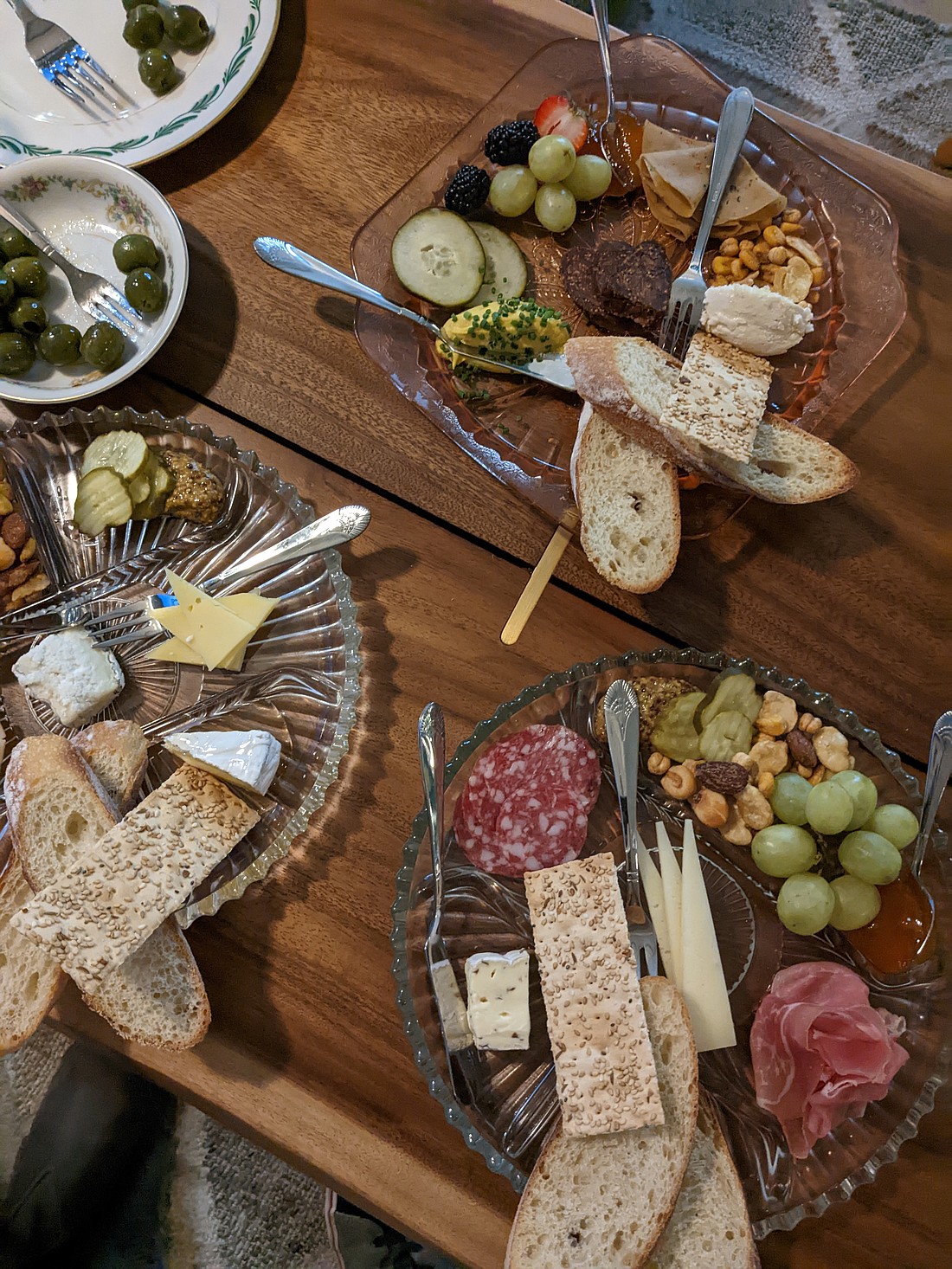 ---
---
Taking the coveted first floor of the Flatiron Building on Prospect Street, Nomad Charcuterie and Wine is a relative newcomer that seemingly has taken Bellingham by storm. Upon entering, you're greeted by a gorgeous interior — immaculate tile, beautiful forest-green paint and absolutely faultless furnishings. They really did a great job of capturing the essence of this quirky building in downtown Bellingham.
With a large party taking up a significant portion of the indoor seating, we were offered a couch-and-chairs combo in the center of the space. Being handed menus was alarming. To say I'm not a wine guy is a massive understatement. I know very little about wine. I'm easily intimidated by wine lists. I came of age drinking Carlo Rossi and Barefoot, so to see nearly six pages solid of wine in a dozen different varieties and categories short-circuited my brain. 
I was happy to see Nomad has done a good job at whittling the selection down to the realm of affordability. I saw bottles ranging from $28 to an upper limit of $75. In my experience, a lot of restaurants with heady wine lists throw a few very high-dollar wines on just for pure shock value.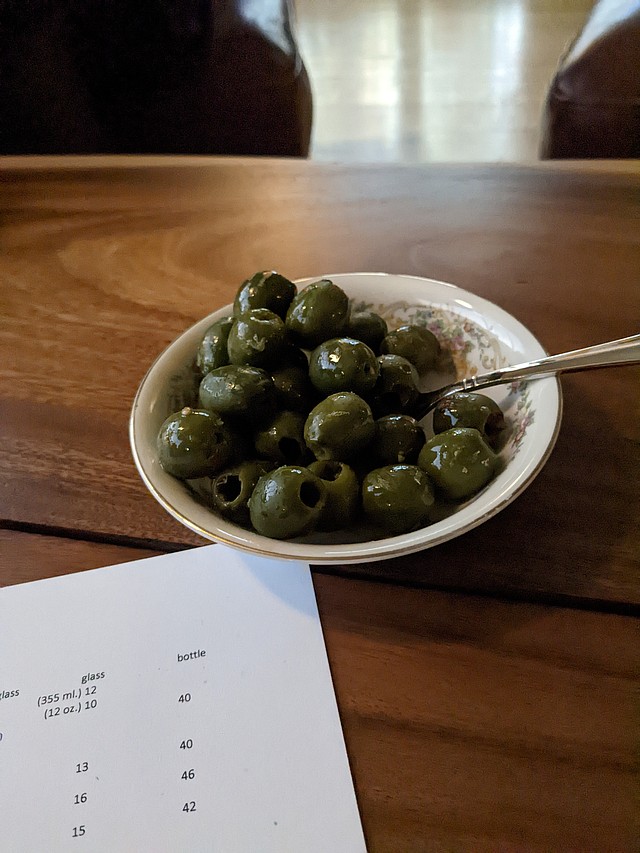 We ordered half-pours of a couple of nice European wines and moved on to the robust food menu. With "charcuterie" in the eatery's name, I wasn't surprised to see cheese-and-wine classics — cured meats, olives, nuts and caviar. The actual charcuterie boards were split into three categories. One can choose from vegan, cheese or cheese + meat (all are $19 for one serving, 2 for $29, 4 for $55, and 6 for $80). We ordered one of each and added on tartare ($17) and a smoked salmon tartine ($16).
My glass of La Valle Del Sole was delicious, not too leggy, and I thought the red wine made a good companion for the small bowl of warmed Castelvetrano olives we ordered last-minute ($5). My dining partner was equally pleased with her Domaine du Salvard, a white wine from France.
Our three plates of charcuterie arrived soon after. First, the similarities. Two beautiful slices of bread, a robust sesame cracker, and an assortment of nuts, fruit and pickles. The meat plate contained prosciutto and salami, alongside a manchego and a brie. The cheese plate was, as expected, heavy with cheeses including Humboldt Fog — a personal favorite. Happily, the vegan option not only serves up vegan cheeses but very tasty vegan approximations of salami as well. 
Universally, everything on each of the three charcuterie selections was delicious. The different cheeses on each made for a fun game of passing plates around to mix-and-match. The serving sizes were robust enough that I was taken by surprise. Going between meals, I don't think you'd leave hungry if you ordered a serving of charcuterie and a couple of glasses of wine and left it at that.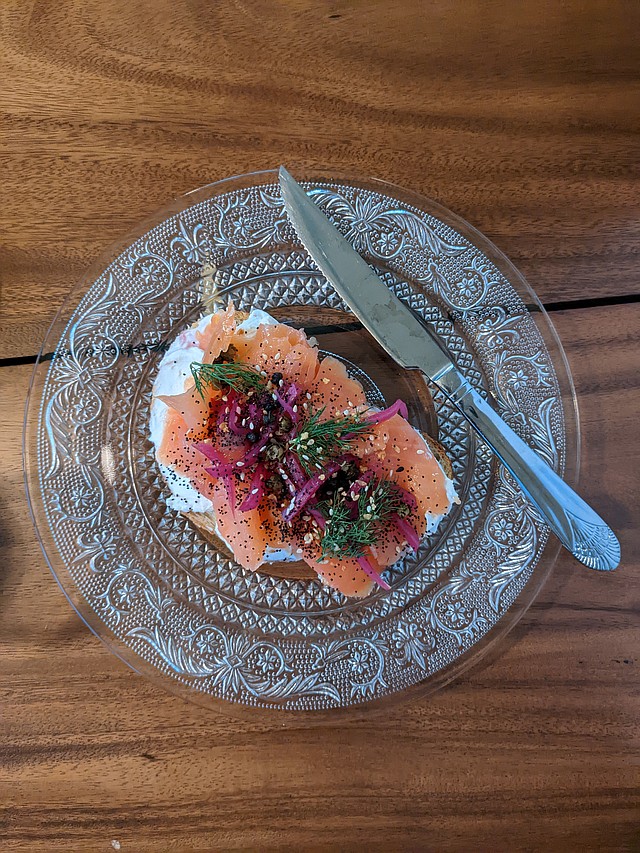 I, of course, did not leave it at that. My smoked salmon tartine was an absolute highlight. Blending sweet pickled onion with savory crispy capers and smoked salmon, this was without a doubt the best menu item I tried. It's sized large enough that I would consider it a meal on its own. The tartare, however, didn't blow me away. While the meat was of obvious quality, something about the feel on the tongue was off, and after mixing in the pickled mustard seeds, any flavor of ribeye was overwhelmed with that of mustard. 
And, finally, alongside a beautiful glass of Ximinez Spinola brandy, we ordered the chocolate cake with vanilla buttercream. This was, unexpectedly, a letdown. The cake itself was ... fine. There was little of the bitterness I expect in artisan chocolate, but also very little sweetness. The buttercream had an artificial quality to it. Taking it between my fingers was reminiscent of Play-Doh. It was served out of the fridge, so perhaps the temperature played a factor. It might have been the last slice, or perhaps just an off day.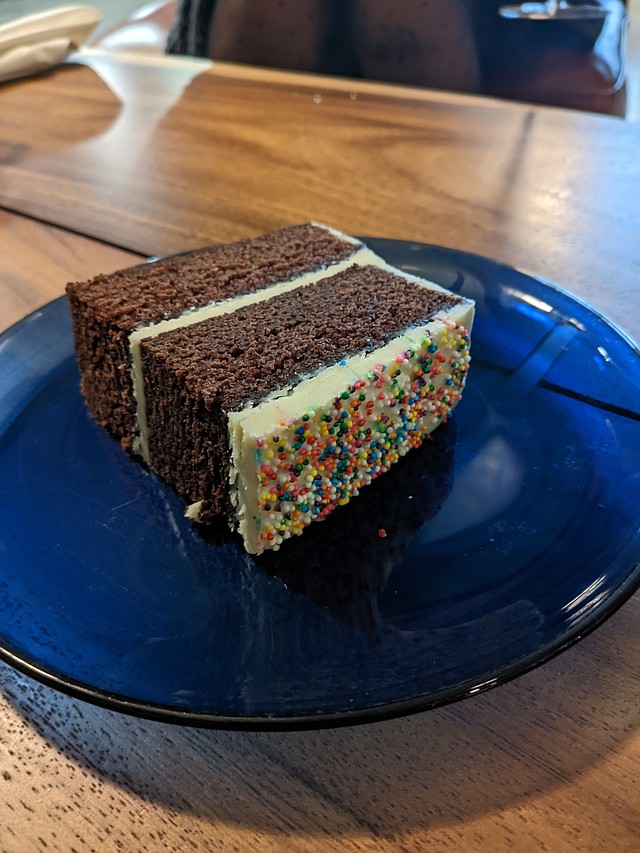 I confess I came away a touch confused by the whole dining experience. Their minimal hours of 4–9 p.m. prohibit Nomad from being a lunch spot, a position I think they'd excel in. But it's not open quite late enough to serve people coming out of the evening showings at the Pickford Film Center. While the wine pricing is excellent, the accompanying charcuterie isn't tiered in any meaningful way. 
I felt like I was presented with a huge number of choices, but also very few. The size of the menu outside of the narrow sliver of charcuterie makes me wonder if they're hoping to rebrand. It might do them good to rethink their focus — just as long as they leave that smoked salmon tartine on the menu.
Visit Nomad Charcuterie and Wine from 4–9 p.m Tuesdays through Saturdays at 10 Prospect St. Info: 360-922-8804 or info@nomadbellingham.com.