Basketball
Lynden throttles Blaine in battle of top NWC teams
Parcher, Canales combine for 53, Lions beat Borderites 75-47
January 12, 2023 at 10:22 p.m.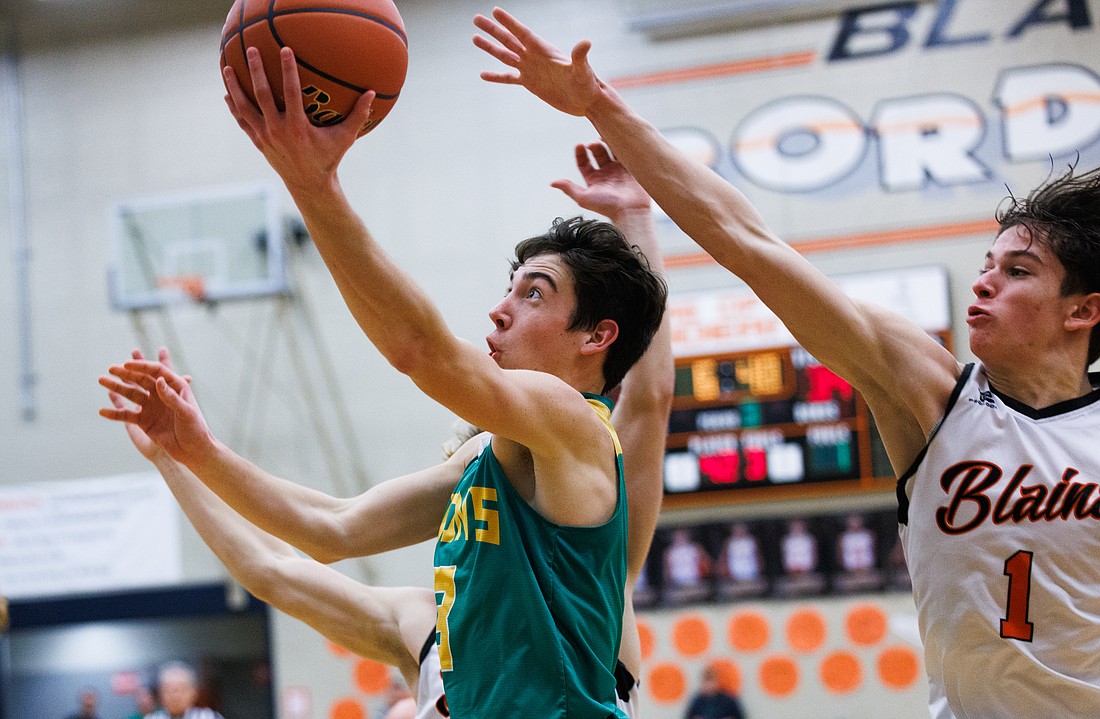 ---
---
BLAINE – There aren't many duos in Washington state like Coston "Bubba" Parcher and Anthony Canales.
The pair combined for 53 points as Lynden vanquished a rising Blaine team 75-47 on Thursday night to stay undefeated in the Northwest Conference. 
Parcher scored a career-high 31 points on seven 3-pointers while Canales added 22. 
"[Parcher and Canales] combined for over 50, and that's not going to happen every night," said Lynden coach Brian Roper. "However, I will say this: Nobody spends more time in the gym than those two guys."
Both teams entered the game with identical records of 10-1 overall and 7-0 in NWC contests. The Borderites will be looking to bounce back with a vengeance.
"Blaine's a much better team [than that]. I think they'll have a real good chance to get to state," Roper said. "Tonight just wasn't their night."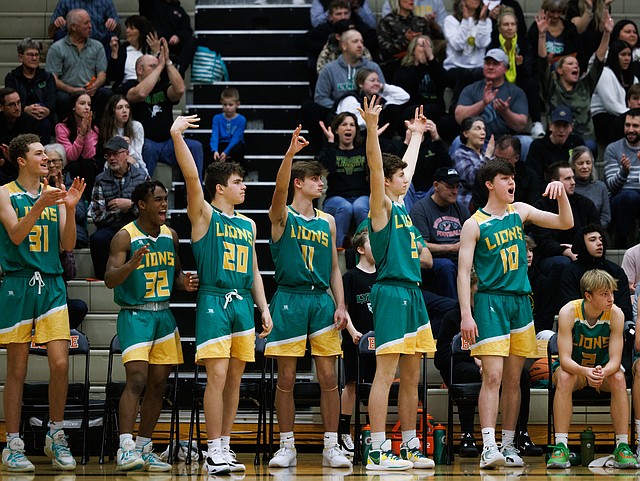 Blaine coach Nate Sullivan said rebounding, or lack thereof, was the biggest issue for his group, in addition to their inefficient shooting around the rim.
Lynden's defense stymied the Borderites' momentum, keeping them off balance with a consistently zealous effort. 
"I know that their key to the game was to take away the 3-pointer, which they did," Sullivan said. "We had driving lanes; we didn't finish a lot of those. It's just tough to get into a flow."
Lynden stormed out to a 13-5 lead following an opening sequence that included three lead changes in the game's first three minutes.
Parcher scored 11 of Lynden's first 13 points, including three deep 3-pointers that fueled the early-game run. 
"That first quarter, it set the tone for the rest of the game," Sullivan said. "You can't give a team like Lynden two, three shots at the hoop."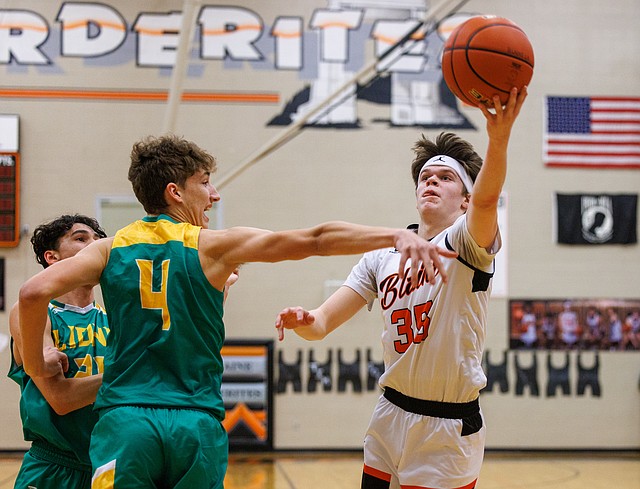 Parcher's next highlight came with 5:56 remaining in the second quarter. The 6-foot-1 guard rose up for a fadeaway 3-pointer as the shot clock neared expiration — with a Borderite hand virtually in his eye — and sank his fourth shot from well beyond the arc.
The make put Lynden up 21-9, its first double-digit lead.
Lynden closed out the first half by outscoring Blaine 17-4 in the second quarter. Parcher ended the first half with 21 points and five 3-pointers, helping the Lions to a healthy 32-13 lead.
"Honestly, I don't really know what I was feeling. It just kept going in," Parcher said of his explosive performance. "My teammates just kept finding me, and [there were] a couple shots late in the shot clock I kind of just threw up there that found the bottom of the net."
The Lions picked up in the third quarter right where they left off, scoring 10 of the period's first 11 points and 28 total in the frame. 
Canales kicked it into high gear in the third, scoring 15 of his 22 total points.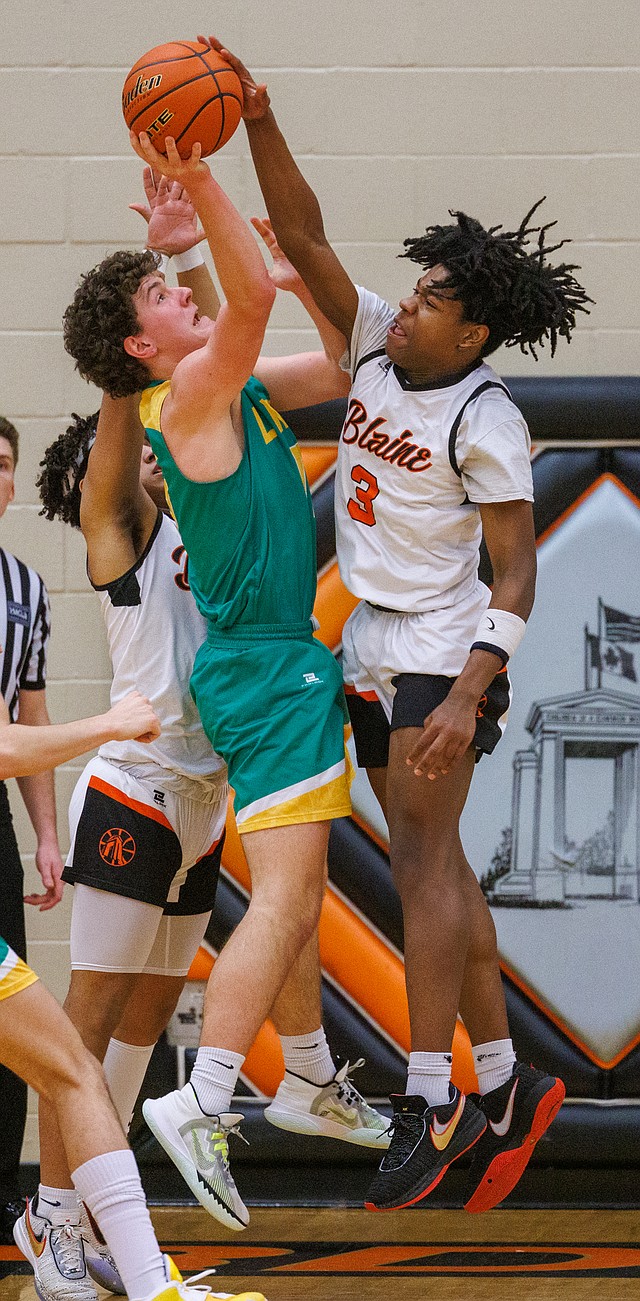 "They started focusing on [Parcher], so I just had the opportunity to pick the team up," Canales said. "I just thought that if I can bring energy, the whole team will build from that."
Lynden deployed its bench leading 65-33 with 5:11 remaining in the game.
Lions senior forward Kobe Baar was the next leading scorer for Lynden with six points after Canales and Parcher.
Blaine was led by 14 points from junior forward Noah Tavis. Senior forward Matt Russ added nine and senior Lawrence Creasey Pulphus tallied seven.
Lynden moved to 11-1 overall on the season and 8-0 in the NWC. The Lions will travel to North Kitsap (9-4, 7-0 Olympic League) on Monday, Jan. 16 at 2 p.m.
Blaine fell to 10-2 overall and 7-1 in NWC games. The Borderites will head to Mount Baker (2-8, 0-7 NWC) on Jan. 16 at 7:15 p.m.
Score by quarter
| | | | | | |
| --- | --- | --- | --- | --- | --- |
| Team | 1st | 2nd | 3rd | 4th | Total |
| Lynden | 15 | 17 | 25 | 18 | 75 |
| Blaine | 9 | 4 | 14 | 20 | 47 |