Volleyball
Ferndale volleyball pushes past Nooksack Valley
Golden Eagles win 3-1, hand Pioneers first loss of season
September 19, 2022 at 11:12 p.m.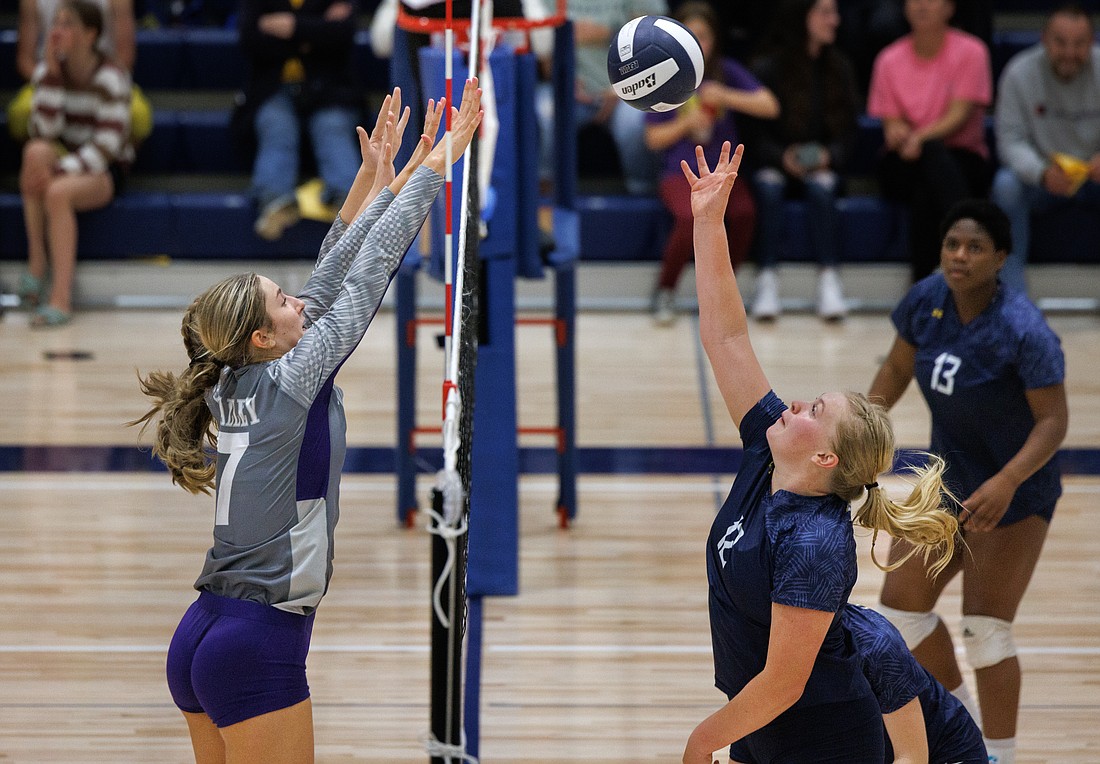 ---
---
FERNDALE — The Ferndale Golden Eagles bested the formerly undefeated Nooksack Valley Pioneers in four sets (29-27, 25-10, 25-27, 25-18) on Monday night in a match that was much closer than the 3-1 final showed.
"They were a super-tall team. We had to be mindful of where they were at and just be aggressive," Ferndale head coach Patti Hoelzle said of Nooksack Valley. "When the scores were tight, we just stayed composed."
NV had not given up a set coming into the game. Pioneers' head coach Katie Emmons said despite their previous success, this was a game her team can build on.
"I think it was a good learning experience to play a really competitive team," Emmons said. "It showed us what we do need to work on."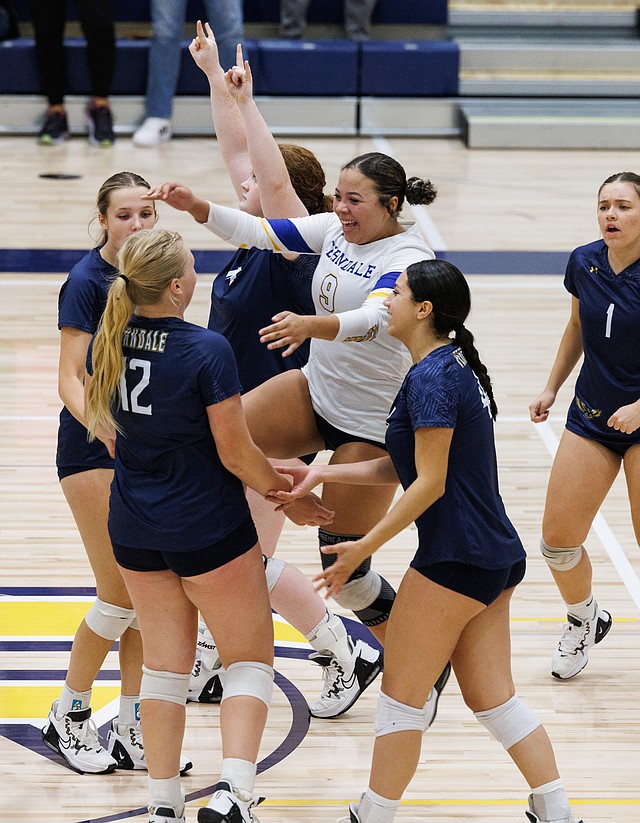 Each team had its chance in the first set. NV quickly took a 5-2 lead, then Ferndale responded to the tune of a 14-2 run, putting the Pioneers on their heels defensively.
The Golden Eagles were consistently blocking balls at the net, sending them back towards NV and scrambling the Pioneers' defense. Ferndale senior middle blocker Madisyn Butenschoen was as consistent as they come for Ferndale.
NV quickly climbed back into the competition with an 11-4 run of its own, retaking the lead 26-25 late, but after five game points, Ferndale closed it out on an ace by junior middle blocker Tia Gilday.
"I appreciated that they didn't just roll over," Emmons said of the close sets they lost. "They're always going to be a team that shows a lot of fight. They're not going to let a set die on them."
It was all Ferndale in the second, as the Golden Eagles' efficient offense continued to make NV scramble and get out of sync. Ferndale senior setter Brooklyn Cagle was in command of the offense, putting the ball precisely where it needed to be for her teammates.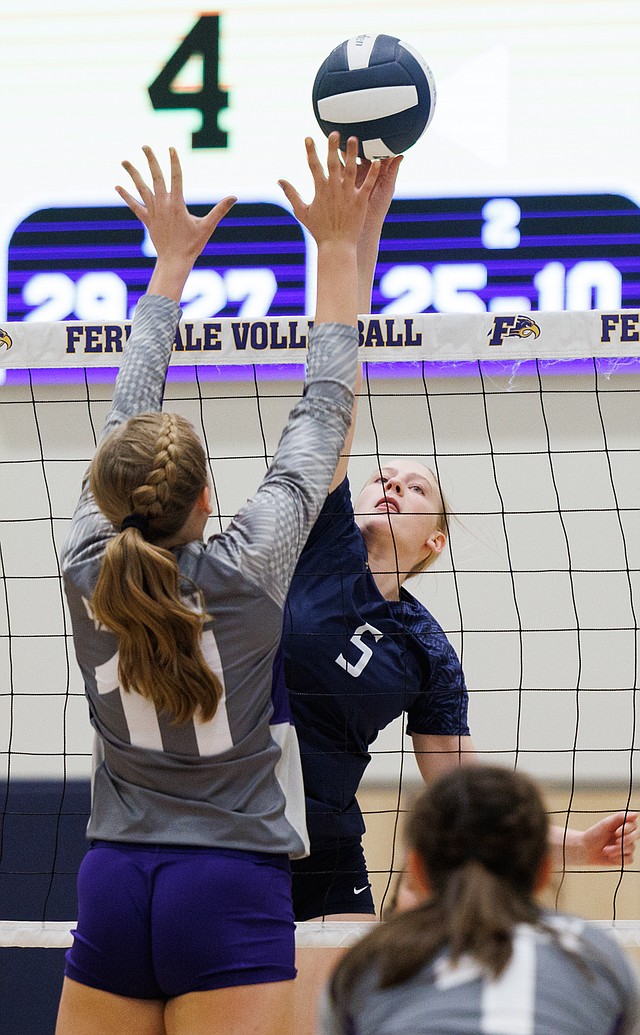 The Golden Eagles cruised to a 25-10 set win.
NV got its juice back in the third set, racing out to a 10-5 lead and forcing Ferndale's first timeout of the match. Both teams proceeded to trade points until Ferndale narrowed the gap to two, trailing 21-19, and forcing the Pioneers to burn a timeout.
Ferndale captured its first lead of the set at 23-22 following an ace from senior libero Aysia Mitchell. Points were traded once again, with another three game points in the frame. The Pioneers smacked a perfect serve to center court while leading 26-25, to win the set.
After failing to close the match out, the Golden Eagles got together to reset one another.
"As a team, we all knew [both teams] wanted it," Gilday said. "We talked — we just wanted it more."
As was the story all night, NV got off to a hot start to begin the fourth. The Pioneers' 5-2 lead, however, quickly evaporated and favor swung over to Ferndale as the Golden Eagles took their first lead of the frame at 8-7, and continued to push that advantage further up.
NV narrowed it to 21-18 after consecutive points before Ferndale scored one more, followed by Butenschoen hammering in three straight kills to finish the match.
Ferndale senior outside hitter Morgan Hayes finished with a game-high 20 kills, 12 digs and three aces. Butenschoen totaled 18 kills, three digs and two blocks, as Gilday tallied 10 kills, three blocks, two digs and two aces. Cagle posted an eye-popping 53 assists, 14 digs and two aces, while Mitchell chipped in 21 digs and four aces.
"We've been struggling a bit on offense, and we have some hitters with great hitting percentages," Hoelzle said. "Our defense is awesome, our passing is awesome, but making sure we convert it into those finished kills was really what clicked for us tonight."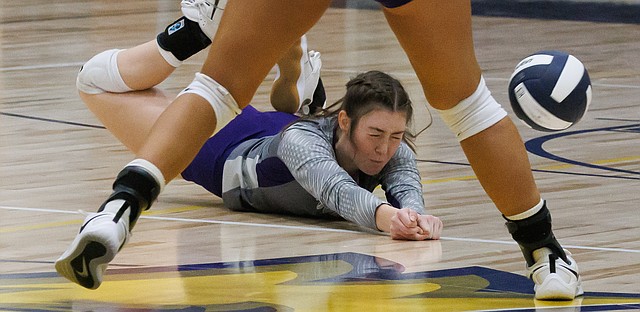 For the Pioneers, junior outside hitter Lainey Kimball posted 15 kills, 17 digs, two blocks and two aces. Senior outside hitter Hallie Kamphouse finished with seven kills, 25 digs, and two aces. Junior setter Devin Coppinger tallied four kills, 18 assists, 13 digs and two aces.
Ferndale advanced to 3-1 overall on the season (3-0, Northwest Conference) and will travel to Sedro-Woolley on Wednesday, Sept. 21, for another league game at 7 p.m.
NV dropped to 3-1 overall (3-1 NWC) and will host La Conner on Tuesday, Sept. 20, at 7 p.m.