Day Trips
Grinning and bear-ing it in Manning Park
PCT boot traffic flows again into British Columbia
September 15, 2022 at 5:00 a.m.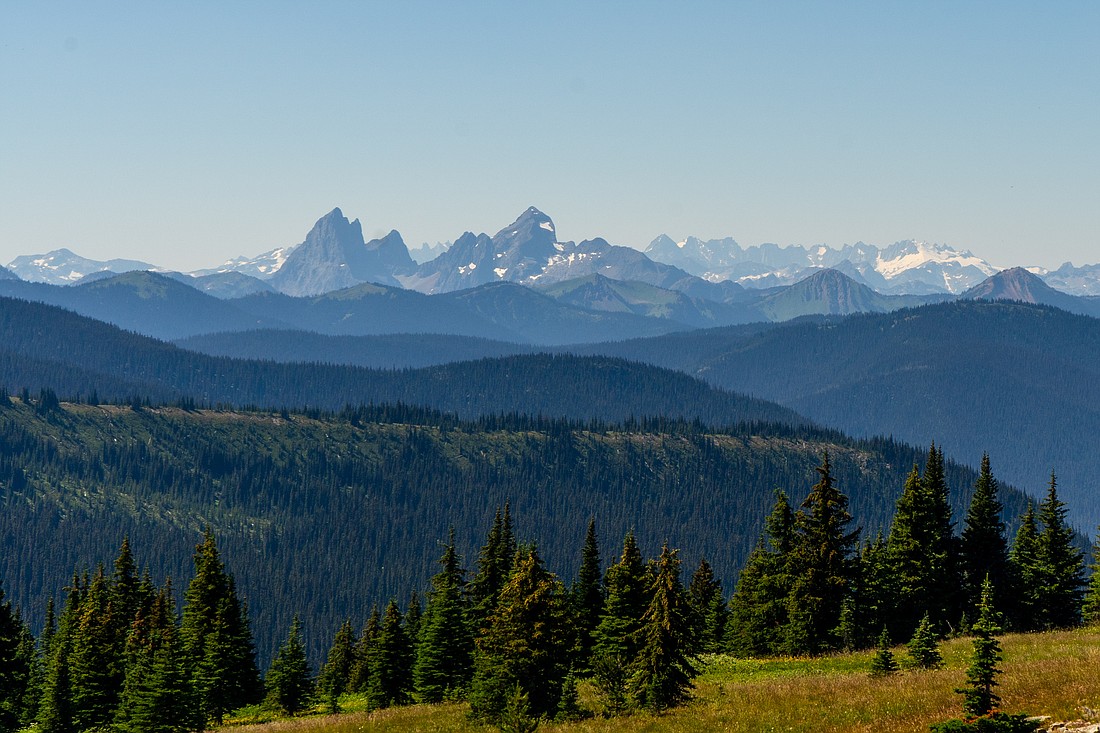 ---
---
MANNING PARK, British Columbia — A juvenile bear rummaged through the brush and brambles at the last vestige of the Pacific Crest Trail (PCT) as I gleefully bounded past without noticing the yearling foraging for tasty summer grasses along the Similkameen River. 
Then I looked to my right and found a brown-colored bear staring at me. From 15 feet away.
I backed up slowly while talking loudly, which elicited exactly no reaction from the beast with an insatiable appetite. At least it exhibited no aggressive tendencies. Good for me, but probably dangerous for a sub-adult black bear that already seemed so used to people that it enjoyed its abundant snack food without a care in the world. It did pop its head up when an oblivious trail runner cruised past.
The bear encounter was a highlight while traipsing along a sliver of the PCT, a venerable 2,650-mile trek from Mexico to Canada. The Pacific Crest Trail Association, a California-based nonprofit, established the official finish line at Monument 78, 8 miles south of where the bear and I met. But the trail actually slips into Canada, where park officials have erected signposts heralding the PCT's northern terminus (or start for southbound hikers).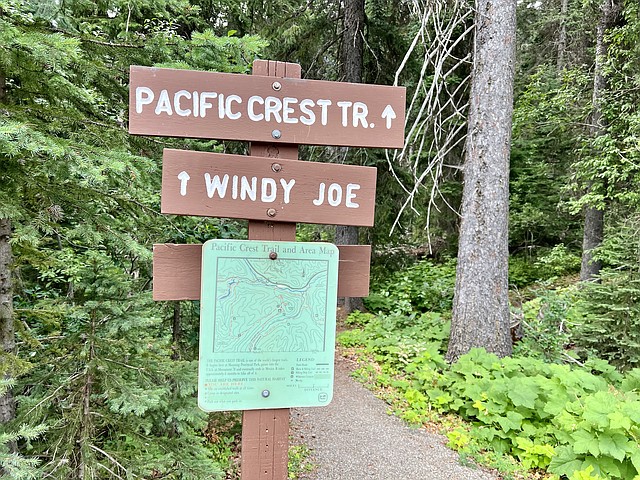 "They have to come out, so the hike continues," said Vern Schram, Manning Park Resort's general manager.
That had been the routine before 2020 when the COVID-19 pandemic led to the closure of the U.S.-Canadian border. Now northbound hikers must retrace their footsteps at Monument 78 and trek 30 rough miles back to Hart's Pass toward Mazama.
Monument 78, a wooden pillar stationed at the international boundary, is not much of an attraction when driving to the heart of the Canadian Cascades. But it intrigued me because of the majesty of the PCT that starts in the lonesome California desert. Eventually, willful through-hikers tread across Section L, a challenging 70-mile stretch from Rainy Pass to Manning.
Patsy Yuade of Bellingham noted the ebullient finishers at the border when recently accompanying a friend to Monument 78 from Hart's Pass.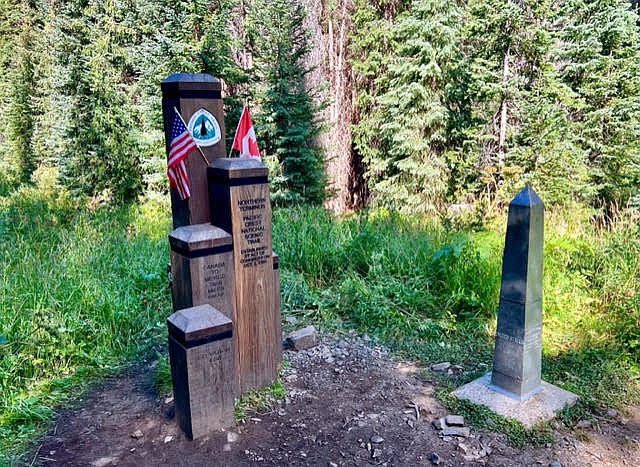 "They couldn't take the smiles off their faces, they were so happy," she said.
I set off from Gibson Pass Road near the Manning Lodge last month with no intention of reaching the border because of strained groin muscles. It's a 16 1/2-mile round trip hike that alltrails.com says has 5,049 feet of elevation gain. 
The forested single-track trail showed no signs of such a huge climb ahead within 3 miles of the border. I worried about a massive staircase ascent up the trail based on the information I had, so I turned back. It turns out the hike is closer to 2,200 feet of gain on a well-maintained trail now that some 500 fallen trees have been removed. 
With better intel and more time I'd have reached the border without problems. Next time.
Nothing fuels my imagination like seeing a rectangular PCT trail marker with the conifer and snow-capped mountain logo. I've made short forays along the trail for decades — through the San Bernardino Mountains in Southern California; across parts of the barren Eastern Sierra peaks; along the paths north and south of Lake Tahoe and through Rainer and the Central Cascades.
Now I live in a city that has a special connection to the PCT — although Bellingham is far from the northern route that cradles the border of Whatcom and Okanogan counties.
According to the trail association, Catherine Montgomery, a founding faculty member of the school that would become Western Washington University, helped shape the vision of the West's version of the Appalachian Trail. Montgomery had been a Bellingham outdoorswoman who climbed in the North Cascades a century ago.
Much later came one-time 'Hamster Heather Jo Anderson, who set speed records on the Pacific Crest Trail.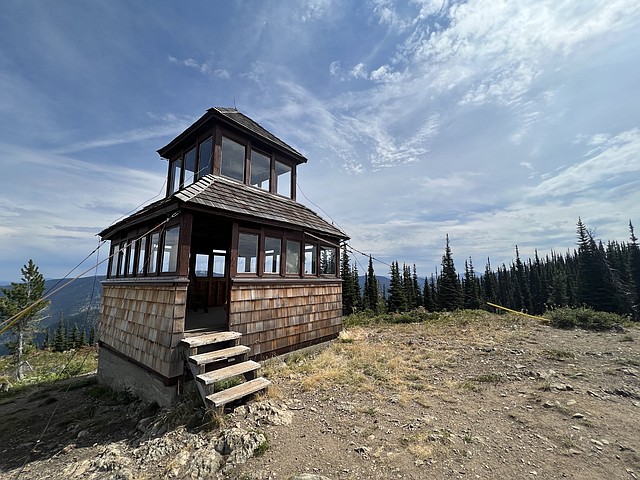 Although I had inched close to Monument 78, I retraced my footsteps to take a spur to climb to the summit of 5,987-foot Windy Joe Mountain for a nice vista of two countries. Canadians built a sturdy two-story fire lookout on the peak named after trapper Joe Hilton. 
A spectacular day in solitude unfolded as I encountered just one couple from Ottawa over 11-plus miles. 
The experience is part of the charm of Manning, which is about two hours from Bellingham, or 115 miles, along Canada's Crowsnest Highway 3. Time estimates vary depending on the border crossing at Sumas/Abbotsford, British Columbia. 
Manning is part of a vast network of mountainous terrain managed by government agencies in Canada and the United States. It's a continuation of North Cascades National Park, Ross Lake Recreation Area and the Pasayten Wilderness in the U.S. 
The park offers recreation for all seasons with downhill and Nordic skiing in winter. But friends from San Francisco and I came for the mountains, completing four premier hikes in three days.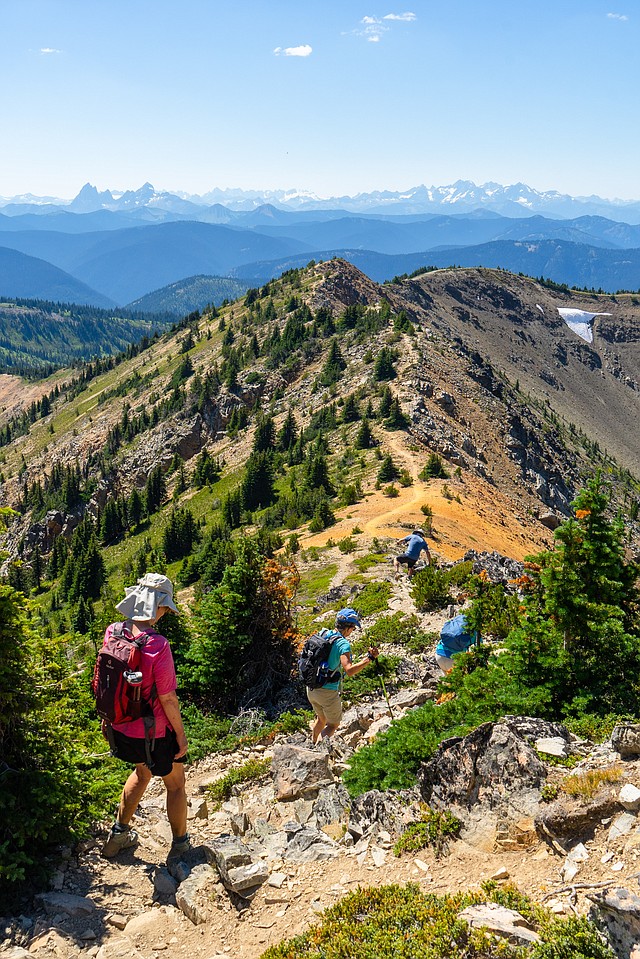 The original plan was to tackle the park's highest peak, 7,959-foot Frosty Mountain. I wanted to climb below the sheer face to see the ancient larch forest, estimated to be 2,000 years old. But the loop is almost 17 miles with about 5,400 feet of elevation gain. 
I couldn't imagine lugging a backpack up the wicked trail with sore upper leg muscles. 
Anne and John are serious outdoors folk who do canyoneering and technical climbs. That's why Frosty's cragged peaks appealed to them. But John was glad to call an audible because of the mid-August heat.
Instead, we got a nice sampling of what Manning has to offer, starting with the Heather Trail. The 13-mile track gains 2,775 feet through a series of subalpine meadows to the crumbly peaks of the Brothers.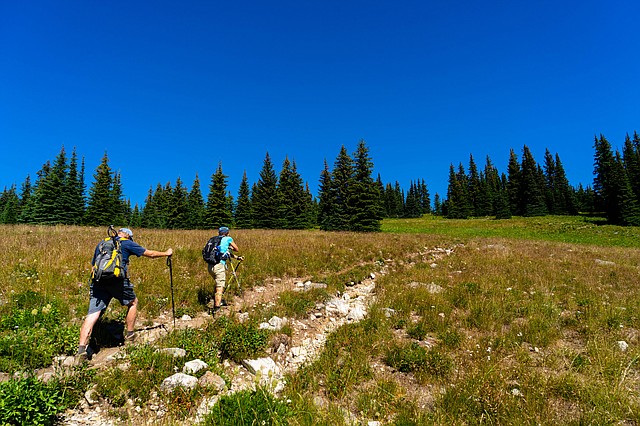 The Californians did another 13-miler the next day on the Skyline route. They were not interested in going to Monument 78 because it doesn't offer skyscraper views except for the Windy Joe summit.
We hiked 8 miles together around a chain of lakes starting in the Lightning Lake area on the morning we departed.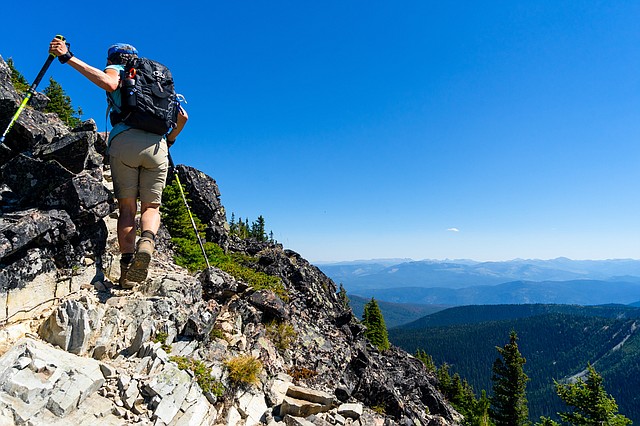 A few days later, a lightning-caused fire in the Okanogan crossed the border and as of Sept. 7 raged out of control in parts of Manning, Wildfire Service officials reported. Park officials have closed many of the trails south of B.C. 3, including the Pacific Crest Trail. 
Washingtonians swarm to Whistler, 75 miles from Vancouver, British Columbia, in the jaw-dropping Coast Range. The Olympic ski resort is an alpine village of luxury hotels, elite restaurants and year-round activities that attract an international crowd.
Manning has a comfy "lodge" that needs air quotes in comparison to British Columbia's major resort.
"We're in no way wanting to be a Whistler," Schram said. "We like the fact we have a lot of space here and you can go on a trail and not run into hundreds of other people."
Then, he added of the 206,760-acre preserve, "It's a big park and you can get out there and find yourself."
Perhaps even find a bear, too.
If You Go
Directions: Cross the border at Sumas/Abbotsford, British Columbia, and take Sumas Way about 2 miles to the entrance of Trans-Canada Highway/B.C. 1 east. 
At Hope, British Columbia, take B.C. 3 east at exit 177 to head southeast along the Crowsnest Highway. The Manning Park Resort is about 40 miles on the right. 
Accommodations: The resort has a lodge and cabins. For information on private rentals check manningpark.com/accommodation or call 1-800-330-3321. The park offers four public summer drive-in campgrounds. For more information about prices and reservations check bcparks.ca/explore/parkpgs/ecmanning/frocamp.html. Backcountry camp fees are US$3.80 per person for anyone 6 years and older.
Park entrance: B.C. Parks does not charge for entry into Manning. Officials also do not require passes as Washington State Parks does.
Supplies: The resort has a small general store and restaurant across from the lodge. But it is best to buy perishables that cannot be brought across the border in the British Columbian towns of Abbotsford, Chilliwack or Hope before heading into the parkland. 
A nice find: Nature's Pickins Market, 1356 Sumas Way, Abbotsford, just before the entrance to B.C. 1, makes fresh sandwiches, from US$4.50 to US$6.50. It also sells locally farmed produce. 
Getting acclimated: The staff at the Manning Park Lodge front desk or rangers at the park visitor center, just east of the lodge off B.C. 3, offer a wealth of information. For more information check the park website at bcparks.ca/explore/parkpgs/ecmanning. 
Short history: Manning opened in 1941. Officials named it after the province's chief forester Earnest Callaway Manning, who died in an airplane crash that year.
Elliott Almond's outdoor column appears monthly. Email: elliottalmond4@gmail.com.