Prep
Local fall sports kicking into high gear
Every prep and college sport has begun regular-season play
September 12, 2022 at 4:10 p.m.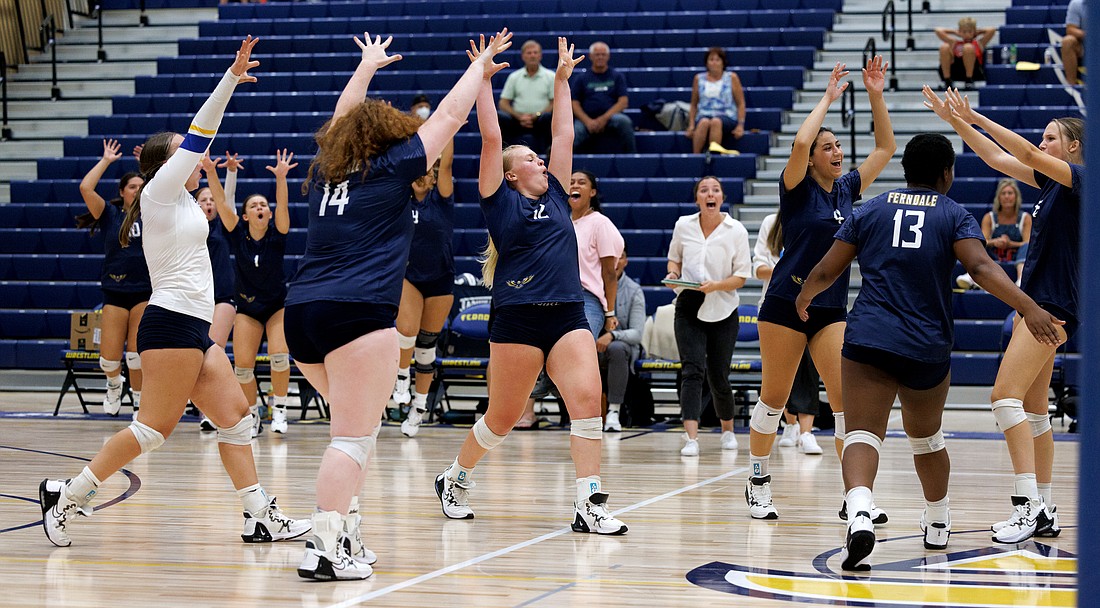 ---
By Eric Trent and Nolan Baker
---
As prep football and Western Washington University sports enter their third week of play, the rest of prep sports is wrapping up its first full week of regular-season matches.
That included a cross-classification volleyball battle between two state placers (Ferndale-Lynden Christian), a red-hot start from Bellingham girls soccer and a tight season-opening victory by Bayhawks boys tennis over Squalicum.
Here are some of the top performances from this past week.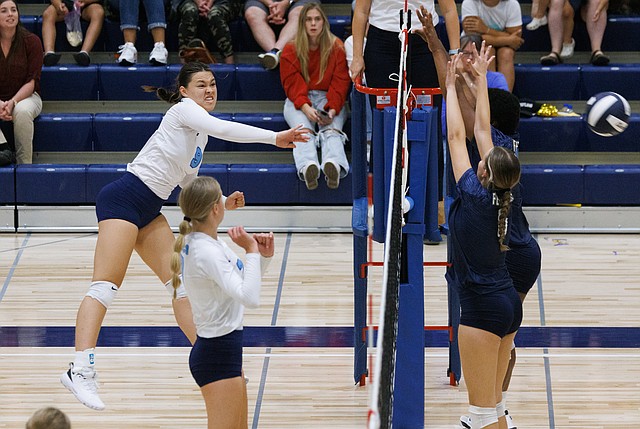 Prep
Volleyball
The biggest opening-week prep volleyball matchup was Lynden Christian (second-place finisher at 1A state) at Ferndale (third-place finisher at 3A state) in the first match in the Golden Eagles' new gym Sept. 8.
It turned into a five-set battle, with Ferndale edging out the victory (25-21, 9-25, 25-20, 25-27, 18-16).
Ferndale senior outside hitter Morgan Hayes led the offense with 14 kills, while Lynden Christian's Malia Johnson smashed a match-high 22 kills. 
The Lyncs rebounded with wins over Cedar Park Christian and Overlake Sept. 10.
Other big matchups included Nooksack Valley sweeping Class 3A Mount Vernon, Lynden beating Sehome in four sets and Bellingham clipping Mount Baker in five sets, all on Sept. 7.
Meridian, coming off a third-place finish at 1A state, beat Oak Harbor in five sets (25-17, 25-20, 26-28, 17-25, 15-13) on Sept. 8, while Squalicum swept Lakewood on the road the same night.
It was a big win for a Trojan team missing senior middle Katie Weg, who was out with a potential ACL tear suffered during a jamboree, coach Shannon Claeys said.
Emily Claeys led the Trojans with 27 kills, 12 digs and three aces. Avery Neal added 10 kills and 24 digs, while Hayden Claeys chipped in 37 assists and two aces.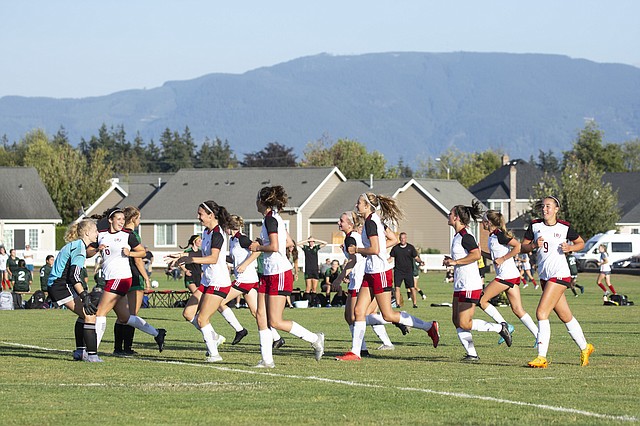 Girls soccer
Bellingham freshman Beckett Ferry kicked off her high school career by pushing the Bayhawks to a 1-0 victory over Lynden at home Sept. 8.
Beckett scored the game's lone goal from 20 yards out in the 76th minute — after some buildup play from Katie Knies and Harmony Smith to set her up — helping the Bayhawks improve to 2-0 on the season.
Bellingham coach Spencer Wolfe said it was a total team effort against a quality Lynden squad.
"It was a very physical and direct game from both teams, but we did a good job dealing with their pressure and then creating opportunities on the counter," Wolfe said. "Our entire backline and keeper limited good scoring chances for them throughout the game."
After defeating Lynden Christian in its season opener (2-0) Sept. 6 and Lynden Sept. 8, Bellingham took a 1-0 victory over Squalicum Sept. 10 to improve to 3-0 on the season.
"We will focus on making sure we can keep the ball and utilize our skilled midfield and attacking players as we go forward," Wolfe said.
Boys tennis
Bellingham opened its season on a strong suit, taking down conference rival Squalicum 4-3 at home on Sept. 8.
"All seven matches were very competitive," Bellingham coach Steve Chronister said. "It was exciting on every court."
In first singles, Liam Oscarson (Squalicum) defeated Jacob Kuhn (Bellingham) 6-7, 6-3, 6-4. In No. 2 singles, Peter Tario (Sehome) defeated Alex Strobel (Bellingham) 6-2, 7-5. 
In No. 3 singles, Will Walker (Squalicum) defeated Zach Lyne (Bellingham) 1-6, 6-4, 6-2. And in No. 4 singles, Aaron Minter (Bellingham) defeated Kirby DenAdel (Squalicum) 6-3, 6-2.
In first doubles, Henry Sheldrup/Finn Burwell (Bellingham) defeated Michael Woo/Trevor Lackey (Squalicum) 1-6, 7-5, 6-4.
In No. 2 doubles, Shay Blum/Reed Saling (Bellingham) defeated Cole Summer/Thomas Boyle (Squalicum) 6-3, 6-4. And in No. 3 doubles, Nate Lyon/Caleb Imbach (Bellingham) defeated Jude Owen/Jake Durfee (Squalicum) 6-3, 6-4.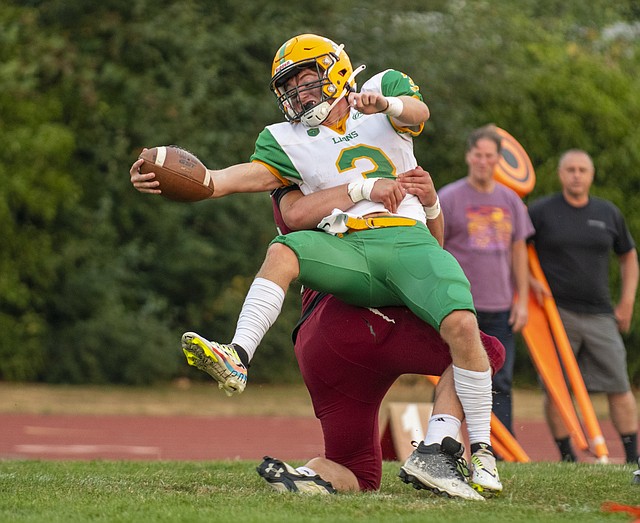 Football
Lynden (2-0) played in Chehalis for the first time in program history and scored 20 unanswered points to claim a 33-7 win over W.F. West on Sept. 9, led by two touchdowns by senior running back Lane Heeringa.
Ferndale (1-1) erupted for 34 points in the second quarter to deliver a 47-6 shellacking to Oak Harbor Sept. 10. Zach Nielsen, Isaiah Carlson and Talan Bungard all scored two touchdowns a piece, according to Whatcom Preps.
Nooksack Valley (2-0) continued its hot streak to start the season, staking a 20-0 victory over Connell Sept. 9. The Pioneers used a two-touchdown fourth quarter to pull away for good, led by two touchdown receptions by wideout Jackson Bennett.
Lynden Christian (2-0) used balanced scoring to hammer former powerhouse Archbishop Murphy 42-0. Tyler Sipma and USC commit Kade Eldridge each scored two touchdowns to lead the way.
Squalicum (1-1) surrendered all 23 points of its 23-14 loss to Fife on turnovers and short field positions. Marcus Nixon and Jacob Sorenson scored the two TDs for the Storm on passing plays of 49 and 26 yards, respectively, according to Whatcom Preps.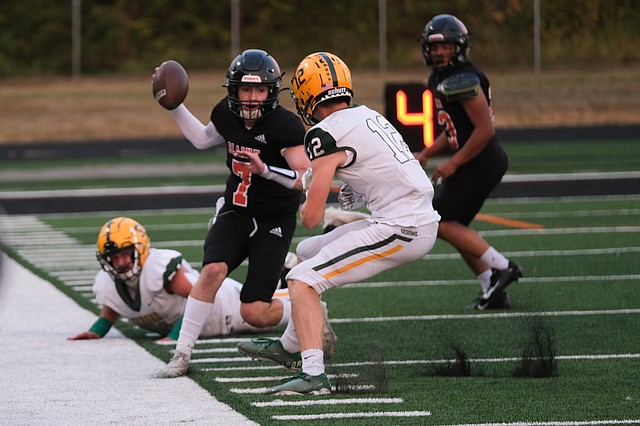 Coming off a tight win over Mount Baker, Sehome (2-0) found little trouble against Blaine, blasting the Borderites 49-6. Sophomore wideout Andre Watson took the opening kickoff 86 yards for the score. Freshman QB Nolan Wright tossed four touchdown passes, according to Whatcom Preps.
Bellingham (2-0) kept its early-season momentum churning with a 15-10 win over Meadowdale. Sophomore Tyler Frost scored on a 27-yard touchdown run and senior Lucas Cousens caught his third TD pass of the season, according to Whatcom Preps.
Mount Baker (1-1) rebounded from its tight loss to Sehome by trouncing Class 4A Wenatchee 42-14. Marcques George, Landen Hanstead and Wilhem Maloley each spearheaded the offense with two touchdowns a piece. 
Meridian (1-1) surrendered 21 second-half points to take a 27-8 loss to Chelan at home. The Trojans' lone touchdown came on a 13-yard pass from quarterback Jaeger Fyfe to senior wide receiver Hunter Jones in the third quarter, according to Whatcom Preps.
WWU
Men's soccer
The Viking men's soccer team went on the road to Colorado last week, facing Colorado School of Mines Sept. 8 and Regis University Sept. 11. 
Eric Bunnell and Albin Johnson each scored goals to lead the Vikings to a 2-1 win over Colorado School of Mines.
"It was a great win for us tonight on the road," coach Greg Brisbon said. "We had moments of good play and moments where we needed to grind out plays."
A steeper comeback victory was needed for the Vikings against Regis after trailing 2-0 at the half. Facing its first loss of the season, Western mounted a three-goal comeback to steal a 3-2 victory.
Women's soccer
The Western women's soccer team earned a tough draw against nationally ranked Point Loma Nazarene University Sept. 6. The 1-1 draw gave Western (1-1-2) a much-needed point against a talented No. 13 PLMU team.  
The Sept. 11 game against Colorado School of Mines was canceled due to dangerous air quality caused by wildfires around the region.
Volleyball
Coming off a three-game losing streak against a gauntlet of top-10 nationally ranked opponents at the Colorado Premier Challenge, Western needed a win. 
To begin Great Northwest Athletic Conference play, the Vikings displayed why they are the four-time defending conference champions, sweeping Seattle Pacific (25-19, 25-17, 25-23). 
"This was a nice way to open GNAC play with a solid team win," coach Diane Flick-Williams said. "We got great contributions from our middles and were very well-balanced."
Western (7-3, 2-0 GNAC) then faced off against Montana State University Billings, sweeping the Yellow Jackets, 25-15, 25-20, 25-17.
Cross country
Sophomores Jeret Gillingham and Sophie Wright earned a pair of sweeps this week, the first coming on Sept. 10 in the Central Washington University Invitational. The second came Monday when both runners were named GNAC Athletes of the Week.
Gillingham finished in first place with a time of 18:50.90, followed by four of his 30th-ranked Western men's teammates, who all took top-five finishing times.
"It was a lot of fun to see the Vikings debut this season with a lot of solid performances," coach Pee Wee Halsell said. "The goal was to run a solid race to set us up for later races, and we accomplished that."
The No. 20 ranked women's team also posted a dominating performance, led by a stellar win from sophomore Wright, followed by sophomore Maera Shannon (second) and sophomore Mia Crocker (third).
Football standings — Sept. 12
Wesco 3A North
| FOOTBALL | League | Overall |
| --- | --- | --- |
| Team | W-L | W-L |
| Ferndale | 1-0 | 1-1 |
| Stanwood | 1-0 | 2-0 |
| Arlington | 1-0 | 2-0 |
| Marysville-Pilchuck | 0-1 | 1-1 |
| Marysville-Getchell | 0-1 | 0-2 |
| Oak Harbor | 0-1 | 0-2 |
| Mount Vernon | 0-0 | 0-2 |
2A Northwest Conference
| FOOTBALL | League | Overall |
| --- | --- | --- |
| Team | W-L | W-L |
| Anacortes | 0-0 | 2-0 |
| Sehome | 0-0 | 2-0 |
| Lynden | 0-0 | 2-0 |
| Sedro-Woolley | 0-0 | 2-0 |
| Squalicum | 0-0 | 1-1 |
| Burlington-Edison | 0-0 | 1-1 |
| Lakewood | 0-0 | 1-1 |
| Archbishop Murphy | 0-0 | 0-1 |
1A Northwest Conference
| FOOTBALL | League | Overall |
| --- | --- | --- |
| Team | W-L | W-L |
| Lynden Christian | 0-0 | 2-0 |
| Nooksack Valley | 0-0 | 2-0 |
| Meridian | 0-0 | 1-1 |
| Mount Baker | 0-0 | 1-1 |
| Blaine | 0-0 | 0-2 |
Independent
| FOOTBALL | League | Overall |
| --- | --- | --- |
| Team | W-L | W-L |
| Bellingham | N/A | 2-0 |