Environment
Bellingham residents want more trees, new survey results show
City finished phase 2 of Urban Forestry Management Plan in October
November 22, 2022 at 5:00 a.m.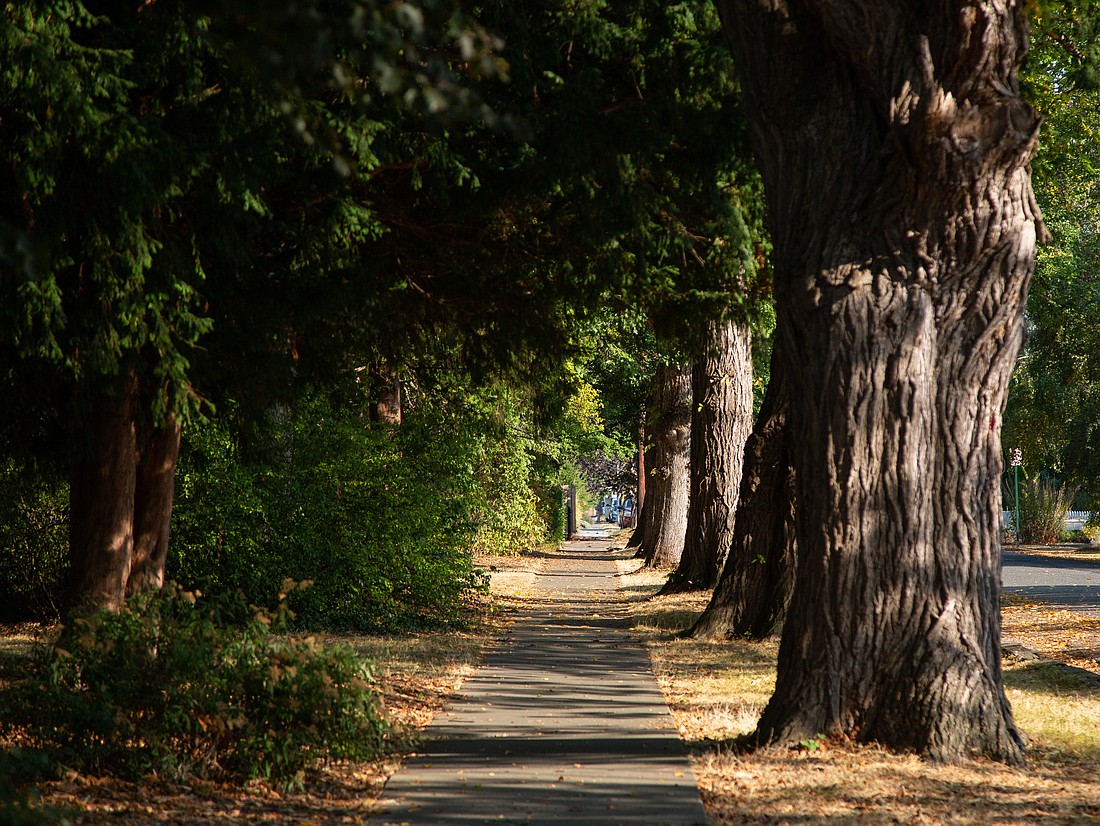 ---
---
Though the city of Bellingham planted almost 8,000 new trees last year, local residents want more, according to new survey results. 
Of the almost 700 residents who took the survey, conducted as part of phase two of the city's Urban Forestry Management Plan, 80% indicated they would like to see more tree canopy cover in the region, according to results presented during Monday's Bellingham City Council Public Works and Natural Resources meeting. Another 19% indicated they would like to maintain the amount of tree canopy cover in city limits — currently about 40% — and 1% said they'd like to decrease canopy cover. 
Plan development was split into three phases: phase one, completed in December 2021, was the initial assessment of urban trees; phase two, completed in October, was an evaluation of community values and urban tree goals; and phase three, which began in September, is the development of the final urban forest management plan. 
Analiese Burns, the habitat and restoration manager for the city's public works department, said that community outreach helped them learn people's values, goals and objectives. "Results from phases one and two will be used to inform phase three, which is the actual plans," she said. 
Throughout phase two, the city hosted in-person events and surveys and made online materials available through the city's websites. Nearly 700 individuals completed the survey, and 152 people attended open houses, listening sessions and technical workshops. 
The city made a concerted effort to improve equity and representation in the survey and outreach, which included providing materials translated into several languages and live translation at in-person events. Despite this, survey results were "not a statistical representation of all the views of the entire population of Bellingham," Burns told council members Monday.
"Still, it's more information about community views on urban forests than we've ever had before," she said.
Demographics of respondents skewed older, with the largest group of respondents being between 65 and 74 years old. Additionally, 80% of respondents own their own home, while 19% rent, Burns said.
Survey results indicated that a significant portion of respondents care more about the ecological benefits than the economic benefits of urban forestry, and place emphasis on the increased distribution of trees around city limits. 
"I was kind of interested to see that the economic benefits of urban forestry was kind of one of the least valued benefits," council member Michael Lilliquist said following the presentation. "I would suggest that the public is undervaluing the economic benefits … When economists try to put a value on the quality of life benefits from an adequate forested city, it's enormous." 
City employees were pleased to see the responses from community members and will include details about community values regarding urban forestry in their plan, which will be developed throughout phase three. 
"We're encouraged to see the volume of participation in this process," said Eric Johnston, the city's Public Works director. "We have a great deal of commitment to our urban forestry, and we're happy to move this forward." 
The city will host more public input opportunities for the plan in the coming months and will have a completed plan toward the end of 2023.