Soccer
Soccer leaders deserve blame for putting World Cup in Qatar
FIFA chose money over human rights
November 17, 2022 at 5:00 a.m.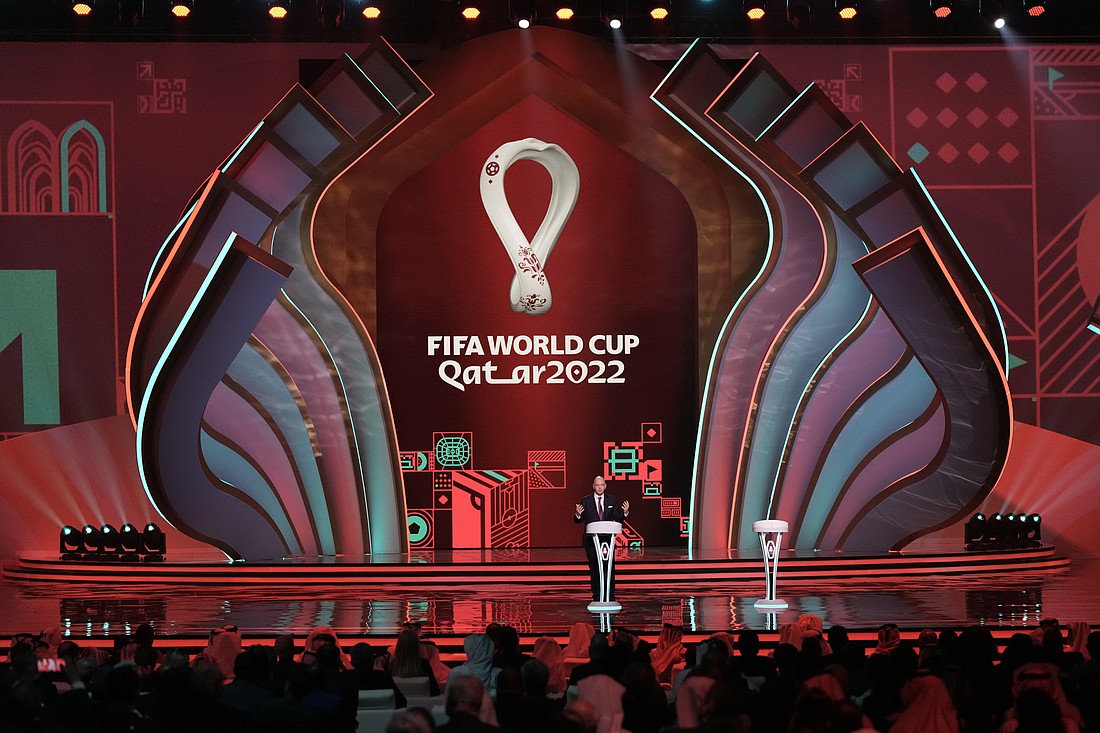 ---
---
The soccer World Cup starting Sunday, Nov. 20 in Qatar comes with more baggage than any mega sporting event I can recall.
The 22nd running of the quadrennial men's football championship elicits strong feelings contrary to the essence of the Beautiful Game by being held in a Persian Gulf State where human rights are secondary to fossil fuel.
It has led to a complex question: Am I tacitly supporting Qatar's oppressive treatment of migrant workers and LGBTQ+, and soccer leadership's corrupt history, by watching the tournament?
Three Pacific Northwest scholars of sports and politics say while boycotting the event is admirable, they intend to watch their favorite teams while simultaneously criticizing the external issues in what could be the most politicized World Cup in modern history.
Soccer and Qatari officials have tried to tamp down criticism of the Emirate's abuses of migrant workers and the criminalization of homosexuality. 
Earlier this month, executives from soccer's world governing body known as FIFA urged the 32 national teams participating in the tournament to refrain from making political statements. 
So far, the edict isn't resonating. England coach Gareth Southgate said the Lions won't be muzzled. Captains from eight European teams plan to wear heart-shaped armbands — despite FIFA rules against it — to support gay rights. Denmark's players will wear black team jerseys to commemorate the estimated 6,500 migrant workers who died in Qatar while building the gleaming football stadiums.
Human rights groups have focused on Qatar's use of the kafala system, which leads to abuse and exploitation while workers are tied to one employer without the right to switch jobs. Officials ended the system in August 2020 amid publicity over the workers' deaths.
The treatment of the LGBTQ+ community has been equally concerning to activists because same-sex activity can lead to imprisonment. 
A Qatari World Cup ambassador recently tried to walk back an interview with German television in which he called homosexuality "damage in the mind." After saying his comments were misrepresented, he added, "Everyone is welcome in Qatar, but our religion and culture will not change for the championship."
Such public relations missteps highlight how much the backlash has stunned Qatari leadership. The government spent an estimated $220 billion to play host to an event that will attract an international audience of about 5 billion viewers and another 1 million visitors.
The minister of foreign affairs recently said criticisms were "fabrications and double standards" — and he partially is right. 
Before any of us claim the moral high ground, we cannot ignore problems on the homefront, such as police shootings of Black people or challenges to women's reproductive rights. After all, Canada, Mexico and the United States are holding the 2026 World Cup. Seattle is one of 11 U.S. cities hosting games. 
"Point to one country that does not in some way, shape or form perpetuate patriarchy or nationalism or a whole bunch of other harmful practices in its culture," said historian Christopher Tounsel, interim director of the African Studies Program at the University of Washington.
In other words, almost no host country gets a free pass. But whataboutism does not cut it in Qatar where the reaction to criticism feels desperate. The government recruited as many as 1,600 fans for an all-expenses-paid trip to Qatar to sing in the opening ceremony and post positive comments on social media.
At the same time, international television crews might be banned from interviewing people in their homes as part of restrictions on media coverage.
Qatar is an oil-rich thumb that sticks out in the Gulf in the neighborhood of Bahrain, Saudi Arabia, and the United Arab Emirates. 
Swearing, public displays of affection and dressing immodestly are seen as offensive, and posting culturally insensitive material can be considered a crime, according to a United Kingdom travel advisory.
As much as it might try, the Emirate cannot buy international goodwill for its 3 million people, of whom only 10% are Qatari citizens. 
It's understood soccer leaders did not award the tournament to the Middle East for the first time to expand the sport's global reach. This tournament is about money — and more money for lucre-hungry FIFA. I have long been skeptical of soccer officials after decades as an international sports reporter. And I am hardly alone in souring on a group willing to award its precious commodities to governments who barely give human rights lip service.
Russia in 2018 was bad enough. Now we get a Gulf State with a desert climate that has led to moving the traditional summer event to the middle of most club seasons — anything to make a buck.
FIFA still is embroiled in a corruption and bribery scandal dating back to 2015 that involved former president Sepp Blatter — the same man who recently said it was a mistake to award Qatar the tournament under his watch. 
I realize few want to rehash complex criminal cases on the eve of the United States' first World Cup appearance in eight years. The Americans return to the center of the soccer world at 11 a.m. Monday, Nov. 21 to face Wales. They also play England on Nov. 25 and Iran on Nov. 29 in Group B. 
But let's not overlook Qatar's motivation for using a practice known as "sportswashing" — that is, hosting a megaevent to whitewash serious issues — to enhance its global and domestic reputation. 
"Qatar shows sportswashing comes with an implicit gamble," said Jules Boykoff, professor and chair of the Politics & Government Department at Oregon's Pacific University. "It's not always going to go the way you think it might."
Morgan Wack, a University of Washington doctoral candidate in political science, will try to quantify the effectiveness of using the World Cup stage for international prestige. He and two colleagues plan to monitor the social media posts of 1,000 fans from each of the teams that speak English and Spanish to see how they address social justice issues during the tournament that ends on Dec. 18.
Boykoff, a former professional indoor player, also plans to keep track of how it plays out.
"In the lead-up to these events there is a lot of space for criticism, but once the games begin, people tend to be quiet," he said.
To me, figuring out what action to take underscores the complexities that entangle us on issues from climate change to racial and gender politics.
This time, though, the decision is clear-cut. FIFA officials badly misjudged their dominion in the global community when awarding Qatar the World Cup.
They deserve our admonishment.
Cascadia Daily News contributor Elliott Almond has covered 14 Olympics and reported on soccer since 1993. He will be rooting for the United States, Argentina and any underdog that surfaces in Qatar. Email: elliottalmond4@gmail.com.