Outdoors
Olympic National Park: Worth the travel challenge
Day trip to a world treasure whets the appetite
May 7, 2022 at 5:05 a.m.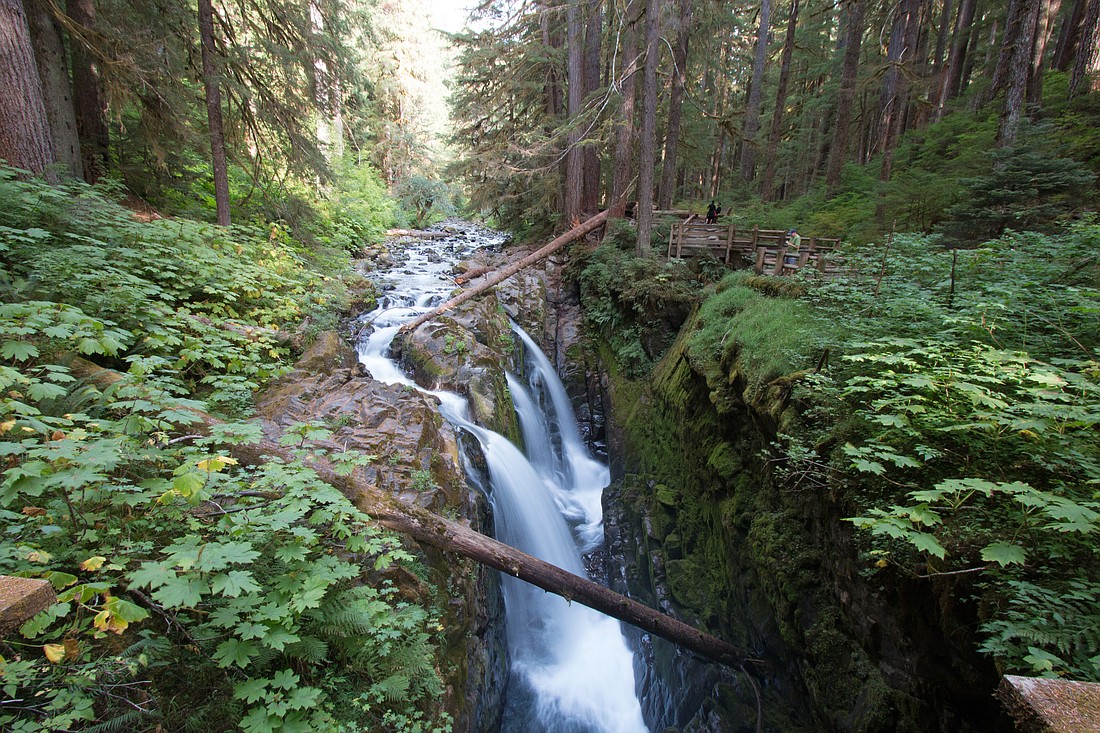 ---
---
PORT ANGELES — Heavenly Olympic National Park is a World Heritage Site and International Biosphere Reserve. 
Or from another perspective, it's a glorified ancient tree farm surrounded by gouged forests with debris known as "slash" piled into skeletal bundles on cratered hillsides. The scars of clear cutting are featured prominently across the Olympic Peninsula, outside the park. 
Note to self: Perhaps it's not a good idea to visit the park while reading Richard Powers' Pulitzer Prize-winning novel, "The Overstory,'' about the decimation of America's forests.
But a spontaneous trip the other day led to meeting out-of-town friends at Olympic National Park for a seven-hour sampler of one of our state's many gleaming gemstones. 
I wasn't here for a treatise on the state of our forests and the ravages of climate change. I wanted to give my friends an opening stanza to the million-acre park tucked into Washington's northwestern corner. That meant a day exploring the highlights around Port Angeles.
But it's quite the undertaking from Bellingham because of the paucity of ferry service between Coupeville (Keystone) and Port Townsend. The schedule doesn't allow for an impromptu auto trip; I couldn't get a last-minute reservation. I drove to Edmonds instead for the more dependable run to the peninsula via Kingston. 
Either route will take up to 3 ½ hours to get to Port Angeles. It is why any sane person would plan an overnight trip instead of doing it in a day.
As usual, I wasn't thinking clearly in my exuberance to meet Bryce Miller, a long-time colleague. Bryce and Brooklyn musician Jesse Villalobos are among the millions of passionate outdoor lovers on a mission to visit as many national parks as possible. 
They were hellbent on excavating the riches of Olympic National Park, whose origins began in 1897 when President Grover Cleveland created a 2.2 million-acre forest reserve here.
A few years later, President William McKinley reduced the size of the reserve by 700,000 acres, caving to timber interests in a glimpse of the tug of war between profit and preservation that continues today. 
But the park's fate took a conservationist turn within the decade as President Theodore Roosevelt appointed the sacred mountains and forests the Mount Olympus National Monument. Another Roosevelt – Franklin D. Roosevelt – made it a national park in 1938.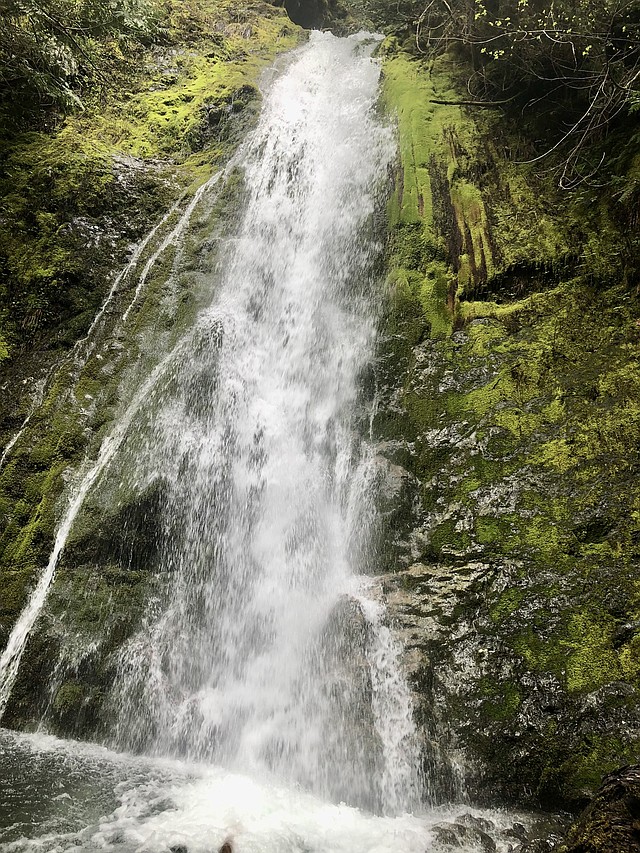 The park is a million-acre preserve of primeval forests of Sitka spruce, western hemlock, Douglas fir and western redcedar. Though the range's most prominent peak is 7,980-foot Mount Olympus, the interior of the jagged mountains is difficult to penetrate.
Every western Washingtonian knows the drill. First, take the unsuspecting guests to Hurricane Ridge and watch their mouths drop and their coats hastily appear. 
I downplayed the view as we ascended into the clouds on a late April day that spared us from showers. 
Then we arrived. 
Dark clouds hovered just above the Bailey Range and even shy Mount Olympus' snowy summit peeked out.
The Ridge lived up to its reputation with frigid winds dropping the temperatures like an overeager forester with a chainsaw. After taking advantage of the photo op we retreated to warmer climes below.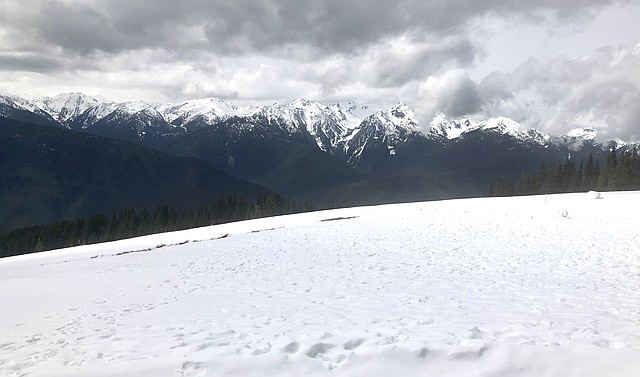 Next stop, Madison Falls along the Elwha River. I had never visited the falls, just a half-mile from the parking area. The Elwha Valley once was a great starting point for backcountry day hikes.
Everything changed in 2015 when Olympic Hot Springs Road washed out because of flooding. For the most part, it has been closed at the Madison Falls parking lot since. 
Now the only good way to day hike up the river is to mountain bike to the trailhead. Rangers have built a bypass trail where the road is washed out and some reports say it's worth hiking there.
It shouldn't surprise anyone the park service has retreated from maintaining the area, including closing a nice campground. In 2011, park officials removed the controversial Elwha dams to restore breeding grounds for all five salmon species.
We went to Madison Falls on the advice of rangers. The parking lot was packed on a Friday, underscoring how many people crowd national parks these days. Couldn't blame a single person. The delightful 50-foot cascade splashes into a small pool along Madison Creek. 
Instead of making it a half-day hike past the gate we chose to head to Sol Duc. Bryce and Jesse wanted to bag another waterfall before the excursion ended.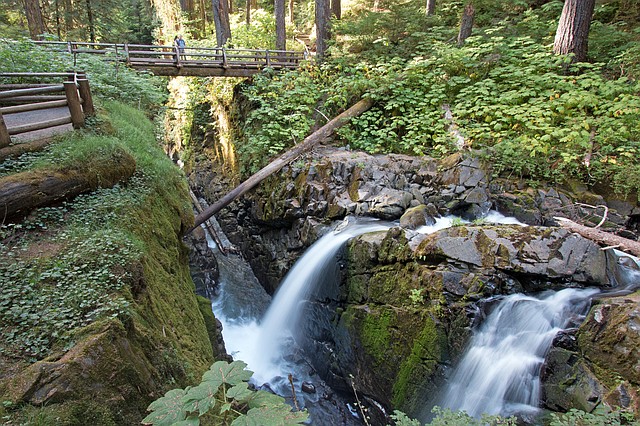 The Sol Duc Trail is a nice staging ground into wilderness. But most folks, including us, have time only for the 3-mile round trip jaunt through a temperate rainforest to the park's most spectacular falls.
Bryce seemed disappointed when we came upon the Sol Duc River's first gentle descent. Or as Peggy Lee once sang, "Is That All There Is?"
I played along, knowing the three-prong falls deeper into the canyon would grab his attention. The three of us lingered at the main attraction for a good while. The tumbling water provided an exclamation point to a fine day.
Another time I'll blow past the falls and get into the Seven Lakes Basin buttressed by the High Divide. Lunch Lake is about 15 miles round trip with an elevation gain of almost 4,000 lung-challenging feet.
Not exactly a day outing that requires a long drive.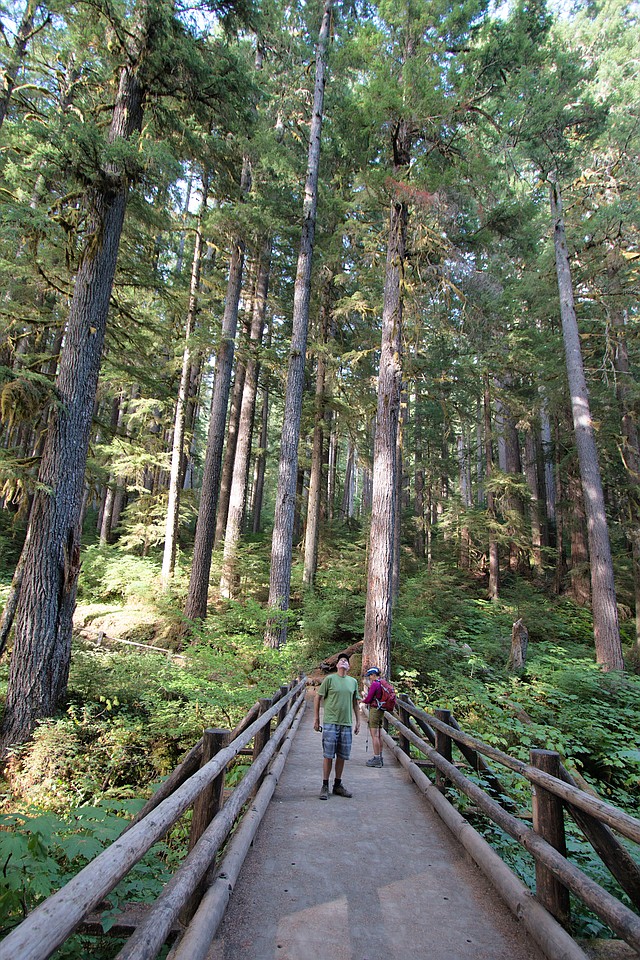 Elliott Almond's outdoors column appears monthly. Email: elliottalmond4@gmail.com.