Basketball
Lynden Christian storms back to claim 1A state title
Lyncs erase 16-point 3rd-quarter deficit
March 5, 2022 at 9:55 p.m.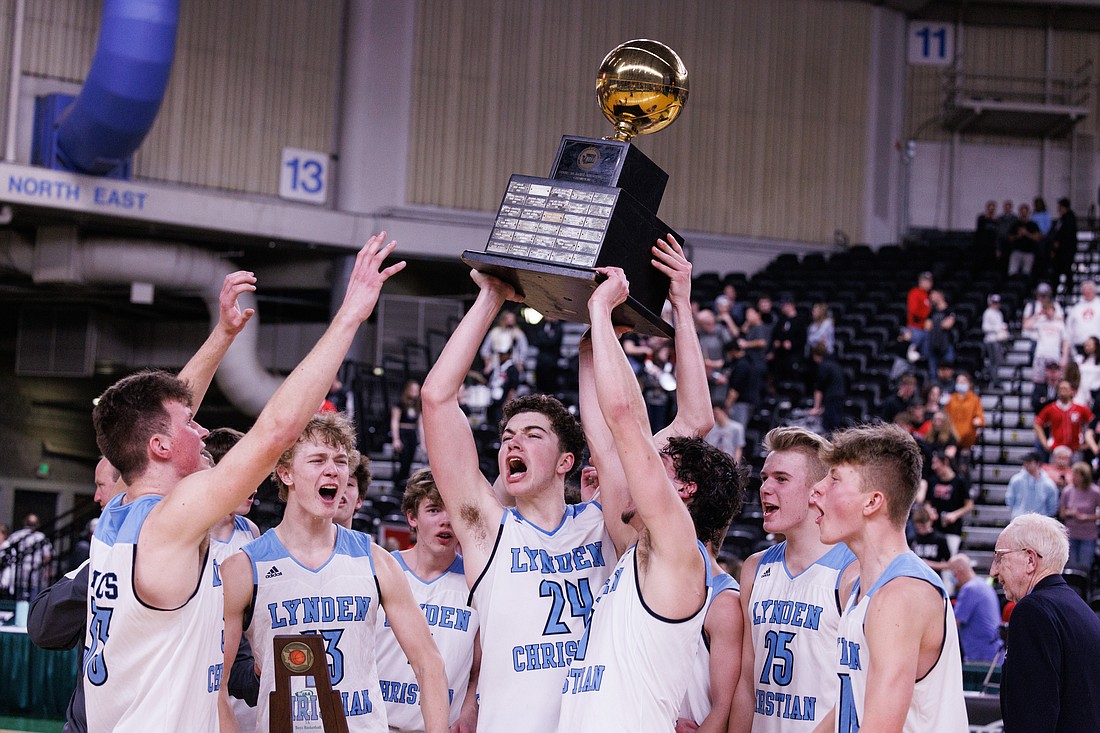 ---
---
YAKIMA — Lynden Christian's title hopes were mired in a double-digit deficit late in the third quarter against King's in the 1A state championship game in Yakima. Then the three-ball barrage came.
The Lyncs hit five 3-pointers in the final quarter and captured the program's seventh state title with a dramatic 61-58 victory over No. 1 King's. 
Down 16 late in the third quarter, No. 2 Lynden Christian (22-1) cut the King's lead to nine at the end of the quarter. Soon thereafter the threes started falling, first with back-to-back bombs from junior Griffin Dykstra, then from junior Tyler Sipma, followed by a pair of threes from senior Jamison Hintz. 
"They were sagging off me in the first quarter and I was thinking, 'Why are you doing this, I'm a shooter,'" said Dykstra, who hadn't hit a three in the tournament before the fourth quarter. "When they started sagging off me in the fourth, I said, 'Dude, I got to go and stroke these.'"
He did. 
But King's (24-3) wasn't about to be put away. The Knights grabbed their final lead of the game on a Carson Clowers bucket with 1:36 left in the game. But Lynden Christian senior Andrew Hommes, the tournament MVP, used a traditional 3-point play to put the Lyncs up for good, a two-point advantage with 1:23 remaining. 
"I crashed the boards and finally one fell in my lap," Hommes said. "I was in the right place at the right time. We knew our shots would fall, we just had to smile and stick to the course."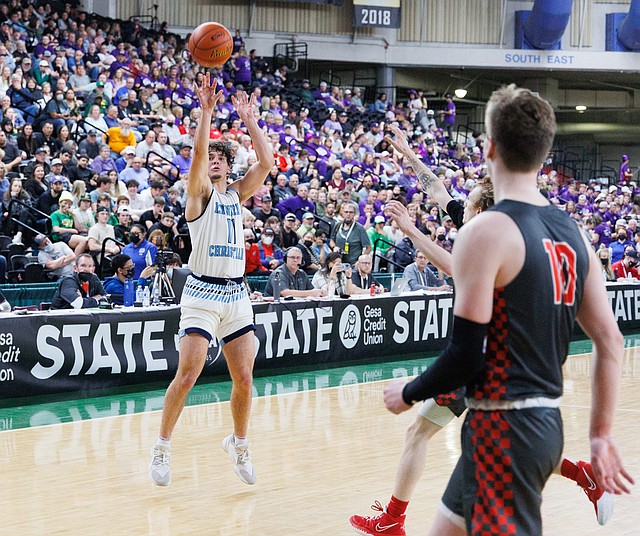 Neither team scored again until Sipma added two free throws with 14 seconds remaining for a four-point advantage.
King's freshman Cam Hiatt scored immediately to follow and Hommes made one of two free throws for a 61-58 Lyncs lead with eight seconds left. The final King's effort caromed off the backboard, giving the Lyncs the spontaneous title celebration they'd been planning for years. 
"I can't even put it into words," said Sipma, named to the All-Tournament second team. "It is probably the best day of my life right now. To be able to do it against King's, two years ago, I was only a freshman, but when we lost that one [in the state title game] it really stung. I got to do it with the guys I grew up playing with."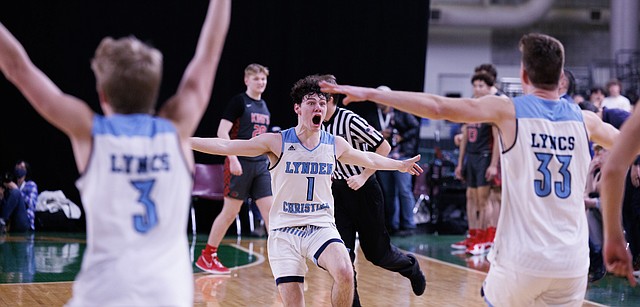 Throughout the night, Sipma, Hommes and Hintz led the Lyncs. Hintz ended the game 5-of-8 from behind the three-point arc.
"I'm sure when we were down 16, 95 percent of the people in the gym lost all hope in us, but we knew what we could do," Hintz said. "We are a family, and we know each other's strengths. We all banded together and did it. There is no one else on this entire earth I would rather do this with."
Hintz said that before the game he knew no matter what happened, it was all part of God's plan. "If we lose, it is just a game, if we win, which we did," he said, "it is the best experience in my life."
That experience almost didn't happen. Cold shooting marked the first quarter, with both teams starting a combined 1-of-17 from the floor. The Lyncs held a two-point advantage after one quarter, but a 7-0 King's run in the second helped them build a 34-23 lead at the break. 
King's then looked to break the game open in the third, opening up a 16-point advantage, but a 5-0 Lynden Christian run to end the quarter cut the deficit to just nine. 
A pair of traded baskets from Hiatt and Lynden Christian sophomore Jeremiah Wright led to a one-minute possession that saw King's grab two offensive boards and a tap-in for a 49-39 lead with six minutes left in the game.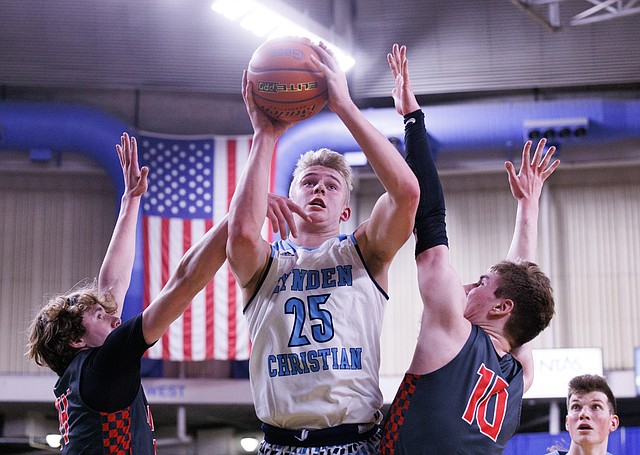 That's when Dykstra hit his first three of the tourney. From deep. 
"I'll take that," said Lynden Christian head coach Tim Zylstra. "Different guys step up at different times. We told him you got to keep shooting, you're a shooter. He did that, hit a couple right there and that helped us spread the floor against that zone. Give him credit, he could have shied away from taking it, but he kept taking it."
The 16-point fourth quarter from the Lyncs was a stark turnaround from the most recent 1A state championship game two years ago when Lynden Christian held a comfortable lead in the second half against King's, only to see it slip away and lose to the Knights in overtime. 
"We talked about staying the course and we put ourselves in a hole and we stayed with it," Zylstra said. "I give credit to the kids who battled all the way back. Once we got it close you could feel them getting tighter and then we started hitting shots."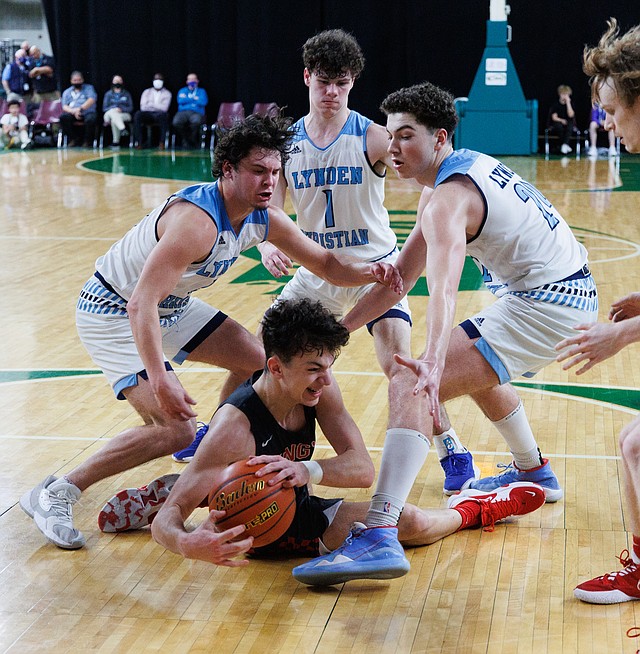 Sipma led the Lyncs with 16 points and five assists, Hintz added 15 points and five rebounds and Hommes had 14 points and 11 rebounds. Dykstra ended with eight points, all in the second half. Hiatt led King's with 18 points and seven rebounds, while senior Jake O'Hearn had 12 points and six rebounds and senior Jordan Hansen scored 10 points and pulled down eight rebounds. 
Sipma said the entire team stayed positive throughout, even when down, and when the shots started falling, the mood picked up. The togetherness of the team helped them keep belief, Hommes added.
"I love all these guys to death," Hommes said. "I feel like I was born with these guys. We played Boys & Girls Club, AAU ball to high school ball. It is just a dream come true."