Recreation
Fun in the sun: Escape to the Olympic Peninsula
February 17, 2022 at 5:20 a.m.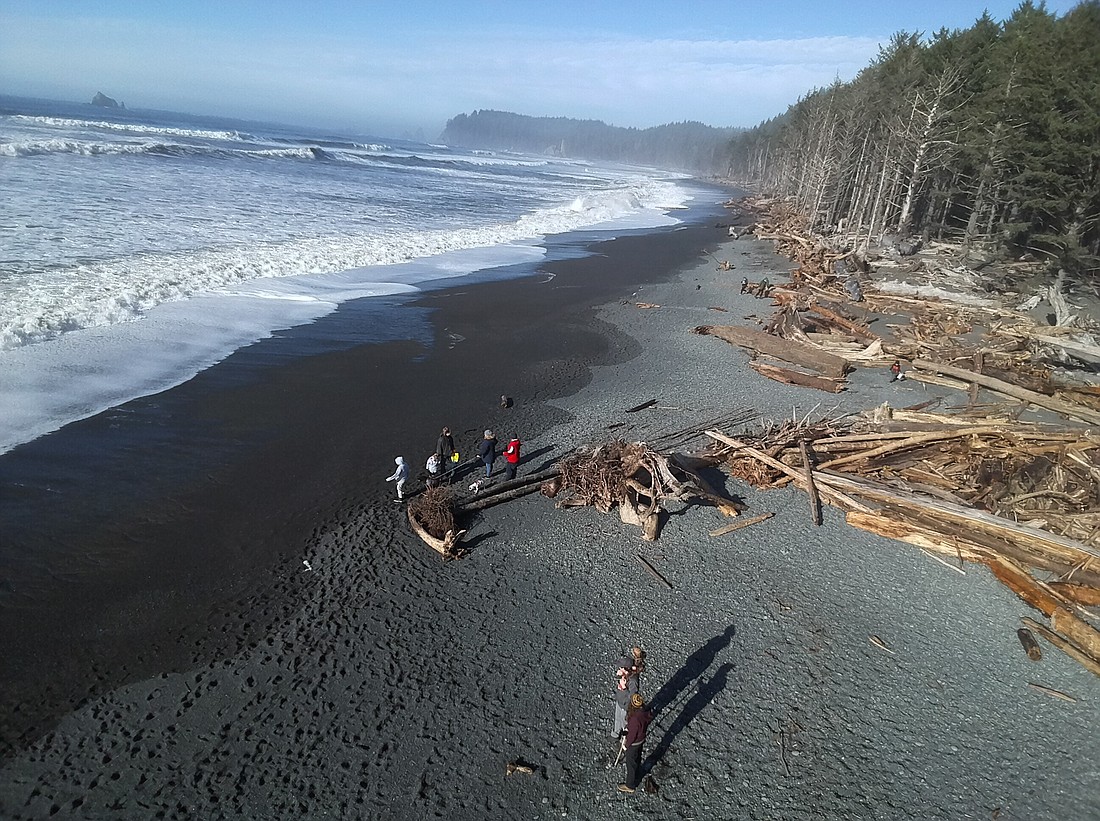 ---
---
ON THE ROAD — Refractive mist and intermittent ground fog complicated my late-morning drive from Bellingham down Interstate 5 to Sea-Tac, but by Mountlake Terrace the prevailing moisture boiled off and blue horizons beckoned.
All I had to do for the next 30 miles was navigate through multiple lanes of bumper-to-bumper traffic and avoid stop-and-go collisions.
Although I made it through unscathed, my subsequent inability to locate the airport's cell phone waiting lot sparked off a circuitous journey that necessitated many ill-advised U-turns and not one, but two peripheral trips to Burien.
Thankfully, my brother's flight from Minneapolis arrived early and he was waiting outside baggage claim when I rolled through.
"Can't believe you're about to hit the big 5-0!" exclaimed my slightly younger sibling when I jumped out at the terminal to help load his suitcase. "You're a half-century relic!"
His pronouncement boomed so loudly through the loading zone that a police officer and several bystanders craned their heads to look.
Back in the day, I would have socked him on the shoulder. But in accordance with my chronologically advanced demeanor, I reeled him in for an uncomfortably long hug instead.
Energized by our familial affinity, we climbed into my Camry and lit out for Aberdeen — the first scheduled stop on my Nifty Fifty Tour and self-proclaimed "Gateway to the Olympic Peninsula."
Conspicuous roadkill attended by prolific corvid/raptor activity helped animate our southwesterly pivot through Capitol State Forest, but my brother expressed concern about two concrete towers protruding through the timberline.
"It's just an abandoned nuclear power plant," I said, trying to calm him.
"Like Chernobyl?" he gulped.
"Nope," I said. "During the early 1980s Washington state voters refused to let the management entity sell bonds without initiative approval, so it never generated a single megawatt."
He nodded, looking somewhat perplexed.
"Instead, they turned it into a business park," I said. He nodded again, no less perplexed.
About half an hour later — as we barreled across riparian bottomlands west of Montesano — we encountered a more welcome presence on the landscape.
"Are those goats?" asked my brother, pointing urgently through his window.
It turned out to be a flock of Trumpeter swans nibbling contentedly in a field near the Wynoochee River.
"Imagine the damage they could do to a car window," he said as we pulled over to gawk.
No sooner had the words left his mouth than two huge Trumpeters came soaring straight over us, beating their massive wings in propulsive unison.
"Welcome to flying goat country," I said, smirking, while he braced warily against the dashboard.
Traffic coming into Aberdeen was heavier than anticipated, so after the Goodwill store proved elusive I crossed the Wishkah River Bridge, took a hard right and kept driving around Kurt Cobain's childhood home until we found Aberdeen Thrift City.
This huge store was crammed with generations of vintage merchandise, but since our primary goal was getting my brother out to the coast in time to experience the sublime grandeur of his first Olympic sunset we had to cut our browsing short.
"What do people do for fun around here?" queried my bro after we'd spent a solid hour driving north through dense stands of mature timber, freshly defoliated clear-cuts and regenerative tracts of variable species and age.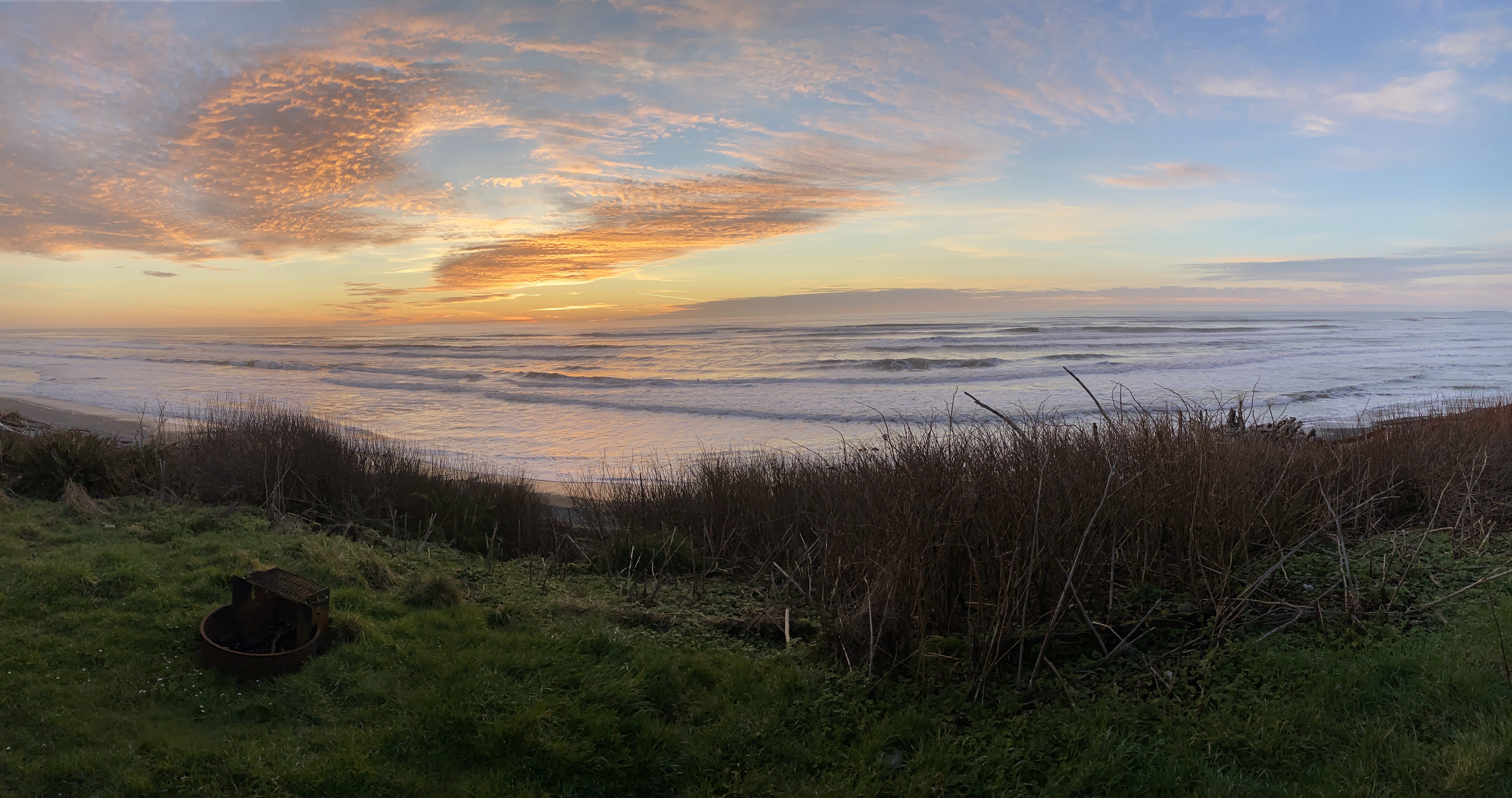 "I don't presume to know all the particulars because I never established legal residence," I said. "But having built trails, bucked windfall and camped in these woods for upward of two to three weeks at a time I can report there are definitely more bonfires and chainsaw-sharpening going on per capita than most other places in the world."
Just then, golden rays of molten sunshine flickered through the trees as we veered westward into Olympic National Park just beyond Queets River.
Leaving our car in the turnout at South Beach Campground, we slipped around a closed gate and hoofed it down the road just as the sun touched the furthest point on the horizon.
Passing through the empty campground we followed a crude trail through tangled driftwood and scampered as joyously as a couple of 10-year-olds across the smooth, silky sand.
We could have kept playing for hours but the temperature dropped about 500 degrees after the sun disappeared, so we retreated to the car and sallied northward into heavy timber.
Traffic was sparse and darkness so profuse that when the lights of Forks finally glared into view I had pull off onto the shoulder just to let my tunnel vision dissipate.
Fortunately, our newly-hewn log cabin at Woodland Inns couldn't have been more accommodating.
While I assembled Palomas in the kitchen my brother cued up a hockey game on our 50-inch flat-screen, phoned in an order at Pacific Pizza and threw himself across his queen-sized foam bed.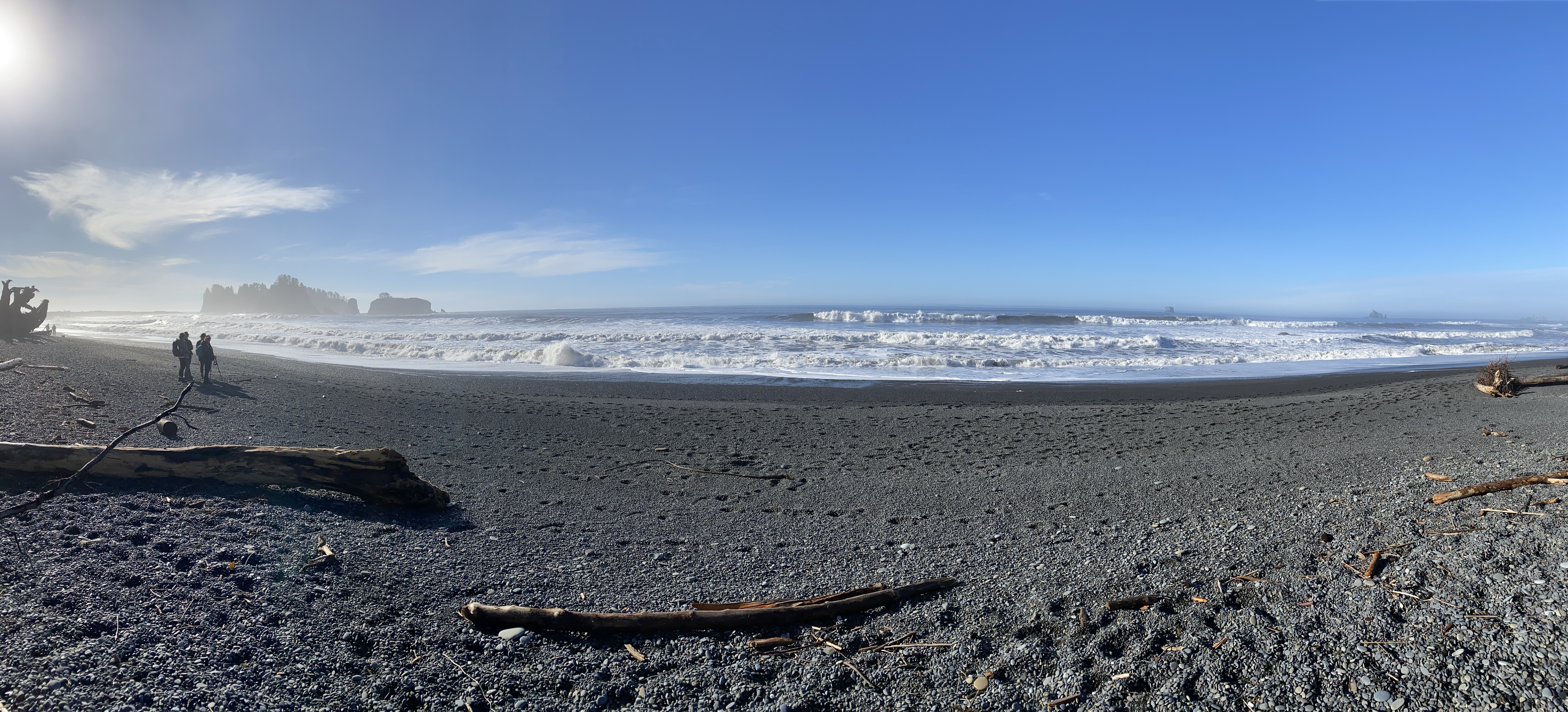 Waking up refreshed the next morning, we fortified ourselves with coffee and cinnamon rolls and headed straight to Rialto Beach to enjoy a full day of tidal immersion therapy among the sea stacks and driftwood piles that define the Evergreen state's longest protected swath of undeveloped coast.
After many hours planted on a log watching seagulls, terns and scoters revel effortlessly through the thundering surf we relocated to the south side of the Quillayute River to catch our second, even more spectacular sunset from a bluff in La Push.
With sand in our shoes and pounding surf still ringing in our ears, we returned to Forks and scored fatty burritos at a food cart called Fyabes Mexican Cuisine. It was a tasty end to a savory expedition. Sleep overtook us early that night.
Before returning to Bellingham the next afternoon my little brother treated me to a shopping spree at Port Angeles Goodwill, three beef brisket tacos from Little Devil's Lunchbox (located just down the road), and a ferry ride from Port Townsend to Coupeville, during which plans were hatched to make an even more expansive OP tour including Cape Alava, Forks Timber Museum, and Makah Tribal Museum at Neah Bay before he joins me in becoming eligible for AARP.
---
Erik Burge formerly wrote under the moniker of Trail Rat. In the future, he will continue to file dispatches about his adventures throughout Cascadia. If you know of a place or event you think he should explore, contact timdunke@yahoo.com